BY DYLAN DEPRES
The vessel Endeavor is one of several boats in the sportfishing fleet which is berthed in different areas of the coast seasonally. During the early sportfishing season, she departs from Ventura Harbor Sportfishing before spending the later summer and fall months at Seaforth Landing. Owner/operator Tucker McCombs runs the boat, and in the springtime, he ventures from Ventura to the outer Channel Islands to target white seabass, yellowtail, halibut and excellent-quality rockfish. McCombs is well known for his time as a captain on multiple reputable vessels including the Mirage, Outrider and since 2019, the Endeavor which in short fashion has become one of the leading private charter boats in its class. Under normal circumstances, the boat operates with up to 26 anglers for trips 1 to 2.5 days in length, but with covid conditions, trips are limited to 20 anglers.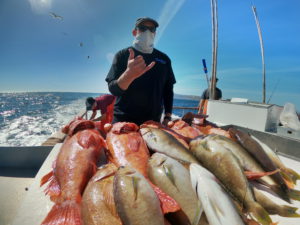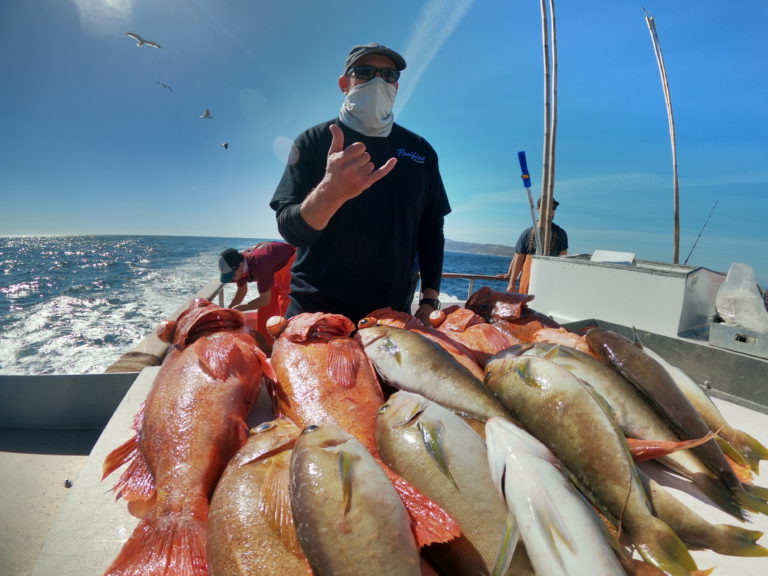 Chartermaster Jim Nahin has ran an early season rockfish charter with McCombs for 6 years now across several boats. He brings together a group of friends and typically some fill-ins for what is generally always a 20-fish bag-limit trip. While Nahin loves rockfish as much as the next angler, his favorite white meat fish to fry is whitefish, and Captain McCombs is happy to accommodate.
His 2021 overnight charter group gathered at the Ventura Harbor Sportfishing docks the night of March 4 and an electric buzz filled the air as the sportfishing season was back upon them. While weather predictions weren't pretty, it was suitable enough to make it off the dock, and McCombs told the group, "Get ready. The fishing is going to be good."
The plan was set to locate and catch live squid in the early morning hours to chase gamefish before moving on to rockfish. We were advised to have two setups rigged up. The first was a gamefish rig with a single dropper loop and a long-shank squid hook above an 8-ounce. sinker. The second rig, for deeper water, was a double-dropper rig above at least 16 ounces. of lead. Ultimately the squid/gamefish plan didn't come to fruition as the squid pulled a no-show under the boat lights, so we moved on around daybreak. The move from the squid grounds to the rockfish zone was a perfect time to enjoy a breakfast burrito or sandwich.
It was now time for some serious rockfishing. Although the wind wasn't as bad as the sustained 15 to 18 knots predicted, it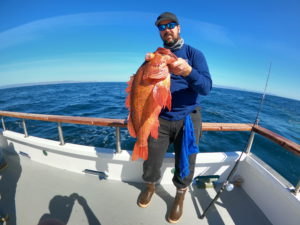 was still up and there was a job to be done if the group were to reach their 20-fish bag limits. McCombs announced, "We're going to be just over 400 feet deep, guys, you may want to have a 24-ounce. sinker rigged if you have one." Some quick re-rigging and a short move later, the first few drifts were made.
In the early morning, miscellaneous rockfish came over the rail: starries, boscos and rosies to start. A slow pick turned into a fair one. Spot to spot, our catches improved and the current picked up. Around 8 a.m., McCombs decided this wouldn't do – he wanted to finish the job on reds (5-fish bag limits) and nab the remaining rockfish limits in the process. He decided to move us entirely to an area several miles away.
And then- Reds, reds! More reds! Giant ones. The average grade reds brought up from the deep water were 4 to 5 pounds with some standout models pushing the scale to 9 pounds. Like a light switch, the catch turned from miscellaneous bottom grabbers to todos rojos biting the strip squid hot and heavy. The charter group performed well with minimal tangles, bendos and some well pointed jokes as seemingly the same anglers pulled up flea-sized starries in a full speed red bite.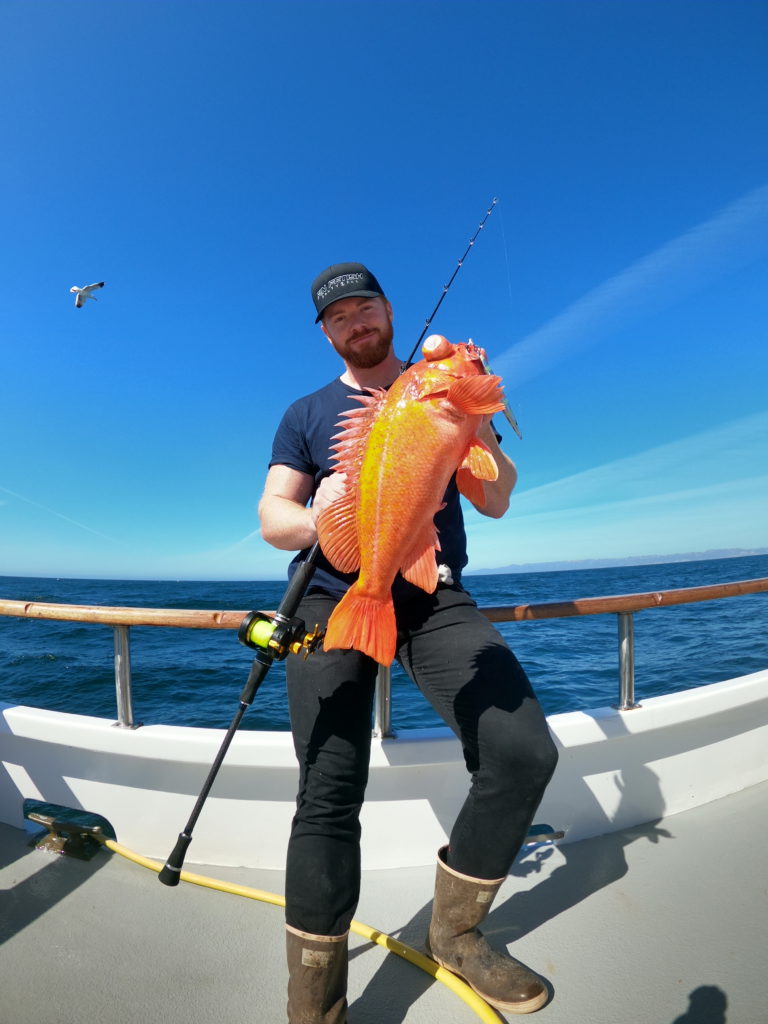 After a couple drifts and resets, the job was done and we'd hit both our limit of reds and rockfish. No lingcod were hooked on the deep water, but the quality rockfish more than made up for it. With 10 of the 20-fish bag limits down, McCombs motored closer to the islands to finish the job with whitefish.
The whitefish bit readily in 120 feet of water, and it took only two anchor sets to round out the bags. There wasn't a ton of by-catch in the shallow water, save a lone sheephead and some rockfish who were lucky enough to swim away for another day. Gunnysacks bulging, arms tired and 20-fish limits achieved, the fishing day came to a close. Nap time.
To our readers, be aware that some of the best vessels available to fish offer almost exclusively chartered trips. Instead of going open-party this year, consider your charter options to book an entire boat. This is a great option for family or work groups and it's always possible to split the chartermaster duties with someone else to help fill up the boat.