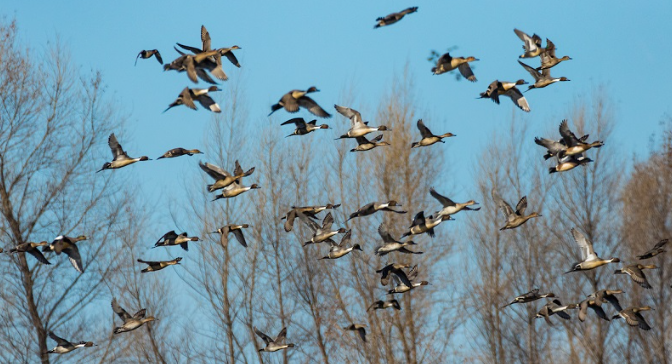 BY JIM NIEMIEC
NILAND, IMPERIAL COUNTY – Duck hunters enjoyed very good hunting over opening weekend. Despite clear and windless conditions, hunters shot good numbers of puddle ducks along with a few Canada geese.
At Southland refuges, hunters averaged better than 4 ducks a gun at Wister, while those shooting at the San Jacinto Wildlife Area averaged nearly 3 ducks per hunter. Probably the highlight of the opening weekend was the fantastic hunting offered up at Lake Barrett in San Diego County, where 30 hunters shot a total of 107 ducks for a very respectable 3.5-per-gun average and then topped off the Saturday hunt with 12 Canada geese.
Wister Wildlife Refuge – This refuge shot very well for the 350 hunters out in blinds for the Saturday opener as they combined to shoot a total of 1,652 ducks and two white fronted geese. Top duck on the game strap was the green-winged teal with 828 killed to go along with 600 cinnamon teal and 131 pintail.
Sunday saw the average drop down to just under a 2-bird-per-hunter average again with teal topping the comp list. This popular refuge shoots on Wednesday, Saturday and Sunday. For more details on hunting Wister Unit, call the DFW on-site office at (760) 359-0577.
Sonny Bono Salton Sea National Wildlife Refuge – There were only 10 hunters out in blinds for the Saturday shoot but they shot for an over 5.0-duck-per-gun average. Here again, teal dominated the ducks shot.
The Sunday shoot was slow for the three guns in blinds, but they did shoot for a 3-bird average. For more information on hunting this national refuge, which is managed by the Wister staff, call (760) 359-0577.
Finney-Ramer Unit – No report filed. Finney-Ramer is part of the Imperial Wildlife Area, located on the south end of the Salton Sea, is open to hunters seven days a week under a self-registration and self-reporting system. For more details on this refuge, which is also managed by the Wister Unit, call (760) 359-0577.
San Jacinto Wildlife Area – San Jacinto shot for nearly a 3-bird-per-shooter average for the opener with a total of 236 hunters harvesting a total of 679 ducks and 4 geese. Top duck on the comp count list was the cinnamon teal with 260 killed to go along with 149 green-winged teal and 140 shovelers.
There were also some big diving ducks killed with the ring-necked duck accounting for 39 additional ducks harvested at this refuge. Shoot days are Wednesday and Saturday and draw time is 3 a.m. For information contact the wildlife office at (951) 928-0580.
Lake Perris – No report filed with WON for the opening day hunt on Sunday. This lake finally opened up for duck hunting. Hunts from a boat only take place only on Wednesdays throughout the season. Limited to just nine boats. For additional information visit lakeperrishunting.com.
Prado Basin – The basin shot very well opening morning with many limits posted. Mixed puddle ducks and a few white fronted geese. Reports were that there were lots of mallards and green-winged teal. Afternoon Santa Ana winds helped hunters walk out with limits.
Lake Henshaw (My Country Club) – Will have a delayed opener depending on duck/goose numbers. Reservations are a must and there will be a daily drawing for blind sites. For more information call (760) 782-3501.
San Diego City Reservoirs – Shoreline hunters enjoyed very good hunting at this lake on opening day. There were 30 hunters surrounding the lake and they killed 107 ducks and 12 honkers. Top ducks shot were mallards (25) and cinnamon teal (20) to go along with 17 ring-necked ducks and 20 ruddies.
Kern National Wildlife Refuge – Will not open for the 2022 season until Nov. 20, pending an allotment of more water. For additional information on hunting Kern call (661) 725-2767 or for the hunter information hotline call (661) 725-6504, which is updated after each shoot day. A website is also available to access hunt results and other information about this popular southern San Joaquin Valley hunting refuge.
Cibola/Lower Colorado River – No report filed with WON. Still too early for Canada geese to show up in Cibola Valley in huntable numbers. For information on booking a couple of days in a goose blind while staying in a South Ranch cabin, call the Cibola Sportsman's Club at (702) 355-8784 or email them at hunt4geese@yahoo.com. Contact the Cibola National Wildlife Refuge at (928) 857-3253 for shoot days and draw information on the Farm Fields and open hunting on the Island Unit.
Statewide waterfowl season has kicked off
SACRAMENTO – Waterfowl season officially be opened across all of California soon. California's Balance of State, Southern San Joaquin Valley and Southern California Waterfowl Zones opened Saturday, Oct. 22, and the Colorado River Zone opens Sunday Oct. 23. These zones will remain open through Jan. 31, 2023. The Northeastern Zone opened Oct.1, and will close Jan. 11, 2023.
California offers fine waterfowl hunting opportunities during the season at state-operated wildlife areas and refuges throughout the state. Reservations are available for many of these areas and are issued by random drawings. Hunters can apply for waterfowl reservation drawings at a license agent or through the California Department of Fish and Wildlife's (CDFW) Online License Sales and Services web page.
The deadline to apply is 17 days before each hunt. CDFW will mail reservation letters and send email notifications to hunters when they are drawn for a reservation at least seven days prior to each hunt. Reservation winners may also download and print their reservation letters online.
Hunters without reservations may apply for lottery or first-come, first-served opportunities at the wildlife area they wish to hunt. Entry procedures vary by area and hunters are advised to call ahead in preparing for their hunt. For more information, refer to the Waterfowl Reservation Information table.
Hunters are responsible for knowing their bag and possession limits as well as waterfowl hunting regulations for the zone they are hunting in. Season dates for scaup vary by hunting zone and are sometimes different than general duck seasons. Please know the  season dates for the zone you will be hunting. To find more information on zones, limits and additional regulations, please visit the CDFW website.
Waterfowl hunters are required to possess a valid California hunting license, a Federal Duck Stamp (required for all hunters 16 years of age or older), a California Duck Validation (not required for Junior Hunting License holders), and a Harvest Information Program (HIP) Validation.
Hunters wishing to hunt waterfowl on Type A or Type B state-operated wildlife areas must also possess the appropriate wildlife area hunting pass. Wildlife area hunting passes are not required for Junior Hunting License holders.
To purchase your 2022 hunting license, validations, and wildlife area hunting passes, visit a license agent near you or CDFW's Online License Sales and Services web page.
Hunters are reminded nonlead ammunition is required for hunting waterfowl and taking wildlife anywhere in California with a firearm.
If you'd like to get involved in waterfowl hunting or to learn more, visit CDFW's R3 webpage for resources to get started! For additional information, CDFW's Advanced Hunter Education (YouTube) program has video resources available as well.
Updates about wildlife area and refuge closures will be posted to CDFW's Emergency Closures webpage frequently. For detailed information about hunter quotas, please contact the wildlife area or refuge you wish to hunt.