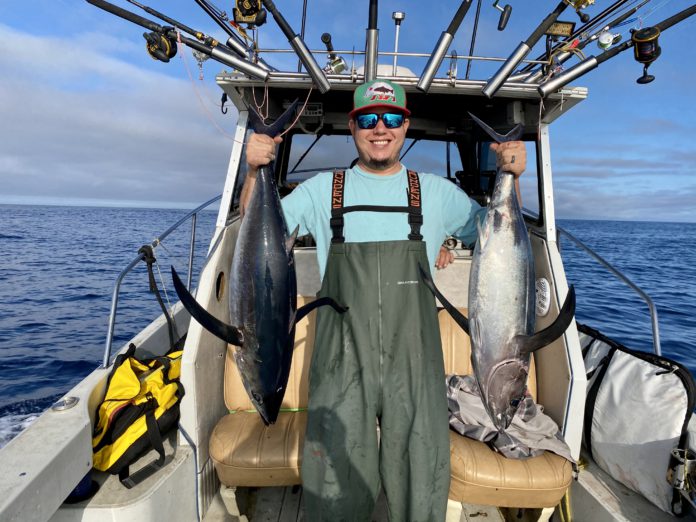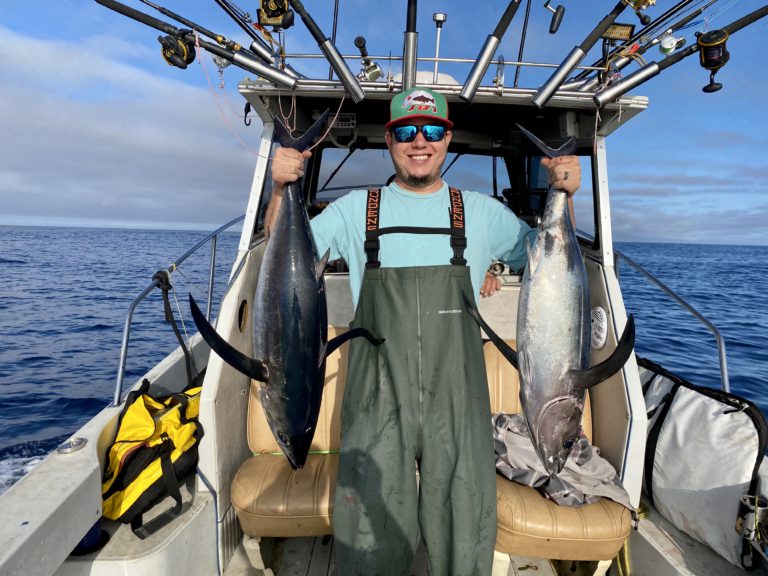 BY CAPT. DAVID BACON
FORT BRAGG – Albacore fishing was the hottest option for Fort Bragg boaters. Capt. Randy Marino on Captain Tuna said, "Albacore are being caught anywhere from 10 miles to 55 miles offshore, and each day can be a little bit different. Most have been out towards Noyo Canyon, pretty much straight out. Water temperatures have held consistent around 61 to 62 degrees. Fish counts are varied, from 5 fish to 55 fish. The average size is about 15 to 18 pounds with several over 25 pounds." Capt. Marino also mentioned that he heard of a couple of bluefin caught by albacore trollers. The bluefin have been about the same size as the longfin, but people always hope to encounter a great big bluefin.
Salmon fishing was nearly nonexistent. Many people who would normally chase salmon were instead looking for longfin offshore. Party boats and most charter boats stuck with rockfish and lingcod because the results were nearly guaranteed. Capt. Tim Gillespie on Sea Hawk reported absolutely wide open rockfish up off Mendocino, with many of the fish being of high-caliber grade. There were lingcod that came up as hitchhikers or after biting swimbaits, Lingslayers, jigs or bait fish on trap rigs.
Shore fishing on Noyo Jetty was a popular summertime activity for kelp greenlings, rockfish and cabezon. Surf fishing was very good for red tail and rainbow perch. Nightfish showed up on local beaches for netters.