To Sign Up for the WON BASS Laughlin Open: CLICK HERE
BY BLAKE WARREN
New Lake Mohave event on ever-popular circuit slated for March 23-25, partnership with LTC, LVCVA and Century Marine to make for ideal tournament setting
LAUGHLIN, Nev. – Inside WON BASS headquarters this past fall, when it came to finding the perfect spot for adding a fourth event to the ever-popular tournament circuit, it didn't take a whole lot of excessive brainstorming nor the need to tap a think tank. The choice was a fairly easy one: Lake Mohave in the spring. No brainer. Chunky desert smallies and hungry springtime largemouth at a magical time of year out of Kathrine Landing? Lock it in, put it in ink. So, that we did.
Now just a month out, the debut of the WON BASS Laughlin Open at Katherine Landing (March 23-25) will surely feature some legitimate fishing fireworks given the particular time of year and the robust, thriving fishery that is Lake Mohave.
Up for grabs at the newly minted event on the West Coast's premier tournament circuit is a $25,000 paycheck (based on a 150-boat field) and a beautiful Bass Cat Bobcat armed with a burly Mercury ProXS 150, a boat package worth over $42,000 — quite the score for the first-ever Laughlin Open champion. There will also be Big Fish and Big Stringer checks being cashed at the event. Pro Big Fish each day will be good for $1,000 along with $500 each for second and third, while AAA Big Fish will cash $500 for the top bass each day along with $250 each for second and third. The biggest overall fish each day – whether pro or AAA – will also be good for an additional $500 courtesy of Signature Gates and Welding. There's another $1,000 kicker tossed in for Pro Big Bag and $500 for the heaviest AAA weight of each day. There are also plenty of contingency prizes set to be doled out at the event from the great sponsors of WON BASS as well (see the graphic below for all the details).
The event will follow the same proven open Pro/Am shared-weight format and payout structure as other long-established WON BASS tournaments and will be brought to you by stalwart title sponsors, Bass Cat Boats and Mercury Marine. Official practice begins on Saturday, March 19 and runs until noon on Tuesday, March 22, with the off-limits period running from then until the official launch on the morning of March 23.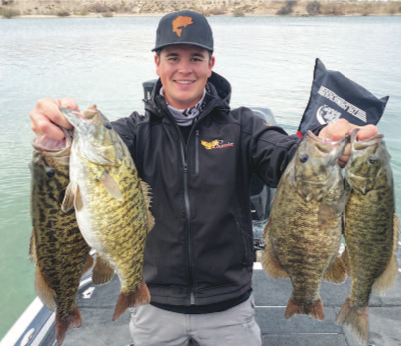 As for the fishing, the Laughlin Open presents a plethora of possibilities. Mohave is unique in that it is home to a world-class smallmouth population, with big bronzebacks making relatively frequent appearances – the lake record is 7.6 pounds – throughout the year, particularly during the spring. Couple that with a very healthy largemouth population and the fact that the tournament is set for late March, Mohave's bass will likely be in all three stages of the spawn, opening the door for any number of strategies and game plans to potentially be the winning one.
WON BASS pro Todd Kline, who has already made a trip out to Mohave this year and makes an annual father-son pilgrimage to the lake each spring, stopped by the WON offices this past week to collect his check for his 9th place finish at the recent Arizona Open at Lake Havasu. While Kline won't be fishing the first-time event, it still presented a perfect opportunity to pick his brain on what we might expect come tournament time.
"Mohave is such an amazing fishery on so many levels," he said. "It has biiig smallies and solid largemouth, and the stars should align for what could well be an epic bite at the newest WON BASS event. The smallmouth should be in all stages of the spawn and you should be able to catch them either sight fishing or targeting a little deeper water for the fish outside staging for the spawn. Even though someone could win it with all smallies, I think it will be the person who can also mix in a few kicker largemouth to separate from the pack. Pick your confidence baits, target key areas outside of spawning flats, and grind it out."
Along with the lake's unique and thriving desert fishery and landscape, another reason Mohave was chosen as the fourth WON BASS tournament site is the incredibly accommodating surrounding area for bass anglers. Beyond the super convenient accommodations right at Katherine Landing on the lake, the glitz and glamor of nearby Laughlin's casinos, resort hotels, riverside dining and plenty of RV resorts and campgrounds in the area right down the road provide a prime base camp for tournament anglers. And it's all just a 15-minute drive to and from the launch ramp at that.
"That's definitely a big reason it was so easy to pull the trigger on putting the fourth event on our circuit at Mohave," said WON BASS tournament director Billy Egan. "Obviously the fishing was first and foremost, and the fishing should be fantastic with Mohave being like the Clear Lake for smallmouth and right at a perfect time of year at the tail end of March.
"But also in working with the good folks at both Katherine Landing and the city of Laughlin to put on an event here, they've gone all out to make sure it's a great home base for our anglers for the tournament. Having recently been out there, there are plenty of great hotels, casinos, restaurants and just about every accommodation our anglers need for a comfortable and convenient stay so they can just put all their focus on the fishing. It's just a perfect central location for a tournament with so many great options so close to the lake."
WON BASS has partnered with the Laughlin Tourism Commission (LTC) and LVCVA in association with Century Marine for this inaugural event to make the tournament seamless for its anglers and family and friends. As a condition of the new tournament, anglers must stay in one of eight LTC Member Hotels, one of which is Katherine Landing. All eight of the participating hotels will have charging stations available as well as secured parking, and also have accommodations for RV guests. Discounted rates are currently available for all eight properties for WON BASS tournament anglers, and that approved list can be found at WONews.com under the 'EVENTS' tab, as well as at wonbass.com and the WON BASS Facebook page.
To sign up for the inaugural Laughlin Open at Katherine Landing, visit WONews.com and click on the 'EVENTS' tab, or call tournament director Billy Egan at (949) 366-0248. Entry fees are $1,000 for pros and $400 for AAAs, and the entry deadline is March 18. Official registration will be held on Tuesday, March 22.
One thing's for certain: if you're an avid West Coast bass angler, this is one new event you definitely won't want to miss the boat on.
Game on.
For more information, visit WONews.com, wonbass.com, the WON BASS FB page, katherinelanding.com and visitlaughlin.com.