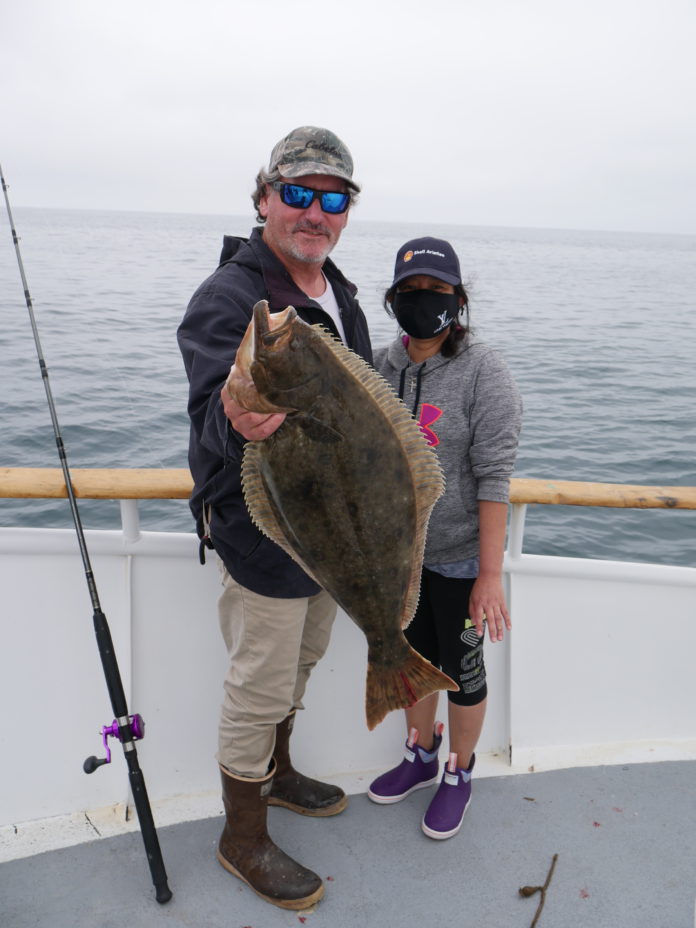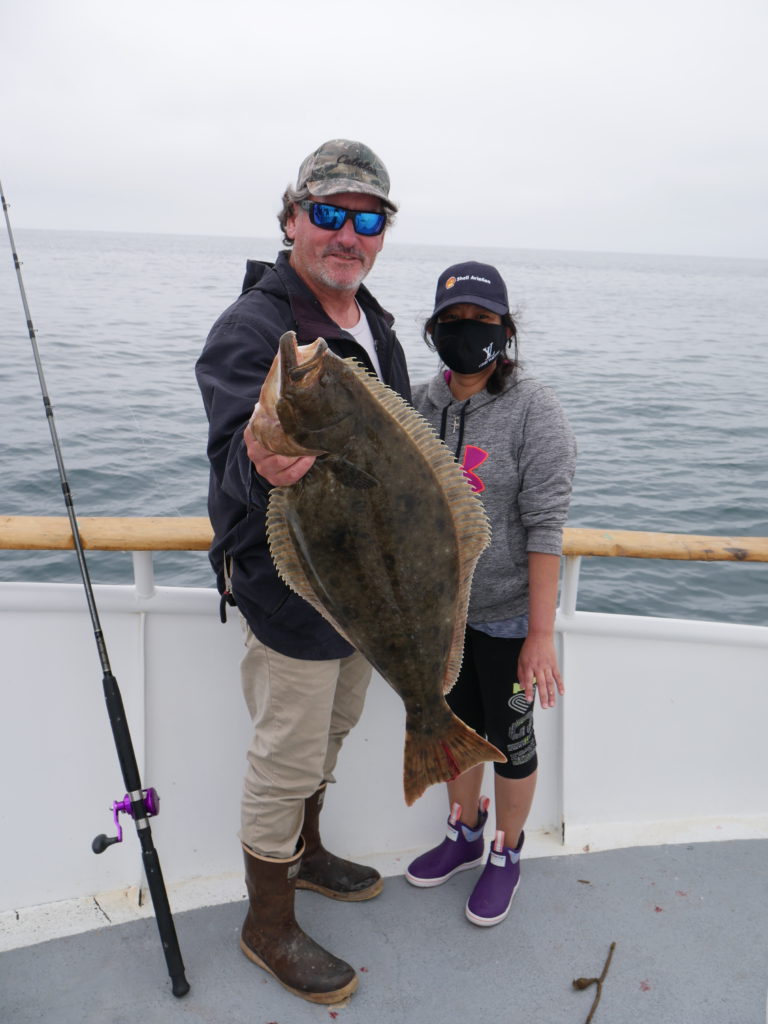 DANA POINT – The "Father's Day Special" WON charter aboard the Sum Fun out of Dana Wharf Sportfishing shot south out of the harbor on Friday to put an upbeat bunch of anglers on solid numbers and variety of coastal biters under near-optimal conditions. Shallow-water calicos served kept rods bent all day, but none of the top 3 jackpot fish were any brand of bass on this mixed-bag mission.
A water-proof frogg toggs cinch sacks pre-loaded with HI-SEAS Bluewater Fluorocarbon, a Gamakatsu G-3200 utility box and a P-Line Laser Minnow was handed to each passenger before boarding prior to the 5 a.m. departure, and Dana Wharf Sportfishing kicked in half-day passes for every angler as part of the giveaways that are part of all WON charters. Dana Wharf mainstay Captain Chris Pica was at the helm, and after he swung the Sum Fun by the bait receiver for ideal 5- to 6-inch sardines and 4-inch anchovies, it was south to the first stop which was just off of San Onofre.
Pica metered sand bass tight to the hard bottom, and suspending calicos further up in the water column in a spot sitting in only 40 feet of water. Quick action on fly-lined live baits put a good number of anglers on the board right off the bat with checkerboards just under the 14-inch size limit, and shortly after, legal bass were coming over the rail including some sandies falling for sinker rigs. There was a steady-enough pick on bass at that spot that the Sum Fun hung out there for a couple hours before baits were slung at the next spot – a short jog away and still off of San Onofre – where both flavors of bass continued to cooperate, and a couple small sheephead also came up.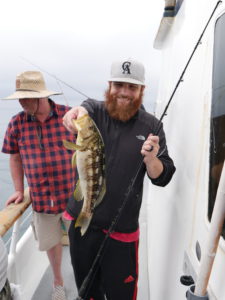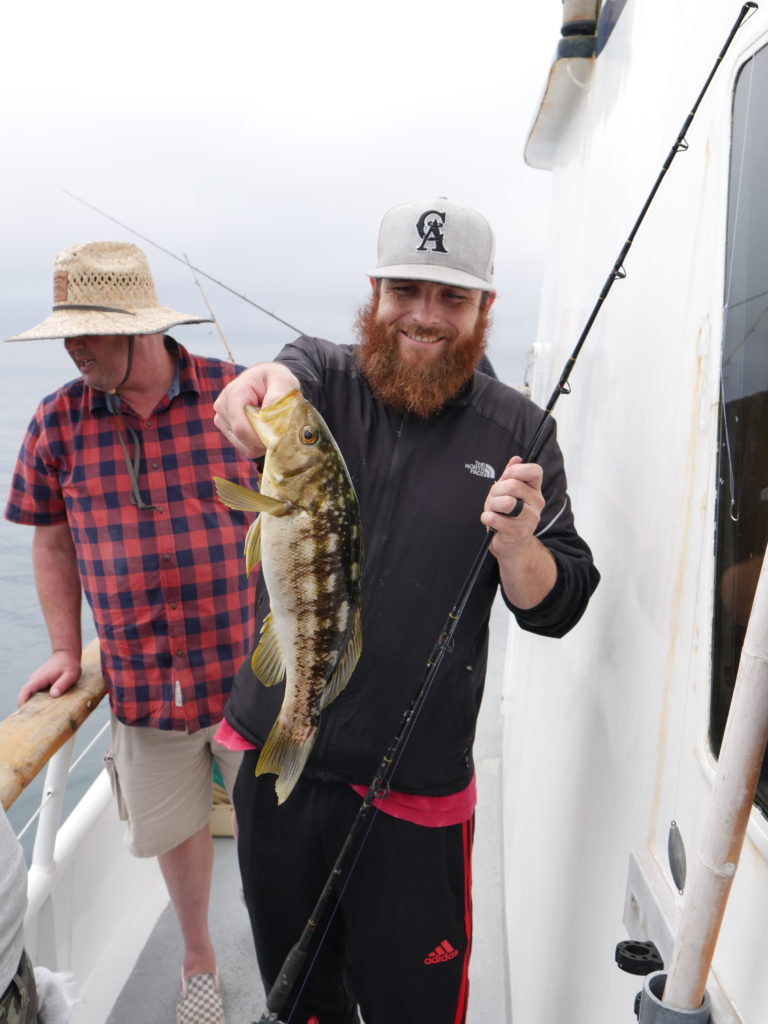 Thick, overcast conditions never burned off for the duration of the trip, but it was actually a nice break for some of the passengers who came from points inland which have experienced some sweltering daytime temps of late. It was still t-shirt weather, and the ocean conditions were maybe a touch above glassy all day. The rest of the 5-to-4 charter was cobbled together by maybe a half-dozen short hops south from one spot to the next, with almost all stops producing biters and the southern extreme of the trip off Camp Pendleton's mid-section.
As morning gave way to early afternoon, variety became the name of the game. Sculpin started coming up on sinker rigs along with the occasional rockfish and even a "China croaker" more commonly hauled up on piers. A couple anglers started swapping out live baits for shrimp resulting in some respectable sheepshead. Pica made several mentions that the conditions were ripe for white seabass, but there was no luck on that front.
There was some commotion on the bow of the Sum Fun around noon when Bakersfield angler Emma Nieva brought a legal halibut to color, and Pica swooped in with the net job. That was her first- halibut, and it would prove heavy enough to claim top jackpot spot worth $200 cash and a $100 gift card for Huk Performance Fishing apparel.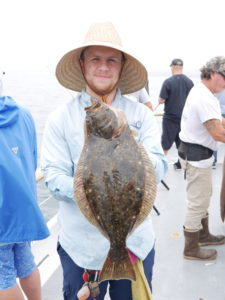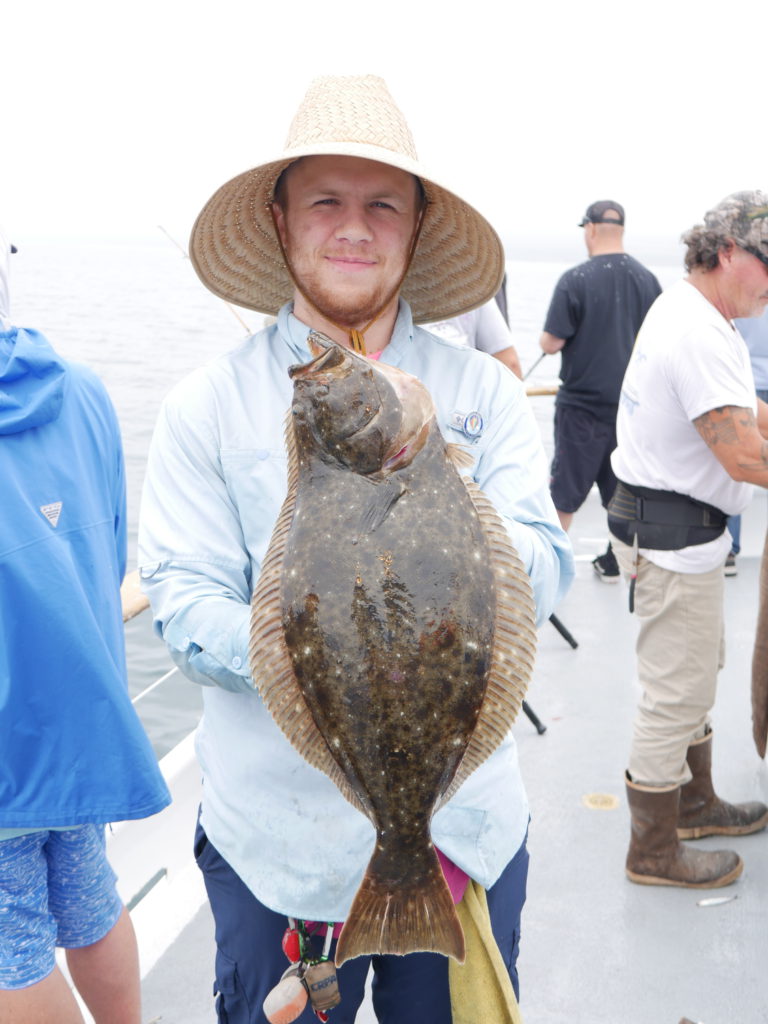 This particular WON charter allowed for the top 3 fish to pick up some jackpot cash. John O'Brien of Menifee put the next legal flattie on the deck, and it would stand as the second-place fish which was worth $100. Third place went to the biggest of those sheephead and paid $50.
Captain Pica knows every pebble, leaf of kelp and sunken whatever anywhere within range of Dana Wharf's fleet, and his playbook definitely kept rods bent and angler-spirits high. At the end of the day, the Sum Fun returned to Dana Wharf Sportfishing with 51 keeper calico bass and another 261 released, 6 sheephead, 2 halibut, 3 rockfish and 5 sand bass for 34 anglers. That same day, the Fury caught almost 500 calicos (including those released) across a pair of half-day charters. The Dana Pride chalked up 254 on a 3/4-day charter, the Clemente got almost 200 for its 3/4-day and the Reel Fun got 112 calicos including a dozen keepers spanning both half days.