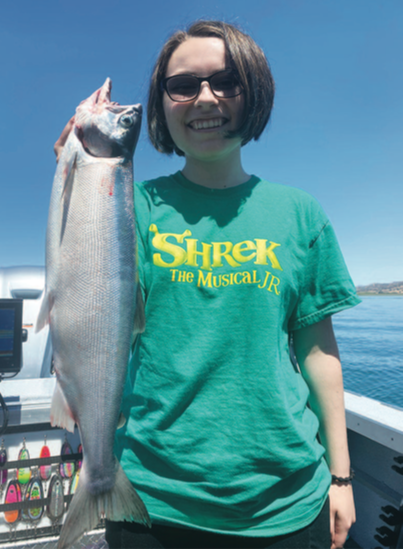 BY DAVE HURLEY
WINTERS – After being left for dead a few years ago, Lake Berryessa has risen up from life support to be one of the top kokanee lakes in the state with kokanee to 19.25 inches reported this week. Experienced trollers are finding consistent success, but you have to be in the right place at the right time with the correct presentation to fill your fish box.
Don Nevis, treasure of the California Inland Fisheries Foundation, Inc. was out with guide Troy Barr this week, and he said, "After all these ears, I felt I needed a refresher course with Professor Troy and his Teaching Assistant, Andrew, and we had a great time with limits of kokanee."
Barr said, "What a great week as the kokanee bit really well, and the big ones are just now starting to show up. A lot of the larger fish are on the bottom, and we are having to get close to the bottom in 70 feet of water to find them. Our best gear has been Apex spoons, Uncle Larry's spinners, Rocky Mountain Tackle's hoochie spinners or Spin Glo's tipped with Pautske's Fire Corn behind a RMT 5.5-inch Hyperplaid or Bahama Mama dodger at depths from 45 to 65 feet all over the main lake. Our biggest of the year came this week at 19.25 inches."
Rob Reimers of Rustic Rob's Guide Service has been making a trip over to the lake to learn the habits of the kokanee, and he said, "I am trying to figure it out, and we finally found some fish in the main lake around 10:30 a.m. with three big kokanee from 15 to 17 inches. These are all fat footballs."
Alan Fong, manager of the Fisherman's Warehouse in Sacramento, has been consistently heading over to Berryessa for king salmon, but he went trolling for kokanee this week without getting a hit on his rod out of a total of 4 fish on the boat. He said, "Upon reviewing why I wasn't able to get bit, I figured that I was using too small of a lure as 1.5-inch Apex lures seem to be working best."
Anglers are requested to complete the kokanee survey at bit.ly/kokesandkings upon the completion of every trip to provide accurate information to the Department of Fish and Wildlife.
Bass fishing remains solid for numbers, but the larger versions have been absent. There is a topwater bite along with vertical jigging spoons in deep water. The inability to hold bass tournaments has limited the number of anglers targeting the lake.
The lake is at 65 percent with the main launch ramp at Markley Cove still in the water, but not for long.