BY BRAD WILSON
LORETO — The Baja California Peninsula inhabits some of the best fishing for all types of Mexican gamefish. Whether you are looking to wrestle a monster marlin or fight mean yellowtail, Loreto offers a wide range of fishing to your liking.
Loreto-based travel specialists, LiveLoreto are dialed in on every aspect for adventures in the area, and they showed their full potential in putting this trip of a lifetime together.
If you are not familiar with Loreto, it is a thriving fishing town a few hours north of the East Cape nestled inside of Isla Carmen. Rooted in history and culture, you will find that Loreto is home to the first successful mission in Baja California, and the food is nothing short of amazing either.
The Western Outdoor News group all met at Cross Border Xpress (CBX) to jump on a one hour and thirty-minute flight to the lovely town of Loreto. The airport is conveniently located 10 minutes from the heart of Loreto,and we all made ourselves comfortable quickly at the Hotel La Mision de Loreto.
There to greet us was Kathy Hunter of LiveLoreto to ensure we enjoy everything Loreto has to offer between the phenomenal fishing and small-town nuggets like Augie's Bar and Bait Shop. The fishing began with two full days of fishing with Outpost Charters out of Marina Puerto Escondido just a short drive south of town. Puerto Escondido is unique in itself in that it's the most protected marina in Baja.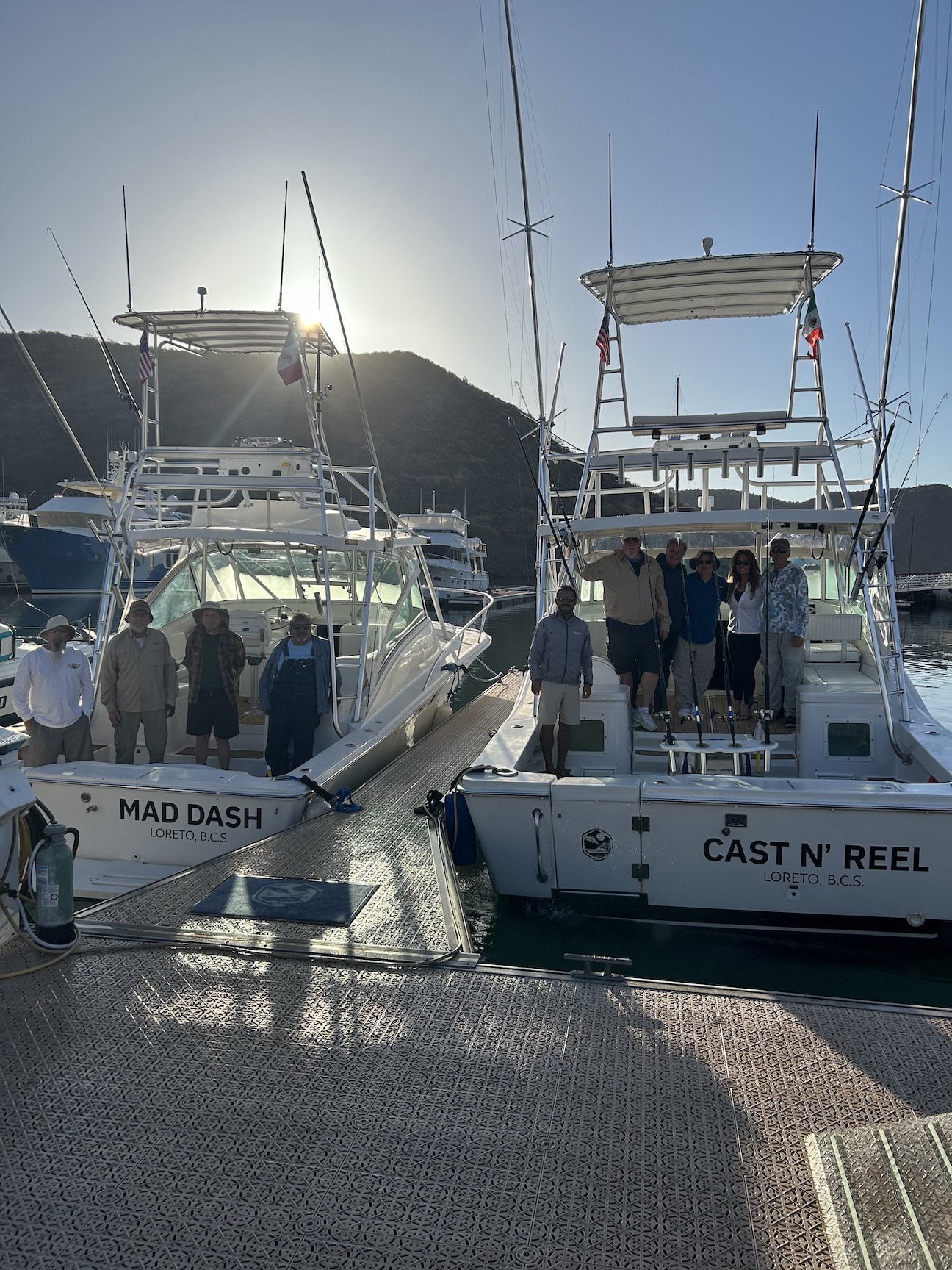 There is no better feeling than stepping onto a gorgeous 38-foot Luhrs ready to battle whatever species is willing to cooperate. Outpost Charters provides everything from licenses to bait, gear, beer, and food, and they'll whip up fresh sashimi right there on the water with freshly caught fish.
As Mad Dash captained by Juan and Oliver and Cast N' Reel captained by Jose and Raymond left the docks, the plan was to find the cabrilla first on the way out to the yellowtail grounds. Not too long after we found our first high spot to try, Frank Murillo of Carson dropped his tried-and-true scrambled egg yo-yo jig and pulled up a quality red snapper. We worked in that area dropping mackerel and yo-yo jigs in 120 feet of water for about an hour, both boats were awarded with a half-dozen quality cabrilla.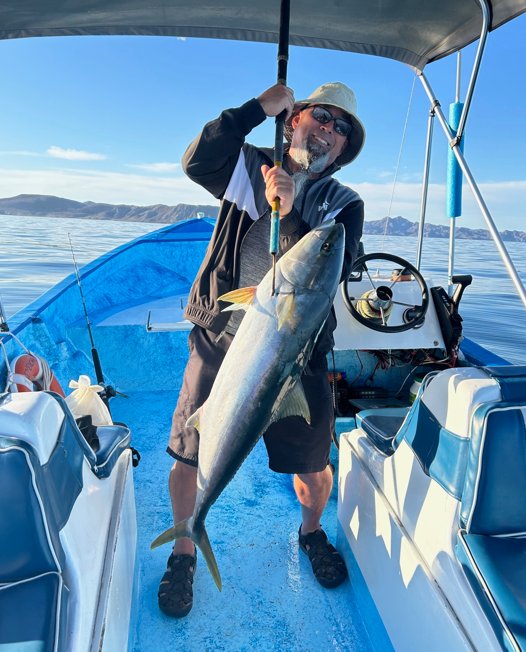 As the cabrilla bite started to slow, both captains agreed it was time to search for yellowtail. Both boats arrived at our first stop to fish for yellows, and dropping mackerel down to about 140 feet of water connected anglers with angry yellowtail. Tommy Salcido of Wilmington was the first to get hooked up, and he scored a 25-pound yellowtail. The bite kept rolling as Steve Muir of Sacramento and Richard Sportsman of Escondido had back-to-back fish hanging and landing them both.
"Water temps have just warmed up making these yellowtail search in deeper water to find food," Oliver said, "which means marlin, sailfish, and dorado are beginning to make their way into our waters. Summer months between July and September bring perfect weather and world-class fish."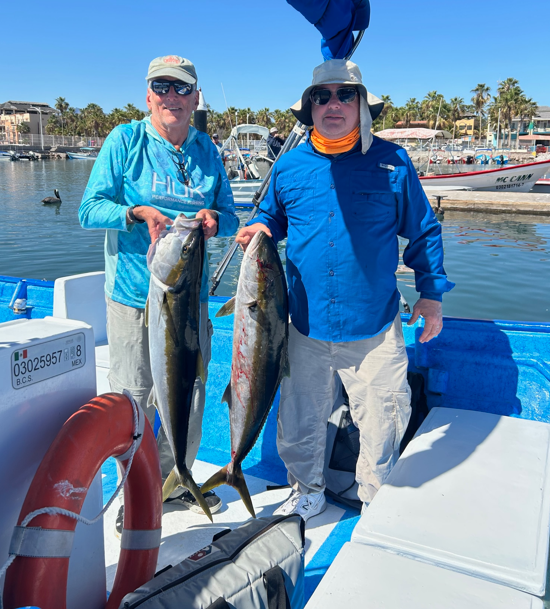 On Day 2 of fishing with Outpost Charters out of Marina Puerto Escondido, we were welcomed with another calm and beautiful morning as we set our targets on fishing yellows first. Brian Lathrop of Phoenix landed a slug mossback while Jeff Bradley of Tucson followed up with a quality yellow of his own. Gary Bednorz of Ventura picked up the largest cabrilla of the trip pushing 25 pounds.
"It hit like a runaway freight train!" said Gary.
With a few fish lost throughout the day, there were plenty of fish to go around for everyone. On the final day, the group went out of the local marina in Loreto and fished pangas before our flight that afternoon. Jeff Bradley fished with Gary Bednorz and went four for four landing quality yellowtail while slow-trolling large mackerel. I fished with Frank, and he landed the biggest yellow which went for a whopping 30 pounds and landed two more to go with it. Ward Simpson and Brian Lathrop of Phoenix went 2 for 4 on quality grade yellows while slow-trolling mackerel.
Each day was capped off with enjoying some of the best food that Loreto has to offer. Zapata Cantina has an incredible smoked marlin burrito and a live band serenading the streets of Loreto. Mi Loreto, located in the heart of town, has the ambiance and quality of dishes that you can find yourself eating almost every night. Mike's Bar and Grill offers a perfect balance of entertainment and dining where the crew was able to watch sports and indulge in great food.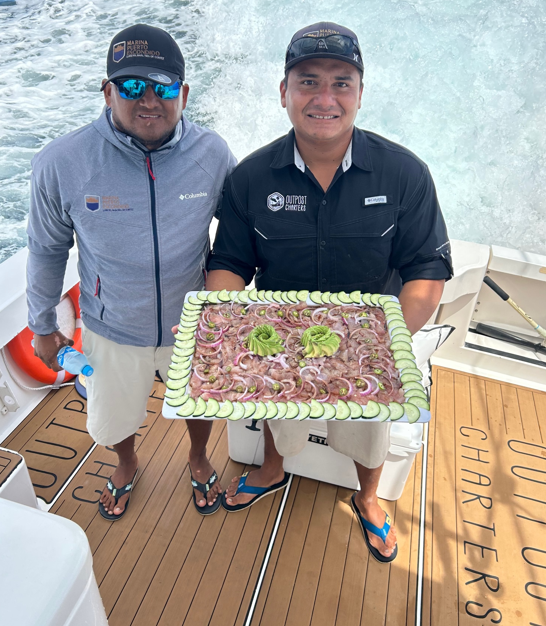 Frank said of the trip, "From the oceanfront rooms, great meals and amazing fishing, you can always count that I will be heading back to Loreto for many years to come!"
For more on booking your trip to Loreto, please contact Kathy Hunter with LiveLoreto at liveloreto@gmail.com or visit LiveLoreto.com.  For more info on Marina Puerto Escondido, visit MarinaPuertoEscondido.com.