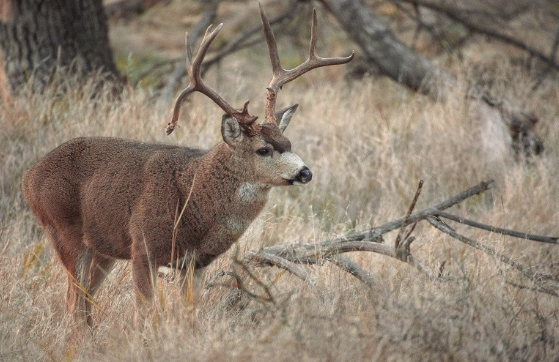 SACRAMENTO – SARS-CoV-2, the virus that causes COVID-19, has been detected for the first time in free-ranging California wildlife.
One hunter-harvested mule deer, a buck from El Dorado County, was confirmed to be infected with SARS-CoV-2. The deer was harvested in 2021 and sampled by the California Department of Fish and Wildlife (CDFW) for chronic wasting disease (CWD) surveillance. It was negative for CWD and did not show any outward signs of illness.
In California, SARS-CoV-2 has been confirmed in pets and zoo animals, but never in free-ranging wildlife. Following reports of SARS-CoV-2 detections in free-ranging white-tailed deer and mule deer in other states and Canadian provinces, CDFW tested archived deer samples for SARS-CoV-2. The samples consisted of lymph nodes collected as part of CDFW's CWD surveillance efforts. CWD has never been detected in California's deer or elk populations.
CDFW submitted archived samples from 170 black-tailed and mule deer collected in 2020 and 209 black-tailed and mule deer collected in 2021. Initial testing for SARS-CoV-2 was conducted at the California Animal Health and Food Safety Laboratory at UC Davis, and confirmatory testing was conducted by the U.S. Department of Agriculture (USDA) Animal and Plant Health Inspection Services (APHIS) National Veterinary Services Laboratories in Ames, Iowa.
"Others have shown that deer can be infected with SARS-CoV-2 and that they can pass it to other deer but do not get sick," said Dr. Brandon Munk, senior wildlife veterinarian with CDFW. "We do not see SARS-CoV-2 as a threat to our deer populations but we continue to work with partners to better understand what, if any, significance SARS-CoV-2 infections in wildlife may pose to wildlife and people. This is certainly another reminder not to intentionally feed deer. Artificially congregating deer increases the likelihood of spreading disease and may be a source of SARS-CoV-2 exposure for deer."
There is no evidence that people can contract COVID-19 by eating meat from an infected animal. Nonetheless, hunters are encouraged to take appropriate precautions when handling and dressing game and practice good food hygiene when processing their animals.     The Centers for Disease Control and Prevention(opens in new tab) states that although people can spread SARS-CoV-2 to animals, especially during close contact, the risk of animals spreading SARS-CoV-2 to people is considered low.