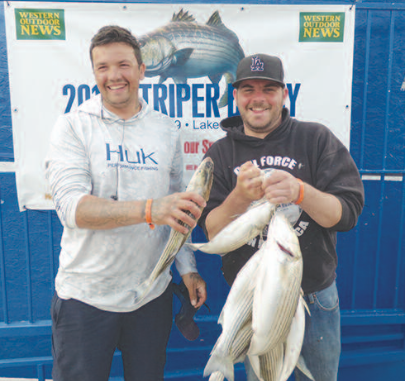 BY MIKE STEVENS
LAKE HAVASU CITY, ARIZ. – Less than a year removed from a 2020 WON Lake Havasu Striper Derby that was pushed back into early summer, the event is back at its rightful spring slot on the calendar, and annual participants are looking forward to the fishing and fun happening May 14-16. It took a series of minor miracles for the derby to happen last year, and while veterans of the long-running event were stoked it could happen at all, the consensus following a weekend of fishing under triple-digit temperatures was that it definitely belongs in May!
The 39th Annual WON Lake Havasu Striper Derby runs May 14-16, and it will once again setup headquarters at London Bridge Resort, where anglers will weigh in at the end of each day on the water. There are docks on-site reserved for the event as well as plenty of boat-trailer friendly parking at this location.
Striper Derby festivities kick off on Friday, May 14 (starts at 4 p.m.) at the team check-in held at Anderson Toyota (6510 Showplace Ave., Lake Havasu City) where anglers, friends and family can enjoy some food and some socializing. This is where teams receive their numbered bracelets (for the raffle) and goodie bags, and it's also where teams can adjust their entries (entering blind bogey, big-fish options, etc.) and bounce questions off Tournament Director Billy Egan. Late sign-ups can also be taken during this time.
The contents of the goodie bags are still being put together, but teams can expect assorted lures and braid from Berkley, Striper Derby t-shirts, Techron Marine fuel system treatment, and the bag itself is a handy Frogg Toggs dry bag that can be immediately put to good use on Havasu.
Friday at Anderson Toyota will also be where anglers will get their first look at the Grand Raffle Prize: a Klamath 16 EXW paired with a Suzuki 40hp motor valued at over $18,000, trailered up and ready to go home with the lucky participant who simply gets his number called at the end of the awards ceremony.
One of the adjustments in 2020 was to also hold the awards ceremony at Anderson Toyota rather than in the conference room near the weigh-in area at London Bridge Resort in order to avoid an indoor gathering. With room to spread out and plenty of afternoon shade, it worked out very well last year, and the awards ceremony will again be held at Anderson Toyota that afternoon.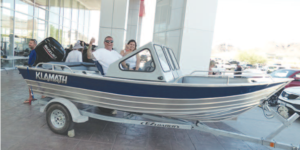 On the subject of prizes, there are some new ones up for grabs in 2021, including a 3-night stay at London Bridge Resort valued at $600. That is a new prize to go along with a new competition at Striper Derby: the Best Dressed Contest. The winner will be picked from teams (who are welcome to include any friends and family in town for the event) who show up at the awards ceremony in costume. First place gets to choose between the stay at London Bridge Resort or opt for another new prize at the event: a $500 gift certificate for Huk Performance Fishing Apparel.
The angler weighing in the Big Fish of the event will receive a cash prize based on the total pool of money collected from Big Fish options included with the Basic All-In Entry (which almost everyone does). A prize like that calls for maximum transparency, so for a fish to be eligible, video of it being caught is required. Cash will also be included with prizes for the biggest five stripers caught over the course of the Derby.
WON Striper Derby has almost always had a raffle prize for all participants that signed up prior to the Early Bird deadline, but this year's score features a much higher level of prize than ever. Every team's entry received by May 7 will be entered into the Early Bird Raffle for an epic 3-day houseboat trip at either Pleasure Cove Marina (Lake Berryessa) or Lake Don Pedro Marina in Northern California. Restrictions and blackout dates apply, and this awesome prize carries a face value of $2,000.
Another huge prize comes from Sea Eagle, leaders in the inflatable boat space and a long- time supporter of all things Western Outdoor News. For the 2021 installment of Striper Derby, Sea Eagle is providing its Fast Cat 16 inflatable fishing boat packing a Suzuki 6hp motor. Completely portable, storable and transportable, the Fast Cat 16 can be stowed in the back of most cars and in relatively small spaces. It doesn't require a trailer, so it can be carried to the most remote, hard-to-reach locations. That package carries a retail value of around $3,900 for boat and motor, and it is also a general raffle prize.
Abu Garcia is kicking in 10 Revo/Veritas rod-and-reel com- bos to distribute amongst the top finishing teams, while the rest of the prize list is being sorted out as far as what's awarded for on-the-water success and what simply gets doled out in the general raffle.
Lake Havasu Striper Derby is powered by its sponsors and supporting companies that provide everything from prizes and giveaways to venues and local volunteer support. They include: Klamath boats, Suzuki, Abu Garcia, Berkley, Sea Eagle, Huk, Maurer Marine, Frogg Toggs, Anderson Toyota, Lake Havasu City, London Bridge Resort, Chevron/Techron, Pleasure Cove Marina at Lake Berryessa and Lake Don Pedro Marina, Global Fish Mounts and Anglers United.
Some new wrinkles were added to the Striper Derby format in 2020, and they will stay in place for this year. They are as follows: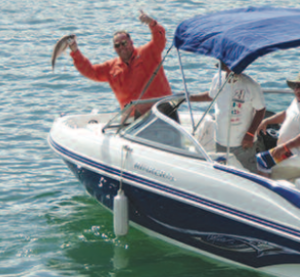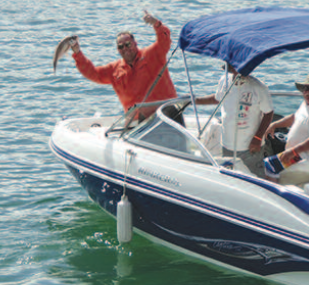 Big Fish High Roller's optional: Throw in an additional $100 on top of your all-inclusive $275 team entry fee and be included in the new High Roller's optional for a shot at a big payday for the three heaviest striped bass in the division.
General Big Fish payouts to 5th place: In previous years, the general Big Fish payouts went to the 3 biggest overall fish at Striper Derby. Payouts will now go to the anglers catching the 5 largest fish of the event.
Multiple teams in one boat: More than one team may fish the Derby from the same boat — including but not limited to single-angler "teams," which will also be permitted.
One-division team competition: Striper Derby will consist of a single division including every registered team, with prizes and trophies going to the top-10 finishers of the event.
All Teams Must Weigh-In By Boat: All tournament fish must be presented to the scales via boat ONLY at London Bridge Resort courtesy docks. No walk-in or drive-in fish will be accepted by tournament staff.
The basic $175 per team entry fee includes entry and chance to win the boat, trophies and many other tackle prizes. Historically, almost everyone enters the optionals, which are $40 each day for the blind bogeys. The General Big Fish Option is $20 per team and goes into the pool to be paid out to the five biggest stripers caught during the tournament based on 1st (35%), 2nd (20%) 3rd (20%) 4th (15%) and 5th (10%). So for only $275, your team is "ALL IN." This year there is also the "HIGH ROLLER" entry,
which puts those choosing to lay down another $100 into a separate TOP 3 Big Fish pool to be paid back on to the angler with the 1st (50%), 2nd (30%), and 3rd (20%) biggest fish.
The ever-popular blind bogey contest running on both Saturday and Sunday, and it is a fun way to win some random cash. The $40 entry for each day goes into the blind bogey fund and gives the team a chance at winning a share of the random blind bogey weights. So whatever sized striper you catch, bring it in and weigh it, and you might be a cash winner.
For more info and to keep tabs on any updates, join the WON Lake Havasu Striper Derby group on Facebook and visit HERE.