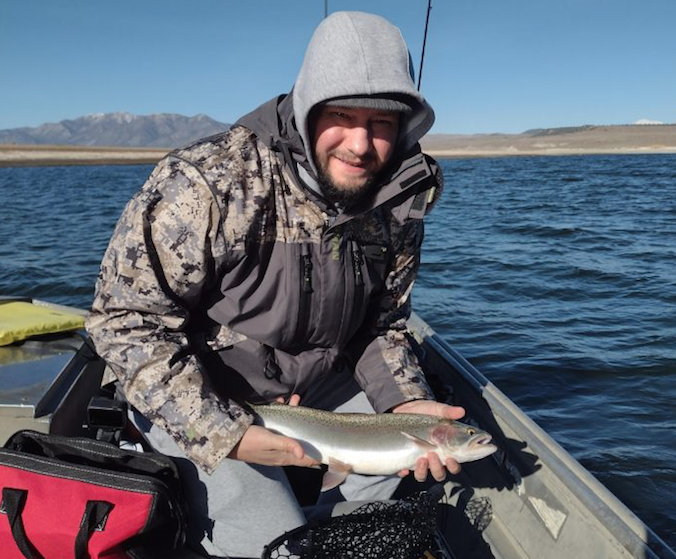 BY MIKE STEVENS
CROWLEY LAKE – A year ago this month, I fished Crowley Lake for the first time despite the fact I've been fishing the Eastern Sierra for 30 years. How is that even possible?
            I was always more drawn to creeks, backcountry lakes or hitting five drive up lakes in a day rather than spending all day on one. Crowley was always just the big lake I passed on the way in, signaling my arrival. About seven years ago, I covered the April trout opener at Lake Crowley for Western Outdoor News, a gig I went on to repeat annually ever since, and that gave me a look what the lake is capable in terms of the size and quality of the trout it held in it's depths. After a couple years of that, it became quite clear to me that my unexplainable avoidance of fishing the lake was just… stupid.
I was intimidated as hell on Crowley that day trying to figure out where and how to fish a lake that size on my first time on it, but I got a nice, drag-burning cutthroat (search 'suicide run' on WONews.com and you'll find the whole story) that would easily stand as a personal best if for no other reason the only cutts I'd caught were 8 to 12 inchers in the Mammoth Lakes backcountry. I'd broken the ice, and I knew I'd be back the following October, which as it turns out was last weekend.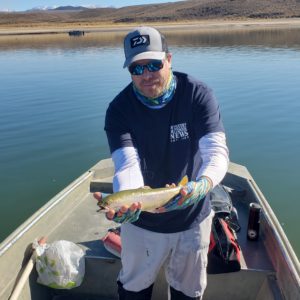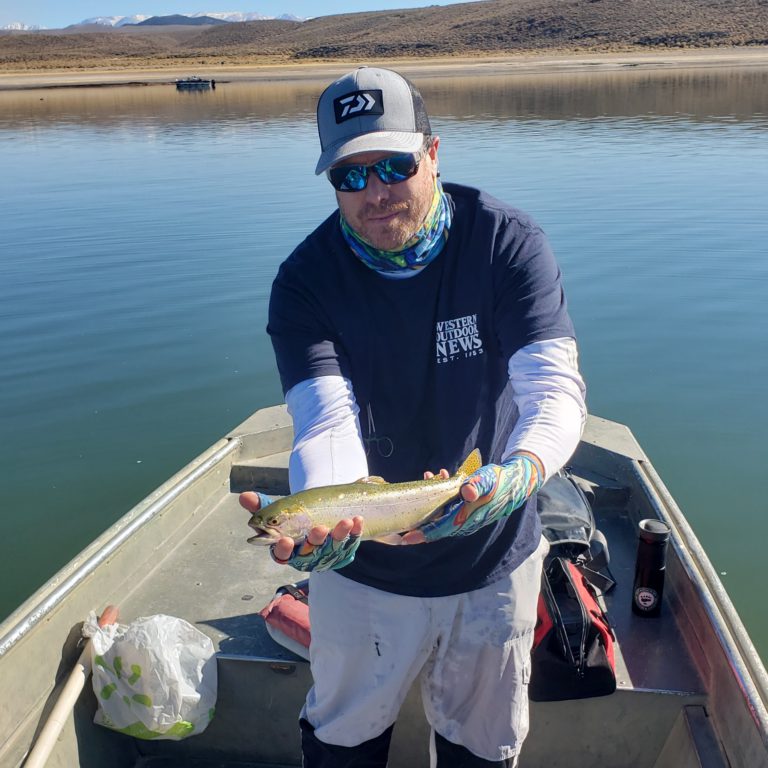 Taylor Miller was with me last year and was back again for Round Two. My brother and his merry band of fellow Trader Joe's employees were already up there, and we met up with them at the Seasons 4 Condos in Mammoth Lakes that always stands as my base of trouty operations. Those guys were up there all week fishing all over the place, but my first day was earmarked for Crowley.
Miller and I pulled up to the front gate an hour before it opened at 7 a.m. By 7:30 we were in our frosty (it was 29 degrees out) rental boat: a roomy flat-bottom that could easily fish three comfortably with a 30 hp outboard. After a frigid half-hour run across the lake, we reached the tip of Crowley Lake's North Arm which is where 99 percent of my pre trip intel pointed to. For a week I gathered info from guys like Andre Nersesian of Eastern Sierra SportFishing. Doug Rodricks from Sierra Drifters, Eric McIntire from Fishhead Customs, Jared Smith of Parchers Resort and a handful of local contacts I know who are very familiar with the lake, all Crowley Jedi Masters. The allied liberation of Paris likely featured less notes, scribbles and arrows than the printed out map of Crowley I had in my chest pocket.
I made my first cast with Thomas Buoyant well offshore of North Landing and hooked up with a thick-shouldered rainbow that put a respectable bend in my Daiwa Kage rod and some serious zing in the drag of the Daiwa Fuego 1000 it was paired with before being netted, photographed and released. That fish had to feel better getting back in the water after being exposed to air temps that were icing up our guides.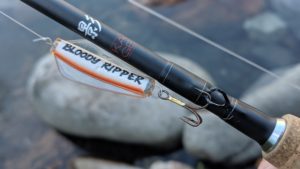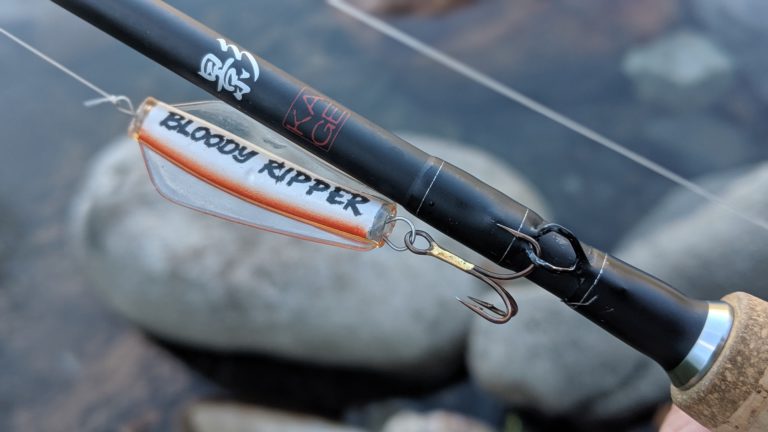 We thought that first-cast fish might be a sign of easy fishing to follow, but that was not the case. Over the course of the day, we'd grind through a little better than a fish per hour, but the bites were relatively consistent – if that makes any sense – without any huge lulls in the bendos.
Tactically speaking, it was the same recipe all day: Identify a target zone, get upwind of it, drift through it and cast repeatedly. Most of the time, the drifts were oriented along the Owens River Channel, but without electronics it was just an educated guess based on the topo map in my pocket and Google map on my phone.
With the water drawn down at Crowley Lake, Green Banks Bay was about as far up into the North Arm you could get before getting into the muddy shallows of the Owens River "delta." That being the case, out drifts in the North Arm went approximately from North Landing to Six Bays and around Alligator Point with a couple random blind-casting forays at places that felt fishy within that zone.
Spoons, jigs, jerkbaits were all on hand but like last year, it was the heavier metal that got the job done. Thomas Buoyants in the ¼-ounce size was the top producer followed by the 1/6-ounce model and the ¼-ounce Johnson Sprite. All were retrieved at various speeds and depths while in fish-finding mode.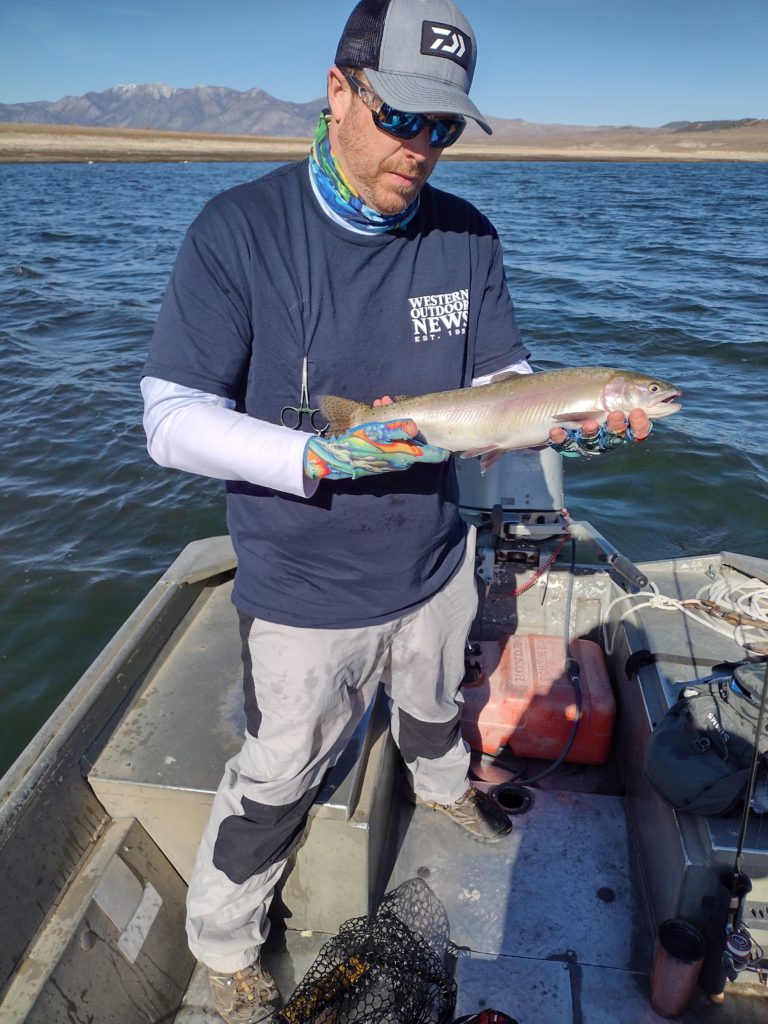 Cutthroat between 14- and 19-inches were the most common catch to go along with a pair of big rainbows (Crowley chrome) and a 14-inch brown trout. The biggest dry spell came when we ventured out of the North Arm to check out areas including Chalk Cliffs, Crooked Creek and Beaver Cove for nada. The time spent in points south on Crowley was not completely wasted, as the closest thing to a flurry of biters showing up that day did so in the middle of Big Hilton Bay. That time, setting up that drift along the Hilton Creek Channel and picking up a pair of cutts and a big rainbow for Miller to finish the day.
The plan was to spend the whole time in the North Arm, but by 9:30 a.m. there were no less than 40 boats and as many float tubes working up there. It's a big lake, but most of those boats were occupying a 50-yard zone off of Six Bays, and it still looked like you could walk across them. Most of the tubers were off of North Landing, but once the chill backed off, there were tons of them.
I was super impressed with the Daiwa Kage rods, and had both light and ultralight models on hand. I like using a step above ultralight when throwing the bigger spoons, and I like to chuck them on 6-pound fluoro on big lakes. The light-action "minijig and spoon" model was perfect for that. It was matched with a Daiwa Fuego 1000 filled with 6-pound Seaguar InvisX. I had a 7-foot, 1-inch ultralight too, and while I made long-bomb casts with it all day on Crowley, I didn't connect to a jig fish. The next day, that rod was the only one I picked up for throwing jigs at Virginia Lake and Lundy Lake for browns and big brooks that gobbled the Sierra Slammers jigs up.