BY TROY NISHIMOTO
RENO, Nev. – There aren't many places in the world where you can target trout bigger than the average Southern California coastal yellowtail. That's what makes Pyramid Lake near Reno such a remarkable fishery.
There is not a single body of water that contains such quality and numbers of Lahontan cutthroat trout other than this oasis surrounded by jaw-dropping snowcaps. As an angler growing up and fishing in the tuna culture in San Diego, fly fishing in what seemed to be another ocean was incredibly intimidating. I had only fly fished a handful of other times, and the task just seemed too daunting to attempt without a professional guide.
I made contact with Andrew Engel, owner of TheFlyDudes on YouTube and a well-experienced guide on Pyramid Lake. I shared with him my agenda, goals for the trip and limitations and got to work. Engel told me the better days of success are typically when conditions are rough and sour. Sure enough, when arriving at our fishing grounds before sunrise, the winds were howling and the clouds were rolling in with force.
He then showed me many new techniques that improved my roll casting tenfold which truly proved to be beneficial when it counted. The morning was a bit slower than usual as my buddy picked off two in a shallow dropoff with some minnow flies, yet my bobber had stayed afloat for what seemed like days.
Soon enough, I had made contact with my first 8-pound trout which left me speechless, but I knew in the back of my head there was a bigger monster that I couldn't leave without seeing.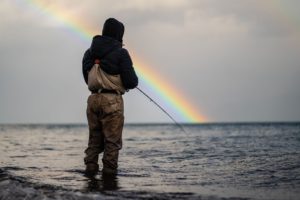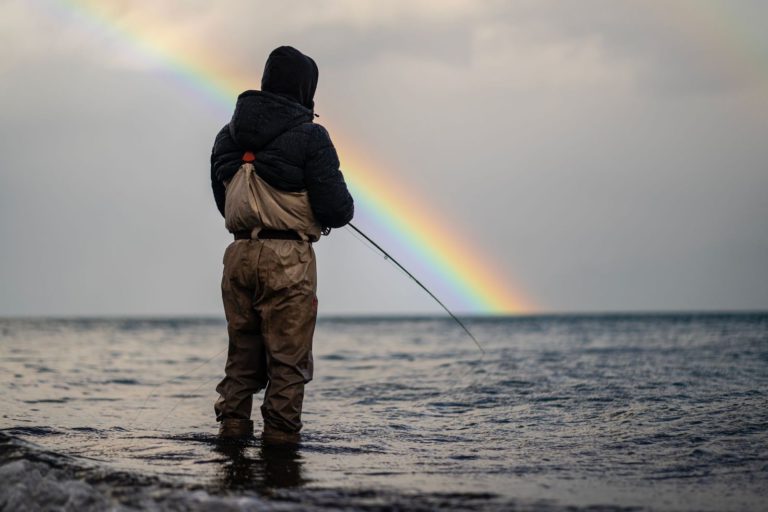 Rain showers, 50-miles-per-hour gusts, and even a lucky double rainbow rolled through, yet I was determined to see that bobber sink again. Then finally, persistence prevailed as the winds died for a short window and the bobber that I had drifted through in the same channel 10 times prior abruptly dropped like a sandbag.
I set the hook as hard as I could and began to strip the line in until I could feel the violent head shakes of this beast. I was ecstatic in the moment yet frightened that the barbless hook would slip out of its mouth, but I was reminded of Andrew's pointers and lessons that had only solidified my confidence in landing this fish.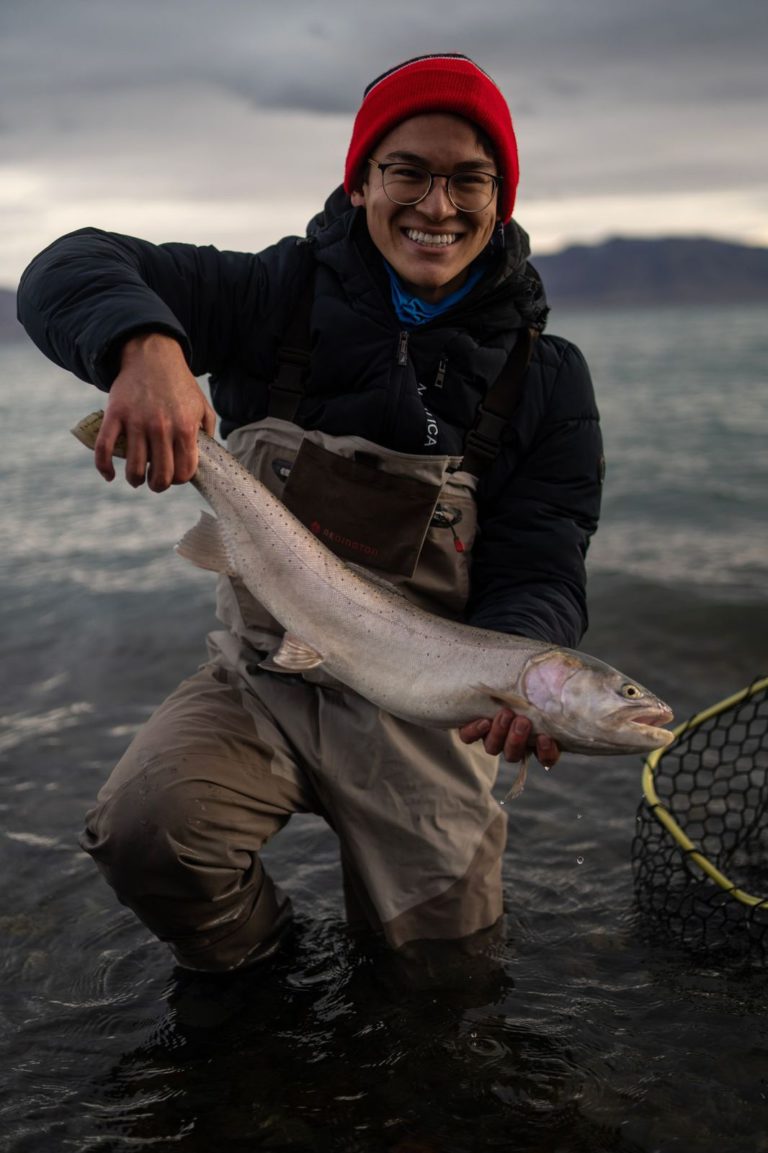 After some ripping drag and what felt like a battle with a bull, the 13-pound giant was netted. High fives were shared among the three of us after I let the tail slip from my fingertips back into the freezing depths of Lady Pyramid. My smile didn't wash for the rest of the day and my hands were numb to the bone.
This is what I had come for. For the rest of the session, the wind and rain persisted and tortured us, but the fish were willing to bite. I had ended the day with five terrific specimens  not including leaving a couple in the dust from missed hooksets and of my lack of experience.
The cooperation from the Paiute Tribe and guides such as Andrew to let a rookie angler like me experience an amazing fishery was just far beyond belief. This was truly a trip of a lifetime and will be back soon.