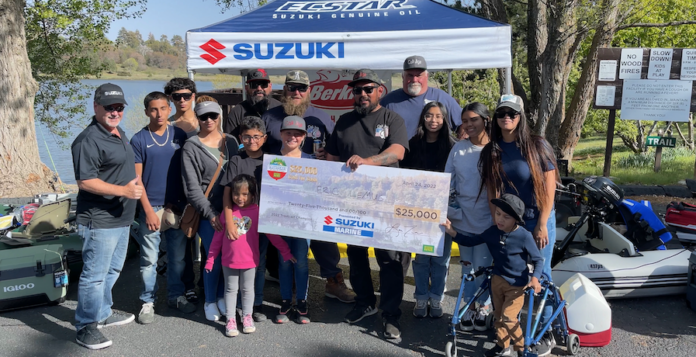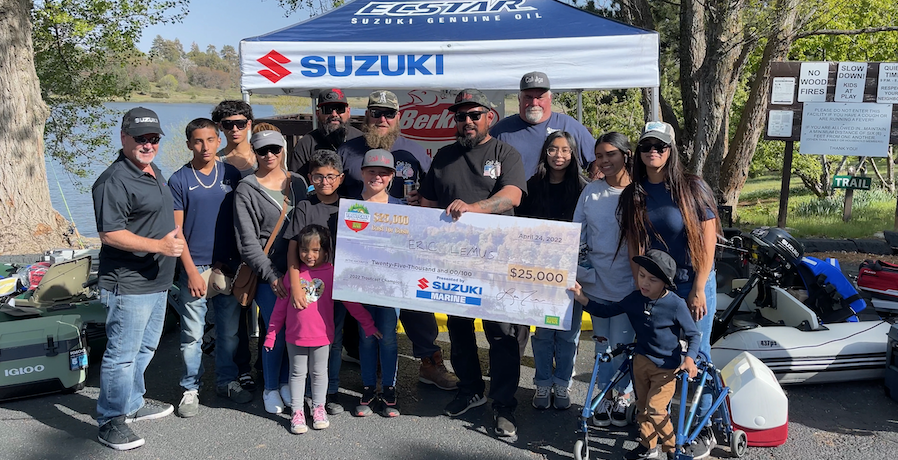 BY BLAKE WARREN
Plenty of fishing fun and winners to go around, but none bigger than San Jacinto angler who cashes in with $25K tagged fish to defy all odds
JULIAN – It's all fun and games until somebody catches a 15-inch rainbow trout that translates into a cool $25,000 payday.
Almost unbelievably still to this day, that's exactly what went down at the second annual installment of the Western Outdoor News Troutcast at Lake Cuyamaca on a recent late April weekend.
WON Tournament Director Billy Egan and this writer, getting ready for the second day of fishing in our Racoon Hollow cabin at the lake, had an unexpected visitor show up on the porch just a smidge after 7 a.m. as we were pouring our morning coffee.
"I just caught a tagged fish," said angler Eric Lemus of San Jacinto, 1-pound trout on a stringer in tow. "I didn't want to bother you guys at your cabin so early, but I wanted to make sure I checked it in."
Turns out it was a very wise decision, indeed.
Through still-sleepy eyes, Egan entered the tag number into the system: 00220. Enter, submit.
"This is a winner," were the words that popped up on the cell phone. Sleepy eyes immediately no longer.
Attached to Eric's stringer was a whole different sort of "fish of a lifetime." A $25,000 one, in fact. Cha-ching!
Defying all odds, Eric's modestly-sized trout was just the second of two – out of 25 total – tagged fish to be checked in, of which only the very first two brought in to tournament or lake staff were eligible to potentially claim the massive purse. Sure enough, it was a winner. And a huge one at that.
"Seriously? For real?" Eric asked. Yes, Eric. For real.
After running down the checklist of required protocols, Lemus would ultimately be handed a huge 'Price is Right-style' check for $25K among his crew of family and friends to cap Sunday afternoon's awards ceremony in fine fashion and was congratulated by WON staffers and Dean Corsiebian of Suzuki, the company that sponsored the tagged-fish promotion for the event.
It was quite the epic stroke of luck for Lemus, as the estimated odds of even catching the winning tagged fish during the tournament at all were somewhere in the neighborhood of just under 1 percent, with the odds of it being one of the first two tagged fish checked in for the event bringing those chances considerably lower than that even still.
Nonetheless, Lemus' green and orange Berkley Mice Tail cast just over 20 feet from the north end of the Chambers Park shoreline proved to be the ultimate fortuitous case of, "Right place, right time."
However, while Lemus' $25K trout was certainly the emphatic highlight of the event, there were plenty of other winners who cashed in too, as the lake threw just about a little bit of everything at anglers for this year's Troutcast.
Folks began arriving on Friday afternoon, when steady 25 mph winds had the lake dancing with white caps and slamming consistent, ocean-like waves into the jetty at the north end of the lake. The dicey conditions had just about everybody guessing as to how it would all affect the weekend's fishing throughout the evening's registration after a 4,000-pound stocking from Mt. Lassen earlier in the week. Anglers picked up their complimentary Frogg Toggs supply packs with jars of Berkley PowerBait and 4-pound Trilene spools along with exclusive WON Thomas Buoyant spoons and everyone just hoped for the best heading into Saturday morning.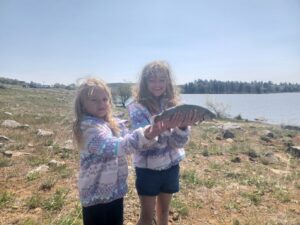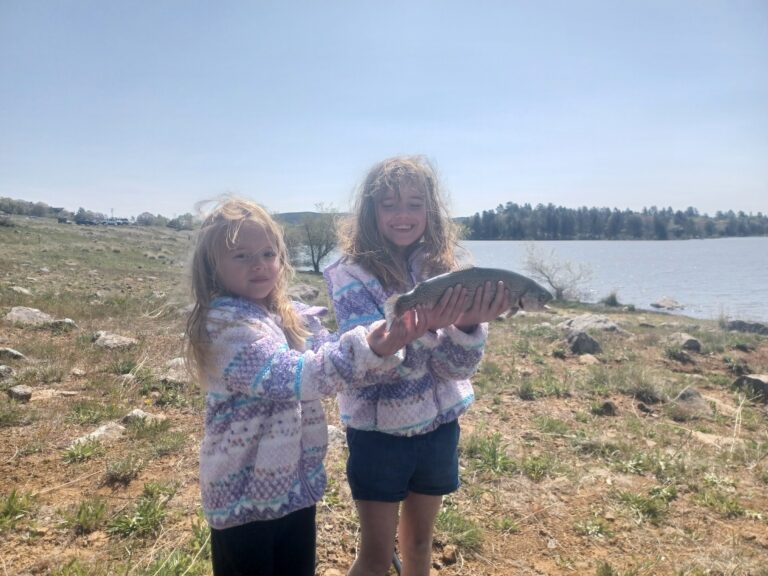 Fortunately, the wind relented some overnight, though still making its presence felt, just to a lesser degree than a handful of hours earlier. While the morning bite was somewhat slower than hoped for, rainbows began slowly but surely finding their way onto stringers around the lake one by one. With the biggest fish caught by both adults and juniors (14 and under) in each of four weigh-in periods throughout the day being good for some sweet sponsor prize packages, there was a lot of curious peering up and down the banks going on just to see how things were shaking out amongst the fellow competition.
Despite a decent percentage of the big Lassen stock consisting of larger-model rainbows in the 4- to 8-plus-pound range, it was mostly 1- to 3-pound trout taking top billing through the morning until a run of a trio of 5-plus pounders hitting the scales in the afternoon weigh periods.  When the dust had finally settled, it was Ken Belhumeur's 5.77-pound rainbow that edged out a 5.6 pounder caught by Melvin Sanford to take the honor of big fish for the day. Those few extra ounces of trout chunk on Belhumeur's fish scored the angler a Sea Eagle STS10 inflatable with a Suzuki 2.5hp outboard along with a massive prize package with Pfleuger reels, Fenwick rods, Daiwa Crossfire combos, Daiwa tackle bags, Daiwa J-Fluoro spools, a 52-quart Igloo cooler, top-shelf Costa sunglasses, a Panther Martin lure pack, a $100 bonus cash and more.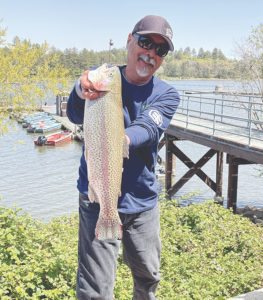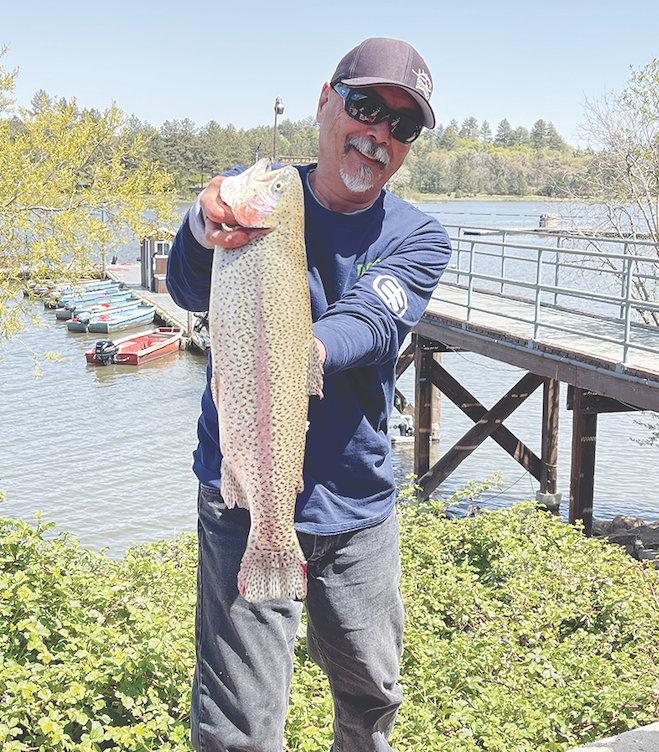 Sunday provided much more fishing-friendly conditions as the wind subsided further and overall catch numbers were noticeably up throughout the morning from about the time Lemus landed his big-money fish. More 2- and 3-pound trout were coming in and there was a bit of a stir around the lake when word began to get around that float tuber Joey Quick had brought a fish to the scales going 6 pounds even over at the boat docks. There was another nice run in the afternoon of bigger 'bows going 4 to 5 pounds, but by the time the scales had officially closed, Quick's solid 6 pounder ultimately held up as Big Fish of both Day Two and the entire event overall. That locked him in for the second inflatable boat to be awarded, a Sea Eagle 437 Paddle Ski, also equipped with a 2.5 Suzuki and a similar but even larger prize package than Belhumeur's Day One haul for his 5.77 pounder.
Sixteen separate prize packages were also awarded to the eight different winners in both the Adult and Junior Divisions – well, I shouldn't necessarily say "different winners," as two junior anglers showed their trout fishing mettle by winning two separate time periods for their division, Andrew Buck and Grayson Vanzantel, both with solid fish in the 2- to 3-pound class to double up on the prize packages at the end of the day. All of the 14 winners went home with a combination of Pfleuger reels, Fenwick rods, Daiwa and Plano tackle bags, Panther Martin lure packs, Daiwa J-Fluoro spools, high-end Costa sunglasses, Suzuki and Costa hats and more.
All in all, it was another great event for a second consecutive year, with all the participating anglers eager to return for a third installment of the two-day trout derby in 2023. When it comes to weekend trout fishing with family and friends at a beautiful alpine lake nestled in the mountains, a shot at winning boats and tons of great prizes – and even a most-fortuitous $25,000 payday in this particular case – along with simply relaxing and having a great time catching some fish, what's not to like?
See you next spring!
Western Outdoor News would like to give a big thank you to Lake Cuyamaca head rangers Butch Paddock and Jay Blaylock along with all of the rest of the terrific lake staff who helped make this event such a great success – your hard work is very much appreciated! WON would also like to offer up a huge thanks to all of Troutcast's fantastic and generous sponsors that made this event happen, including our stand-out title sponsor Suzuki, Sea Eagle, Berkley, Pfleuger, Fenwick, Costa, Igloo, Daiwa, Plano, Panther Martin, Thomas Buoyant and Frogg Toggs.