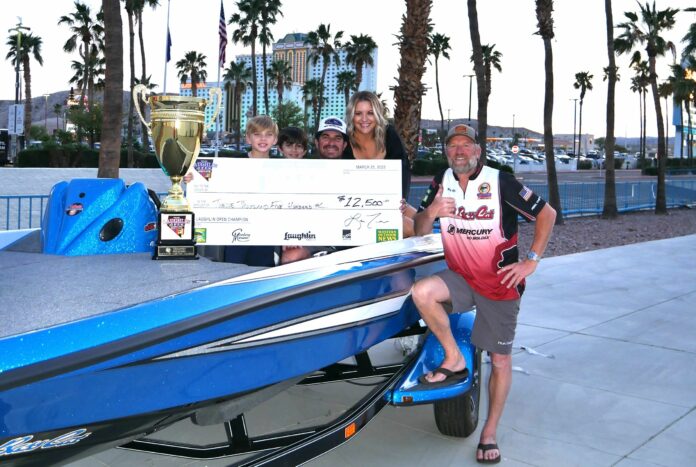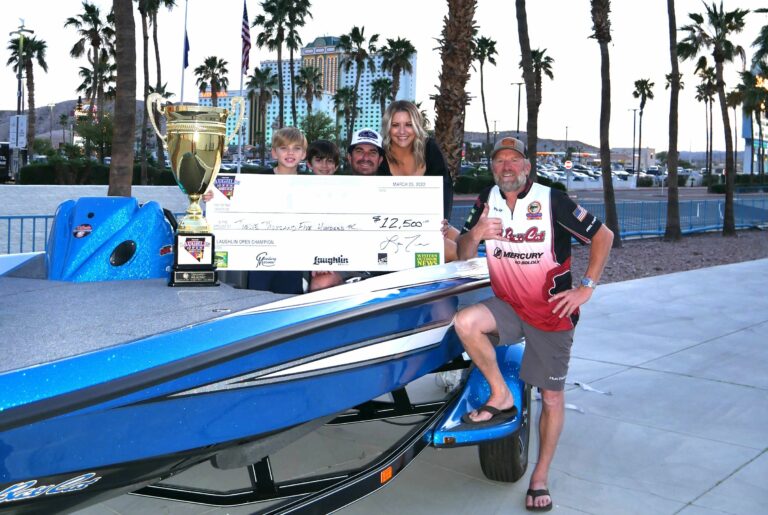 BY MIKE STEVENS 
LAUGHLIN, Nev.– After finishing near the top of the leaderboard on the first two days of the WON BASS Laughlin Open at Lake Mohave, Justin Kerr made a charge on the final day that propelled him to the top and allowed him to emerge as the first-ever champion of the newest WON BASS event.
The Lake Havasu City, Arizona pro and two time WON BASS U.S. Open champion was the only pro to weigh in three 20-plus pound bags (21.51, 22.84 and 21.87 for a total of 66.22 pounds), and it was that consistency that enabled him to move past a couple of key misses on better fish on the final day and bump Tim Klinger off the hot seat and take a late overall lead. Travis Pitt was the only pro left to weigh in, but the leader following Day 2 on Lake Mohave turned in a 17.52-pound limit on Day 3 and had to settle for third. Klinger finished in second place with 62.72 pounds which just edged out Pitt's 62.36-pound 3-day total.
Along with the first-place trophy, Kerr also took home a Bass Cat Bobcat equipped with a Mercury ProXS 150 valued at right around $42,000, a $12,500 check and sponsor prizes. Mike Dailey of Overton, Nev. is the AAA champion with a total weight of 61.8 pounds, which was just good enough to hold off Todd Tobiasson of Las Vegas who weighed in 61.18 pounds of Lake Mohave bass.
After high winds shut down the pre-tournament practice period, conditions backed off just in time for the first day of competition, then summer effectively arrived for the next two days with hot temperatures and minimal breeze. Smallmouth bass were dominated as far as numbers weighed in over the course of the tourney, but there were some respectable largemouth here and there including the overall biggest bass of the whole event. Finesse fishing with light line was the primary name of the game with almost all the biters coming around spawning beds, or from just offshore where fish were in the final stages of prespawn and ready to be among the next batch of fish to move up shallow.
A full recap of the WON BASS Laughlin Open will appear in next week's issue of Western Outdoor News, and that will include details on the cash and sponsor prizes from Abu Garcia, Plano, Costa, HUK Peformance Fishing apparel, NexGen batteries, Frabill, Phenix rods, Signature Gate Systems and more, but here's a quick overview of how things shook out:
That big largemouth that wound up being the top fish of the inaugural event was a 6.75 pounder caught by pro Matt Greene on Day 1. Travis Pitt had the biggest bass among the pros on Day 2, a 5.37-pound smallmouth that helped land him at the top of the leaderboard with a day to go. Roy Hawk's 5.46-pound was the Big Bass on Day 3.
On the AAA side, Matt Thomas wound up with the Big Bass on Day 1, a 4.94 pounder. On Day 2, Joseph Weber's 6.01-pound smallie stood as the Big Bass and wound up being the top AAA Big Fish overall. Ellison Hubbard's 5.52 was the Day 3 Big Bass on the co-angler side.
The Big Stringer for each day on the pro side was put together by Tim Klinger (22.21 pounds), Travis Pitt (23.41) and Justin Kerr (21.87). On the AAA side, Big Stringers over the three days were Mike Dailey (22.21), Brian Wareham (23.41) and Robert Schneider (21.87).
From the idea stage through the final days leading up to the event, WON staffers were confident that Laughlin with its long list of amenities and lodging options (discounted rates for anyone there for the event) would serve as a perfect host city for the newest addition to the WON BASS series of events. Katherine Landing is a short 15-minute ride from Laughlin and was a no-brainer to serve as tournament headquarters with its piece-of-cake boat ramp, endless dock space in the marina and its own amenities and on-site lodging options.
Anglers, tournament organizers, management at Katherine Landing and members of the Laughlin Tourism Commission and Las Vegas Convention and Visitors Authority were ecstatic over how the Laughlin Open played out, and they're looking forward to the next one on Lake Mohave.
For full pro and AAA results and pairings, visit WONbassevents.com, and keep an eye on Western Outdoor News for a full wrap up of the WON BASS Laughlin Open.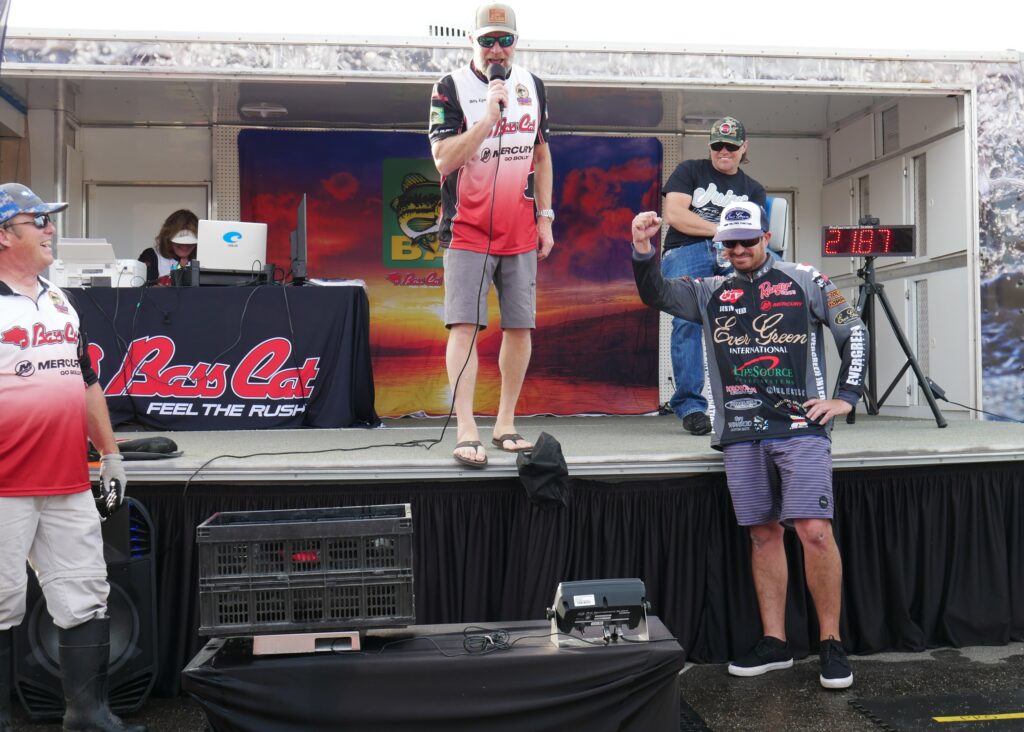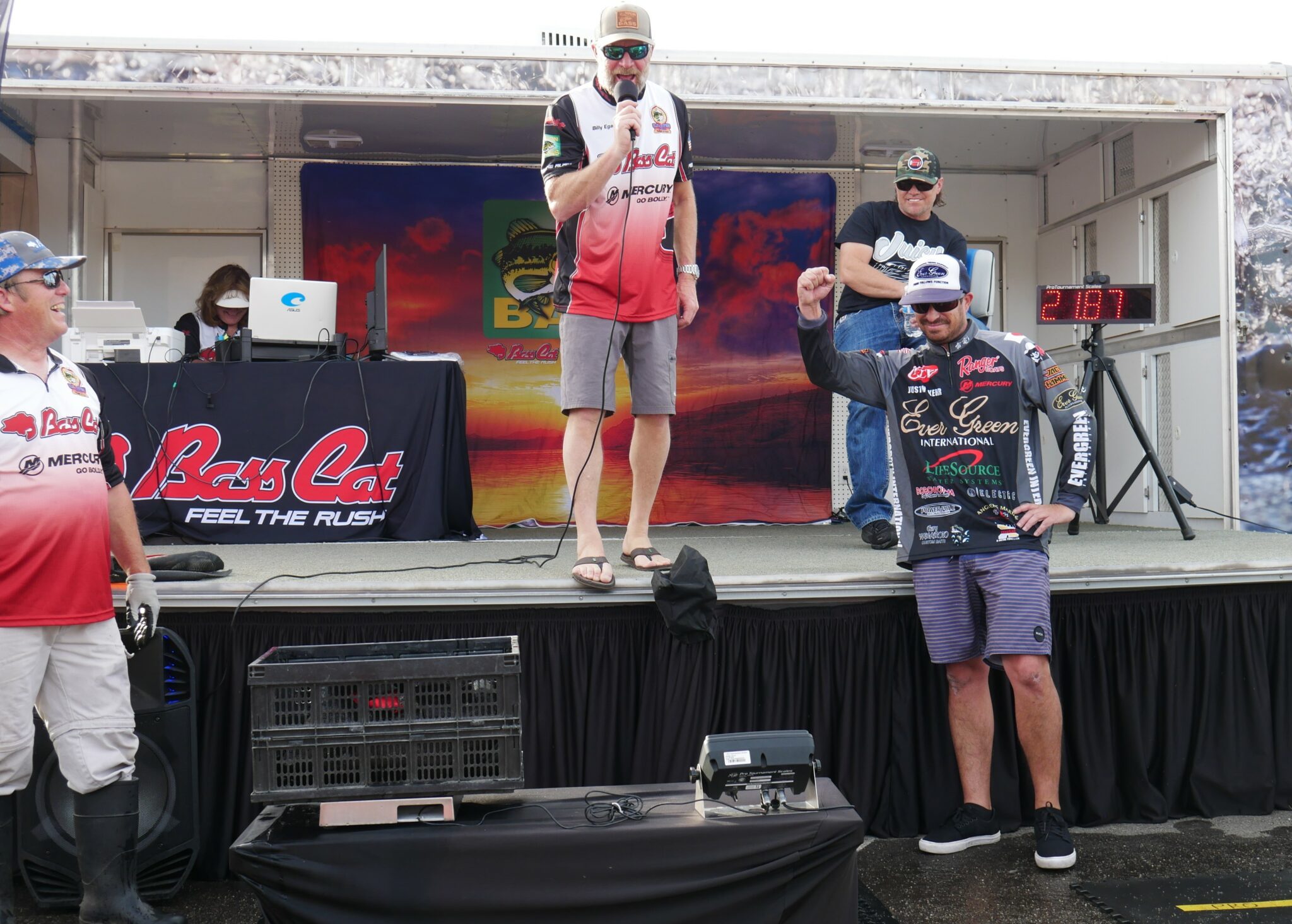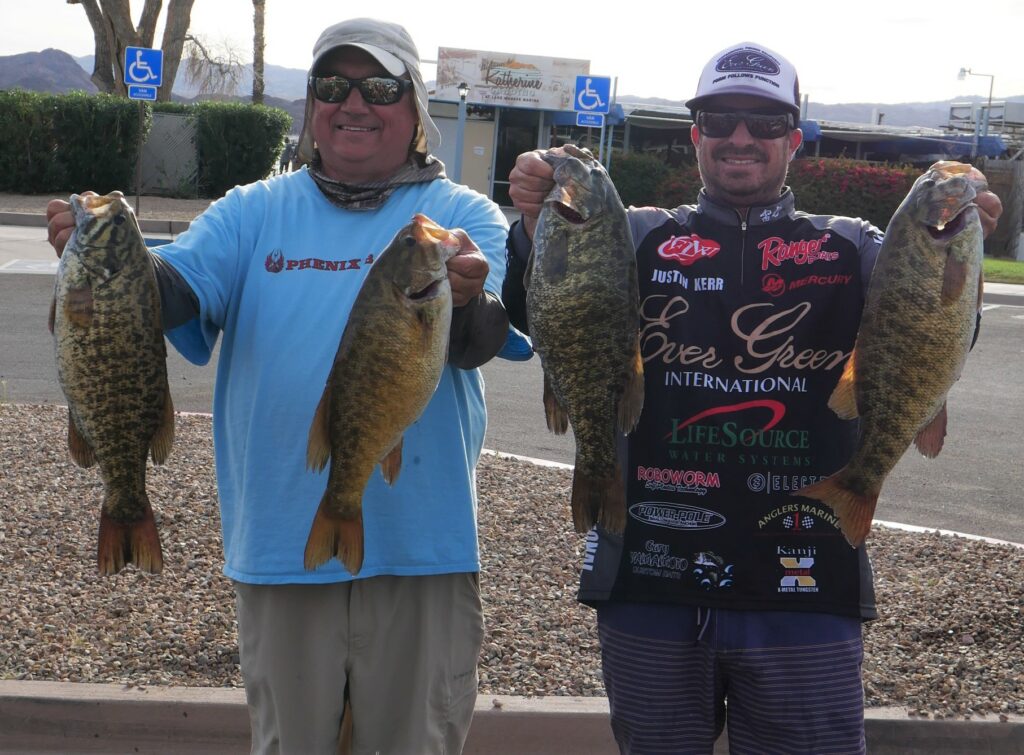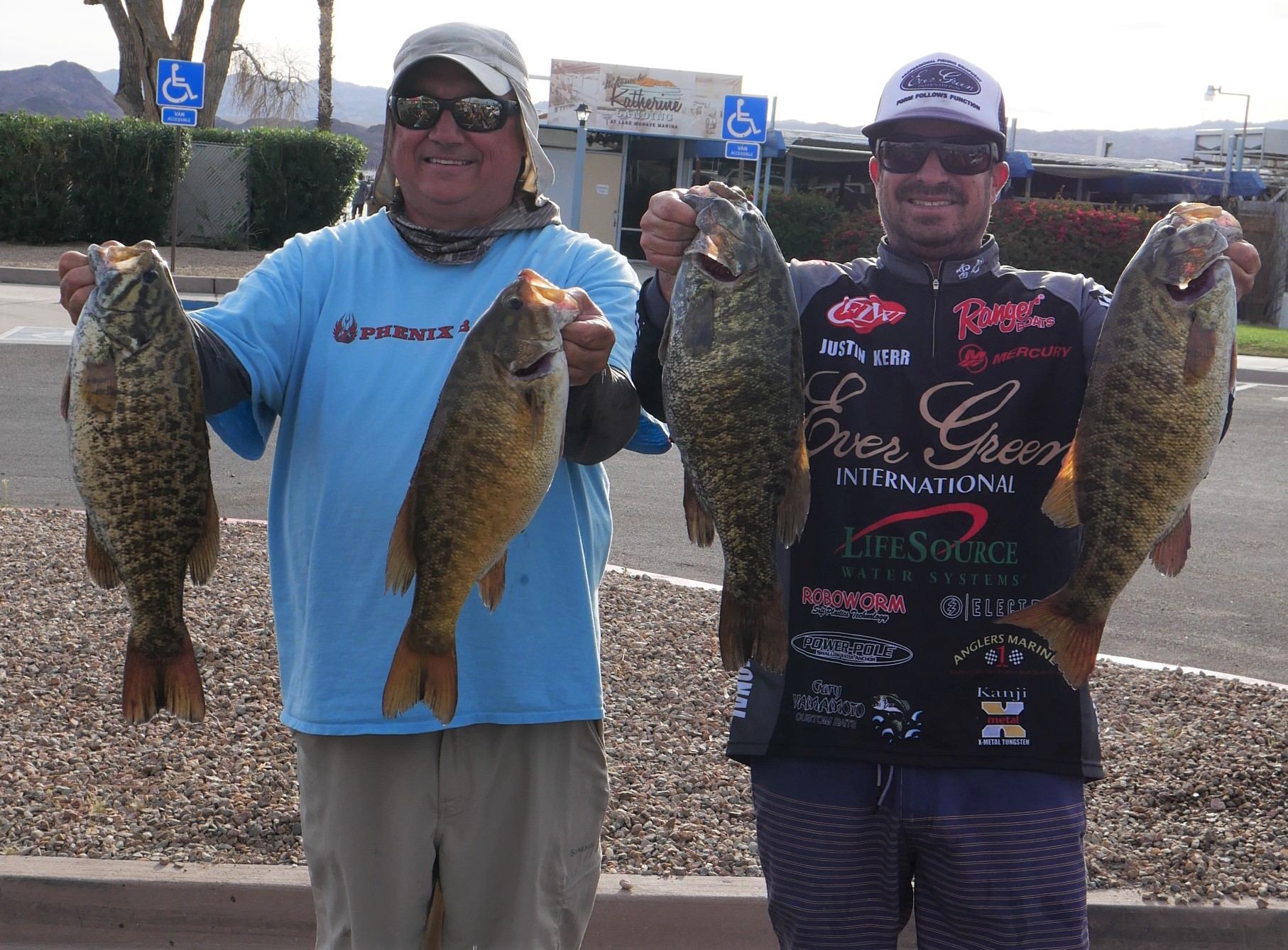 —–DAY TWO—–
WON BASS Laughlin Open: Multiple lead changes highlight Day 2 on Lake Mohave
BY MIKE STEVENS
LAUGHLIN, Nev. – The race was simply too tight for any position on the leaderboard to be considered safe after the first day of competition in the inaugural WON BASS Laughlin Open. The scorching smallmouth fishing continued into Day 2 on Lake Mohave, and sure enough, there is a new overall leader.
Travis Pitt owns the top spot on the pro side after weighing in a 23.41-pound limit on Day 2. That was almost two pounds more than his Day 1 weight and puts his total at 44.85 pounds going into the final day.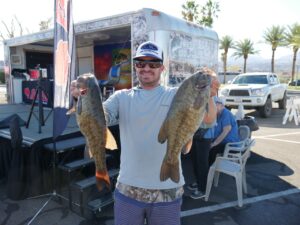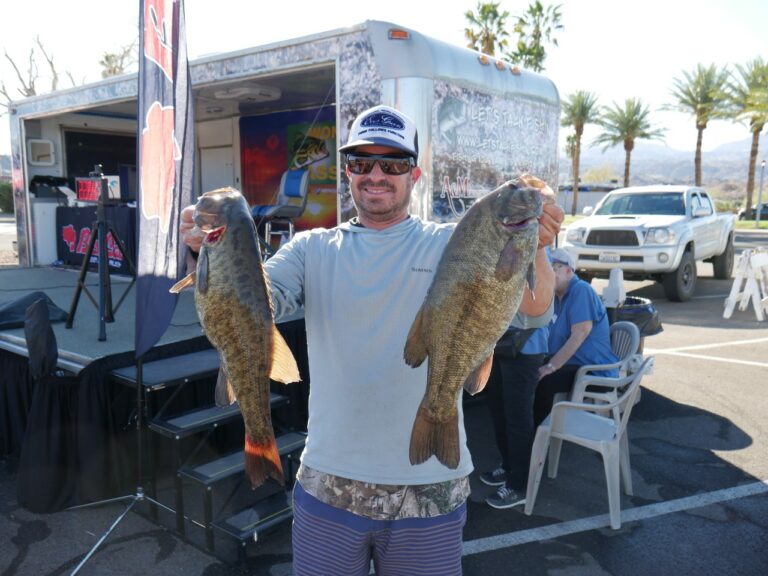 Justin Kerr moved up a spot into second place thanks to a 22.84-pound bag tacked on to his 21.51-pound first day that was good enough for third. Kerr's limit included a 4.98-pound kicker, and he actually did move into first place before Pitt came in and moved past him by less than a pound.
Utah angler Kyle Richins also did a little better on Day 2. He brought five bass to the scale for 22.21 pounds, and he currently sits in fourth place.
Day 1 leader Tim Klinger's bag tipped the scale at Katherine Landing at 19.94 pounds which dropped him to fifth, but with a 2-day total of 42.15 pounds, he's still only a couple pounds behind the leader. WON Tournament Director Billy Egan asks Klinger why he was shaking his head while weighing in and he said, "I culled the wrong fish." He definitely looked as if he knew he'd be in a better position if not for that unfortunate situation.
The rest of the top 10 on the pro side after Day 2 include Frankie Mueller (41.25 total pounds) in sixth place, Jonathan Schuyler (40.92) in seventh, Mike Bird (40.32) in eighth, John Morrow (40.19) sits in ninth and Kevin Wiggins (36.64) holds the ten spot.
While a good chunk of the pro field is in "swing for the fences mode" going into the final day, that top 10 could shift dramatically before the dust settles on a summer-like final day on the water with those slim weight cushions.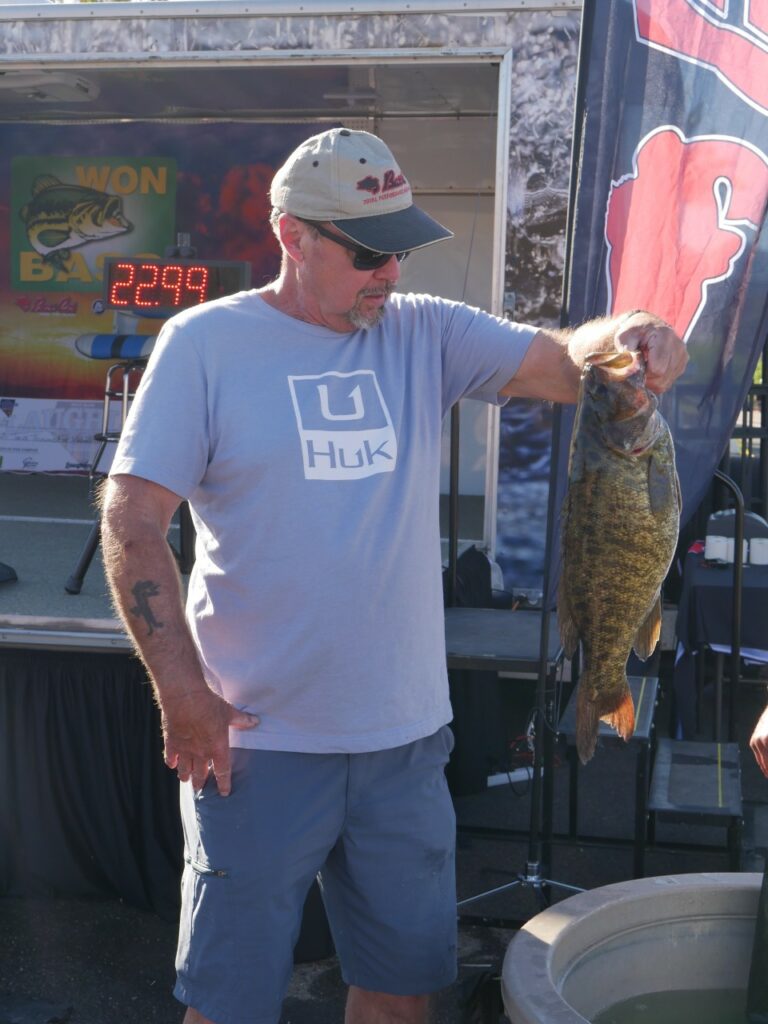 The AAA side of the event actually did not feature much jockeying for position, at least at the top of the totem pole. The top 3 finishers after Day 1 all maintained their spots with Mike Dailey in the lead at 43.66 pounds between both days, Todd Tobiasson remains in second at 42.82 pounds and Tom Domingues is still in third with a 41.44 pound total, but he's now in a tie with Eric Hammer who shot all the way up from sixteenth place.
The biggest bass of Day 2 was a 6.01-pound smallmouth hauled in by AAA angler, Joe Weber. On the pro side, a 5.37-pound smallie caught by Travis Pitt was the big bass for Day 2.
Day 2 condition report video update
For full pro and AAA results and pairings, visit WONbassevents.com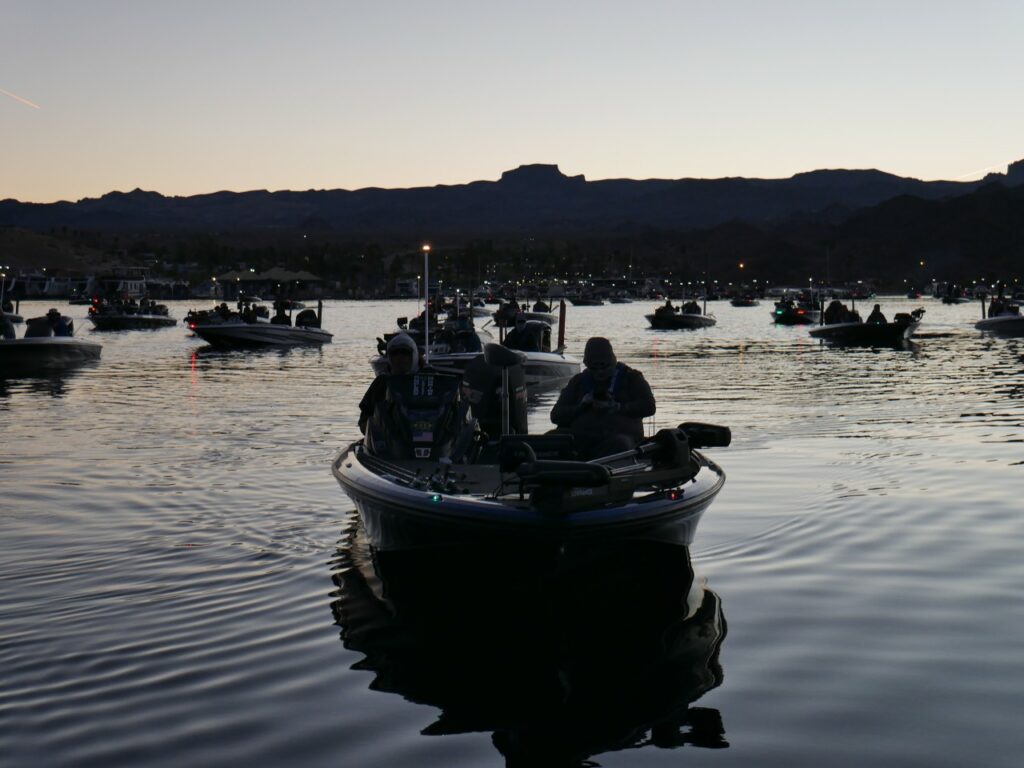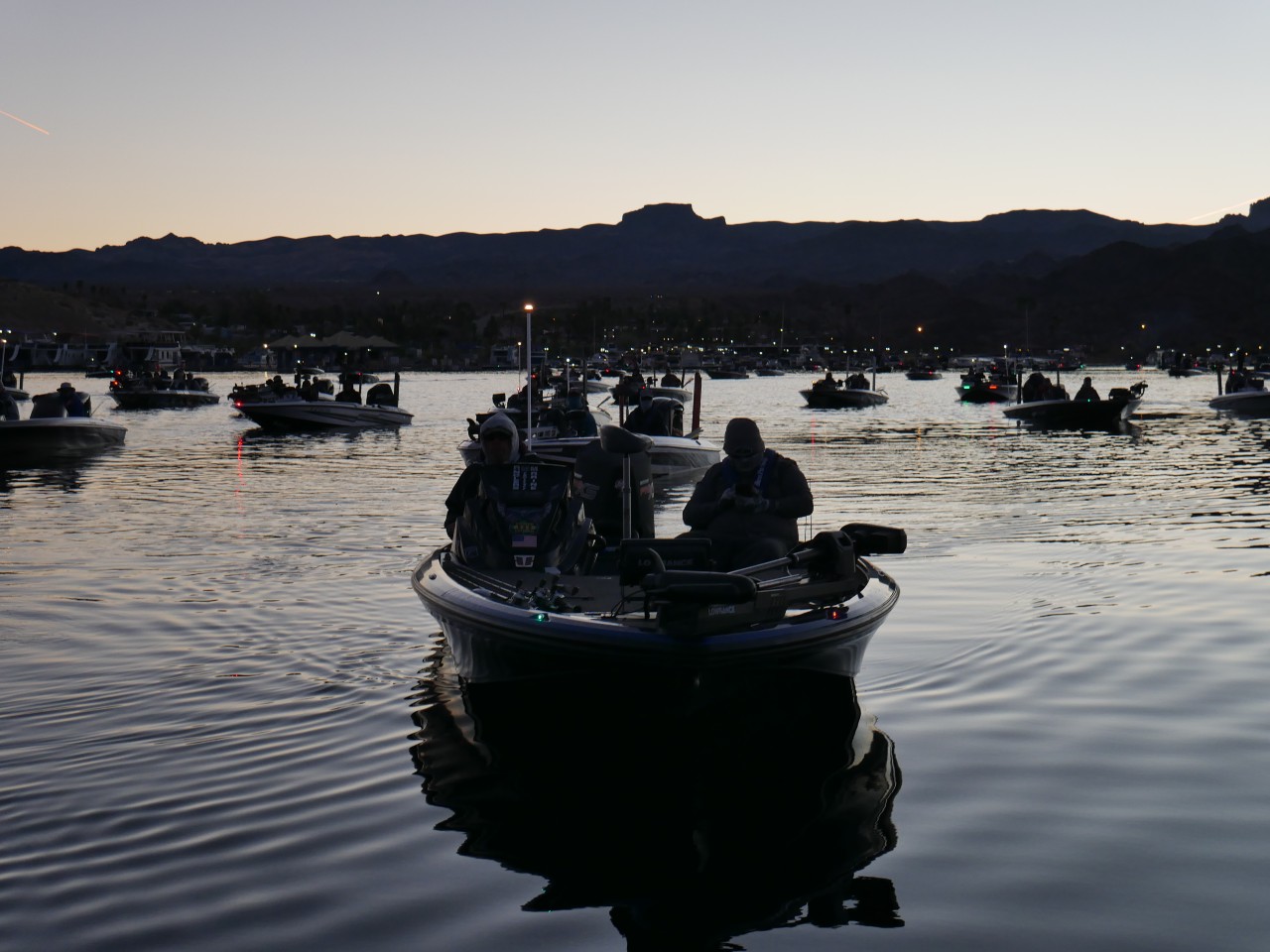 —–DAY ONE—–
WON BASS Laughlin Open: Klinger grabs slim lead on Day 1 on Lake Mohave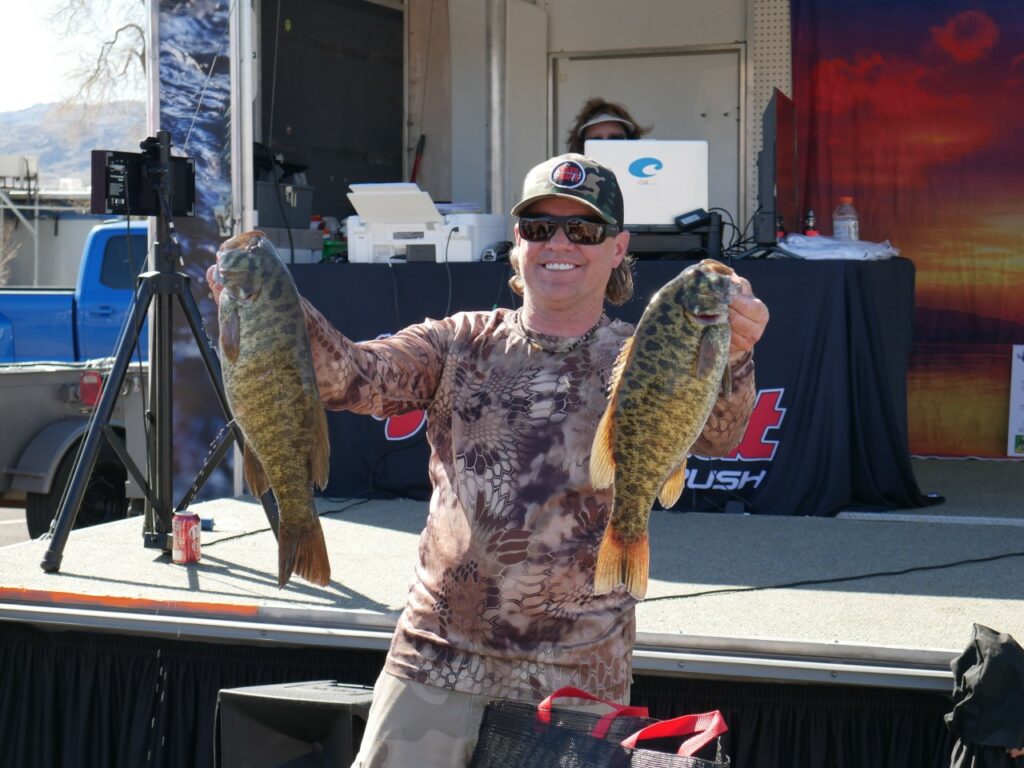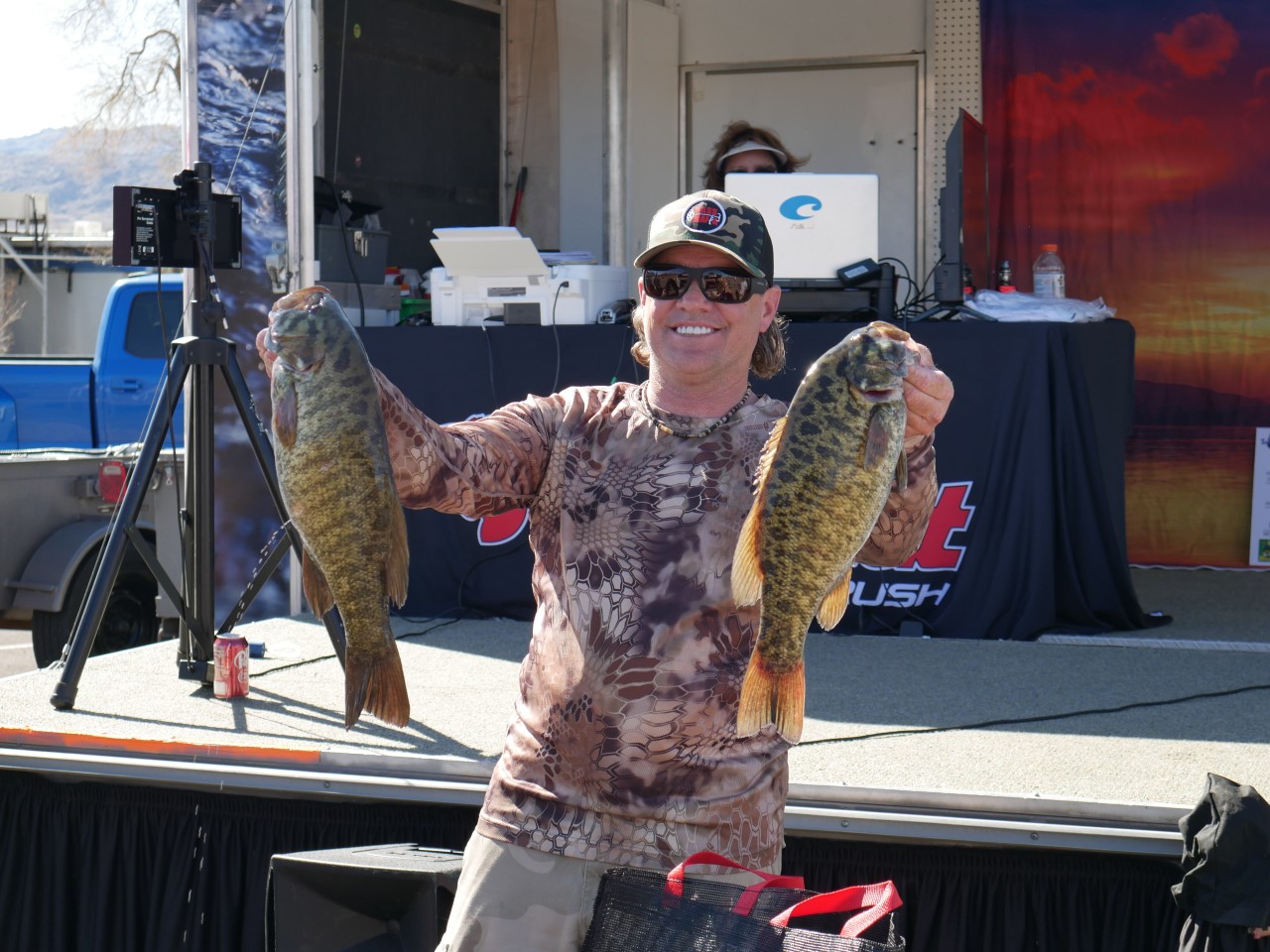 LAUGHLIN, Nev. – The inaugural WON BASS Laughlin Open is underway, and the book closed on Day 1 with a familiar face atop the pro side of the leaderboard. A staggering amount of smallmouth bass hit the scale at Katherine Landing including some real footballs, but it was a largemouth that stood as the biggest bass of Day 1.
Tim Klinger of Boulder City, Nev. sits in the top spot on the pro side after weighing five smallmouth for 22.21 pounds which included a 5.06-pound kicker. Mike Dailey of Overton, Nev. was Klinger's Day 1 co-angler, and his big bass went 4.56 pounds which was provided a solid boost to the day's haul on Lake Mohave.
Undoubtedly among the favorites in the newest WON BASS event, Klinger's lead is far from a comfortable one as less than 2.5 pounds separates first and tenth place. Las Vegas pro Cody Steckel is in second at 21.78 pounds followed by Kyle Richins of Washington, Utah and Justin Kerr of Lake Havasu who are tied for third with 21.51 pounds, Travis Pitt of Henderson, Nev. Is in fifth (21.44) and rounding out the top 10 are Marty Lawrence of Mesa, Ariz. (20.58), Michael Crowher of Page, Ariz. (20.39), Jay Wright of Seal Beach, Calif. (20.15), Jeff Baird of Washington, Utah (20.08) and sitting in tenth place is Ryan Lamprecht of Peoria, Ariz. With 20.02 pounds.
Ten 5-fish limits over 20 pounds in the first day of the WON BASS Open has tournament organizers, anglers and fans alike fired up and watching closely with two fishing days to go. As a further testament to the quality of the fishing on Lake Mohave, 30th place weighed in 17.58 pounds. The bulk of the field is still very much in the hunt.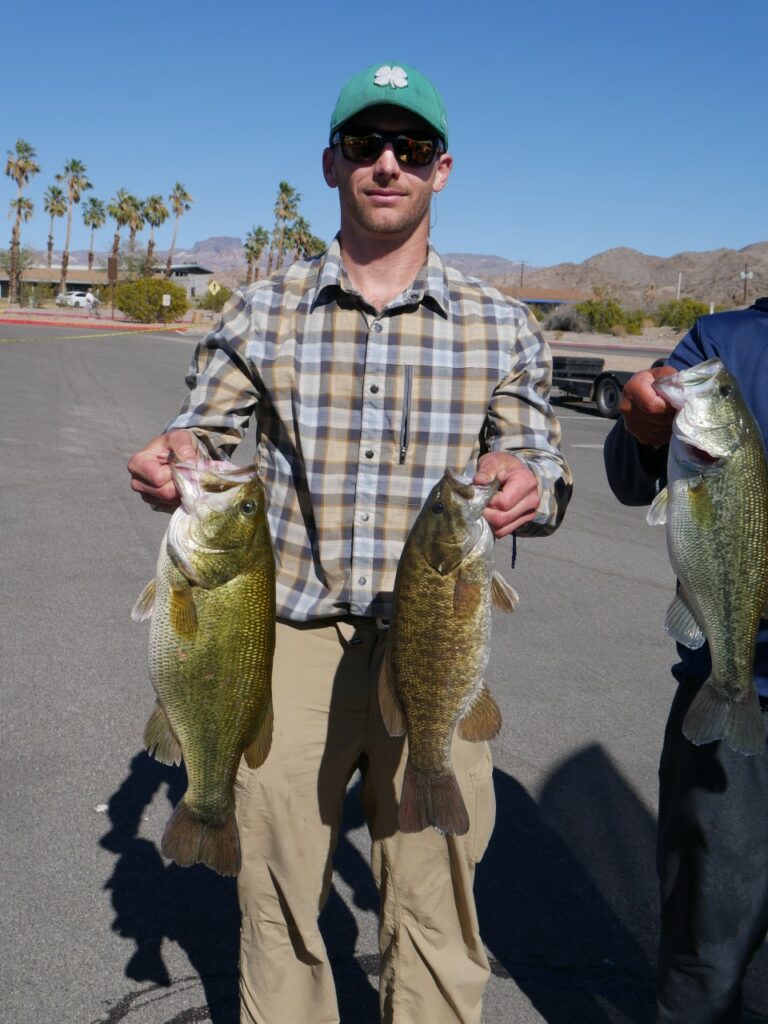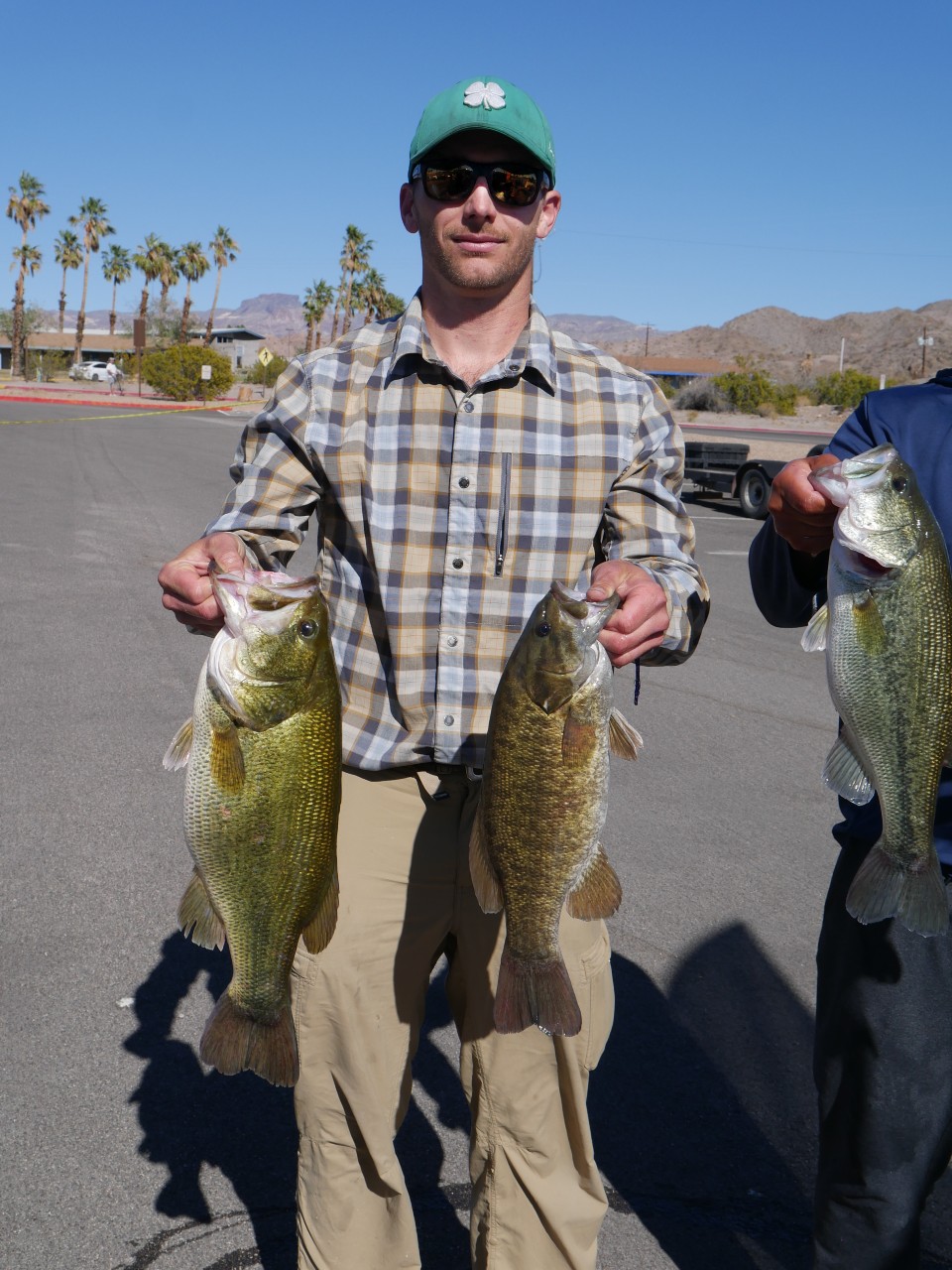 The Big Bass on the pro side on Day 1 was a 6.75-pound largemouth caught by Matthew Greene of Ventura, Calif. Who weighed in 4 fish for 15.09 pounds. While bronzebacks overwhelmingly outnumbered the largemouth caught, most of the largies were respectable models. Greene's fish edged out a 5.63-pound smallmouth that held the Big Fish lead after hitting the scale just minutes earlier.
The biggest bass on the AAA side went 4.94 pounds and was bagged by Matt Thomas of Scottsdale, Ariz. who was fishing with Jake Anderegg of Henderson, Nev. who sits in 25th place after Day 1.
For full pro and AAA results and pairings, visit WONbassevents.com