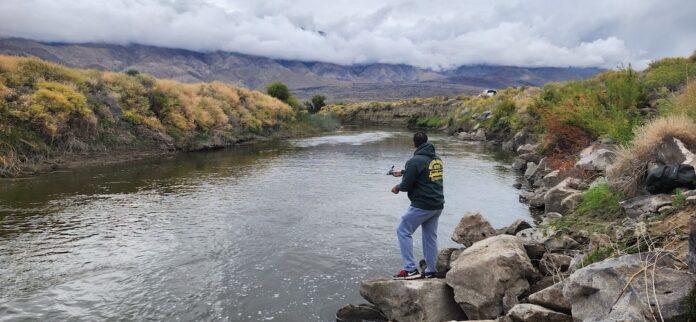 BY MIKE STEVENS 
LONE PINE– I've known the lower Owens River holds bass for some time, but I never targeted them. We'd get them here and there incidental to prospecting for trout further downstream than where the masses tend to congregate, but those were usually just 6- to 9-inch baby largemouth who happened to chase down a spinner or minijig.
Spanning recent years, I've received enough photos from WON readers of decent largemouth and football smallmouth to capture more of my attention. Eventually, I asked Nick Lara at Mac's Sporting Goods in Bishop who loves bass fishing in the Owens Valley for some pointers, and he basically told me it's not so much a matter of where on the river to find them as it is just throwing bass stuff instead of trout stuff.
A few weeks ago I took my annual quick-turnaround fall trip to the Eastern Sierra and I made sure there would be time to hunt specifically for lower Owens bass on the way up (I usually spend one day in the valley prior to all Sierra trips. We call it "Day Zero," (more on that in a future write-up) and I would be equipped for it with medium spinning gear and a medium-heavy baitcaster along with a single Plano utility box with a wide range of baits…and they all worked. The fishing was incredible.
Before my next run, that box will be finely tuned with some slight changes, and it will remain my "Owens River bass" box that might never leave the truck. Here are five baits I'm starting with.
Squarebill cranks
            The top producer was a Berkley Squarebull crankbait in the smaller 1/4-ounce size, and a few were caught on the similarly profiled Rapala BX Brat. Knowing the branch, tree and who-knows-what snarled nature of the Lower O, I brought a bunch expecting to lose a fair amount of them. That wasn't the case. The nose-down stump-bumping nature of squarebills seemed to keep those trebles positioned to where they didn't get hung up, and we were smacking into everything.
Semi-pro tip: On the retrieve, most strikes were detected when we stopped feeling the vibration of the working lure. It wasn't when the rod went bendo, so you want to swing when the bait goes "dead."
Jerkbaits
Some of the guys I was with did well on standard minnow-style jerkbaits, but to be honest, I was on my way up to chase big trout on Crowley Lake and I didn't want to risk losing them. My brother stuck a fish on his first cast with a 3-inch(ish) sinking Rapala followed by "four more in the next 10 minutes." I honestly think a wide range would work, so start with those you aren't in love with.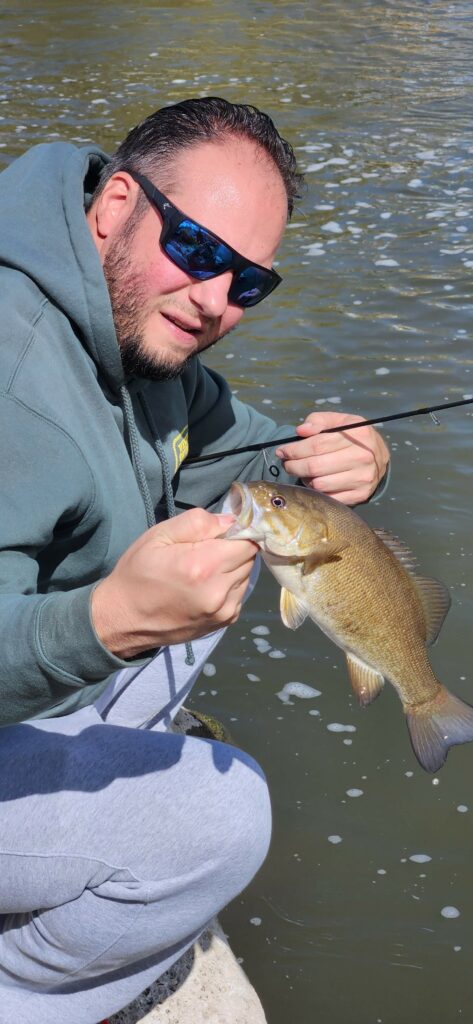 Bass jigs
Something I didn't try was a standard, skirted and weedless bass jig you might use for flipping tules, but WON Field Reporter Brady Garrett was up there a week after me, and he decided to give this brand of fishing a shot. He caught jig fish, and he told me he ran into holes "10 to 12 feet deep" and, he was able to scrape bottom without issue.
Tube jigs
Knowing trout inhabited the same waters we were fishing bass in, minijigs were in the mix, but we didn't find biters on the smaller crappie-type sizes. Once we moved up to a 2-or-so-inch jig with a bigger 1/8-ounce head, it was on. They were bigger than trout-jig size but not quite as big as the standard bass tube (Gitzit, etc.). A lot of the bites were on the sink (some right under our feet with just a few feet of line out) behind obstructions or just in a calm, slow spot. We did get two nice rainbow trout on these bigger ones, so a bigger tube keeps you in the trout-or-bass ballpark you get to take advantage of in the lower Owens River.
Big spinners
            As a trout-first guy, I've accumulated spinners at a faster rate than I use them, and I've had some bigger ones (1/8-ounce heads and up) that I never touch because I like smaller than that in creeks and different types of lures when I want that large of a profile. But, bigger spinners crushed it on these river bass. The ones I had included the Panther Martin WillowStrike, Rooster Tails and these very unique Valure Spinners that I found online (Valurespinners.com) and had to try. Those have a huge blade and a smaller treble hook, so it had that larger profile with lots of flash, but the scaled down hook didn't get stuck as easily.
Also in the box: I did get one on a Berkley Slobberknocker (chatterbait) but I only had the biggest one. I do want to get some smaller ones before I go up again. Also, I didn't have any this time but I'm positive an underspin would work for anything that swims in the Lower O. Both largemouth and smallmouth were also caught on lipless crankbaits even though we had the squarebills in the water a lot more. Berkley Warpigs along with a couple odd Rat-L-Traps were what we had on hand.
Closing notes:
It was a weird feeling and crazy fun running braid-to-12-pound-fluoro on a baitcaster(Abu Garcia Jordan Lee rod with an Abu Revo reel)  in the Owens River. Beyond that, we only had trout rods loaded with 4-pound, and those did fine as did another guy's heavy outfit packing straight braid. Point being, line didn't seem to matter –nor did lure colors for that matter– when fishing this stained, moving water.