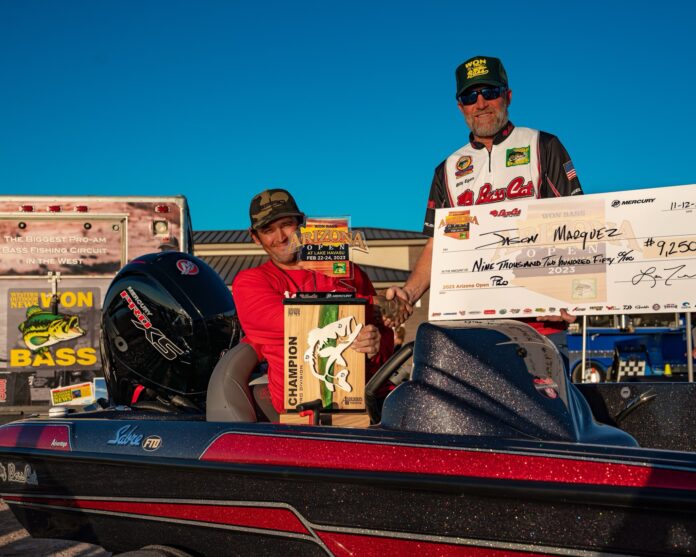 Unseasonable summer-like conditions meant tough fall fishing on Lake Havasu
BY MIKE STEVENS
LAKE HAVASU CITY— Jason Marquez of Lake Havasu City was the last to weigh in on the final day of the 2023 WON BASS Arizona Open, but he had what he needed to move into the top spot and grab the Arizona Open championship after three days of tough fishing on Lake Havasu.
Frankie Mueller was in the Bass Cat Hot Seat as the leader when Marquez hopped on the stage with five bass for 12.66 pounds bringing his 3-day total to 47.64 pounds. That was enough to edge out Mueller who fell to second at 46.44 pounds over three days. WON BASS U.S. Open champ Kyle Grover finished third with 45.96 pounds, last year's Arizona Open champ Joe Uribe Jr. Finished in the 4 spot with 43.23 pounds, and Roy Hawk rounded out the top 5 at 40.96 pounds.
With the "AZ OPEN" win, Marquez laid claim to a Bass Cat Sabre FTD packing a 150 hp Mercury outboard and Lithium Pro batteries with a retail value of $48,000, a certificate good for a PowerPole system and a check for $9,250.
Alex Galvin of Poway, Calif. Came out on top on the AAA side with a 3-day total weight of 43.16 pounds which was good for a AAA payout of $3,000. He narrowly bested Mike Hopster who weighed in 42.84 pounds of Lake Havasu bass. Scott Brownlie finished third with 41.57 pounds followed by Ron Reed (40.02) and Jacob Law (39.94).
Unseasonably warm conditions kept the fishing out of fall mode and even the top finishers in the event saying fishing was tough overall. There wasn't a whole lot of baitfish in shallow areas, and that's not typical on Havasu at this point in the year.
Still, a lot of the biters were found on crankbaits and other reaction baits, and in some areas smallmouth bass in particular were keying in on bluegill. That had to have been refreshing for anglers who fished the U.S. Open at Lake Mohave less than a month prior as that tournament was pretty much a finesse-fest. Also, largemouth bass took up a much larger slice of the pie at Havasu while football smallmouth dominated Mohave.
Full WON BASS Arizona Open results, pairings and payouts can be found at WONBassEvents. Com, and complete coverage of the event will appear in next week's issue of Western Outdoor News.