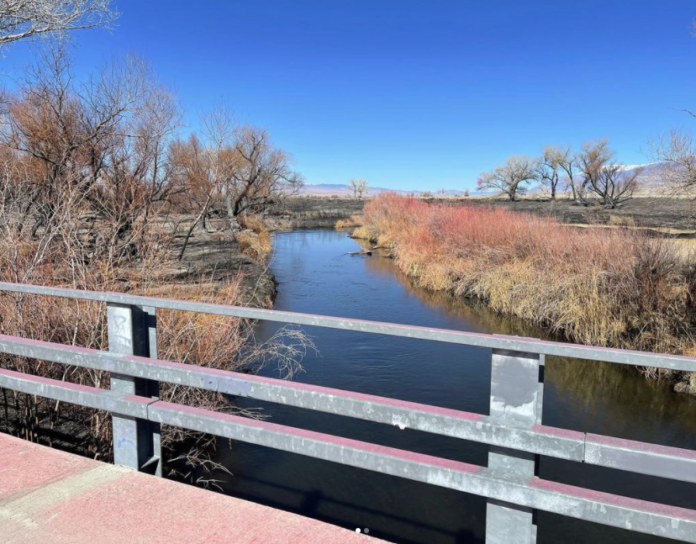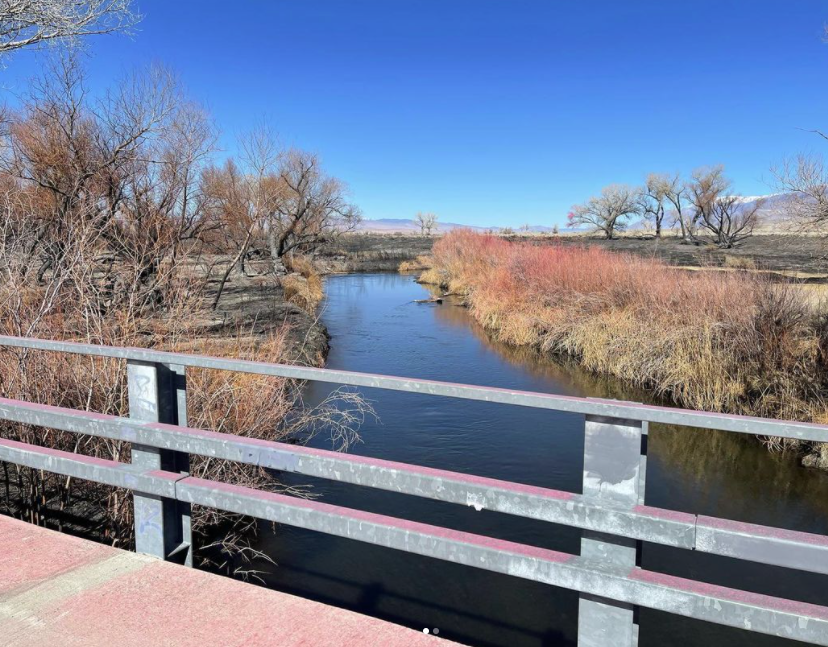 Evacuation orders lifted, partial containment reached
BY MIKE STEVENS
BISHOP — A vegetation fire broke out east of Bishop Wednesday, Feb. 16 at 12:40 p.m. and has spread to nearly 3,000 acres with no containment as of Thursday morning. The "Airport Fire" posed a minimal threat to the city of Bishop as steady winds out of the northwest pushed the blaze south, but it did trigger evacuations of several structures in that section of the Owens Valley as well as those on the east side of Highway 395 in the town of Big Pine. The fire burned along crossed popular stretches of the Lower Owens River between Bishop and Big Pine which will have mixed short- and long-term affects on the fishery.
"It seems to have done some damage to a good stretch of the river," said Nick Lara of Mac's Sporting Goods in Bishop on Thursday. "Collins (road) took a direct hit last night."
At the start of this week, the fire was closing in on 4,200 acres but also nearing 60 percent containment. Firefighters continue to reinforce containment lines day and night while also on "mop up duty" in anticipation of weather changes expected this week.
Evacuation orders were sent to the White Mountain Research Center and Owens Valley (Caltech) Radio Observatory. According to Cal Fire, the fire continued to remain active overnight, burning to the south, and firefighters were actively engaged in perimeter and structure defense.  Winds remained steady and continued at 10 to 15 mph out of the northwest into the weekend. Bishop Senior Center stood as an evacuation center, and road closures included Warm Springs Road and Highway 168 east of 395. Evacuation orders were lifted over the weekend.
A total of 432 personnel were working the fire as of Thursday, and as of that morning there were no injuries or structure damage. By Sunday that number swelled to 680 personnel (16 fire crews) to go along with 50 engines, three helicopters, seven water tenders and seven bulldozers. Warm Springs Road east of 395 remained closed heading into this week, and the cause of the fire is under investigation.
"The short term effect on the river will be for the bait anglers as the fire burned from the airport to Big Pine, and the river will be closed for a few days" said guide Fred Rowe of Sierra Bright Dot Flyfishing Specialists," "The Long term for this summer will be easy access to holes on the river from Line Street to Big Pine, but in the longer term, the willows will grow back thicker and restrict access to holes on the river."
Rowe is a Bishop local along with Jared Smith, GM of Parchers Resort who was out of town with this fire erupted. Both are familiar with area fires and their affects on the Owens River in particular in part due to a very similar fire that burned back in 2008. The Bluff Fire was a wind-charged blaze started 8 miles north of Bishop near Pleasant Valley Reservoir in March. It torched over 1,400 acres which included the banks of the Wild Trout Section of the Owens River downstream of Pleasant Valley Reservoir,
"What I can say is there should be historically open access to the river with all the tules and willows turned to ash," Smith told WON. "That's probably not good for the drift boat guys, but good for shore anglers once the smoke clears. "It will be an eye-sore though."
Ash in the water is definitely a concern in these situations, but wildfires historically have a much more dramatic effect in that respect on small creeks.
"The fresh flow of water should remedy that situation quickly, but i don't know how hot a fire can get or how much ash can get in the water before it becomes fish killer," added Smith.
If anything, the river and the area surrounding it fully recovering from the Bluff Fire is encouraging when forecasting how the river will bounce back this time around. WON will be monitoring the situation between now and the general season opener in late April (and beyond if necessary) so look for an update on that in the near future.