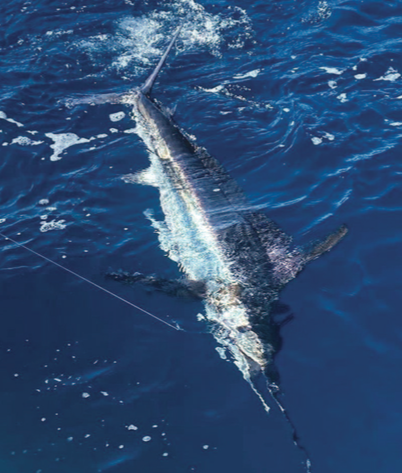 BY PAT McDONNELL
CABO SAN LUCAS – Baja continued it's winter run, with yellowtail slamming deep-water jigs at Loreto, with mix of cabrilla and good yellowtail on the other side of the peninsula at San Quintin Bay with lingcod also filling the coolers. Meanwhile, in Cabo the striped marlin, dorado and tuna mixed in with a solid bite on sierra that kept the boats busy.
The Pisces Sportfishing Fleet's Rebecca Ehrenberg reported late last week they have been getting a nice selection of dorado and marlin and tasty, light-tackle sierra, which is great for ceviche. As usual, the marlin scene drew the best stories.
"Angler Ryan Martin told us that he and his dad had been trying for 12 years now to catch a marlin," said Ehrenberg. "They've fished many times, even in Cabo with other fishing fleets, at least until they made their way to Pisces. They fished aboard our 28-foot Andrea with Captain Roberto and his mate Omar and they finally had their fishing dream come true. Not with one fish but 5 striped marlin, which even included a father-son double hookup. We love hearing these stories and being a part of these memories!"
In other Cabo action, Jaime Rendon of the super panga Dr. Pescado reported another set of great local charters.
"We had a great day under the rain in beautiful Cabo San Lucas on Jan. 20 with and old client Mark Bishop and his friend Peter from Michigan. We had a full load of sierra and some wahoo."
Brian Solomon, owner of Solomon's Landing restaurant in Cabo San Lucas, reported a great day on the water last week with friend Allan O'Brian on his boat with another buddy Dave Brown for a half-day trip that turned out to be an epic run with whales breaching around them and flat seas. The fishing? Oh yeah, they were back by noon with 5 wahoo and 4 dorado. As an aside, Solomon's Landing is now providing gourmet to-go breakfast and lunch packages at the restaurant for fishing trips (and other tour excursions).
SAN JOSE DEL CABO – Eric Brictson of the Gordo Banks Pangas fleet located at Marina Puerto Los Cabos reported the East Cape green water conditions experienced in recent weeks have now swept southward onto local grounds off San Jose Del Cabo. That doesn't mean fish aren't being caught.
"The clarity has fluctuated, but overall water color has been very greenish, though off of Cabo San Lucas currents have been much cleaner," said Brictson. "Over the weekend though there were reports of slight improvement north of the Gordo Banks to around San Luis, a couple of wahoo hookups were reported. On the Gordo Banks there was a showing of yellowfin tuna and at least one 80-pound class yellowfin was landed.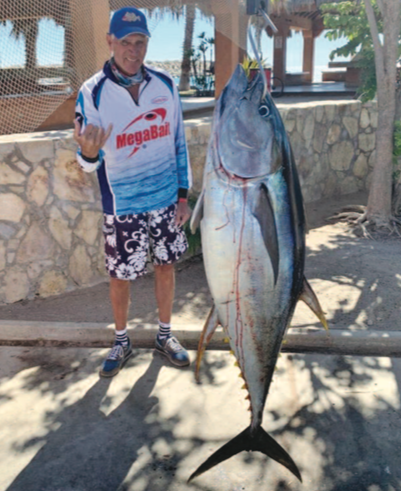 He added, "Other hookups were lost, although not many boats were on the spot when the tuna did show up. Drifting with sardinas was the method they used to entice the strikes. So maybe something will develop with this, providing conditions do stabilize some more. Ocean water temperature has varied day to day as well, ranging from 67 to 74 degrees."
He said there has been plenty of bait in the area and charters are reportedly seeing large concentrations of baitfish on local grounds, though this did not mean that the gamefish were easy for anglers to find. Bait vendors are offering sardinas, caballito, mackerel and ballyhoo. Dorado are being found in limited numbers, mainly around concentrations of baitfish and often on the same offshore billfish grounds, with a handful of these dorado being bulls over 20 pounds.
"We saw a little more variety and size of fish found off of the shallow rocky structure," said Brictson. "However, this action just now seems to be showing signs of activity, and this week we saw amberjack, cabrilla, bonito, red snapper and triggerfish. We do anticipate that this type of action improves the next couple of months. Along
the shore we saw a little more action for the sierra. They had become scarce in past seeks, so hopefully this is a favorable sign that these cold water fish will rebound.
Billfish action is scattered now, the main species the striped marlin, in sizes averaging to 100 pounds. "No great concentration in any particular area, we should see steady improvement with greater numbers of stripers, as ocean conditions improve with more steady weather patterns," said Brictson. As for the general weather, Brictson said anglers enjoyed variable wintertime conditions in Southern Baja this past week. The high temperatures were averaging 75 degrees with more cloud cover and they even had some measurable rain fall on Wednesday, generally lighter winds, predominately from the north, though not as persistent as they were in past weeks.
The winter has been light on the customers. For all the usual reasons. "This looks to be the predicted pattern for the coming months, until Covid-induced regulations are simplified or eased and vaccinations are made readily available to the general public. In the meantime all local businesses supported by the tourist industry will be optimistically waiting for the situation to improve."
As an advisory, as of Jan. 26, all flights coming into the U.S. from foreign airports are requiring proof of a negative covid test. You do not need one to fly into Mexico, but you do need proof in hand flying home for anyone 5 and older. Hotels and six area hospitals provide testing facilities. Go to www.loscabosairport.com where they have regular updates.
LORETO – Nemecha's Sportfishing and Tours did a run to reefs north of town Jan. 17 and scored a limit of yellowtail and two big cabrilla for the their trip on the panga. The weather was flat and fishing was all done via Butterfly-type lures. The fish were all bigger quality forkies.
Adding to that report was Rick Hill of Pinchyspprtfishing.com, who said fishing has been good on the nicer fishing days.
"Sounds simple but knowing when the good days (without winds) are happening is the big trick," said Hill. "The highs spots north of Coronado Island are the most frequently fished spots with good results on red and yellow snapper, pinto, whitefish and a yellowtail or two for many boats. A couple days of rain and a couple days of wind kept the week short and the number of boats below the usual threshold."
LA PAZ – Jonathan Roldan of Tailhunter International panga fleet said there was not a whole lot to report.
"Opportunities to fish have been few and far between with very few anglers around and not many chances for anyone to fish," said Roldan. "For almost two weeks it has been cold, windy, rough, rainy or wet. Or a combination of any two of those conditions. The thermometer has been all over the place with temps as low as the lower 30s and as high as the high 60s. It's quite erratic.
In the small windows for opportunity have arisen, it's mostly local captains or local resi dents. Mostly it has been sustenance fishing to put something on the table or fridge.
"Most of the catch has been inshore as not too many folks want to venture very far when the waters are so rough and winds are blustery." said Roldan. "It also makes it difficult to catch live bait. So, catches of cabrilla, snapper, common and white bonito, pargo and some nice-sized sierra have made up the majority of the catch.
SAN QUINTIN BAY – Capt. Juan Cook said when the weather has cooperated and they can get to the fish just outside the bay, the bite on lingcod and some yellows has been consis tent winter-style action. Last week under great conditions, Cook hosted Jim Sorenson, John Fish and Bertolo Jimenez, all from the Paso Robles area, on his 23-foot Parker, Slapfish.
"We made live bait just outside the bay and headed for Breakers Reef looking for yellowtail but it was slow all day, although in the last few days I have to say that yellowtail fishing had been very good," said Cook. "Anyway, we switched over to lingcod fishing and found a spot that was loaded with nice big lings, and we caught limits (5 each) for 3 people, plus a few vermillion reds and one dropper loop yellowtail. Weather was great, flat
and blue."
EAST CAPE — It's winter and the dorado are around, and a few tuna. The green water has been issue, so generally it's pretty slow with few anglers, and winds are a facto
r. On a more positive note, the 17th annual East Cape Dorado Shoot Out has been scheduled for July 17 at the Van Wormer Resorts in Los Barriles. This is one of the largest fishing tournaments in Southern Baja with an average turnout of 130 teams each year. What makes this event so popular is the low entry fee along with a big payout. The entry fee is $500 per team and the winning team with biggest fish wins a 2021 4×4 Volkswagen Amarok pickup truck. The tournament also offers optional side jackpots of $200, $300, $500 and $1,000. Last year's jackpots with 109 teams reached over $126,000 in cash.
For more information or to register for the 2021 Dorado Shoot Out, go to www.doradoshootout.com. For hotel and boat reservations call (877) 777-8862.
BAHIA ASUNCION – Shari Bondy of La Bufadora Inn on Sunday said weather kept the pangas off the water, but when they can out, the yellowtail have been hitting the deep jigs.
You can contribute to the Baja Report by sending your latest information and a photo to baja@wonews.com.