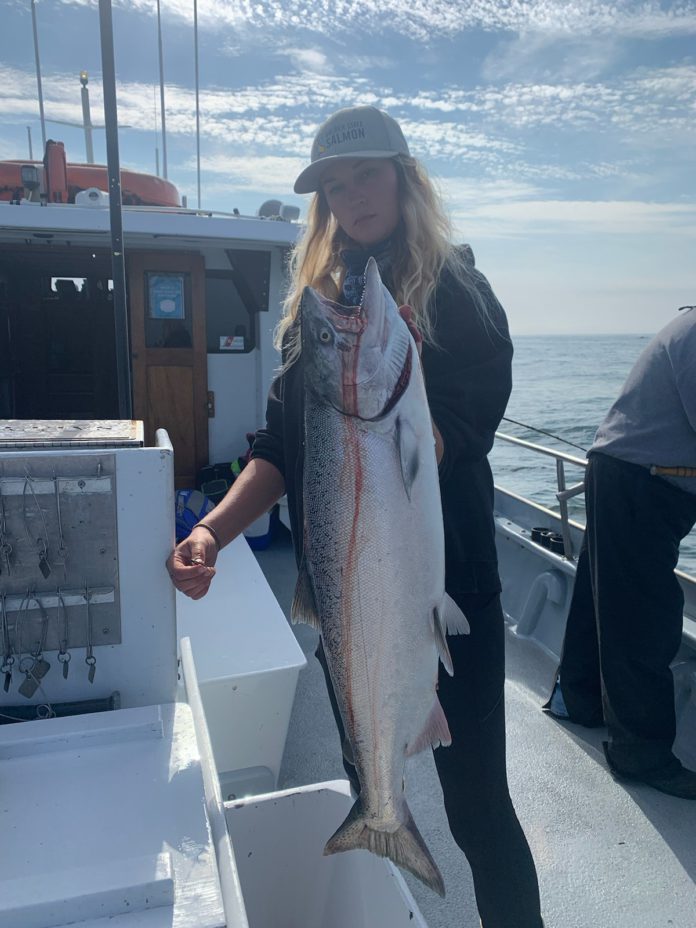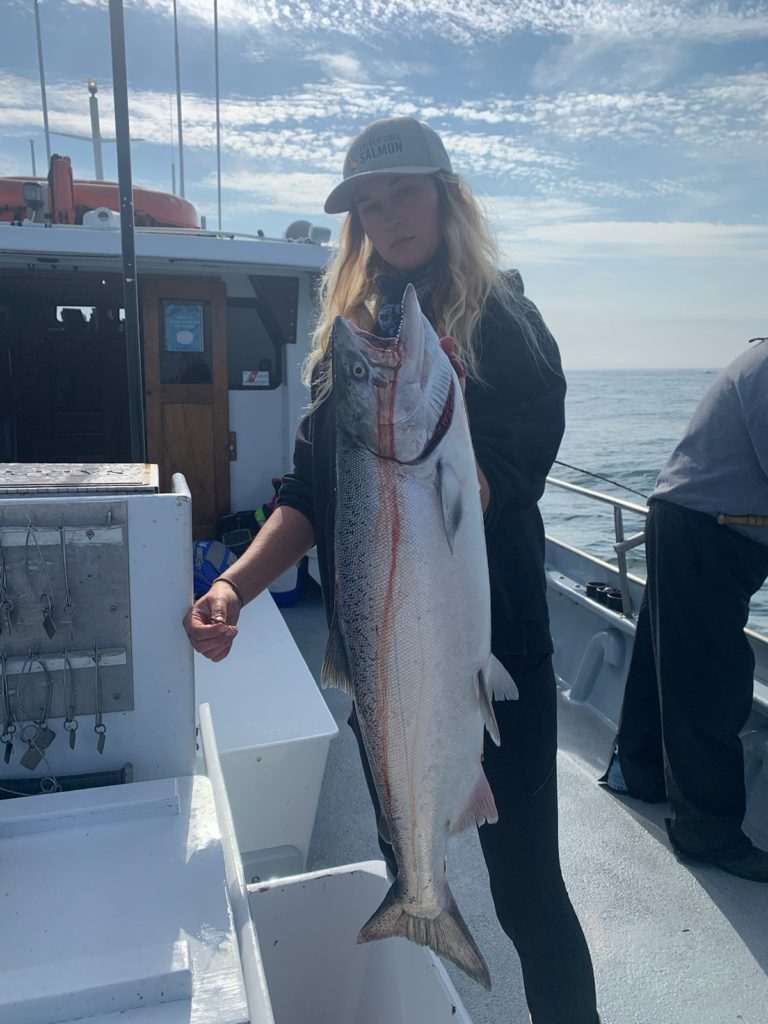 BY CAPT. DAVID BACON
SAN FRANCISCO BAY and SAN PABLO BAY – Salmon action centered along the Marin County coast most of the week, although the shipping lanes also produced good numbers. Light crowds at mid-week were treated to perhaps the best action of the year. On Wednesday Pacific Pearl, Tigerfish, C Gull II and Sundance combined for 60 salmon to an honest 31 pounds for 30 anglers. Trolling tended to outproduce mooching. Bass Tub got back in the salmon action over the weekend and brought aboard good quantity and quality from the Marin Coast. Lovely Martha on Wednesday pulled limits and they were all big hogs.
Capt. Jared Davis on Salty Lady said," We've been fishing the Marin Coast with our standard rig of anchovies rigged on our handmade custom wire hooks on a 6-foot leader behind a spin cone flasher. Waves of spawner king salmon have been moving through on their way to the river and depending on timing, action has been anywhere from a slow pick to epic. Salty Lady hosted a 'Fish Like A Girl' trip sponsored by Golden State Salmon Association (GSSA) which helps keep our salmon stocks healthy. The group of gals did very well and some of the nicer fish included a 25 pounder caught by Jessica Ryan from San Rafael. Darien Corey caught a limit consisting of 15 and 20 pounders.
Live bait action continued to rock and roll, as fresh schools of halibut continue to march into the Bay and coastline. Kingfish found a hotspot Tuesday, scoring 46 flatties for 19 very happy anglers. Live bait is plentiful and superb quality, so a shout out to J & P Baits for keeping potluck anglers well stocked. Loch Lomond Bait Shop was another good source for live bait. Kingfish and New Huck Finn will continue to offer live bait potluck trips into September.
Halibut were on the flats in 9 to 20 feet of water according to Capt. Steve Talmadge on Flash I and the numbers were a couple of fish per rod. The boat also had fabulous shark trips in the South Bay. In other potluck trip action, California Dawn had 16 limits of rockfish, 18 halibut, 10 lingcod and a cabezon. Late in the week the numbers were 18 limits of rockfish, 18 halibut and 13 lingcod. Capt. Jonathon Smith on Happy Hooker reported 2.5 halibut per rod on the North Bar and rockfish on the Marin Coast
Rockfish and lingcod anglers found great fishing along the coast and Farallon Islands, finding biters in both locations. Ten fish limits were the rule, with lingcod definitely on the munch and responding well to a properly rigged sardine or sand dab. Sea Wolf scored 18 limits of rockcod and 18 limits of lingcod to 25 pounds. "Coastal reefs are loaded with juvenile lings and the biomass appears to be in terrific shape and promises a bright future," said Andy Guiliano at Fish Emeryville.