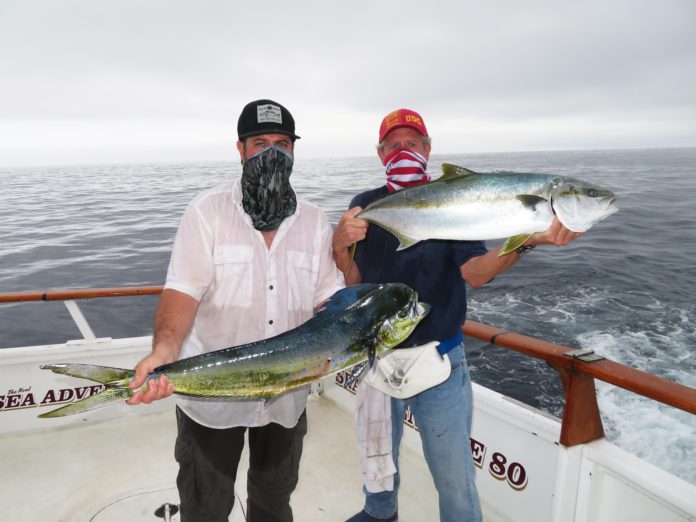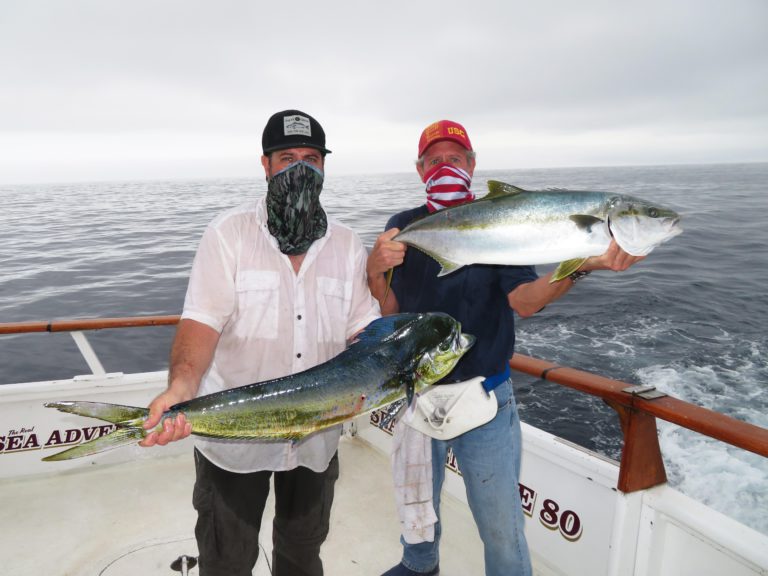 BY BOB SEMERAU
SAN DIEGO – All the parts came together on this one. The right boat, the right gear, the best weather, and the right bunch of guys for a fantastic couple of days on the water. And yes, insane fishing!
Sea Adventure 80 is a premier sportfisher for the fall 2-1/2-day charter hosted by Western Outdoor News each year. This additional trip, added to the WON charter schedule just a few weeks before the 6:00 p.m., August 16, 2020 departure, was skippered by the affable Captain Mike McDaniels. Capt. McDaniels has assumed the command of the 80-foot sportfisher from his father, Scott, and promises to continue in the tradition of legendary service that is SA80.
Early boarding gave anglers an opportunity to stow gear, select bunks, wrangle for staterooms, and get acquainted before sign-ins got things officially underway.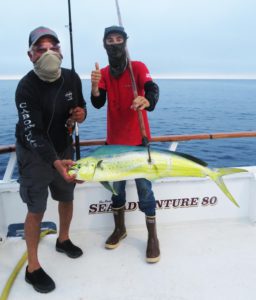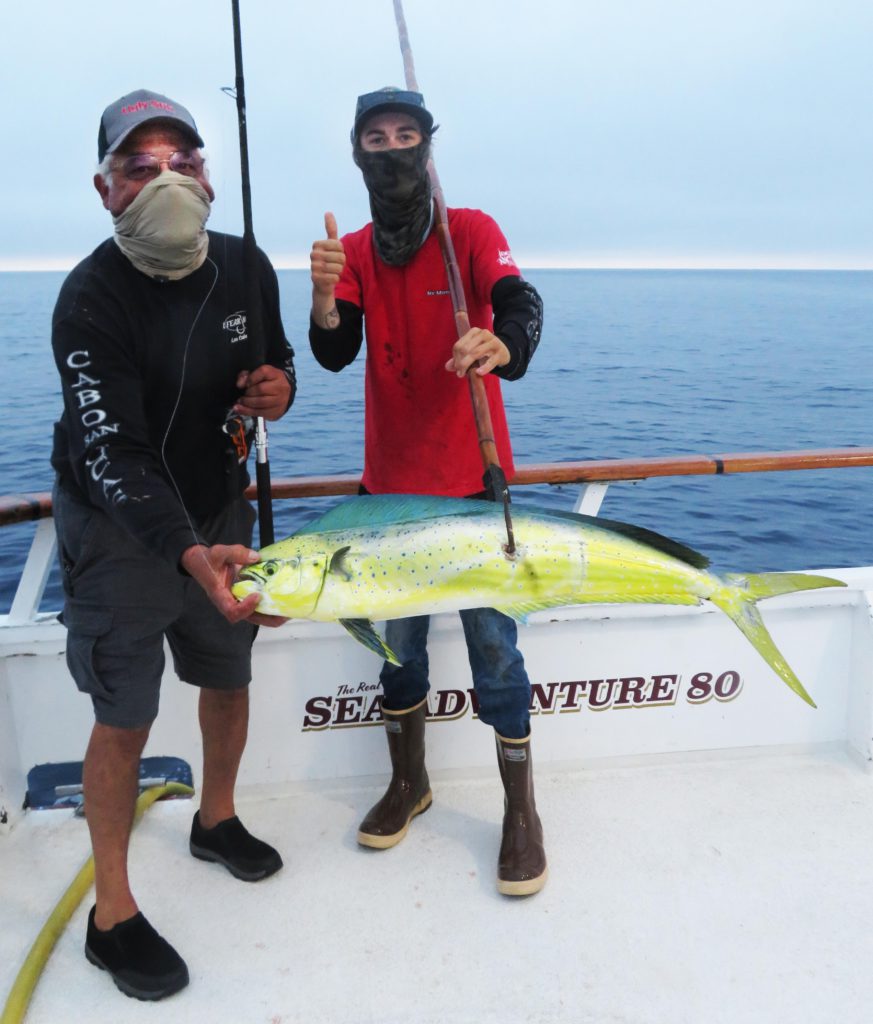 A quick briefing on the bow just before loading up some perfect 'dines at the receiver allowed the assembled anglers to get their swag for the trip. Frogg Toggs sent along a drybag for each charter member. In the bags a P-line Lazer Minnow and a spool of Hi-Seas 30-pound super premium fluorocarbon leader material were included for each angler. Some, like Paul Webb, used the new tackle to load up on dorado and yellowtail during the 2-1/2-day trip into Mexican waters.
"We can head northward and try for bluefin, but the last few days have been difficult with few fish being caught. I have some reports from boats that paddies down south are holding dorado, yellowtail and some yellowfin that are biting. I think we should head down there," explained Captain McDaniels following the safety briefing.
Daiwa sent along a couple of monster spools of J-Braid and the 80-pound and 30-pound test rolls were immediately put to use as anglers filled their reels on the long, 13-hour ride southwest. WON associate, Ted Reed was along for the charter and helped out with filling reels, distributing swag and getting photos during the trip.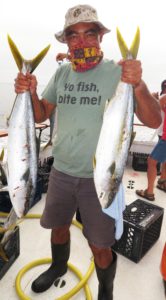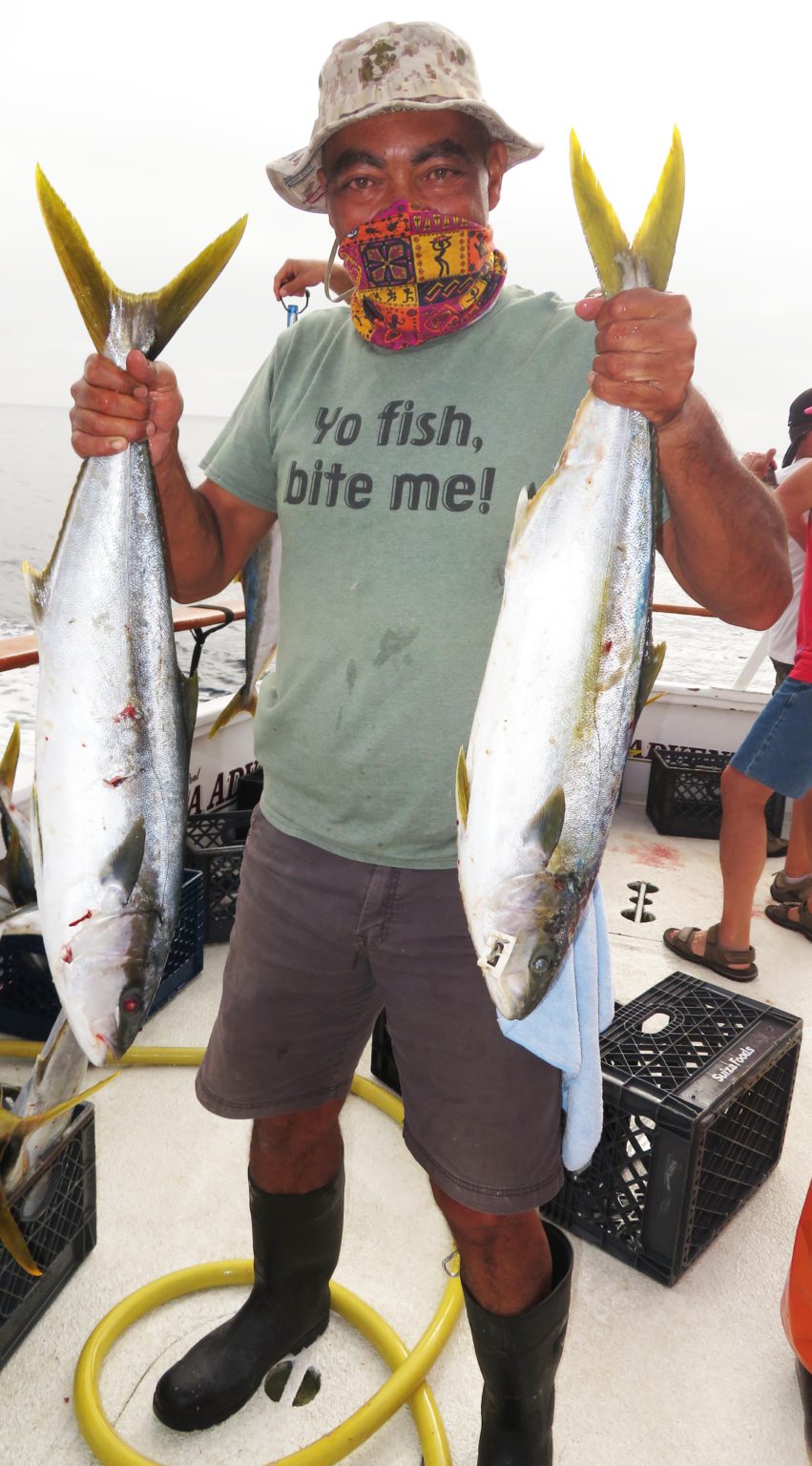 Daybreak came and the trolling lines were run out by deckhands Connor and AJ, as SA80 went on the hunt for kelp paddies. The first paddy of the trip came into view around 7:00 a.m.
"Connor sees a paddy off the one o'clock so get ready to bait up. Wait for it…," called the skipper over the p.a.
Coming up on a paddy loaded with dorado and yellowtail is an exciting moment and after riding down so far and for so many hours the anglers chomped at the bit, ready for action. First in and first bit, Pablo Matos had an insta-bite on a mid-sized dorado that, after a cartwheeling dance across the water came to gaff by deckhand Connor Caddell.
The excitement of seeing the first fish of any trip come over the rails had everyone casting out fresh baits and jigs, as pandemonium reined. The bite had gone wide open on both species and fish were flying over the rail. San Clemente angler Daniel Girtson tagged a better than average mossback to start his day, and quickly got back in the water. Daniel seemed to be constantly hooked up and managed enough fish for limits on both dorado and yellowtail during the two days down Mexico way. Daniel's dad, Chuck Girtson, bagged a larger model forkie early-on and that fish held top honors at final weigh-in on day two.
Despite the mess of lines wrapping and smaller fish taking baits on the surface some anglers nailed dorado and yellowtail to 13 pounds.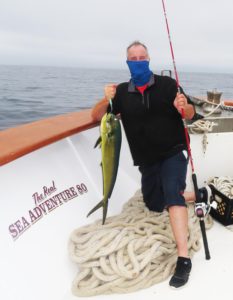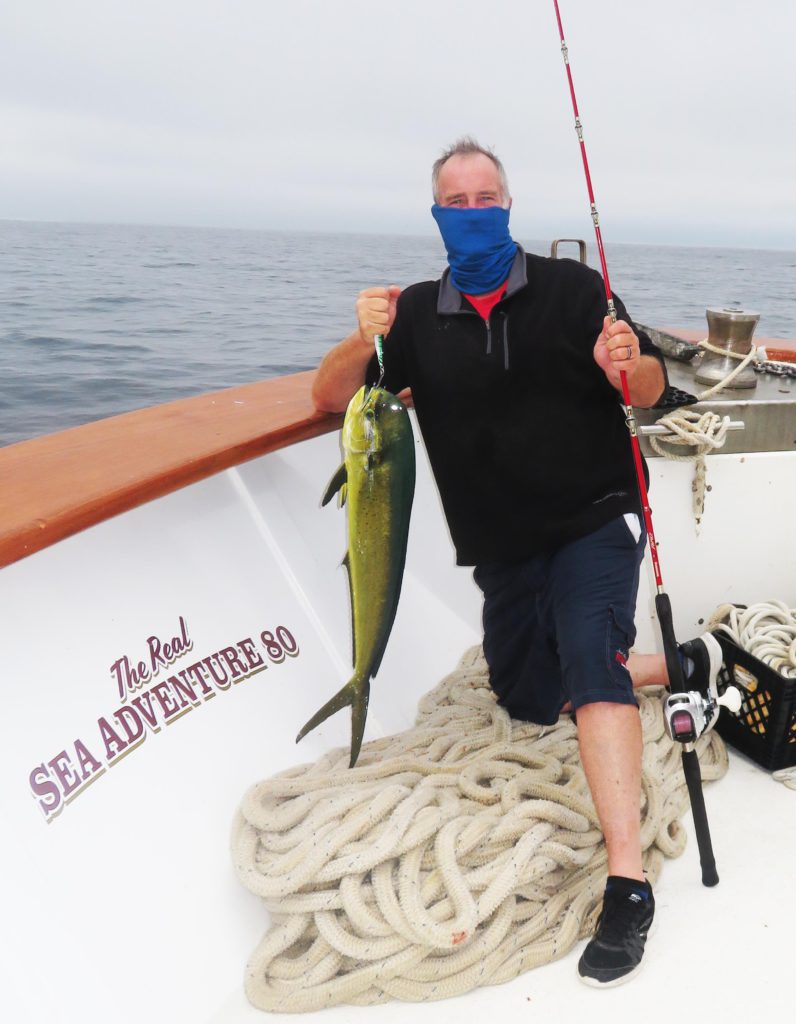 With little wind to cause SA80 to drift away the bite continued for over an hour on the first paddy. Once the captain called for lines up, trollers were set and lines run out while the boat got on the move, heading steadily southward.
Several more kelps produced near limits of mid-sized dodo and a few yellowtail for the boat.
This reporter had dreamt of a day like this to test the action on a fly rod and so broke out the long rod and put on a hand tied Saltyfly sardine pattern learned from the master, Vaughn Podmore. The resulting 25-minute battle with a 12-pound yellowtail fulfilled a dream and checked another one off the list.
On a day-one, late afternoon stop, Capt. McDaniels was helping on deck and realized the kelps here all were holding huge numbers of dolphinfish and what was needed now was to find yellowtail willing to go on the chew.
Running up to the wheelhouse the skipper grabbed the p.a. mic for a most unusual announcement.
"Too much dorado! They're everywhere and we need yellowtail. Shake off any dorado and keep only the yellows," called Capt. Mike.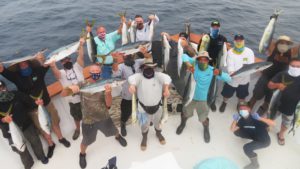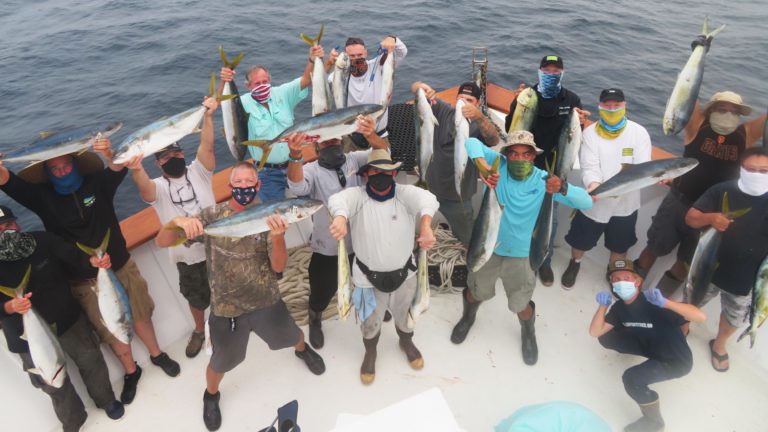 After a short while catching and releasing dozens of dodos, SA80 moved off, away from biting fish, and on to find mossbacks to put into the refrigerated sea water hold instead of more dorado.
End of day one found Sea Adventure 80 some 175 miles southwest of San Diego and the anglers ready for another great meal. Capt. McDaniels had recently added Leonard Miller to the crew. Miller's experience includes a stint serving up great meals aboard a cruise liner working out of Hawaii.
"We want to serve up delicious meals, more than just burgers and fries," said Miller, while prepping a lunch of Philly cheesesteak sandwiches. Dinner to follow included New York strip steaks and all the trimmings.
Following dinner most anglers retired to their bunks and staterooms, but a few hardy anglers soaked baits and worked jigs while others enjoyed a couple rounds of poker tourneys. Sometime during the dark hours Captain Will, the night driver, moved SA80 up the line over flat calm seas and most anglers never even noticed.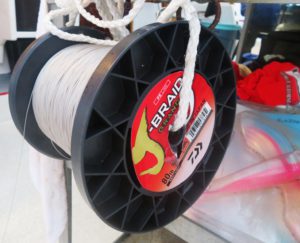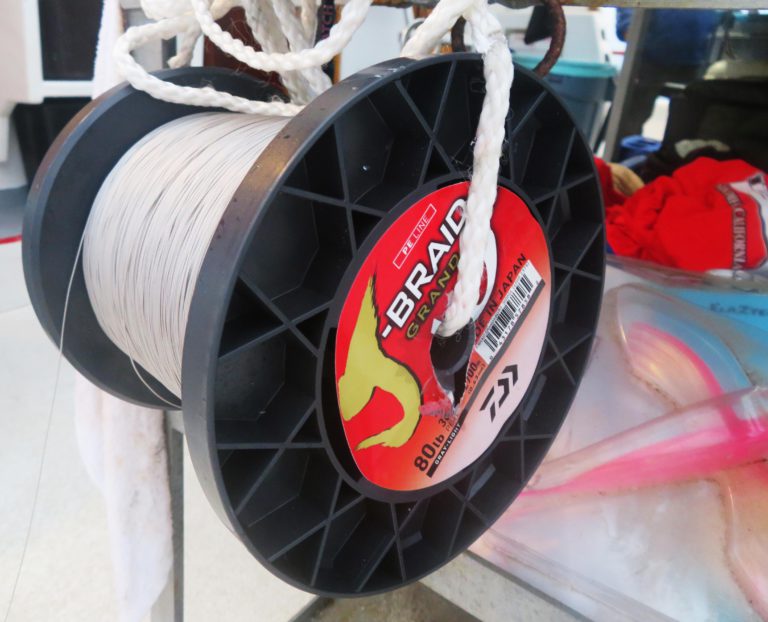 A few years back, after leaving military service, Captain Mike McDaniels began his time aboard Sea Adventure 80, working under Captain Scott McDaniels, known as MacDaddy.
Capt. Mike now continues to develop his crew and run his charters much like MacDaddy did back in the day.
"I want to show that we can build a community of like-minded fisherman and crew, following the standards set by my father. If we treat each other like family, with respect and care, we can build a much better future for us all," said Capt. Mike during the long overnight at sea.
"It's important we develop the next captains and crew, building a legacy. That's why I'm putting my deck crew through Captain's Training school, with the plan for licenses to come soon after. It's just the right thing to do for us and for the industry," concluded the skipper.
Recently the boat has undergone extensive renovation, removing the wheelhouse and reinstalling the upper deck, then resetting the whole section. New upholstery in the galley and all new electronics, along with extensive electrical and safety innovations, have made a huge difference in Sea Adventure 80.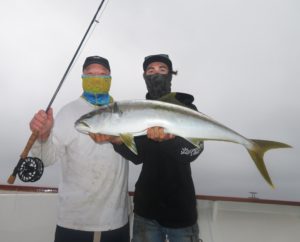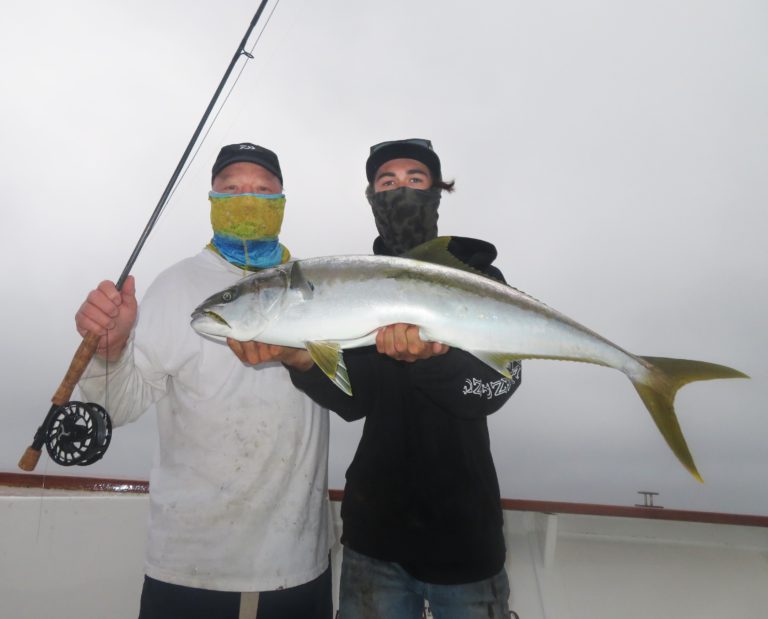 The thrum of engines at 6:30 a.m. began an hour-long search for paddies to begin day two of the charter. The first kelp SA80 came up on held rat dodo and sizeable yellowtail. Once again, a fly-caught yellowtail came over the rail.
Angler Paul Webb had been using his P-Line Lazer Minnow and once again found another decent mossback. Retired Marines Ed Johnson, and Chris Reed both found yellowtail willing to bite as did WON associate, Ted Reed (no relation).
Water temperatures played a key role in fishing both days of the charter with 74-degree water giving up dorado in the lower areas being fished. When the water fell back to 71- or 72-degree range, more yellowtail could be found.
Long troll stretches led to a final kelp holding loads of willing yellowtail and most aboard finished out their limits on mossbacks. John Muldoon and son, Jeremy, found plenty of forktail action on this last productive stop of the trip.
With near limits for all, and time to roll back to H &M drawing near, Captain McDaniel's called in Tribute to get some of the yellowtail and SA80 moved off the biting fish.
A 14-hour run lay ahead, so the fish were pulled from the hold, pictures were taken, and the deck crew busied themselves cutting fish.
Chuck Girtson's winning yellowtail earned the San Clemente angler a Maui Jim Gift bag including a certificate for a pair of Maui Jim Sunglasses and an assortment of accessories.
"We caught more fish in the first hour of this trip than all last week," called out the skipper at one point during the charter.
Simply put, this Western Outdoor News Sea Adventure 80 charter was indeed one for the books.
To book a trip on the Sea Adventure 80 or for more information, visit seaadventure80boat.com or dial (619) 889-6627. The boat runs out of H&M Landing and open party trips can be booked at hmlanding.com or (619) 222-1144.