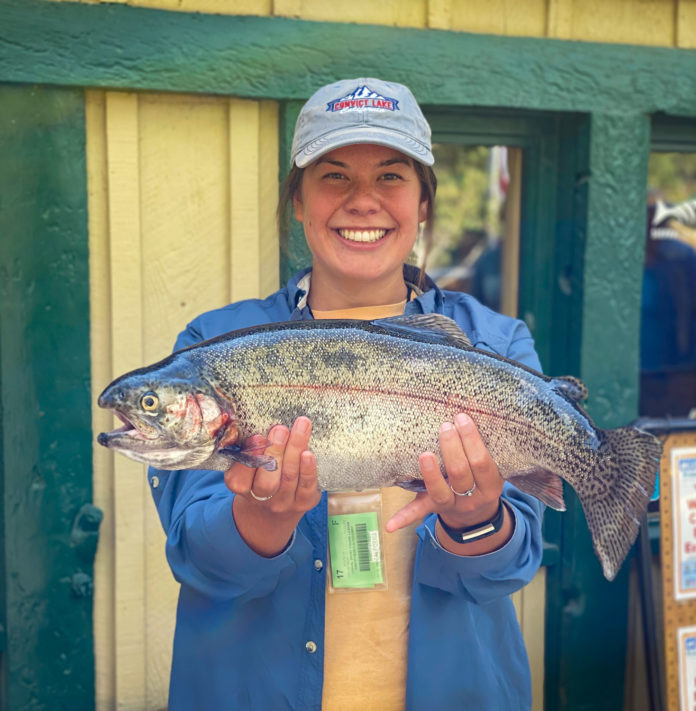 BY ERNIE COWAN
BRIDGEPORT — Eastern Sierra trout fishing this year is a tale of two seasons.
Many will tell you that it's a waste of time, while lots of other anglers with huge smiles will be gushing about "it's never been this good."
Both may be right.
These are the facts.
There are fewer fish. Disease at local DFW hatcheries that stocked Eastern Sierra waters with pan-sized rainbows required the destruction of over three million fish. This also ended the Sierra state stocking program this season.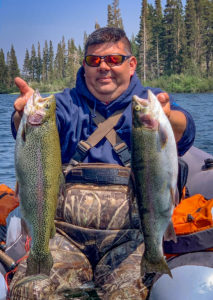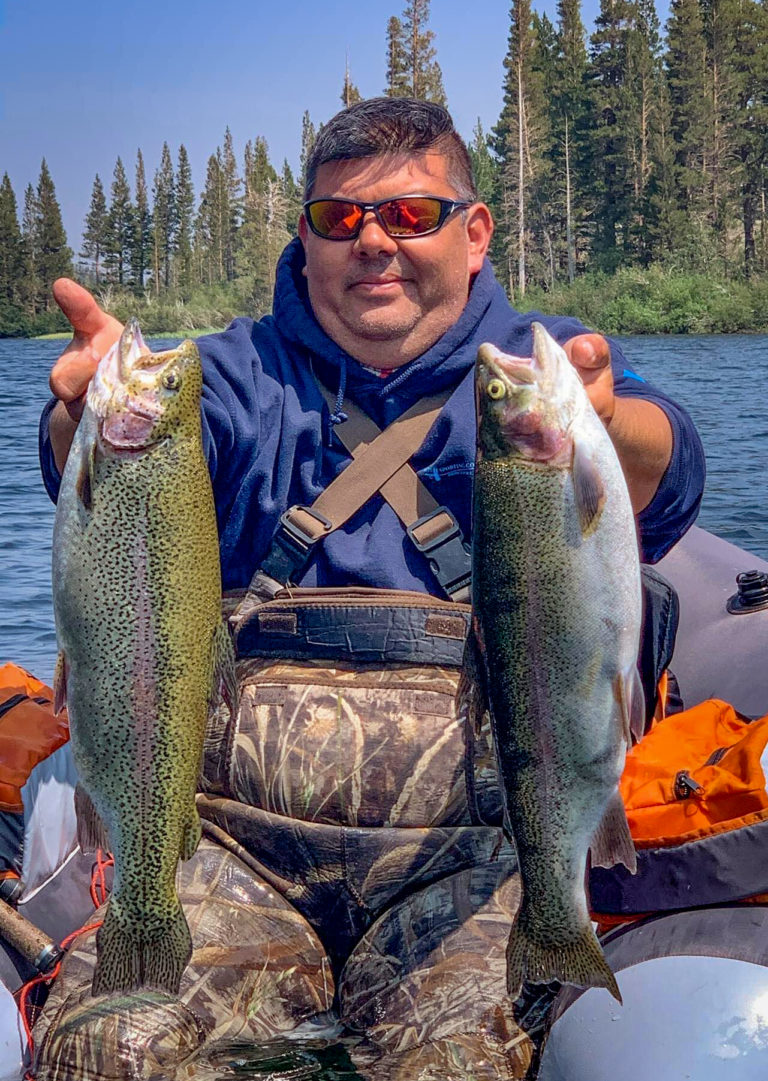 But the more important fact is that Inyo and Mono County governments, local landings, local fish foundations and tackle shops have stepped up with an outstanding effort to purchase trophy rainbows from hatcheries in Idaho and Oregon. This means local waters are still filled with lots of 3- to 5-pound rainbows along with a few bigger hawgs tossed in.
Final fact: There may be fewer fish, but those hanging in the cool holes of Sierra waters are likely as big as any that most anglers have ever brought to the net.
It might require a bit more time and effort, but the rewards are epic compared to a typical year where a five-fish limit might weight less than five pounds.
The other variable this year is the weather and COVID-19.
The weather has been unusually hot and that means fish are hiding out in the deepest holes where the water is cooler.
COVID-19 has also brought record crowds to the Eastern Sierra and that mean the smaller number of pan-sized rainbows have been hit hard by the increased fishing pressure.
Okay, so what does this mean for the angler that wants to catch Sierra trout?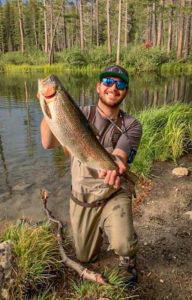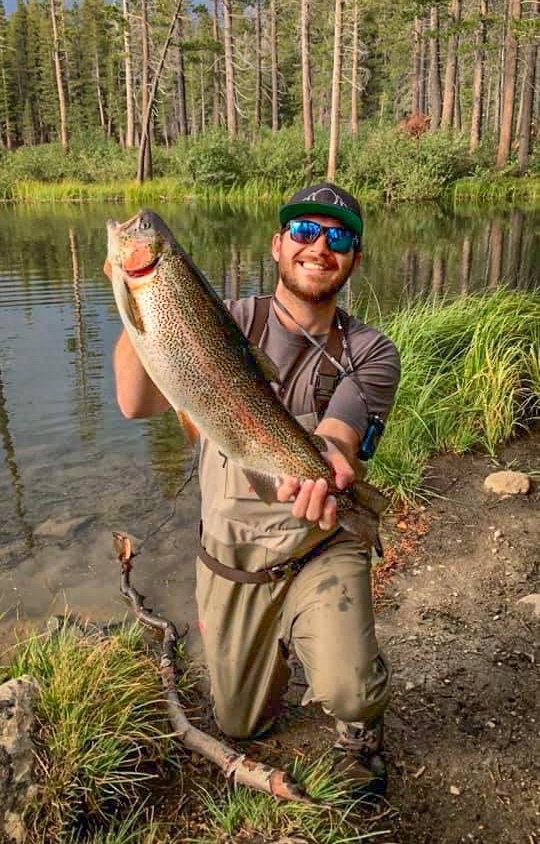 We've said this before, you can't fish this year like you always have and expect results.
The reality is that 2020 could be one of the best seasons in years for catching monster fish.
Weather and conditions mean anglers must adapt, learn new techniques and be a bit more patient. The biggest secret to success right now is fishing very early and late, and finding the cold water.
Those chilly spots are the deepest holes at local lakes, tiny zones where cold springs bubble into lakes underwater, and the inlets where colder water is flowing in along with fresh food.
Find any or all of those spots and you will have days like John Venner from Redlands who pulled in seven trophies over two days from both Twin Lakes in Mammoth.
At Upper Twin Lake he collected a five-fish limit with all over 5 pounds, and the next day he pulled in two 7-pound rainbows while offering a shad colored jig from his tube.
Both Twin Lakes seems to have picked up as anglers are checking in with 5- to 7-pound fish. Hopefully because anglers have learned how to adjust to the new normal for trout fishing 2020.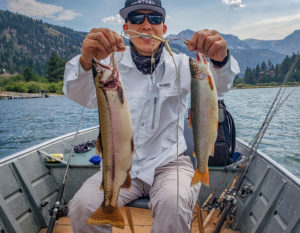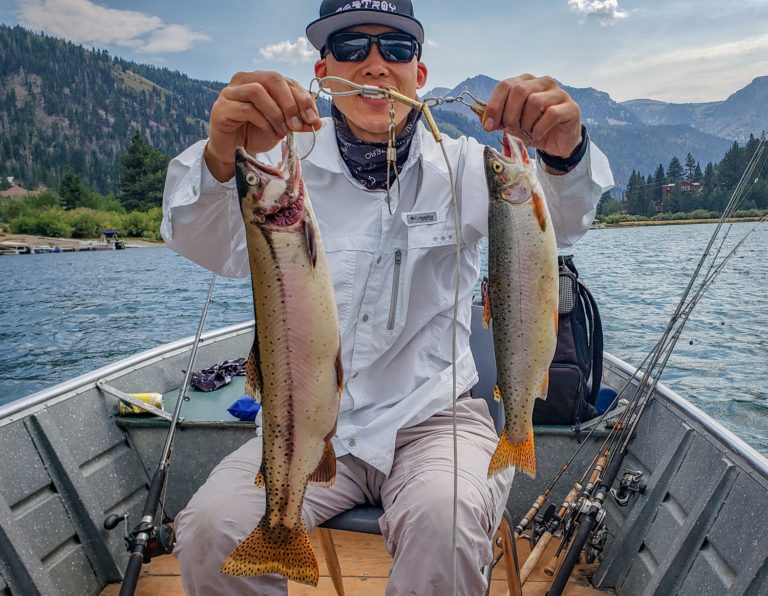 If anything can be called slow, it might be trout hunting on Bridgeport Reservoir. The hot weather seems to have slowed down the trout bite, but there is still a bright spot, and that's a great perch bite.
Perch are some of the best eating fish around, and the 25-fish daily limit of slabsides to 2 pounds or better means some good meals ahead.
The other notable activity from the Bridgeport area are the big trout coming from the streams and creeks.
Robinson Creek continues to thrill with fish to 6 pounds-plus and the West Walker has turned on with anglers reporting some rainbows biting to 4 pounds.
Virginia Lakes has also come into prime time. Stocking trucks with trophy rainbows have arrived and those fish have wasted no time in starting to bite.
In all the excitement, Robert Schultz from Palm Springs didn't say what he used to catch a 7-pound, 5-ouncer rainbow at Big Virginia Lake, but he was pretty happy with his catch.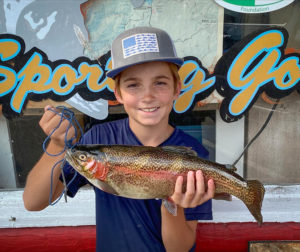 At Little Virginia, Armando Acevedo from Ontario used a Trout Teaser to interest a 6-pound, 10-ounce rainbow. Carolyn Webb at Virginia Lakes Resort also listed more than a dozen rainbows checked in at over 5 pounds.
Hot weather and very low water continue to impact shore fishing at Lundy Lake, but anglers in boats or tubes are connecting with a few rainbows in deeper water.
The folks at Beaver's Sporting Goods in Lee Vining are all smiles about the huge fish that continue to come in for Lee Vining Creek. Local stocking efforts have kept the creek primed with fish, and more than a few 4-pound or larger rainbows continue to show up.  Jigs and salmon eggs seem to be the best offerings.
Waters in the June Lake Loop will be offering a Monster Trout Derby over the Labor Day weekend and there are plenty of 4- to 8-pound fish stocked and ready.
Check in at Ernie's Tackle and Ski for details or entry.
This derby will replace a similar event that is typically held opening weekend in April but was canceled this year.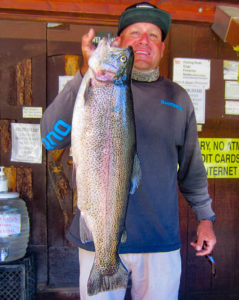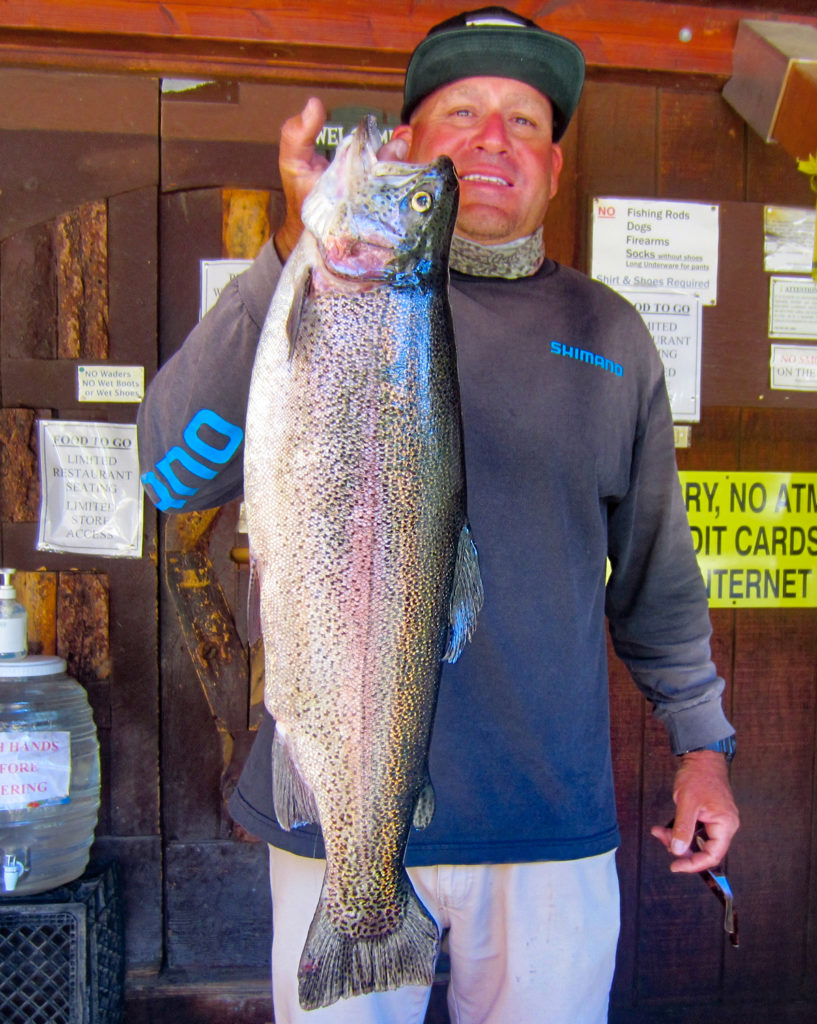 Prizes will be awarded for the biggest fish from each loop lake and Rush Creek, along with the biggest fish of each species, and overall biggest trout.
June Lake continues to produce some beautiful cutthroat, with the biggest coming to anglers going deep with leadcore line.
Gull Lake is also holding some big fish and Dave Watson used an orange Mice Tail dipped in garlic to connect with an 8-pound, 4-ounce rainbow.
Like most areas now, the secret is fishing deep. Earlier last week, anglers checked in at Gull with 5-pound, 8-ounce and 6-pound, 7-ounce rainbows.
Silver Lake has been stocked with two loads of 1- to 4-pound rainbows from Oregon in the past week and that schedule will be maintained every two weeks until mid-October, according to Andrew Jones at Silver Lake Resort.
The bigger fish seem to be biting, with Jones logging in several 3- to 5-pound fish last week. Anglers have been getting the best results with nightcrawlers, Pinch Crawlers, Mice Tails and anything with garlic. Deep is the secret to success.
Grant Lake continues to be the place for nice browns in the 18- to 22-inch range. Guide Dan Lengning says be out just before dark for the best shot at catching.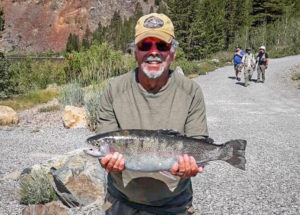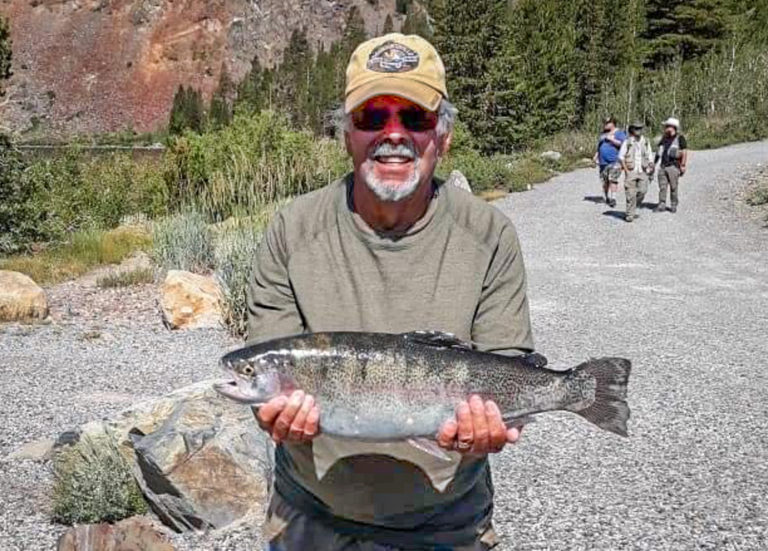 Mammoth Lakes Basin has also joined the parade with some big fish this week.
Dean Ross from Glendora used a white Minijig late in the afternoon at Lake Mamie while wading in deeper water and was able to catch and release a beautiful rainbow that he estimated at between 9 and 10 pounds.
Other big fish coming from Mammoth Basin are generally being caught from tubes or boats in deeper water. Crowds continue to be heavy and that is expected to continue through Labor Day or longer.
Convict Lake has also received trophy rainbows and they are biting. Fish to 10 pounds were checked in this past week.
Emily Hammond from Lakewood checked in with a 24-inch rainbow weighing 6 pounds, 8 ounces that she caught from shore with PowerBait. Overall, the catching at Convict has been excellent.
Crowley Lake is now in the no-bait season, with anglers limited to barbless artificials only and no scents. The daily bag limit for trout is two fish, 18 inches or larger.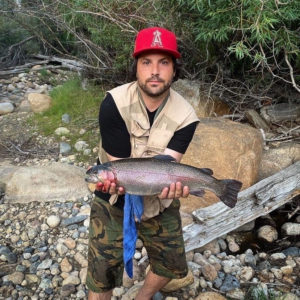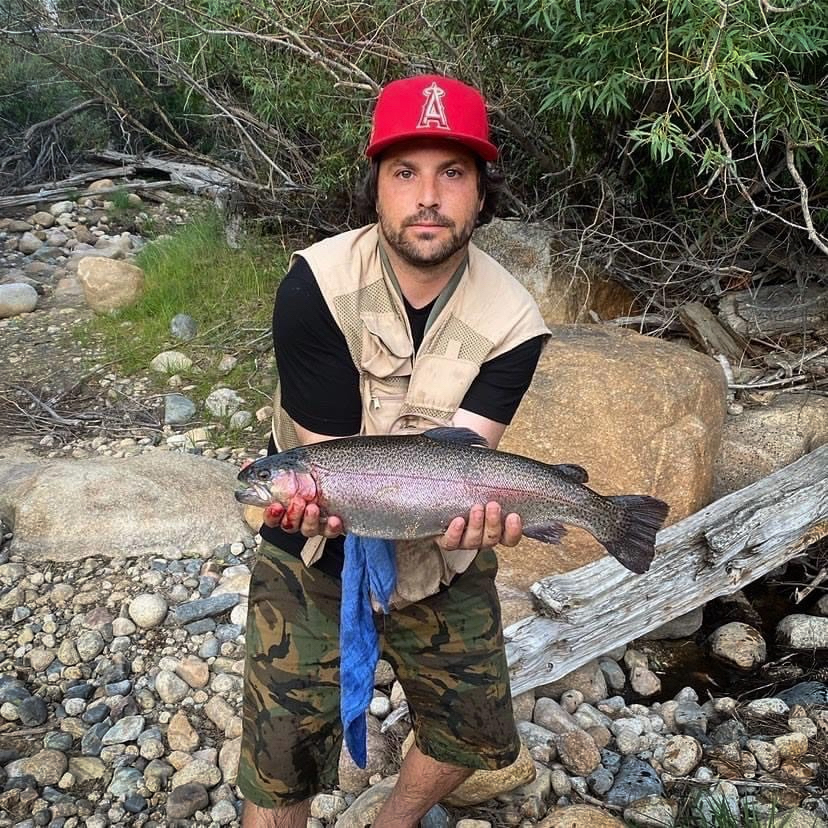 Sierra Drifters Guide Service owner Doug Rodricks said this is the start of the best fishing time of the year at Crowley.
"It's no secret that the upcoming months will be some of the best fishing on the lake. With most fish being caught in shallow water, it has been fun fishing with short leaders," he said.
The streamer bite has also picked up at Crowley along the weed edges and in the channels.
Guides at The Trout Fitter in Mammoth Lakes said perch are also spread out and biting all along the weed beds and in the pockets.
"Time of day is an important consideration and also how close to stream mouths you are fishing because the fish could be feeding on something being washed into the lake. Between that and the stream flows dropping the fish have started migrating towards the stream channels," according to The Trout Fitter.
Probably some of the most fishing variety can be found in Rock Creek Canyon, where anglers have access to stocked stream and lake fish, and short hikes into backcountry lakes holding wild rainbows, browns and brookies.
While there were no reports of larger fish this week Rock Creek Lake has been stocked with larger rainbows and they are likely holding in cooler water down deep.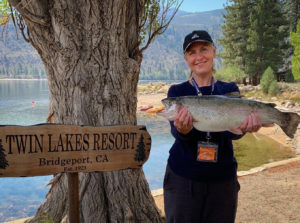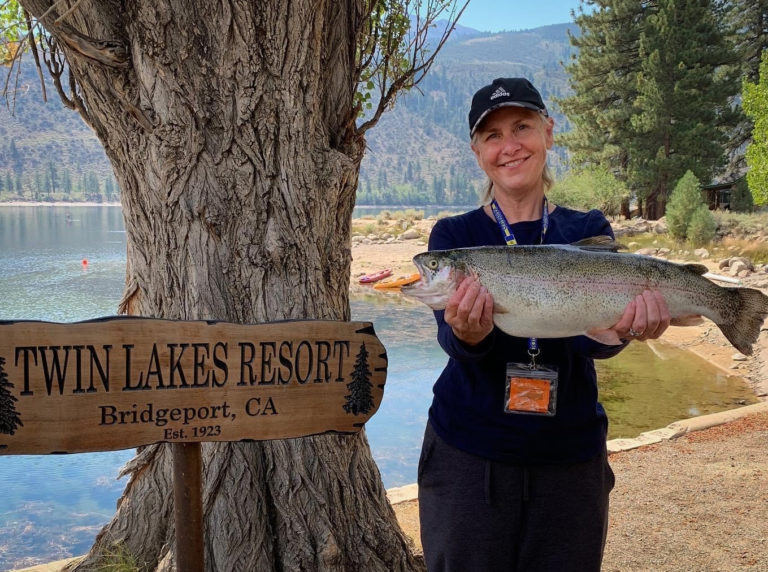 Sabrina and South Lake continue to receive loads of trophy trout and, like all summer, the inlets and deeper water are the place to be to catch them.
Patti Apted at Sabrina Landing is also reporting the arrival of fall color in some of the higher-elevation patches of aspens.
This often means cooler weather is soon to arrive and along with the fall beauty, the bite can become epic.