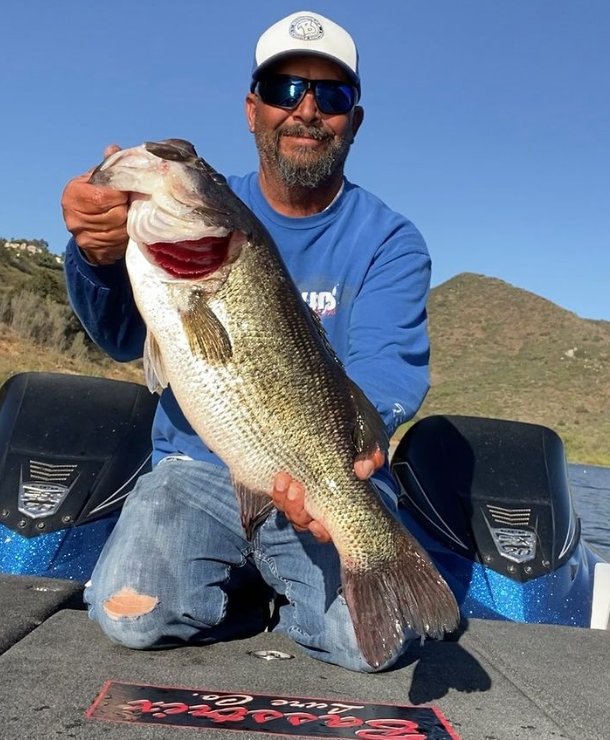 BY MIKE STEVENS
ESCONDIDO – The spring bass bite at Lake Hodges is outstanding as anglers try and get as many swings in as possible before the lake level is drawn down to a level that will shut down trailered-boat launching indefinitely, just like last year.
It started as rumors from various credible WON resources over the weekend, and while nothing is set in stone enough for anyone involved to put their name on it, it has been confirmed that the water level will be dropped by 20 to 30 feet, likely within the next three weeks. This will leave Lake Hodges only open to kayak, float tube and shore angling until the lake level returns to a point that allows the launch ramp to return to operation. One source said, "Looks like 20 feet, at least. No official word yet. In any event it's going to be a substantial amount of water."
This should sound familiar, as the ramp was shut down prior to Memorial Day weekend when the lake was dropped "three vertical feet" not only going in to one of the most popular fishing and boating weekends of the year, but when lofty numbers of bass between 7 and 10 pounds were being caught. That shut down ended up lasting three weeks.
Spring is prime time for big bass at Hodges, and just like in 2021, this announcement was made during red hot fishing. At least a pair of double-digit bucketmouths including a 10.9 pounder that grabbed a Rapala OG Slim Shad Squarbill cranked by SoCal guide Rusty Brown, and another from a former local angler who now takes an 8-hour round trip to fish Hodges.
"Fishing is basically the best it could possibly be," said Chip Gilbert of Yuma, Arizona. "Texas-rigged worms, jigs, drop-shots, shallow and mid crankbaits, and the bigger bites have been coming on the Basstrix swimbait. Now is the time to go catch a Hodges monster."
A WON BASS tournament pro, Gilbert has been vocal for years about what he believes is deplorable mismanagement of the San Diego City Lakes. Still, Lake Hodges still draws him from his new home state, but it's hard for him to maintain any level of optimism about the future of those particular Southern California fisheries.
"The City of San Diego will be draining off a drastic amount of water that will basically kill all the bass fry and bass nests in shallow water. Again proving the powers that be do not care about the fisheries in the county."
He did manage to catch a "Hodges monster" before making the long drive home, a 10.19-pound largemouth to go along with a 6.8.