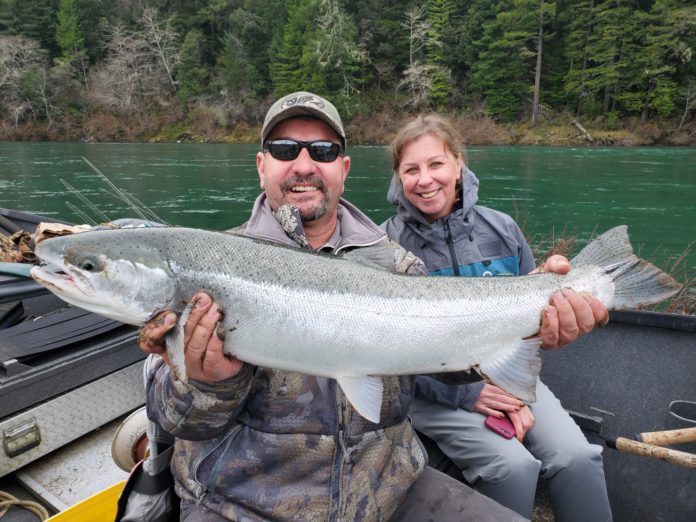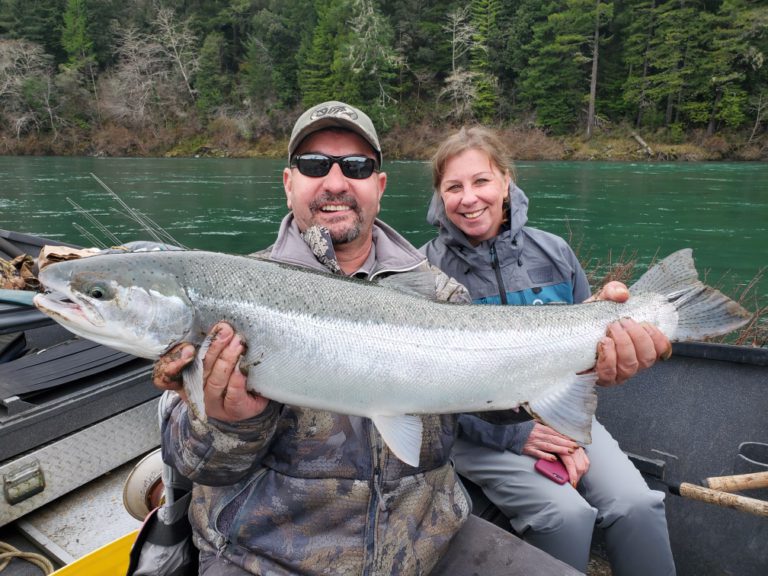 SMITH RIVER – The Smith and Chetco Rivers both reached their highest flows in more than a year last week, and as they dropped back into shape, big steelhead spread throughout both systems.
The Smith was fishable just a couple days after reaching 80,000 cfs at Jed Smith, a rise from 10 feet to 26 feet. The high water topped 44,000 cfs. or 21 feet from January 2020. By Thursday, the Smith was down to 13,000 cfs. or 14 feet, and fishing well for plunkers. One group of plunkers above the S Turns reported hooking 11 steelhead and landing eight on Thursday. Drift boaters began fishing on Friday.
After slow fishing Friday and Saturday on the Smith, the crowds left and the action busted open. Guide Mick Thomas of Lunker Fish Trips said most boats had two steelhead on Sunday with several hatchery fish mixed in. One guide landed a 21-pound steelhead. The fish were spread out from the Forks to Ruby while boaters anchoring lower in the system continued to catch steelhead on Sunday with plugs or Spin-N-Glo's.
Thomas said as the river drops, he expects shore anglers fishing in the Gasquet area to find plenty of steelhead as big numbers of fish moved upriver during the high water.
The Chetco River hit 40,000 cfs on Wednesday, a 16-foot rise from the day before. It was also the highest level in more than a year, topping 20,000 cfs. from January 2020. Fishing was slow overall on the Chetco over the weekend as dirty water from a slide on the South Fork limited visibility to less than a foot. Plunkers did fairly well on Sunday, and a few guide boats got into fish.
"This week looks absolutely prime on both the Smith and Chetco," said guide Andy Martin of Wild Rivers Fishing. "The Smith is in great shape, with a perfect steelhead green color. The Chetco was clearing on Sunday and should be in good shape all week."
Steelhead fishing also has busted open on the lower Rogue River where anglers are catching hatchery and wild steelhead from shore with Spin-N-Glos, or anchoring on the lower river and running MagLip plugs.