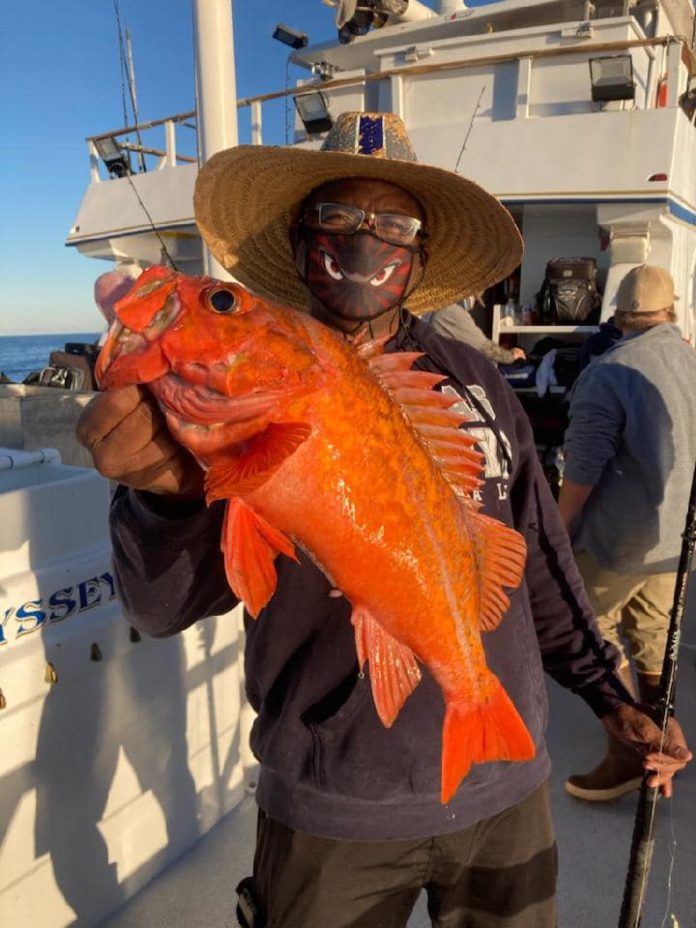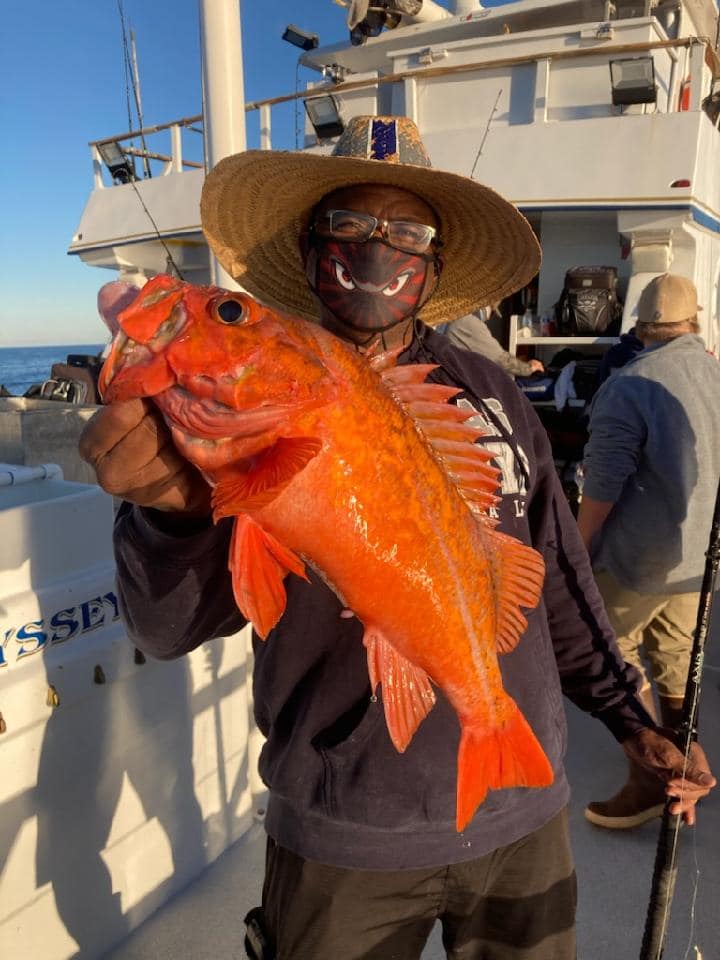 BY MERIT McCREA
SAN DIEGO/OCEANSIDE — Both the Ocean Odyssey on a 1.75-day and the Pacific Queen on a 1.5-day were back to the dock Sunday with nice catches of rockfish. Along with it were some bigger bonito and yellowtail too.
The word was flat-calm, glassy weather and a great bite on the bottom for quality groundfish – big Mexican rockfish, some reds and lings too.
Plus, the yellows put on a show but not biting well. Those aboard the Double-O put on a pair of the forktails and 18 bonito to complement 400 rockfish, including 150 reds.
Capt. Rick Scott called the conditions summer-like, hot and glass conditions. They're on the books each weekend through the end of next month departing Friday mornings from H&M Landing.
Over at Fisherman's Landing the Pacific Queen was in Sunday Morning after fishing the Colonet zone too. Their 33 anglers had 255 rockfish, turning in 114 reds, 13 lings, and they hit the yellows a bit harder with 19 boated.
As ever, this Colonet deal is all about the yo-yo iron for the yellows. Double dropper rigs and live bait are a bit better for the bottom biters but yellows eat that gear too.
A best bet for both and for newbies on deck for their first round is fishing the single dropper and a nice lively sardine or small Spanish mackerel.
Each landing's half-day boat fished daily and catches consisted of calicos and sand bass with the take a bit heavier on the sandies. Sculpin helped fill out the scorecard.
Aboard the Dolphin Sunday were 17 anglers who kept 19 sand bass, a pair of calico and 12 of the scorpions.
At H&M the Alicia fished with 14 anglers Saturday and showed a catch of 13 sandies plus a calico and some sculpin. They also ran the evening hoopnet trips and picked up lots of short lobsters as well as a few keepers.
At Point Loma Sportfishing the Daily Double was on the board fishing Thursday, Saturday and Sunday with highlights being 13 anglers landing 20 keeper sand bass plus a few perch and sculpin.
From Seaforth Sportfishing in Mission Bay the Sea Watch was on line for half-day fishing. Saturday morning 25 anglers turned up 40 calicos released and 14 kept with 3 sand bass and a sculpin too.
The El Gato II fished a 3/4-day charter with just 2 anglers, nabbing limits of rockfish and a lingcod.
Looking up at Oceanside, the Oceanside 95 was out Saturday with 17 anglers on deck for a 3/4-day. They released over 100 scorpion fish, keeping 27 and 2 sanddabs.
Over at the Oceanside Sea Center, they got a few more trips off the dock during the past week, with angler participation in the teens each day aboard the Chubasco II. Sand bass and sculpin were the top catches once again.
Averages looked to be 2 or 3 bass per rod with about a third keeping. Sculpin came in at around 1 to 2 per person.