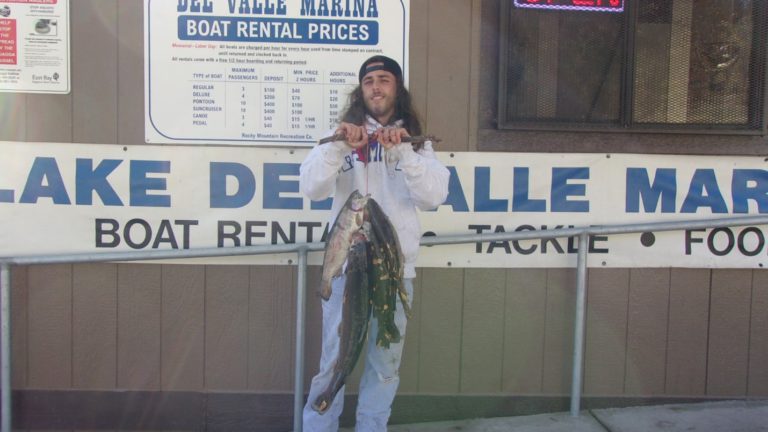 BY CHUCK WOLF
WON Staff Writer
OAKLAND – The Bay Area trout season is back in full swing. Thousands of pounds of Mt. Lassen Hatchery and California Department of Fish and Wildlife rainbow trout have been planted throughout the region, and local anglers are once again enjoying everything that this fishery has to offer. With all these fish plants going on, the odds are that you probably live close to one of these lakes and that there is no reason not to go fishing!!
Sean Mineau, staff at Lake Del Valle near Livermore, reported the lake has received over 2400 pounds of Mt. Lassen Hatchery rainbow trout since mid-October, and that fishing there is HOT! Basil Horton from San Jose landed a 7.1pound rainbow and his buddy Lewis Braxton from Milpitas landed a 5.8 pounder fishing spoons or mini jigs in the lower Narrows. Another angler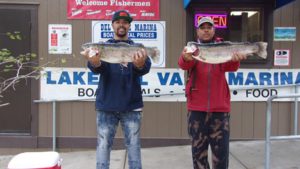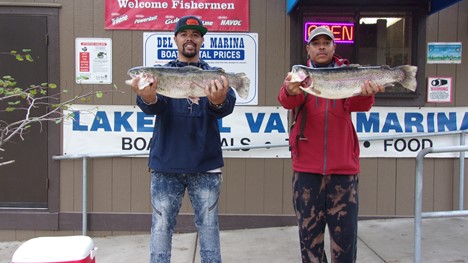 from Fremont was fishing the Narrows with Berkley Mice Tails landing two rainbows to 6.75 pounds. Sam Yun from Fremont landed an 8.5 pounder on a smoke jig, and Gabe Valencia from Livermore limited out with his largest fish weighing in at over 7pounds. Power Bait was effective off of East Beach with one angler picking up four rainbows to 9.35 pounds while fishing East Beach, his largest went 9.35lbs. and Ted from Super Duper Outdoors caught another 9 pounder on an SDO Super Spoon while fishing the dam.
Lake Chabot, Quarry Lakes, Contra Loma, Lake Temescal, and Don Castro have all received a plant of at least 1200 pounds and will receive another 1200 pounds by the end of this week. Los Vaqueros has received two plants with San Pablo Reservoir receiving 2200 pounds from mid- to late- October. Marcie Shoemaker of San Pablo Reservoir reported an 8.5 pound rainbow taken near the rock wall along with another near limit taken at the mouth of Scow Canyon There have also been a number of 3-to 5-pound rainbows taken just up from the boat ramps. Al Hurwitz, Paul Clouse, and Abbey Lev trolled the lake and landed four Mt. Lassen rainbows to 1.5 pounds. They also metered a good number of fish just out from the ramps. Be aware that San Pablo will close for the season beginning November 14th before reopening February 4, 2022. After all that time off, the bite should be red-hot.
Trout tactics vary by day and throughout the season. Right after a plant, the fish tend to hug the shoreline and may even spend several days in the vicinity of the plant area. When the fish are close in, you can throw light tackle short distances and still reach the fish. Mini spoons, small spinners, and tube jigs all work. As the fish acclimate and spread out further from the shore and into the deeper water, they can become a bit harder to reach. You can still fish light tackle, and 6-pound line with a ½ oz sliding weight should be enough. Use a size #10 or #12 treble hook and cover it with just enough garlic Berkeley Power Bait to hide the hook. Cast it out, let it set on the lake bottom, remove the slack line, and get ready for some trout. Worms suspended below a bobber or set on the bottom with a sliding rig are also solid bets. Small jigs, spinners, and Kastmasters all work for reaching the deeper water fish.
As the fish move out even deeper and spread more evenly throughout the lake, boat trolling with small spinners or Rapalas will allow you to cover more water and ideally get into some more fish.
Big Time bite for Bay Area planted rainbows
Many Bay Area residents have relocated to California's Central Valley, and Oak Grove Regional Park in Stockton hosts the 37th annual Trout Bout on Saturday, November 20th with 2000 pounds of planted rainbows. Information on the event is available at (209) 953-8800 or www.sjparks.com.