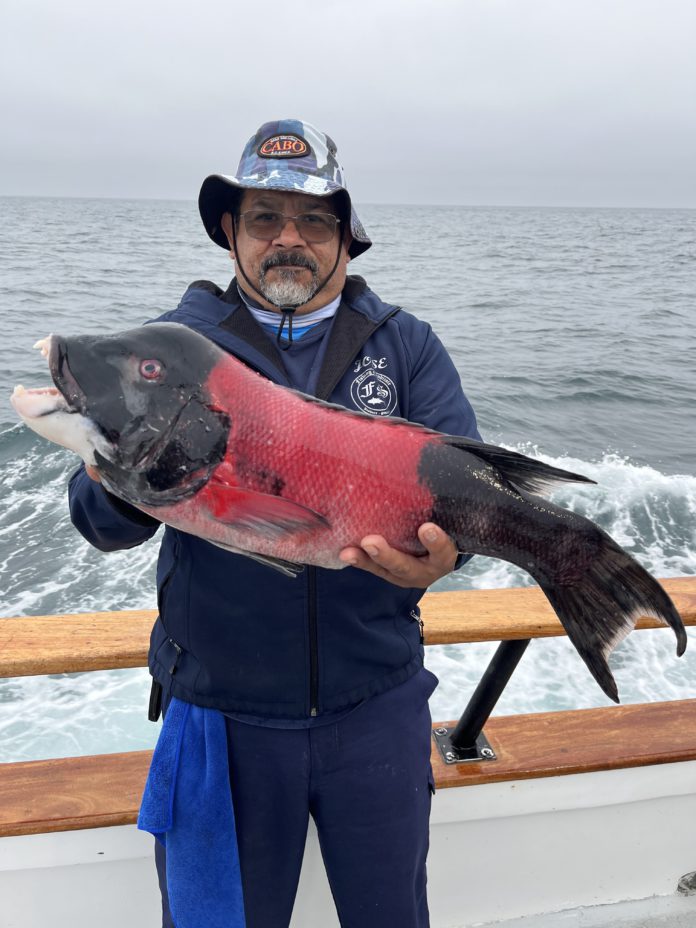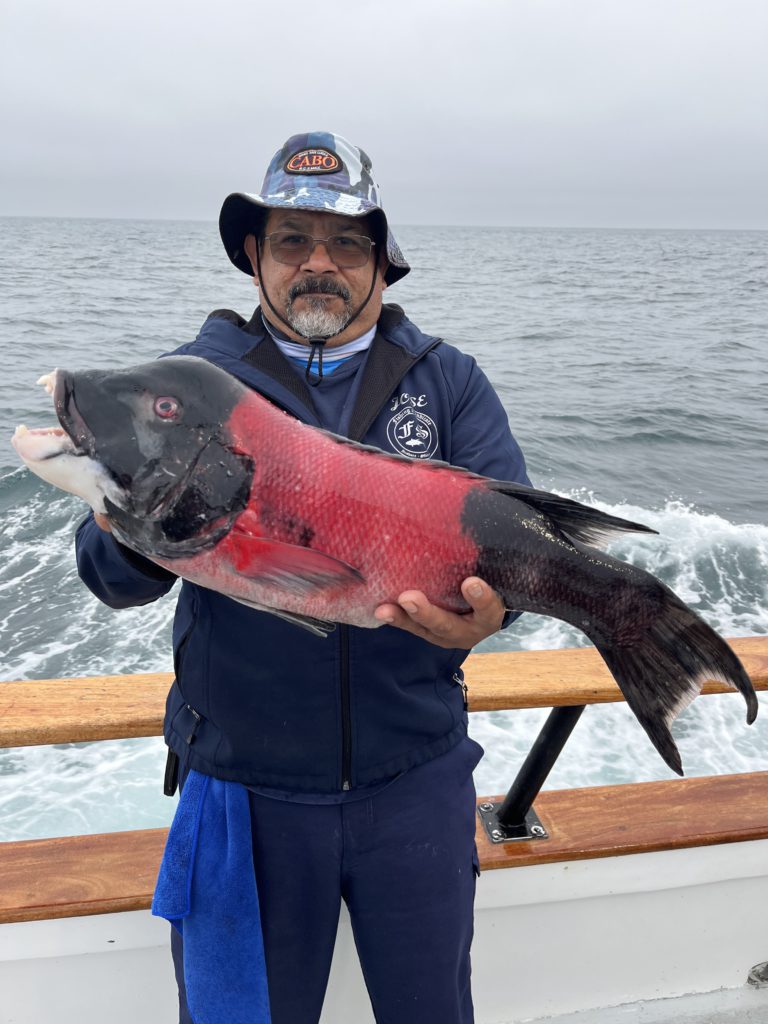 BY DYLAN DEPRES

The allure of San Nicolas Island and its bounty of quality bottomfish drew up a full boat of anglers aboard the Eldorado for a Halloween weekend overnight trip. Departing from Long Beach Sportfishing, the Eldorado arguably fishes this distant island as much or more than any other boat in the fleet. Their fall/winter Schedule is live with freelance overnight trips and San Nic is the general goal destination, weather dependent. They're even offering special pricing and offers on select days. These specials are constantly changing and anglers can stay up to date by following @longbeachsportfishing on Instagram, calling the landing, or checking out longbeachsportfishing.com.
On October 30, Eldo's anglers put the hurting to the bottom grabbers. Starting the day fishing on anchor, "in the mud," as Capt. Jeff Villalpondo described it, anglers knocked out a few dozen whitefish before daylight broke. Fun action was had on double-dropper rigs with small hooks ­­– size 2 were ideal. Some smaller rockfish were caught and easily released. Baratrauma, the pressure-related injury that rockfish often incur while being wound up from below, was minimal as we fished in less than 80 feet of depth. It wasn't time, yet, for anglers to start targeting trophies.
The morning pressed on and it soon became time to move up the island. Villalpondo announced that, "we're making a move west. Be prepared to fish for a variety of species at around 100 feet of depth. If you brought shrimp, now is the time to use it."
We had live sardines and squid on the boat, and some experienced anglers brought shrimp for sheephead or jigs/plastics for lingcod. All of the offerings mentioned would end up performing well in their own way. Our group of anglers rigged up in anticipation of a classic, "San Nicolas Island download."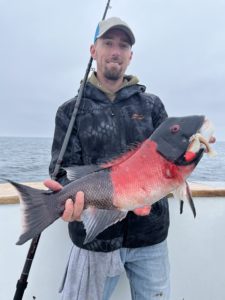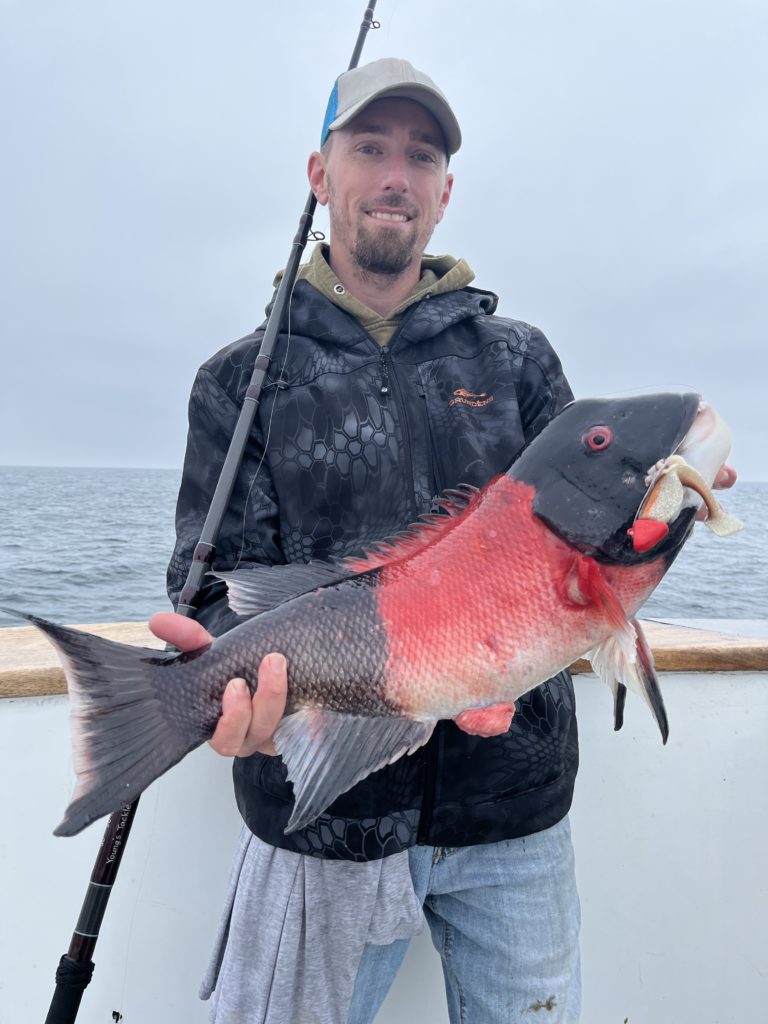 We fished this new zone on the drift with all anglers on one side of the boat. Squid strips produced instantly and 4- to 6-pound whitefish rained onto the deck mixed in with some nice 1- to 2-pound blue rockfish often called, "blue bass." Then came a smorgasbord of other species. The anglers who brought shrimp had great success on sheephead, boasting a great average size of 4 to 6 pounds. There weren't any spans of more than 10 minutes without calls for, "Gaff!" as bigger 8- to 10-pound models were welcomed aboard. The bigger fish had no problem biting the live sardines or shrimp alike. However, it seemed that the best performing bait for the goats were mid-sized shrimp with shell and head on. Lure anglers on the bow were also getting plenty of love.
"Lure-chuckers," often get a greater thrill from fooling fish on artificials. Sometimes, this presentation can be even more effective than bait with the ability to cover more water and elicit a reaction strike. Our first lingcod of the day came on a 4-ounce plastic tube-style bait. It was followed in quick succession by another keeper ling that bit a 50-inch swimbait on a 3 ounce leadhead. Mixed in with the gators, big chucklehead and reds were coming in back-to-back on the bow. Anglers had a blast whacking these quality bottomfish on the lures. On this particular day, lures outfished bait for lingcod 3-to-1. However, the monster plastic baits that are often fished for lingcod on 8-ounce or larger leadheads did not produce very well.
Pressing on with multiple productive drifts in this zone, gunnysacks were either "half-busting," or "busting," by late morning. A fish-per-rod on the goats and near-limits of whitefish and rockfish had been achieved and it was time to move on to the deeper water. Capt. Villalpondo instructed us to, "fish a double dropper with a minimum of 12 ounces." and he suggested "fishing the live sardine to get the better-quality rockfish." Conditions were different in the deeper water and the fish were definitely not as apt to bite. The fish we did catch out deeper were monsters though, 5- to 6-pound copper rockfish bit the sardine, mixed in with some nicer starry rockfish and a vermilion or two. We tried a few spots but our time to end the trip was near. Eldorado crew took fish-fillet orders, cooked us some delicious burgers, and anglers all hung out and took long naps for the ride home from San Nic. Over 30 sheephead, 4 lingcod, and limits / near-limits of whitefish & rockfish came home with us.
Dylan D's fish report
I ended up with a lingcod, a sheephead, 1 big red and 1 big copper, a variety of other rockfish to fill my limit, and 6 whitefish. Bringing home a grand total of 18 fish. I capitalized in the dark-hours to knock out most of my whitefish. While I settled for some smaller whitefish than we would see in the more productive zones, I wanted to target sheephead and other fish in that time frame. Putting in time in the dark with small hooks and stripped squid took the skunk off the boat for me.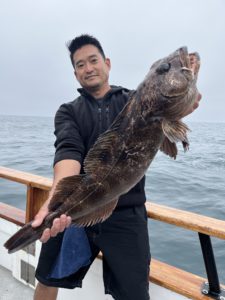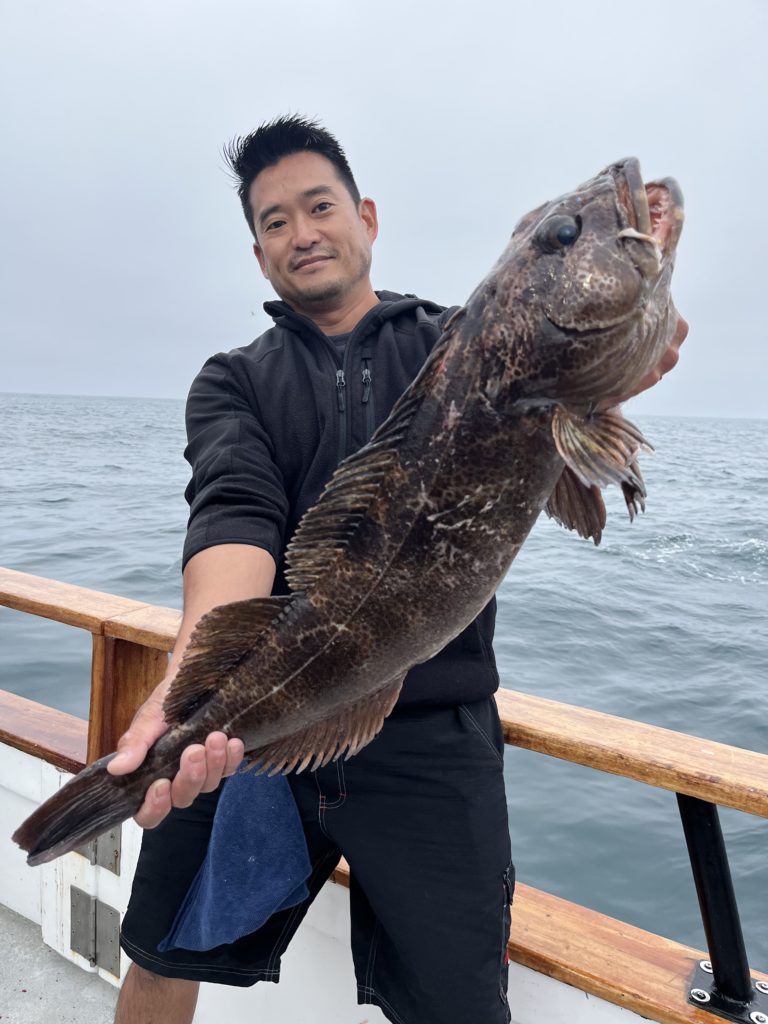 For the daylight hours spent drifting, I brought some shrimp of my own. Being less experienced with sheephead fishing than some on the boat, my shrimp were "shell-off, head-off," and I had a half-pound of them. I fished the shrimp on a reverse dropper-loop. The shrimp were bit-up by the whitefish and rockfish, too, probably less than squid would have been, but my catches were primarily "by-catch," of my goat target. With just a couple shrimps left, I found my goal fish and brought a nice 5-pound sheep aboard. Others near me who fished shrimp scored 3 or 4 sheeps, so I will definitely adjust to head-on, shell-on next time.
After knocking out my sheep, I switched to dragging around a light metal jig to scratch out a lingcod. Lingcod were somewhat few and far between on our day, but I saw that the anglers who were getting them were fishing the lures so I wanted to give it a crack. I rigged up a 4-ounce Ahi Assault Flash Jig in sardine color. Casting downwind a-ways and either slow-retrieving above the bottom or bouncing along the crags, I found some biters. On my quest for a lingcod, I managed a big red in the shallow water and a few great-sized olive rockfish. I soon found the bite I was looking for, and knew I had either a big rockfish or ling on the line. A minute in, my head-shaking fish turned into a snag and I was stuck on the boat. I said aloud to my fellow bow anglers, "no way was a snag just giving me head-shakes like that, that was a fish." I put my line in freespool, and a couple seconds later it started shaking again.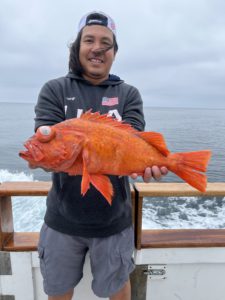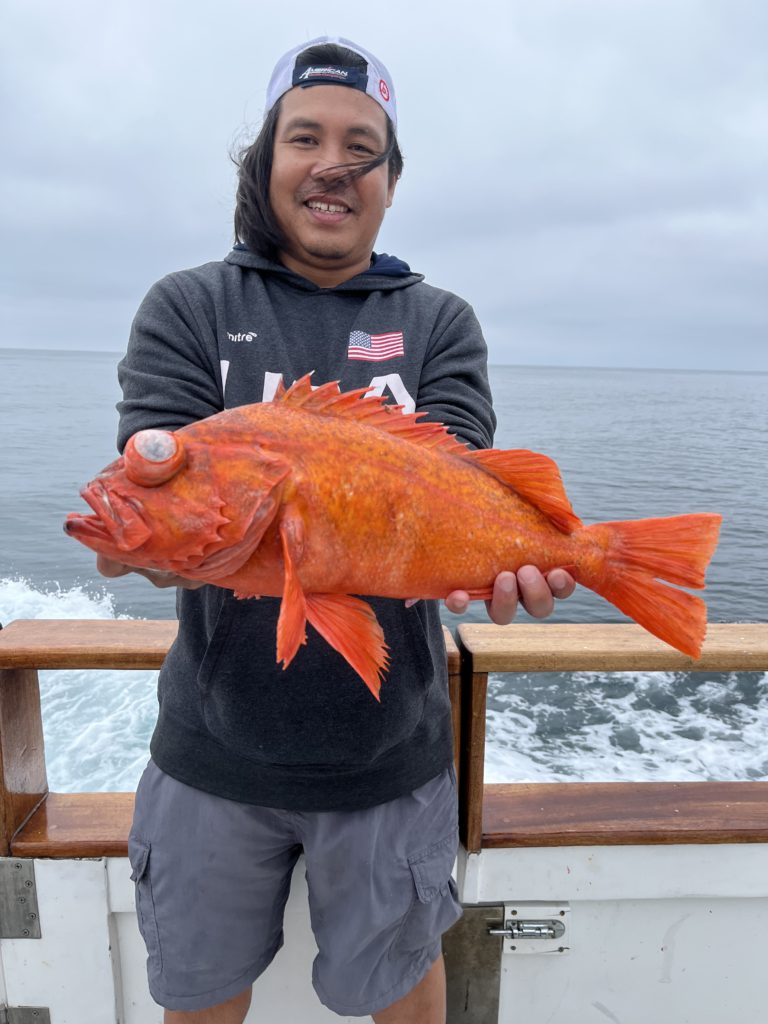 My fish were kept chilly in the Eldorado's RSW on the way home. I've been practicing my fish filleting skills the last few seasons and I was excited to cut all this great fish. At home, I had a blast cutting up whitefish, rockfish, sheephead and lingcod. The fillets on my lingcod were even more blue than the fish itself. I gave a bunch of fish to my dad, and he has already reported back that the lingcod is fantastic. Thanks Capt. and crew of Eldorado and Long Beach Sportfishing for another fun trip.