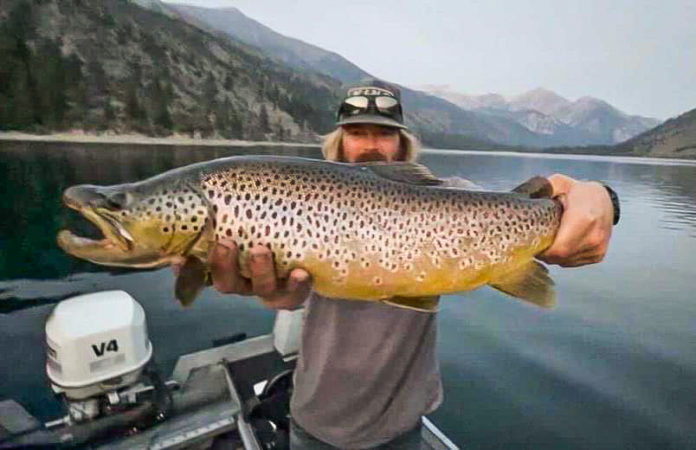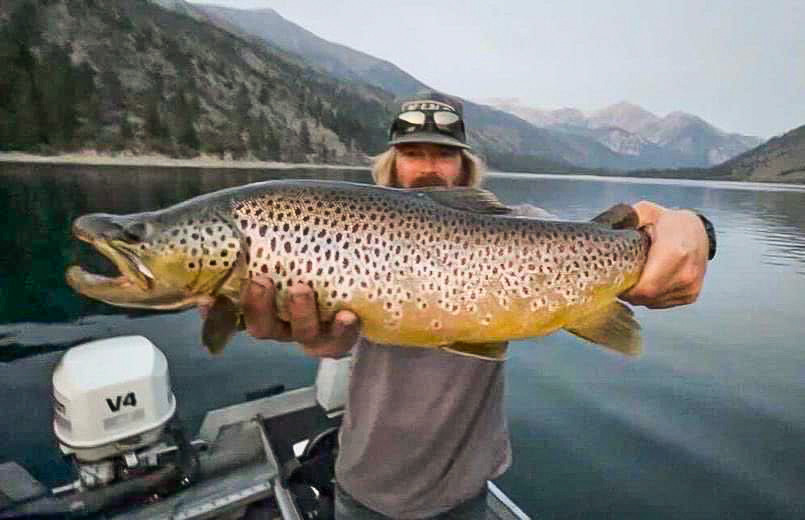 BY ERNIE COWAN
BRIDGEPORT — What has become the new normal for Eastern Sierra anglers is likely the fish of a lifetime for many. And it's not an accident.
Ramped up and continued stocking efforts by local landings, tackle shops and private trout foundations have raised the bar for Eastern Sierra anglers who typically struggle this time of year to fill stringers with pan-sized rainbows. It's always more difficult to catch fish in the heat of summer, as they are more elusive, preferring to go deep to avoid warmer water. That hasn't changed much, but instead of the small DFW stockers, the fish being caught are now bigger than many anglers have ever felt on the end of their line.
It's a story we have told before, but it's worth repeating.
The model for stocking trophy rainbows began with the formation of the Bridgeport Fish Enhancement Foundation. Private funds and donations were raised to buy larger trout that were initially placed in Bridgeport Reservoir.
Success breeds success and as more money was raised, the stocking program of these beefy, tagged rainbows expanded to other lakes and streams in the area.
Then came the disaster last summer when disease hit the DFW hatcheries that raise the pan-sized rainbows stocked in Eastern Sierra waters. Those are what most anglers were used to catching. That spurred private groups to engage and embrace some form of stocking efforts.
Soon, the idea spread, and the Twin Lakes Trout Foundation was formed and is now putting big fish into Upper and Lower Twin Lakes and nearby streams. The merchants in Lee Vining did the same thing, followed by June Lake Loop and Bishop Creek Canyon. Landings and tackle shops in Mammoth Lakes purchased larger Oregon or Idaho trout, and along with money contributed by Inyo and Mono counties, the town of Mammoth Lakes and even local chambers of commerce, there has been a notable increase in the size of fish being caught from Bishop to Bridgeport.
Summer visitors to the high country still must know how to fish during the peak of seasonal heat, but once they figure that out, instead of a 5-fish limit weighing in at 4 to 5 pounds, they can expect a full stringer to well exceed 10 pounds.
This week's creel check from Bridgeport area waters is a good example.
Both Upper and Lower Twin Lakes saw lots of 3- to 5-pound rainbows being caught, along with a few bigger browns.
"Not everyone is getting into lots of fish up there, and with the heat wave we've been having it seems that most of the fish are hanging out pretty deep during the day and coming up into shallower water in the mornings and evenings to feed," said Jim Reid at Ken's Sporting Goods in Bridgeport.
And there lies the secret to success for summer anglers in the Eastern Sierra. It's all there in one sentence. Early, late, and deep. Figure that out and you will be a happy trout hunter.
One of those was Jeff Tyson from Orange who connected with a 6-pound, 11-ounce rainbow at lower Twin Lake using a J9 Silver and black Rapala. At neighboring upper Twin Lake, Armando Rodriguez hooked up with a 3-pound, 12-ounce rainbow. Reid said the best choice for catching fish at the Twins has been Pinched Crawlers, Mice Tails and inflated nightcrawlers.
The action at Bridgeport Reservoir has been slow as water temperatures have spiked, driving fish into deep water pockets. "There haven't been very many anglers fishing it lately, the ones who have are catching some good perch but we haven't heard of any trout being caught lately," Reid said. "The perch still seem to be biting a bit on the troll with Needlefish, 'crawlers and small Rapalas."
Virginia Lakes have been stocked with larger BFEF rainbows and they are active, according to Carolyn Webb at Virginia Lakes Resort. Another load of larger Oregon rainbows were stocked last week.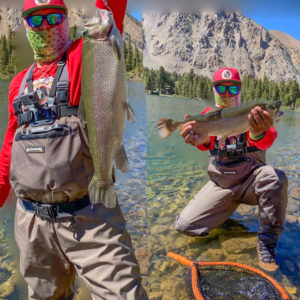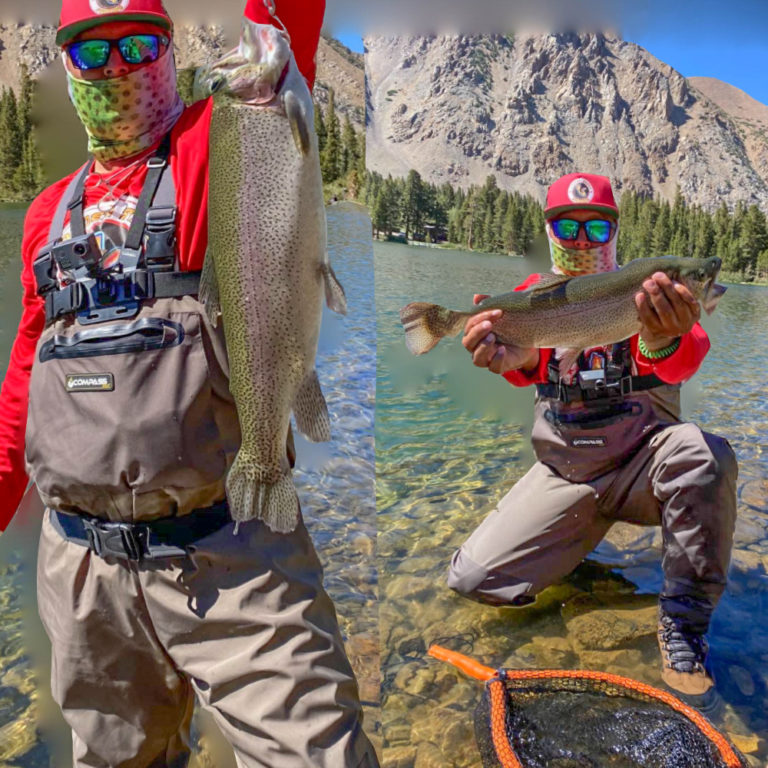 "The warm water is keeping the fish down making it hard to get caught. The fires with highway closures and detours are keeping the people away," she said. This could be good news for those anglers who have been able to reach the lakes, as fewer fishermen mean the fish are more eager to take the bait. One of those fish was a 5.5-pound rainbow taken from Little Virginia Lake by Estevan McDonald from Hesperia, who owns GSF Custom Baits.
The lack of snow last winter is also beginning to impact stream flows and water levels at some lakes. Lundy Lake is well stocked, but the water level is extremely low. Shore anglers or tubers who can get into the deeper holes are connecting with 3- to 6-pound fish.
The tiny town of Lee Vining continues to provide funds to put big fish into Lee Vining Creek, making those waters one of the best kept secrets of the year.
Even as flows start to slow down, the creek is jammed with bigger rainbows, and they are biting. One of those was a nearly 3-pound trout caught with salmon eggs by Larry Rangel from Riverside. Ellery Lake near the summit of Tioga Pass has also been stocked by Lee Vining efforts and the cooler temperature at higher elevation means more active fish.
June Lake Loop waters continue to offer anglers excellent fishing opportunities, but Jeremy Ross at Ernie's Tackle and Ski sings the same Eastern Sierra tune about fishing early, late and deep if you want to catch fish. June Lake has not only been stocked with bigger Oregon rainbows, but also adds some trophy fish raised right in the lake. The cutthroat there also continue to chew, but they have become finicky, and going deep with leadcore line is almost a must.
The story is similar at Gull and Silver Lakes, where anglers are hooking up with 3- to 5-pound fish when they make the effort to be out first thing in the morning or at the end of the day and go deep. Water levels are dropping at Grant Lake, but the late bite for 18- to 20-inch browns continues for angler trolling Needlefish or Rapalas.
Private efforts, local landings and tackle shops and the Town of Mammoth Lakes have also joined forces to ensure there are big fish to catch in Mammoth Basin. The fish are there, but like other areas, they are deep and generally sluggish in the middle of the day. The best fishing has been at lakes Mary and George, but anglers fishing from shore will have time to read a good book unless they can cast out over the drop-offs into cooler water.
There are a few other secrets. The inlets bring in food and water with more oxygen. They are generally good places to park and catch fish. That includes the waterfall at Twin Lakes where a tube will let you get into the right place and dunk those holes between weed patches for some bigger brookies and stocked rainbows early and late.
The summer heat has not escaped the big water of Crowley Lake and the pattern there is the same, with an early and late bite. "With temps in the mid 80s and low 90s, the trout have been holding in deep water. Surface temperature on Crowley is around 70 to 72 degrees," said the folks at Shon E Guide Services.
This also means fish are holding on the bottom at 28 to 35 feet and they are on the move. Nightcrawlers, Pinched Crawlers and Gulp! Eggs are the top producing baits.
Convict Lake received a load of larger Oregon rainbows last week, in addition to some hawgs purchased by Mono County. Early, late and deep has been the key here too, but the inlet is also a good bet. Big fish last week was a 6-pound, 4-ounce rainbow at Convict, taken by anglers willing to brave a drenching thunderstorm and dunk a nightcrawler at the inlet. Trolling a Thomas Buoyant or Marvel fly has also been productive.
Rock Creek Canyon continues to offer good fishing options, including the creek, well-stocked Rock Creek Lake and the wild trout lakes easily accessible from the Mosquito Flats Trailhead.
Jim King at Rock Creek Lakes Resort said anglers are doing best when out early and late and working the deeper water at the lake. The creek has been good for smaller rainbows, along with a few of the larger trout taking salmon eggs and worms. Dry flies imitating ants or mosquitos are also getting plenty of interest. Without a doubt, the best action has been for anglers hiking into the wild likes where just about anything is working for smaller, wild rainbows, brown and brook trout. The best rig is a fly/bubble combination.
Water is an issue in Bishop Creek Canyon where the meager winter did not provide enough snow to fill the lakes. South Lake is low enough that stocking trucks have not been able to plant this season. There are plenty of holdover fish, but anglers will have to hike back to the inlets for best results.
Both forks of Bishop Creek are well stocked with larger Oregon rainbows, along with Lake Sabrina. The inlet at Sabrina continues to be the sweet spot.