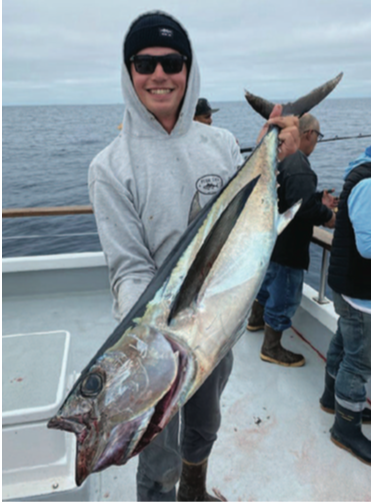 SAN DIEGO — The bluefin schools off San Diego have been close in recent weeks, mixed schools in the 50s and 60s, some over 100-plus and some going over 200. But Sunday afternoon several in the fleet were fishing inside of 20 miles, as the center of the action hit the 20-mile mark.
While tackle recommendations remained similar to what they've been for weeks, there was less emphases on the sinker rigs and bait. The basics are small Coltsnipers/Snipers for fishing daylight foamers of the "smaller" grade fish — 40s and 50s — to shiny Flat-Fall and knife jigs down deep and in the dark. It's been all about heavy line and heavy iron with good glow in the dark.
With the big fish almost in half-day range, there was no trip but half-day, safe to go without gear ready for long-range grade fish: 100-pound tackle along with 80, 60 and 40.
Some trips whacked the big numbers, finding a school of cooperative 50- to 60-pound class fish. Others got tied up with 200-pound class bruisers for hours. The Condor hit the dock at Fisherman's Landing with 6 over 200 and a seventh at 180, among a catch of 38 blues for 21 anglers on Wednesday.
Across the fleet it seemed more trips had one or more fish close to or exceeding that mark than didn't.
They kept tabs at H&M Landing: Legend – 3 fish over 200, Sea Adventure 80 – fish to 212, Excalibur – 212, Constitution – 225 and 220, Legend again – 220 and 250, Sea Adventure 80 again – 2 over 200.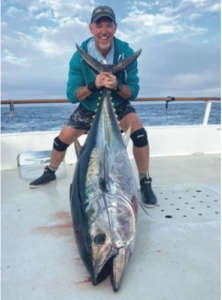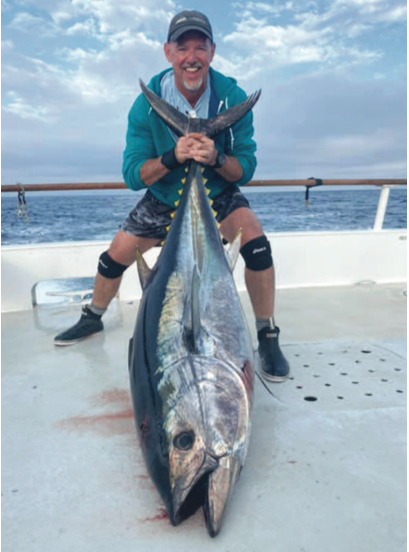 The lore has long been that albacore season starts July 4, and aboard the New Lo-An the first albacore of the 2021 season was landed. However, given the paucity of longfin in the past decade, most were simply hopeful that the fish didn't represent the entire southern season's catch.
In addition, there were a few stray yellowfin tuna mixed up in the mess, fish to 65 pounds. And yellowtail showed up offshore and at the Coronado Islands in greater numbers this past week.
Saturday the Alicia turned in limits of yellowtail while fishing the islands. Their 9 anglers had 45 yellows, 16 barracuda 8 calico and 2 sand bass.
Local bass fishing went ballistic as well. The Premier posted full limits of bass for all anglers on several half-day trips, the mix mostly consisting of sand bass.
At Point Loma Sportfishing the Daily Double put up 140 sand bass for 28 anglers (limits) for Saturday afternoon's run. The Dolphin out of Fisherman's Landing also found lots of sandies. Friday afternoon 44 anglers accounted for a catch of 67 keeper calico, 44 barracuda and a few incidental bottom grabbers.
For the New Seaforth half-day out of Mission Bay, the mix was more calico than sand. Saturday saw 63 keeper calico, 10 barracuda, 8 sand bass, 2 sheeephead, a halibut and a yellowtail come aboard. Their best was Thursday with 33 anglers limiting on calicos with 165 checkers.
Farther up the coast out of Oceanside the bass bite was good, but not as many keepers as the southern sector had. Anglers released about 80 percent of what was brought aboard the half-day boats.
With the big tuna so close, the Oceanside SEA Center put the Chubasco II out on a 3/4-day looking for bluefin offshore and the 18 anglers aboard boated 5 of the tuna! They also fished bottom biters some and caught 85 rockfish and 21 whitefish.
The Oceanside 95 fished a 1.5-day out of Helgren's Oceanside Sportfishing, returning Friday morning with 12 bluefin including a pair over 200 pounds.