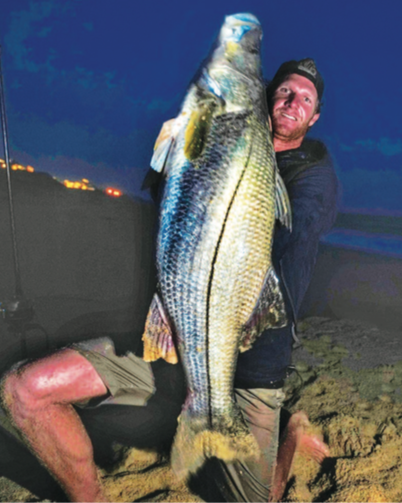 BY PAT MCDONELL
Listen to Wesley tell the story of his catch on the WON podcast below or on your favorite podcast app (ep. 25)
[buzzsprout episode='8822136′ player='true']
CABO SAN LUCAS – Cabo surfcasting guide Wesley Brough hasn't applied for a world record with the IGFA all these years because it has meant he would have to kill a fish for it to qualify. Last Monday a 51.3-pound white snook inhaled his lure so deeply there was no way to save the fish. So, this might finally be the one that gets him an all-tackle record certificate.
In many ways, the fish was a big surprise and caught in the most difficult of conditions. But on the beaches of Cabo, where there is bait, there are fish, no matter the conditions.
Brough, who grew up in Cabo and has lived there and has guided surfcasting trips for 16 years, was fishing June 28 with a customer Matt Strehle from Virginia. Casting from the beach or on rocky outcroppings north of Cabo can produce a real variety, sportfishing box of chocolates. Roosterfish, jack crevalle, snook, pargo — you just never know. It was in the evening on the Pacific side up from Cabo where they started their search in horrible conditions, wind, swell, a dangerous surge and winds of 30 mph that sandblasted the pair.
But, the water was warm and bait (mullet) was in the area.
"We just looked at each other and we both were both wondering, 'We must be crazy for fishing out here.' But we started casting and saw some big jacks in the waves and I hooked a big rooster over 50 pounds and handed it off to Matt, he landed it and we got pictures and released it. I got another smaller rooster and Matt fought it, and then Matt got a 35-pound jack on his own. By now it was getting dark so we put on our backpacks and started walking back down the shore, and then we saw all the mullet.
"I got hopped up and threw the lure (an 8.5-inch 3D Savage Gear Mack Stick) and there was a big blast in the wave and it was yanking line off the reel (a Daiwa Saltiga 20000H spinning reel, 100-pound braid, 125-pound mono leader) and I asked Matt if he wanted to pull on this one. He said 'No way, I've al- ready caught two roosters and a jack. You do it.' Now, I really thought it was another big rooster, the light was bad for any more photos, and it was late. So, I just cranked it (the drag) down and didn't give it an inch, and a wave pushed it on the beach and I saw it wasn't a big rooster, but a snook. It just inhaled that lure, it was all the way in and down. I always release my fish, but it was just too much surgery to get it out when it was so deep."
Brough's previous biggest snook from Cabo's shore was a 44.5 pounder.
"I did the suitcase test. I can barely curl 50 pounds, and I couldn't curl it," said Brough.
"Then I measured it, and my 44.5 pounder was longer at 54 inches than this one at 50, but this one was fatter — short and real fat, almost like it had eaten another snook. So I thought it might be a black snook."
So, the questions Brough needed answered were whether it was a Pacific black snook, which the record is 59.8 pounds set in 2014 in Costa Rica, or a Pacific white snook that has a current highwater IGFA mark of 47.8 pounds. If it was a white snook, it had a chance. That night, too late to find a tackle shop scale, he weighed it on his parents' bathroom scale, and by subtracting his weight, the fish was 52 pounds even.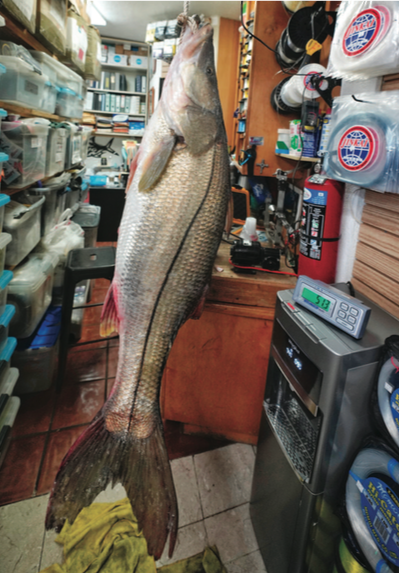 Now it was really late and Brough had another charter before dawn the next morning. After that charter was over, he brought the fish to Minerva's Tackle in downtown Cabo. Minerva's is on IGFA's weigh site. The scale read 51.3, nearly four pounds over the current record of 47.8 set in Cabo in July of 2004.
"I wasn't going to be able to sleep until I knew it was a white snook, so I contacted the IGFA on July 1 and sent photos of fish's fins because they are unique to Pacific black and white snook. The two IGFA biologists, Zachery Bellapigna and Bruce Pohlot, confirmed it was a white snook." The record for white snook is now pending the photos, fishing line, and other required paperwork to be submitted.
In the meantime, Rinehart Taxidermy in Cabo was given the task of creating a mount of the 51.3 pounder, and they not only shipped the fish to their factory in Wisconsin, but they flew in the husband and wife team of Jimmy and Melody Warren who specialize in creating world record fiberglass molds.
"To have the all-tackle record fish to make a mold of is a feather in their cap," said Brough, who will finally own a significant "feather" of his own in the IGFA record book. For more on Wesley Brough and his guide service, go to CaboSurfCaster.com.