BY MERIT MCCREA
SAN DIEGO/OCEANSIDE — The word was out and the Polaris Supreme was on it early in the week. Their early-week 1.5-day brought in limits of bluefin to 160 pounds. The yellowtail bite at the Coronado Islands also started strong but by the week's end, it had transitioned into rockfish mode with excellent numbers of the bottom biters but few forks in the mix.
The Supreme's Tuesday 1.5-day trip started with a pick on the bigger fish during daylight hours. But after dark it transitioned into a smoking night bite on the 40- to 50- pound class fish.
Capt. Aliyar recommended anglers come prepared with the big gear — 60- to 80-pound, in addition to the more standard 40-pound class tackle.
Then what were less-than-ideal, sloppy weather conditions offshore deteriorated further. All those with planned offshore sorties over the weekend ended up dockside, including the Supreme at Seaforth Landing, the American Angler at Point Loma Sportfishing and several others out of Fisherman's Landing and H&M Landing.
A little tighter to the coastline, tucked deeper into the more sheltered sections of the Bight, those full-day trips targeting yellowtail and rockfish at the Coronado Islands and surrounding areas still managed to get off the dock, however.
The word was ever more yellowtail piling into the area as waters warmed. Plus evermore the bite transitioned from strictly yo-yo and dropper loop fishing to including some surface action, too.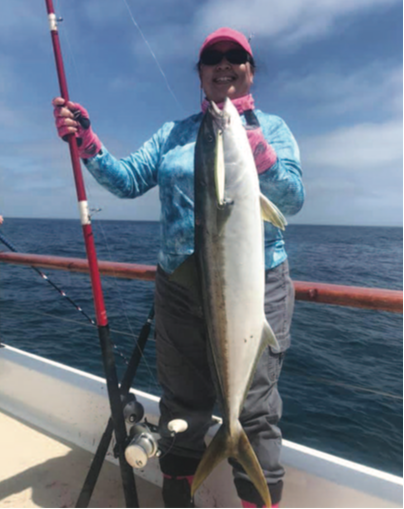 Those quick with the surface iron and fly-lined baits also saw some action. Aboard the Grande, Capt. Alec Stockfekt they were chewing it all — live bait, surface and yo-yo irons.
The San Diego was the most consistent on the island run, making it off the dock both early and late week. Their early-week scores included 30 or more forks each day, topping out at 45 for 34 anglers Thursday.
But then lock-jaw set in and rockfish were the rule pretty much accross the board. Angler Christopher Fitzgerald was on the Legend and posted, "We couldn't get them to bite at all. Saw a 1,000-fish school boiling and no dice."
The consolation was excellent bottom biter bagging with catches averaging 7 to 10 fish per angler on those trips where yellows were scarce.
For half-day anglers, bottom biters remained a primary objective. But with warming inshore waters a bit of time was dedicated to bass and a few biters came there too. Scores of 5 to 20-some keepers per half posted alongside bottom-biter catches of about 5 or so per rod. Both whitefish and rockfish were primary components of the catch out of San Diego.
Up in Oceanside, sculpin were a big score and several half-day runs on the Southern Cal resulted in full 5-fish limits for all anglers.
Tuesday morning 21 anglers bagged 105 scullies, 30 rockfish and 20 whitefish. Two other runs pulled off full limits of the red devils too, and other weren't far behind.
Saturday the Pronto, with 10 anglers fishing, pulled in with 100 rockfish (limits for all), 50 whitefish and a sheephead for a local waters bag average of over 15 fish each.
Helgren's Oceanside Sportfishing also put a few fishing trips on the water with the Sea Trek and Oceanside 95 getting off the dock twice each