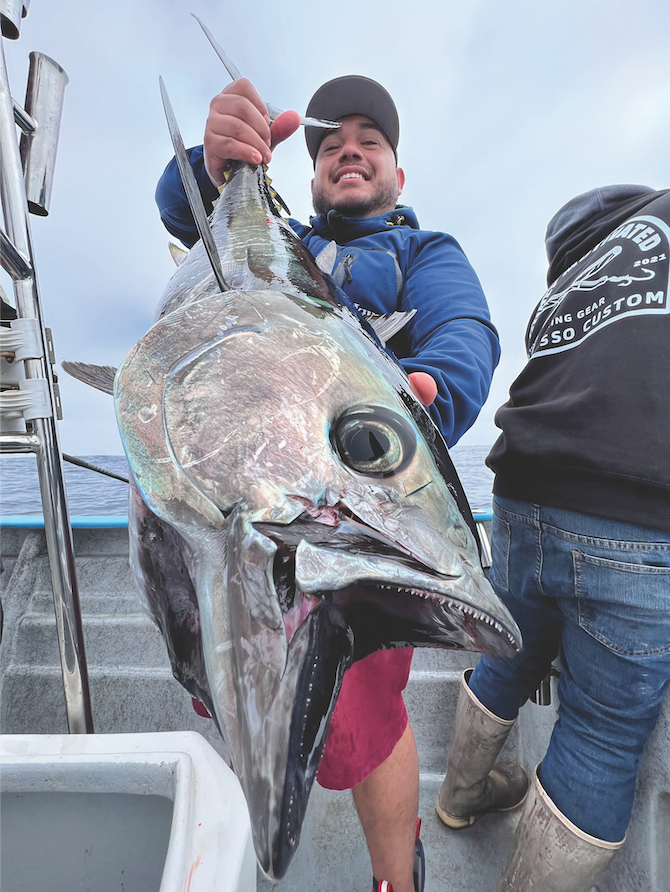 Offshore fleet finds plentiful schools of hard fighting tuna and some steady limits
BY GUNDY GUNDERSON
SAN DIEGO – It did not take long for the San Diego fleet to zero in on the offshore schools of bluefin tuna. This week, the boys dialed in the fish and experienced excellent limit-style fishing. All of the landings were hanging quality, early-season tuna. Some of the best bites have taken place at night, so don't plan on sleeping much. Many boats are scoring their limits fairly early and opting to finish off their trips with a shot at yellowtail.
The Daiwa Pacific out of H& M Landing fished a 1½-day trip with 20 anglers. The boat landed 40 bluefin tuna (limits) and 7 yellowtail. The Legend fished a 2½-day with 24 anglers and posted a catch of 96 bluefin tuna. The Old Glory had a great trip too, limiting on bluefin early with 60 fish then boating 45 yellowtail for good measure. The Relentless followed the same routine, limiting early with 64 bluefin and then boating 32 yellowtail.
The boats out of Point Loma Landing also fared well. The Pacific Islander fished a 2-day with 26 anglers and the boat landed 104 bluefin tuna (up to 50 pounds) and 3 yellowtail.
The New Lo-An fished a 1½-day with 25 passengers and posted a 50-fish bluefin limit. The Condor sent this report after a successful 1½-day trip, "Another nice day for the guys. They have limits of bluefin (64) for 32 happy anglers. The rest of the day will be devoted to yellowtail."
The San Diego out of Seaforth Landing was on the spring yellowtail hunt this week. Capt. Ryan Bostain filed this report: "We had 13 good-grade yellows and a sample of bass and whitefish for the Guido charter. The following day, we stuck with the yellowtail program most of the day but were only able to land 6. We saw enough to get a big hit but they had other plans. Conditions looked promising so we are hoping for better results in the coming weeks."