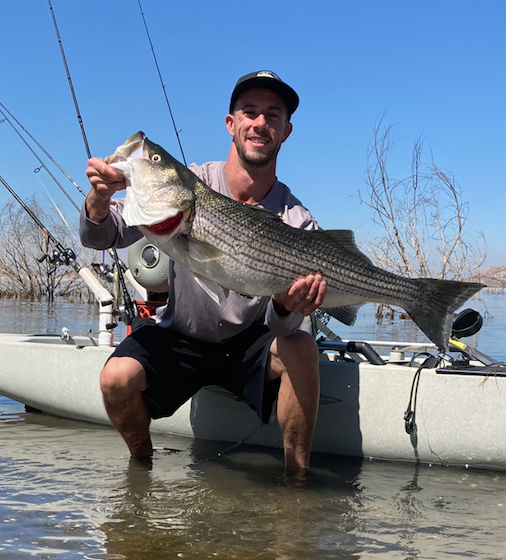 BY MIKE STEVENS
Targeting huge shad schools key for all species
PERRIS – It always catches casual anglers off guard when someone catches a striped bass in Lake Perris, but those familiar with the fishery are not only well aware they are indeed in there, but also of the fact when one gets caught, it's usually a quality fish. There is no rhyme or reason as to when Perris stripers will bite, but enough of them have been caught in recent days for it to qualify as a flurry.
While it wasn't the first lineside reported out of Perris in the last week, Alexander Canups striper was the biggest of the flurry. While working a swimbait out of his kayak, he connected to a 16-pound striped bass. The Riverside angler told Western Outdoor News it "nearly spooled" him.
"I couldn't ask for a better vacation!," he said. "The fight was freaking insane. It almost took all the line off my reel, but after a 10-minute fight, this lake monster was exhausted."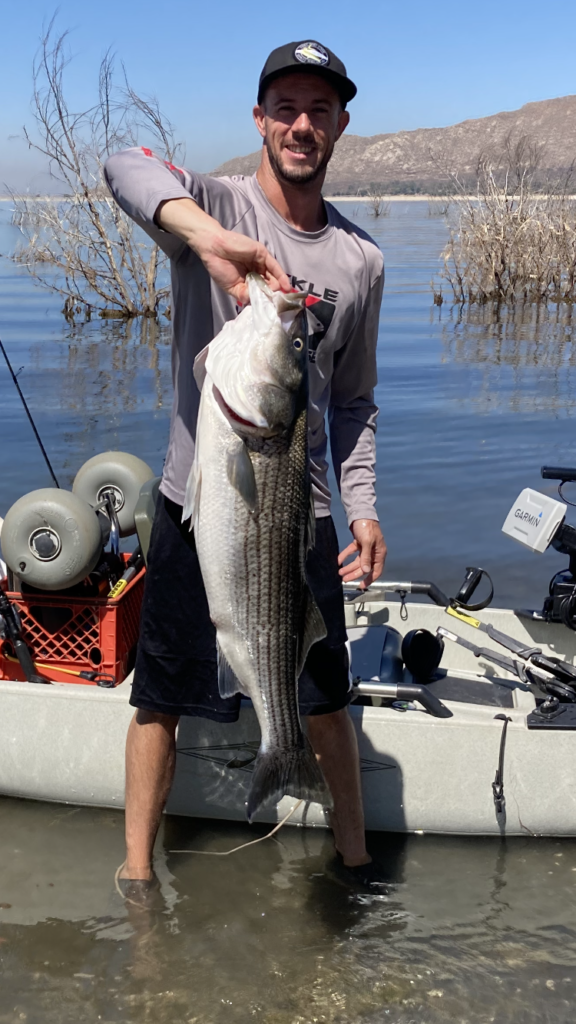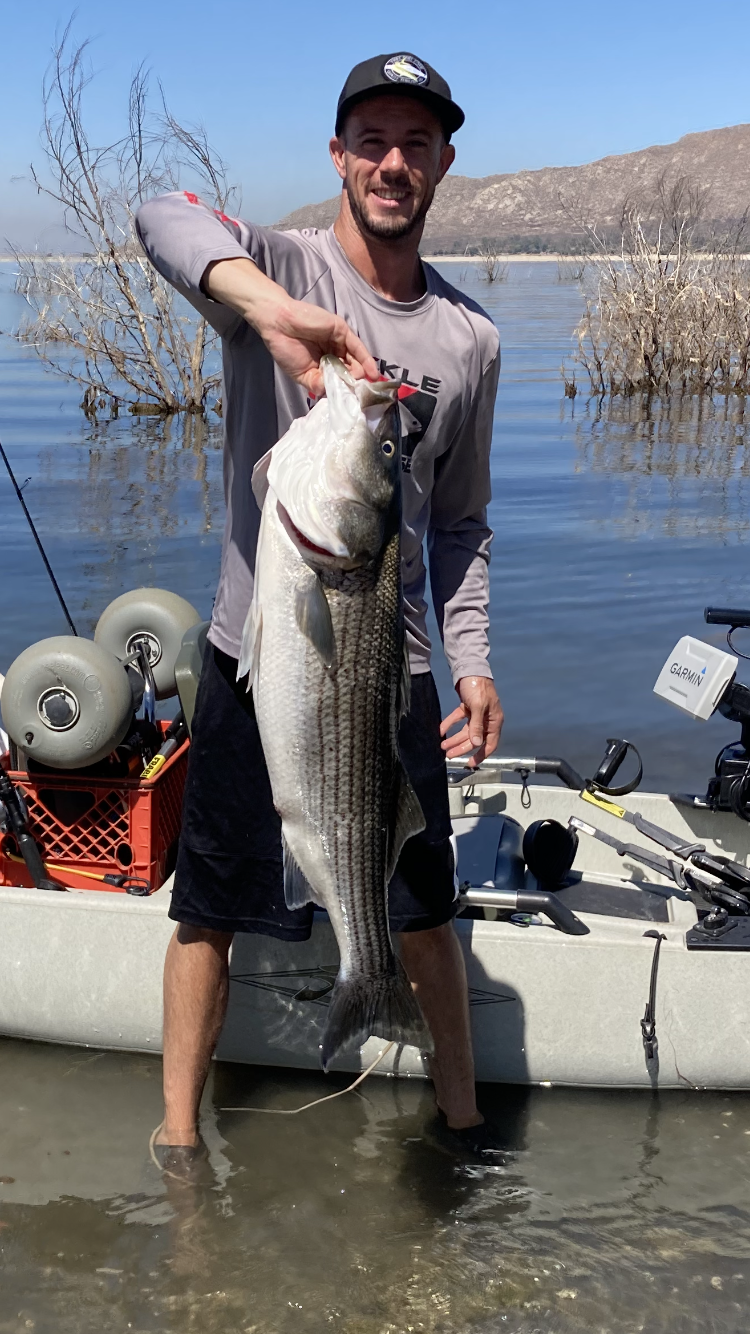 Canup is a lake regular at Perris yet somehow has managed to paddle under the WON radar thus far, but that fish put that to an end. Another familiar face at Perris is Kenny Baldwin was back to his flycoring (trolling flies on leadcore line) antics, and among the good numbers largemouth bass he was targeting, he also was able to bring multiple stripers to the boat.
"I fished five hours for 22 bass, most 2.5 to 4 pounds and one striper that weighed 10.5 pounds," he said. "It (the striped bass) was only caught 20 feet feep on a Producer Fly that was being pulled through a huge ball of shad. The bite continues to be good overall; some days I average eight fish per hour, while other days are much slower only averaging 4 per hour."
Baldwin told WON the striper bit just after noon in 82-degree water and under 95-degree air temps with zero wind. He said he's also getting into the occasional big, 10- to 12-incb bluegill when fishing that way around shad schools.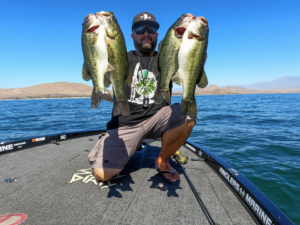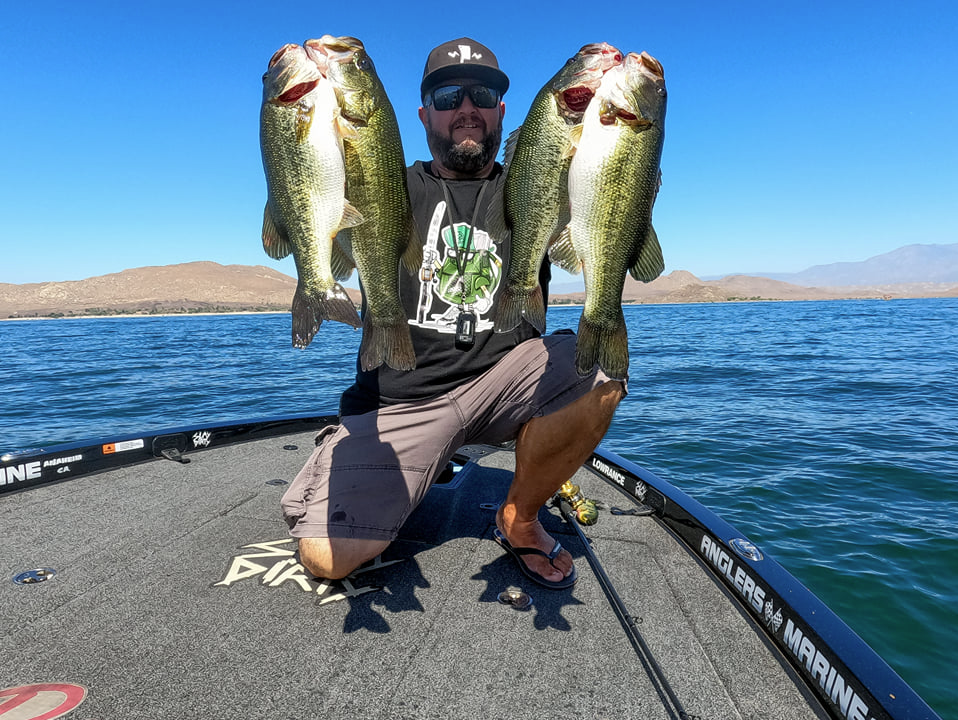 On the non-trolling largemouth scene, SoCal guide Rusty Brown told WON bass are feeding in the grass beds around the island, in the East End rocks and in Rock Climber's Cove. Drop-shotting 4.5-inch Roboworms in Aaron's Magic, Margarita Mutilator and Hologram Shad is the way to go.
Keying in on shad is clearly key for all species right now at Perris, and they're everywhere.
"It's a wide-open bite on anything resembling shad," said James Montes minutes after getting off the water on Sunday. "The shad are in zero to 50 feet of water, and I'm getting bass at every depth. There's so much shad in the lake right now, it's ridiculous."