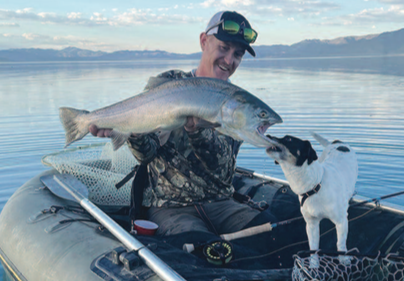 BY DAVE HURLEY
SUTCLIFFE – Pyramid Lake will reopen on Oct. 1, and there is great anticipation for the lake being accessible for bank fishermen as well as boaters as the past few seasons have been nothing short of spectacular due to the reintroduction of the Pilot Peak-strain Lahontan cutthroat trout.
Craig Newton of Will Fish Tackle in Auburn said, "Many of our local anglers can't wait for Oct. 1, and they are gearing up for the opener."
J.D. Richey of Richey Sport Fishing will be back on the water in his comfortable vessel, prepared for any elements the lake will throw at them in the coming months.
Captain Robert Hagerty of the Pyramid Fly Company in Reno said, "With October creeping up on us in a hurry,weare geared up and ready like a little kid waiting for Christmas morning. With bait balls and monster cutthroat up over 20 pounds, I'm not sure there are many, if any, trout fisheries that compare or rival Pyramid lake. If you want to try your chance at catching that trophy cutthroat that makes your knees shake and your hands tremble, look no further. We have the piece of water right here, waiting for you to come dip your toes in and chase that next record cutthroat with us. If you think the Sierra Opener is fun, Pyramid Opener can blow your mind. The only thing I keep seeing is a ginormous cutthroat ripping line off my reel as it dives back down into the depths. The last couple years, I've been wondering if the 8 weights are enough. Do we need to be fishing 10 weights for trout? While a single hand 8 weight is plenty during the majority of the season, the month of October when the fish are gorging heavily on bait fish, and they really put those sticks to the test.
The amount of energy they have is mind boggling while fishing for them in the first couple months. Quite often we see that dingy white line "Backing" underneath all that fly line. Make sure your knots are good and snug on your 15- to 20-pound fluorescent leader. Hold on and don't give them a thing! While shore fishing remains great throughout the season, October is a month that is better off spent from a watermaster targeting those secondary ledges we cannot reach from shore. These fish are hanging in the thermocline and are found generally 40- to 90- feet deep during the first few weeks of October. They are hanging with the bait fish and inhaling them steadily. In lower water years, we have seen these huge bait balls reminiscent of those seen in an ocean, sometimes reaching from 50 to 100 yards on the surface all the way down to the bottom, making for a wild sight to see. Often times, when the stars align and the bait is visible so are the fish for periods of time. Like sharks slashing through bait, mouths open and tui chubs pouring in. Don't laugh at using 20-pound fluorcarbon leader, there is a reason these fish have teeth and they use them quite often."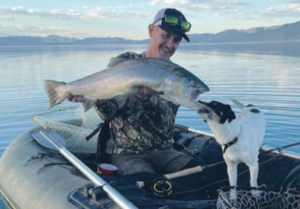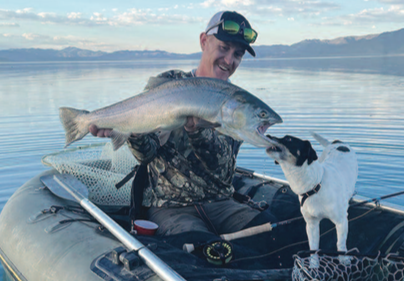 Hagerty continued, "Fishing the opener can be a bit daunting for some trying to tackle this large inland sea for the first time. The fish are spread out, and they aren't in all the usual shallow winter hangs. They are everywhere in search of more food to inhale by the mouthful. The bait can be found all over the lake and so can the trout. Think steep and deep drop offs and ledges. Since these fish are targeting bait fish that is what we are going to be throwing at them. Colors that mimic the chub are often browns, golds, greens, blacks and some white. Think more natural, but it doesn't hurt to throw two flies and switch it up a bit. If you love to huck the big stuff now is the time. If you tie your own flies, add a few extra wraps of lead on the shank as well as use tungsten beads, cones, or heads because during the first week, we often see some really silly stuff. These fish are hungry and love to eat properly presented meals. Don't bring small nets, it's a real bummer when you lose a 15 pounder because your net is too small.
Those who prefer to use spin or conventional gear the season opener is a real fun time as well. While using boats, float tubes, or pontoons, vertical presentations are going to be one of the keys. Electronics are not a must, but they are nice since you will want to concentrate on bait balls suspended around 40- to 100-feet deep. What if I don't have electronics? If you see boats bunched up you can bet, they are on the fish. The presentation will be a cross between ice fishing and yo-yoing for yellowtail with spoons like the P-Line Laser Minnow in 1- or 2- ounce and Spro bucktails in 1⁄2- to 2-ounce. Why the heavier sizes? The rate of fall will trigger the reaction strike as well as finessing the presentation and matching the size of the baitfish.
For vertical presentations, it's suggested to use 30-pound braid attached to a 30-inch leader of 15-pound fluorocarbon by a barrel swivel. Using this braid/fluorocarbon combination will enable you to feel your presentation much better in deeper water and help speed up those hooksets.
From shore, Marabou jigs in 1⁄4- to 1⁄2-oz. Zig Jigs in olive/white, black, chartreuse/white, and gray/white are hard to beat. Fishing the jigs on 10- to 15-pound fluorocarbon has been the preferred method, but that doesn't mean you shouldn't fish them with braid and a top shot of fluorocarbon on a double uni or your preferred method of joining fluorocarbon to braid.
In way of plastics, Hook Up baits, which has been used in the ocean for some time, have been scoring lots of big fish the past couple of seasons. Spoons can't be ruled out for the shore fisherman. Cast as far as you can, let it sink to the bottom and give it pumping motions with the rod on your retrieve and hang on. The strikes could rip the rod out of your hand. Trollers using downriggers will be pulling Sierra Spoons, Lyman Lures, Torpedos, Flatfish and AC plugs. The key is finding the thermocline, find the bait, and find the fish.
On the east side of the lake, head over to Hell's Kitchen, Anderson Bay, Blizzard Camp Point, and Red Bay where only boats can access since the shorelines on the east side of the lake are off limits to non-tribal members.
On the west side of the lake, boaters, tubers, and shore fisherman should concentrate on deep water drops at locations like Warrior Point, Pelican Point, Blockhouse, and anywhere in between that has deep water close to shore. Most of the suggested tackle is available at the lake. For ease and convenience, Pyramid Lake Lodge has a well-stocked selection."