If it's Ugly, it's tough. That's understood.
The makers of the famous Ugly Stik rods designed a line of distinctive fishing tools, and if they're all like the Ugly Stik 7-inch filet knife, the company has a set of dependable winners on their hands.
Let's take a closer look at a knife that has a lot to live up to. What makes it durable, able to stand up to Ugly conditions? For starters, the Ugly Stik 7-inch filet knife features an oversized, rubberized and indexed handle – they call it Ugly Tuff – ensuring a firm grip even when hands are wet and slimy. This is a handle built to last.
Even more importantly, the flexible, curved and full-tang 8CR14 high carbon stainless steel blade boasts a corrosion battling coating on everything but the business end. That edge comes sharp right out of the box. To keep it that way,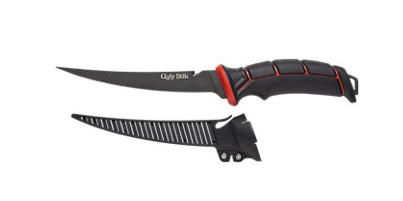 Ugly Stik provided a sharpener on the included plastic sheath. The knife clicks confidently into the sheath, which also includes access to a line cutter notch on the back of the blade.
This knife is simple yet fully featured, tough and functional, and like every Ugly Stik product, won't break the bank and will provide lasting value. The knife, which debuted on August 14 and quickly sold out of the company's online store, retails for just $24.99. A new batch is expected by the end of the month. In the meantime, retail partners such as Bass Pro Shops, Tackle Direct and Tackle Warehouse may have some in stock.
Ugly is beautiful. www.uglystik.com