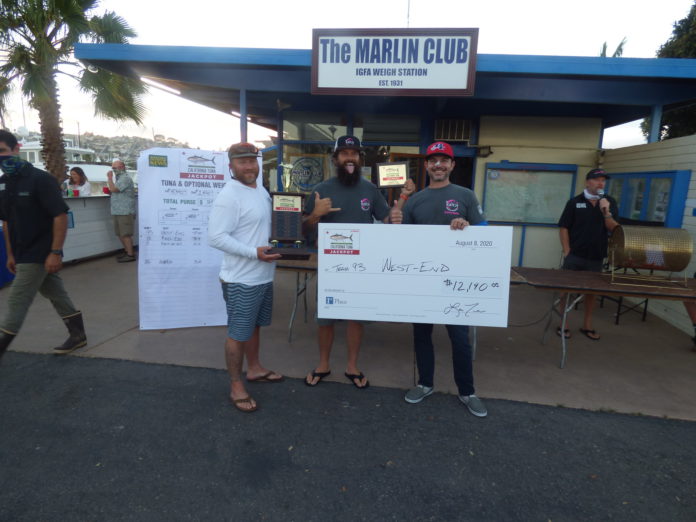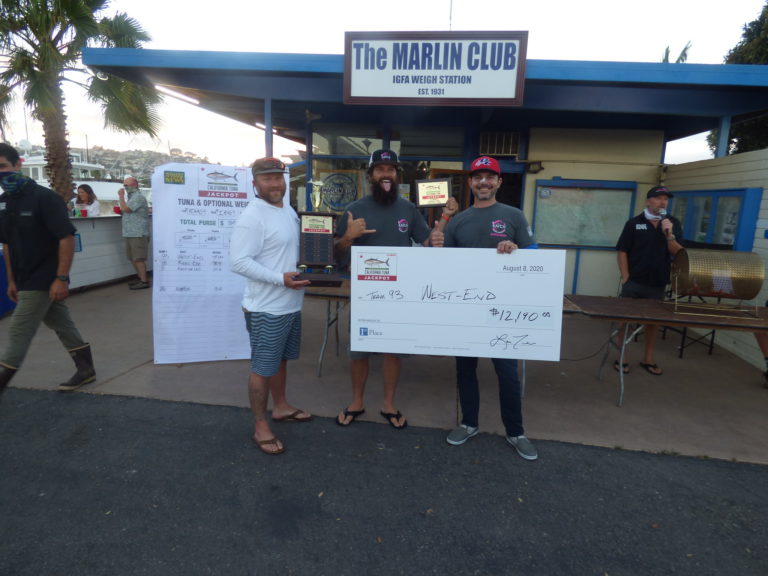 First of many upgrades for 2021 event already announced
POINT LOMA – Even with scratchy fishing under well-below-optimal conditions, it was very clear that the WON/Yamaha California Tuna Jackpot (CTJ) is an event with serious legs, and staffers hadn't even left the parking lot at San Diego Marlin Club in Point Loma – event headquarters – before they were brainstorming on how to blow it up with upgrades in 2021.
The blueprint for the event and its progression was clear from the get go: create a Southern California tuna tournament for any level of private boater to shoot it out on a level playing field for huge cash and prizes, use WON's strong relationships with supporting sponsors to push it to all-ahead-full, and create a fun environment for post-tourney activities back on dry land.
Those generous sponsors included: Yamaha, Accurate, Seaguar, Berkley, Maui Jim, SKB, Gamakatsu, Furuno, Engel, Yummee Flyers, Frogg Toggs, Global Fish Mounts and G-Fly.
Due to COVID-related restrictions affecting just about everything, 2020 was definitely going to be the "lite" version and perhaps a bit of a litmus test, but the ultimate goal is to grow the CTJ into a fishing competition comparable to WON's hugely-successful Cabo Tuna Jackpot which stands as the richest tuna tournament in the world.
Given the pandemic and the fact that the fishing conditions were in the forecast as much as a week ahead of time, WON staffers were stoked with the 25 teams that had signed up with about a week to go only to see that number jump to 35 between then and go time.
Each team was allowed to launch from the port of their choosing as long as they could make it back to San Diego Marlin Club in Point Loma on Saturday evening to weigh in. That's also where the raffle and awards ceremony was held.
When the dust settled, Team West End consisting of Chad Cammack, Kawika Kamai and Kale Briles was named the winner of the first-annual CTJ with a 77-pound bluefin they connected to via a slow-trolled mackerel behind San Clemente Island. They claimed a $5,390 check for the top finish and another $6,800 for the additional $500 tuna optional.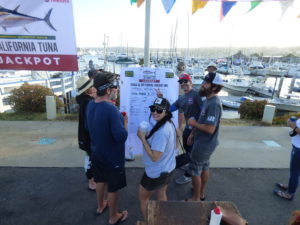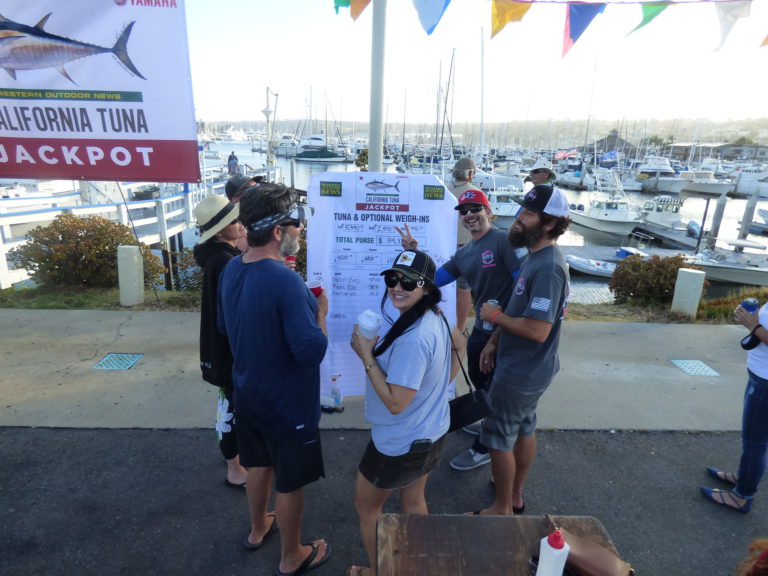 Team Reel Eze (David Garza, Jeff Stewart, Daniel Brown, Shane Wrightson, Nico Phelps and Ryan Saldana) came in second with a 70.4-pound bluefin hauled in off SCI by Dave Garza who told WON they saw "plenty of marks and lots of fish that wouldn't come up, and it was hard fishing." Those guys were fishing out of a classic 54-foot Bertram and were not immune to the wind and swells that day. Even though they took the silver, Reel Eze reeled in a total payout of $17,740 which included the $250 and $1,000 tuna optionals. They also picked up a $1,000 shopping spree for Accurate products in the Accurate Big Fish Bonus which went to top finishers with an Accurate reel aboard their boats.
Team FINCHZR aboard Knot on Call took third place with a 30.6 pounder earning Warren Goldfarb, Don Hill, Danish Farock and Mike Holtz $770. They also had an Accurate reel on the boat and earned a $1,000 shopping spree of their own.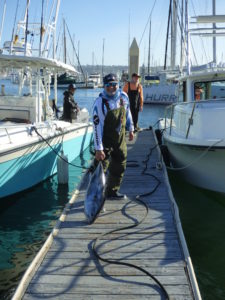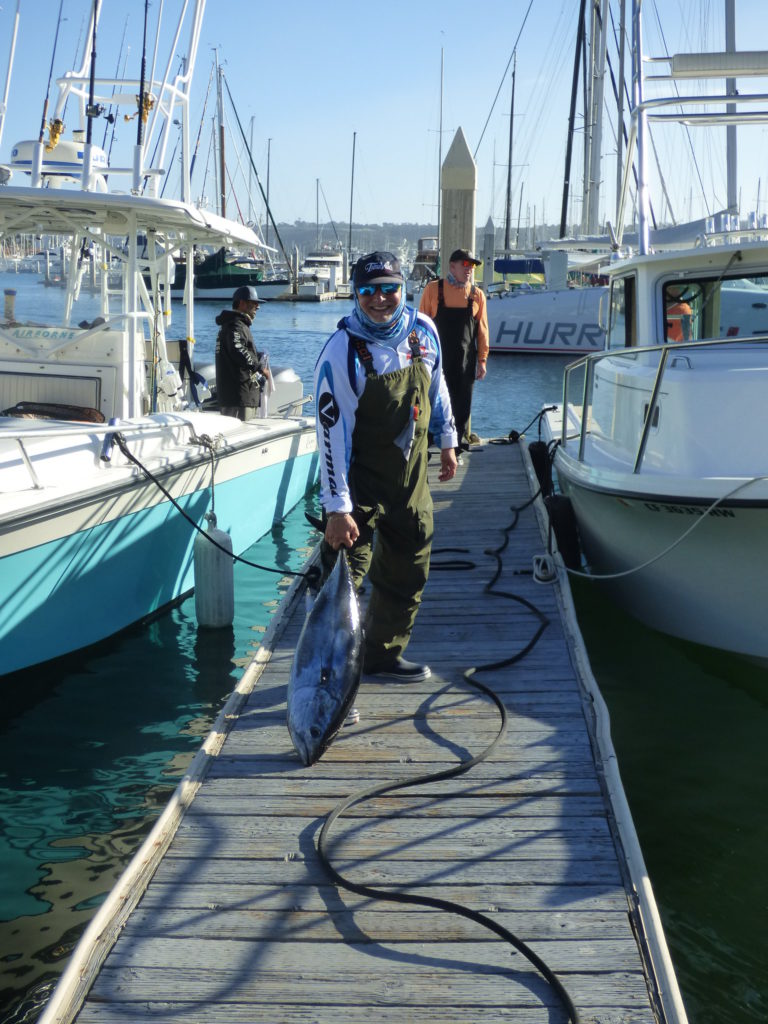 The WON California Tuna Jackpot wasn't all about tuna, either, as teams could opt in for a $250 yellowtail optional where the team weighing the biggest mossback takes the whole pot. While the winning forkie was only a 13 pounder, it was worth $4,200 for Team Albtatross which had San Diego Marlin Club President John Wilson at the helm.
"I can't be happier with the inaugural California Tuna Jackpot," said WON Tournament Director, Billy Egan. "Fishing was not the best, but that's tournament fishing.  You have to just go out there and put it all on the line, and we had 5 of the 35 teams bring in fish to cover all the payouts.
The Coastal Conservation Association (CCA) was on hand, and they provided an interesting add-on to the tournament when they put a bounty on balloons. The team that pulled the most discarded balloons out of the ocean would be awarded a full-day 6-pack trip with Cobalt Sportfishing. The "balloon bite" was even scratchier than the tuna, and Team Madrugador brought in the lone balloon and claimed that awesome prize. A full-day 6-pack trip…for a single, deflated balloon. Those on hand including CCA reps saw it as a good thing, and the jokes that followed suggesting the lack of balloon carcasses floating in the Pacific was a result of the fact that there are no big birthday or graduation parties going on right now were probably closer to fact than fiction.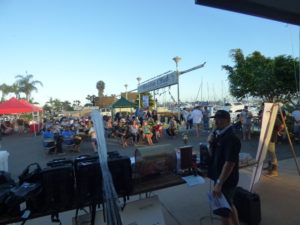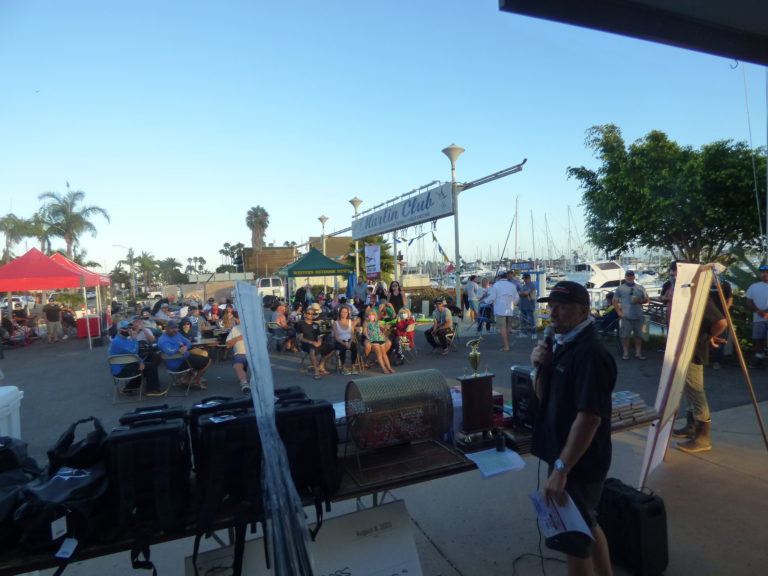 Participating anglers weren't the only winners of the CTJ either. The Make-a-Wish Foundation received $1,700 of the proceeds, and loads of high-end raffle prizes went home with everyone who got their number called. The premium raffle prizes included Yamaha generators, Accurate rod and reel combos, Maui Jim sunglasses, hard- and soft-sided Engel Coolers, Seaguar fluorocarbon assortments, spools of Spiderwire, Yummee Flyers, gift cards for flying fish from G-Fly and Gamakatsu fishing accessories. Frogg Toggs hooked it up with dry-bags for each angler.
While it's way too early to talk about most of the brainstorming that has been going on as far as adding to future CTJs, Egan has already locked up next year's dates and big news on the fishing end of it. The San Diego Marlin Club proved to be the perfect venue, and returning there for future installments is a no brainer.
"We have already announced the dates for the 2021 California Tuna Jackpot, which will be August 14 and 15," he said.  "Anglers will get a 24-hour soak from (5 a.m. to 5 a.m.) at next year's event, with weigh-ins going on Sunday August 15 from 8:30 to 11:00 a.m. followed by the awards and luncheon at noon."
Egan mentioned the idea of bumping it up to a 24-hour tournament as he closed the awards portion of the day, and that point was met with a round of applause.
THERE WERE SOME LEGIT YACHTS in the California Tuna Jackpot, but the event was chock full of the brand of smaller "outboard-driven" workhorses that make up the bulk of the Southern California private boater fleet.