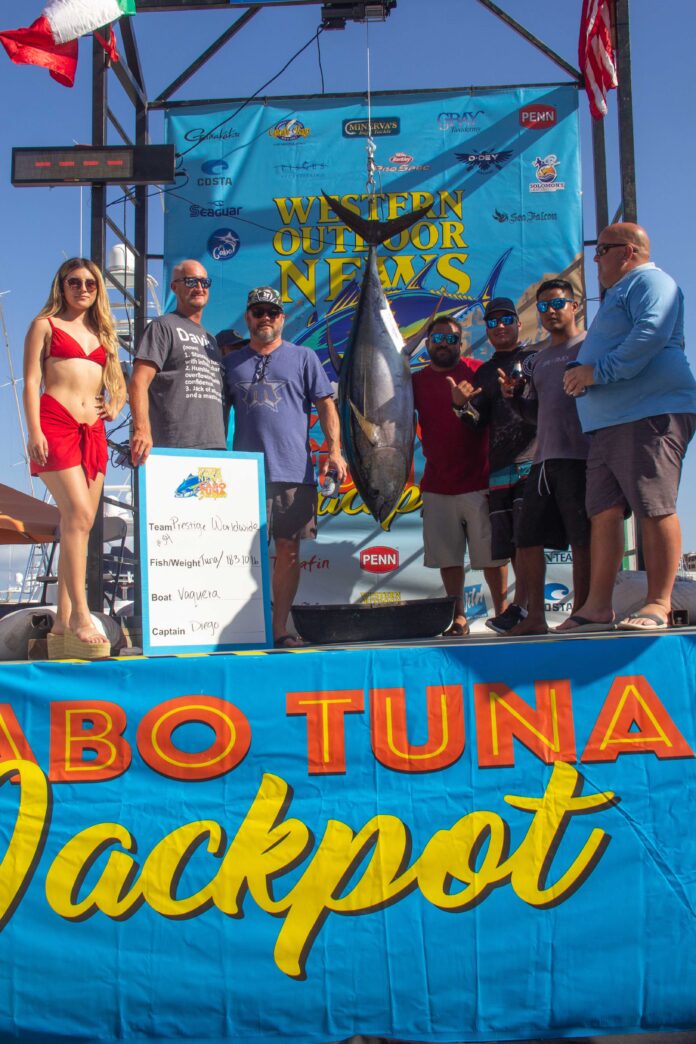 BY MIKE STEVENS
CABO SAN LUCAS – The 24th-annual WON Cabo Tuna Jackpot (CTJ) saw 157 teams blast out of Cabo San Lucas Marina to chase down big tuna, wahoo, dorado and ultimately, hefty chunks of the record $1,533,800 total purse and a CTJ championship.
Each team powered through sub-optimal conditions at some level, and the overall-winning team wasted no time rising to the top and staying there after being the first to hit the event stage at Hotel Tesoro Los Cabos to weigh in.
That first CTJ boat to hit the dock was Vaquera just 15 minutes after the Day 1 weigh-in opened, and the yellowfin tuna hauled in by Washington angler Mark Locken tipped the scale at 183.1 pounds. While there is no way Locken and team Prestige Worldwide could have imagined that fish would hold up in the top spot from wire-to-wire, but that is absolutely how this one played out.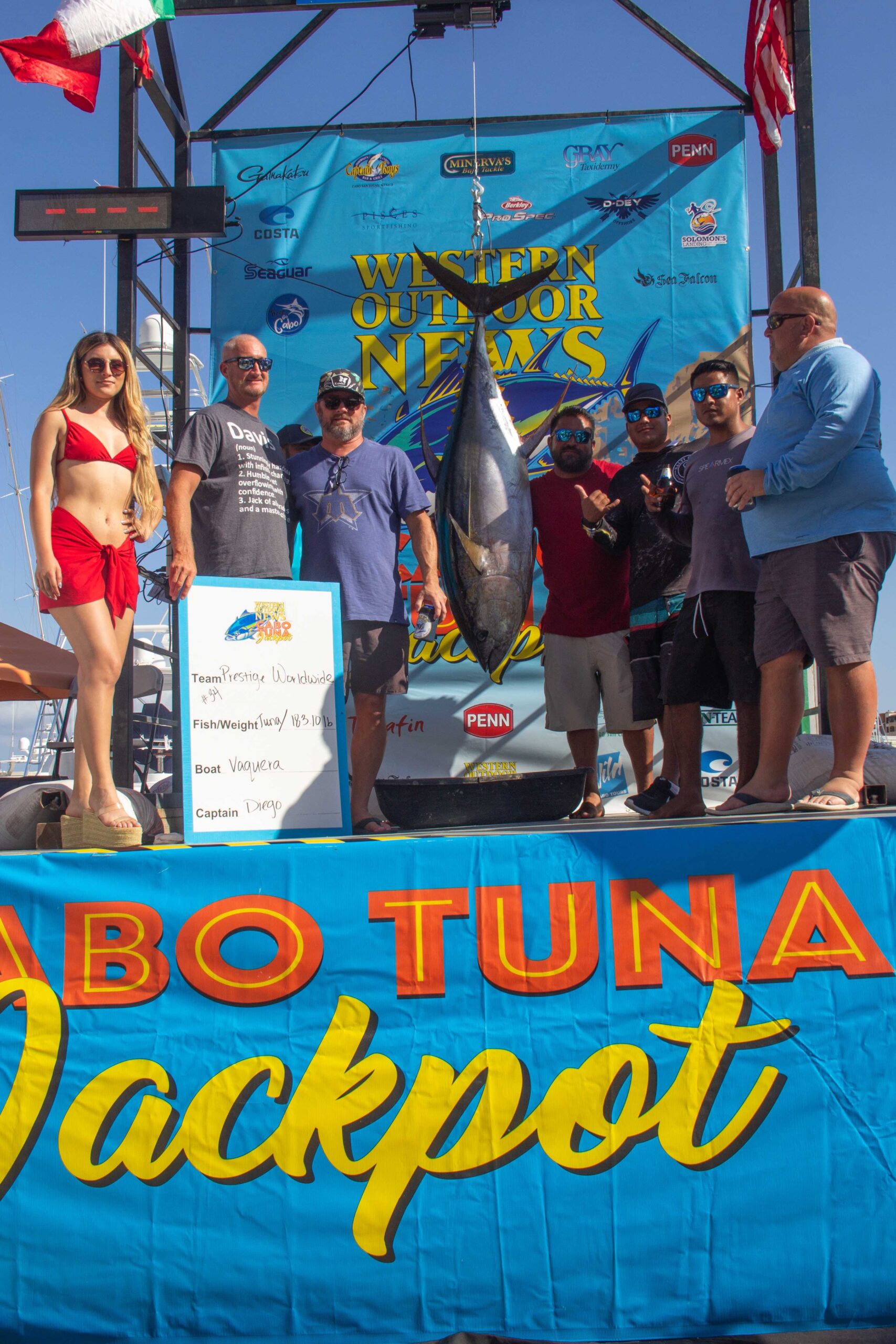 The overall-first-place finish for Prestige Worldwide earned a total payout of $244,900. That payday includes $66,300 as the base payout to the CTJ champions, and the rest was compiled in the tuna optionals Prestige Worldwide was involved in. Specifically, they were entered in the $500, $1,000, $2,000 and $3,000 optionals, which netted them an additional $19,000, $33,600, $55,200 and $70,000, respectively.
As soon as anglers, tournament staffers and CTJ fans stepped outside early in the morning on Day 1, they were greeted by a steady breeze that may have had the palm trees surrounding Hotel Tesoro swaying in picturesque fashion, but it also all but confirmed even windier conditions offshore. If there was any concern going into the two-day event, it was of the winds that were forecasted. Nothing to keep boats tied to the dock, but certainly enough to make things interesting, especially for the smaller boats.
After weighing what would end up being the winning tuna, Captain Diego Romero of Prestige International and the Vaquero told Western Outdoor News that wind was barely a factor for their team while fishing the Gordo Banks. He said the worst of the wind was to the south.
Located about 22 miles northeast of the marina in Cabo and only 10 miles from the coast, the Gordo Banks and its location on the Sea of Cortez side of the tip of Baja does offer some shelter from the wind depending on where it's coming from. After the tournament was over, the crew said that was not the case on Day 2 when the did run into inclement wind and swell conditions along with very tough fishing.
Team Prestige Worldwide consisted of anglers Mark Locken, Troy Hansen, Kevin Chisman, and Ervis Romero, and Captain Juan Diego Romero. The winning fish was caught on squid rigged on 185-pound leader to a 100-pound main line. While prepping for the CTJ, one of the original deckhands broke his foot while packing squid on the boat, so Captain Romero brought his two kids to help out last minute.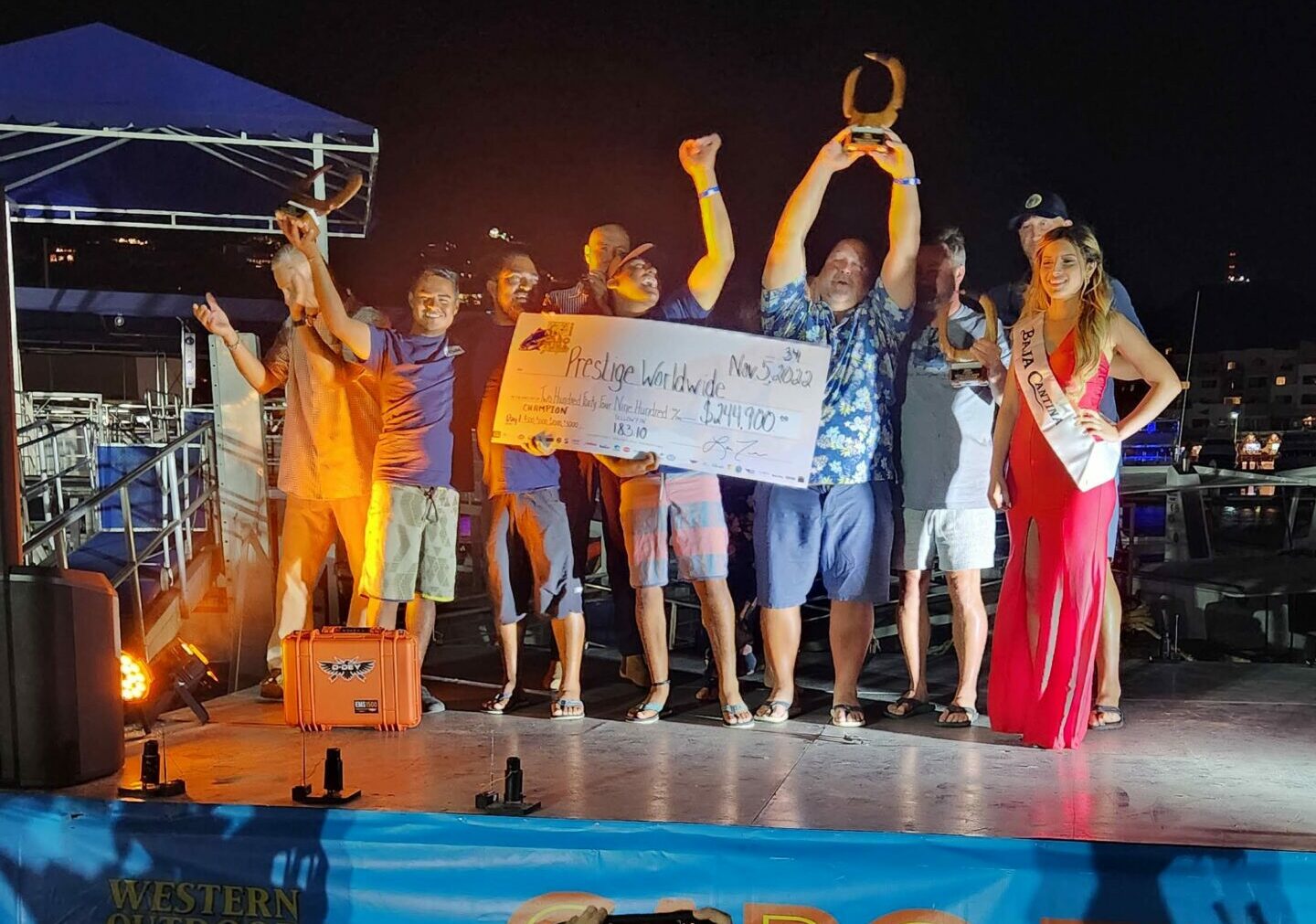 Second place went to Castro's Tournament Team and their 144.55-pound yellowfin worth $7,800 for the strong finish. They were fishing aboard Juan and Only with Captain Juan Castro, and Jesus Pino was the angler who closed the deal on that quality tuna.
Finishing in third-place overall but fully illustrating the weight the optionals can carry was Team Crudo aboard a Yamaha-powered center console captained by "Sharluko" Peralta. Their 136.45-pound tuna was worth $3,900, and while they would have loved to come out on top of the leaderboard in the end, Crudo ended up claiming a total of $282,500 — the highest payout of the entire event.
"We're blown away, and my family is losing it," said Crudo angler, Sean Green. "We've been in it five years, and we'll be in the $10,000 and $20,000 optionals next year. Among the crew of Team Crudo was Carlos Peralta (Captain Sharluko's dad) who brought with him 35 years experience fishing in Baja, and has fished in every Cabo Tuna Jackpot since the event launched in 1999.
Other standouts among the tuna-optional payouts include team CTJ-veteran Team Burro, whose tuna on Day 2 weighed only 50.9 pounds, but that was enough to claim both the $10,000 and $20,000 tuna optionals worth a grand total of $260,500, which was second only to Crudo.
An even smaller tuna (32.2 pounds) was brought to scale by Team Hooray, but it was worth a cool $144,500 as the only fish brought to scale on Day 1 that qualified for the $20,000 optional. Chinito Bonito's 92.05-pound ahi caught on Day 1 aboard Morning Wood took both the $5k and $10k tuna optionals worth $216,000.
Wahoo and dorado optionals are another way CTJ anglers can win big money, and in fact, some anglers fish the event and only target non-tuna species. Prior to the fishing on Day 2, tournament officials lowered the dorado minimum weight from 20 to 15 pounds, and wahoo from 30 to 20 pounds.
That was primarily to guarantee optional payouts for both species, but it also was good for the crowd keeping an eye on the weigh-in stage because it meant a lot more fish would be weighed.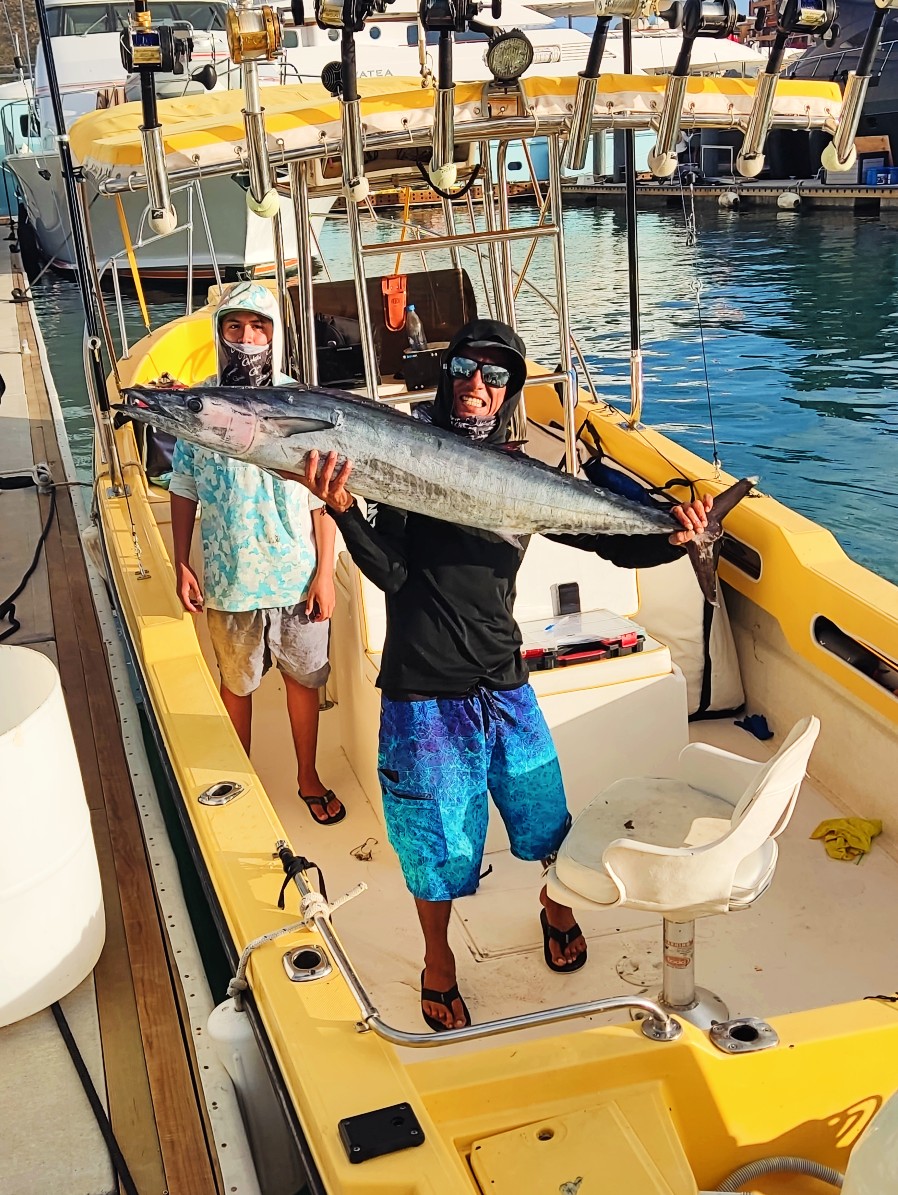 Fishing aboard the panga, Laura I, Barry Gordon landed a 30.05-pound wahoo that earned him a $46,400 payout on Day 1. That fish was dwarfed by an absolute torpedo of a 'hoo brought in by Team WTF on Day 2 worth the same amount, but Team Quitena got the last laugh on the wahoo side of things with a 34.1 pounder that allowed them to claim $72,000 for the $3,000 wahoo optional on Day 2.
Team Twice Bitten grabbed a check for $53,600 for their 33.15-pound dorado on Day 1 in the $1,000 optional, but one of the most impressive fish of the CTJ was the last one to be weighed in before closing the books on the tournament at the very end of Day 2. That was a 40.5-pound bull dorado bagged by Reel Quest, who claimed both the $1k and $3k dorado optionals worth $159,200, which stood as the fifth-highest payout in 2022.
While the champs mentioned a having a relatively wind-free Day 1, just about everyone else ran right into it. "I was soaking wet the whole time, and I was up on top!" said CTJ regular Scott Womack of Tejas Tuna Wranglers, who were working out of the 45-foot Bertram, Fintastic.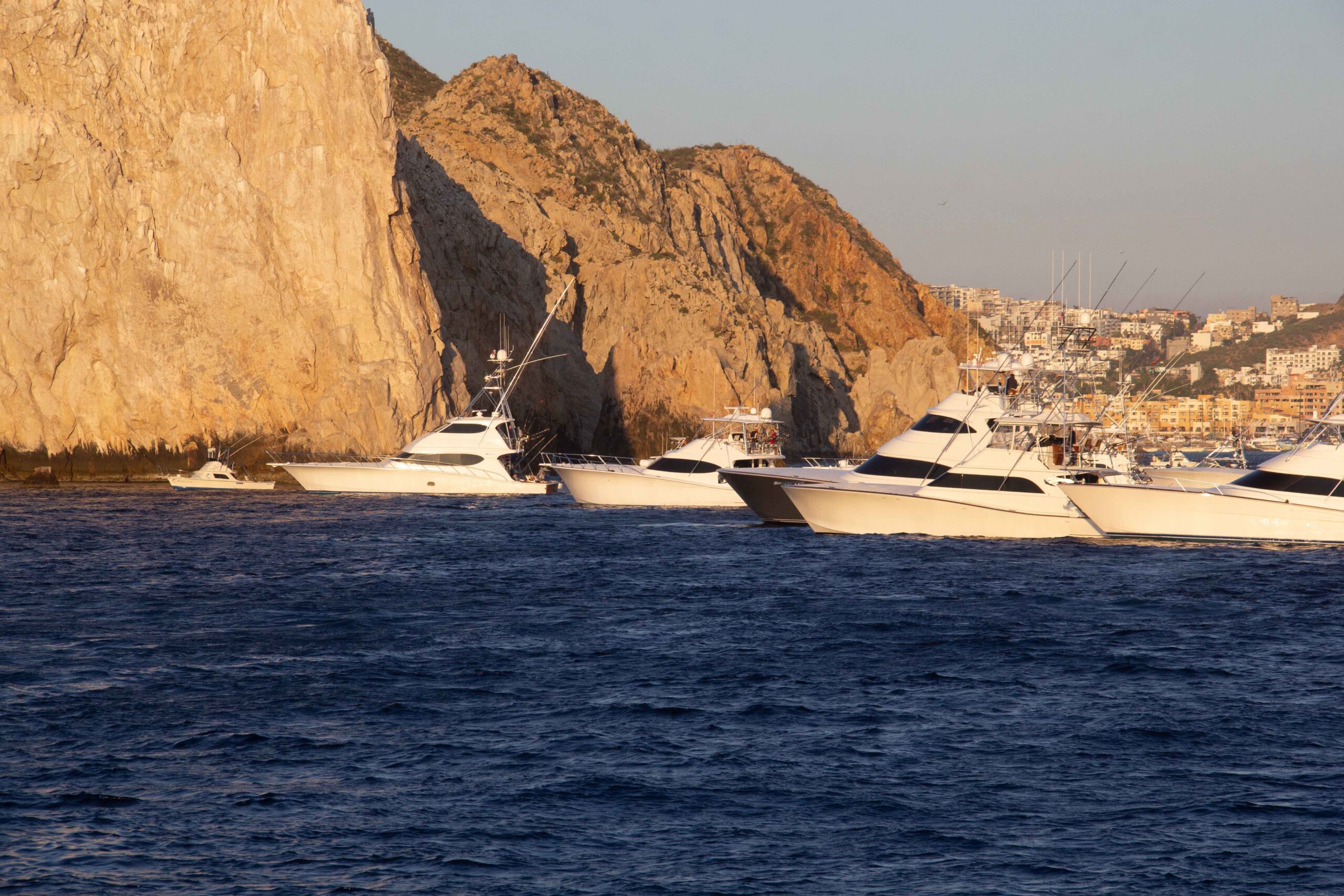 Rocky Mountain Hookers told WON they fished through "30-mile-per-hour sustained winds" that resulted in their Captain slipping and hitting his head. Fortunately, St. Luke's Hospital and EMTs stationed on site that tended to him right as he came off the water. While that team did not bring a fish to the scale, they did say they ran into "unlimited 20 pounders."
Also worth noting is the fact the entire field shot off in all directions at the shotgun start, so it wasn't a matter a few specific areas getting the worst of the wind.
The Cabo Tuna Jackpot is also a great time for those not chasing tuna during the two days of fishing. As the crowd on the Costa Start Boat each morning would indicate, friends, families and fans of CTJ anglers travel well, and the crowd that forms in front of the weigh-in stage at Hotel Tesoro is a mixture of those folks as well people just strolling the waterfront that want to see what the whole spectacle is all about.
Complete with easy access to great restaurants like Solomon's Landing, Captain Tony's and Baja Cantina, DJ-supplied music throughout and the marina and stage setting the backdrop in a cool courtyard-area at Hotel Tesoro, it doesn't take long for the the CTJ weigh-in stage and tournament headquarters to evolve from, "Hey, what's going on over here?" to full-on party mode as more fish are brought to the stage and day gives way to evening.
By land or by sea, the WON Cabo Tuna Jackpot is a great time for everyone involved and eventually, a lot of people who aren't. Next year, the milestone 25th annual installment of the richest tuna tournament in the world is sure to be extra special.