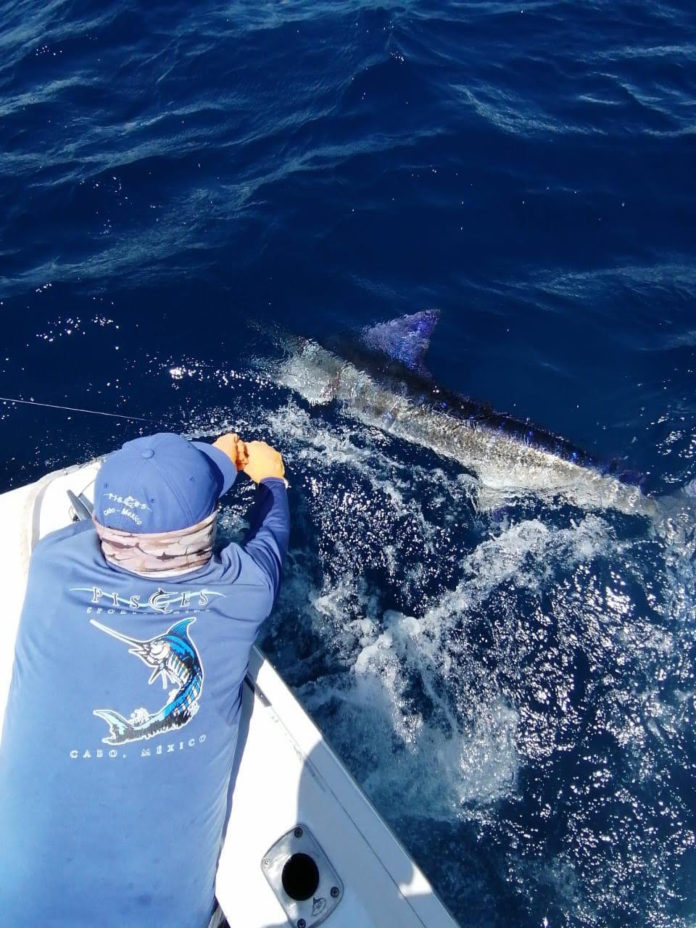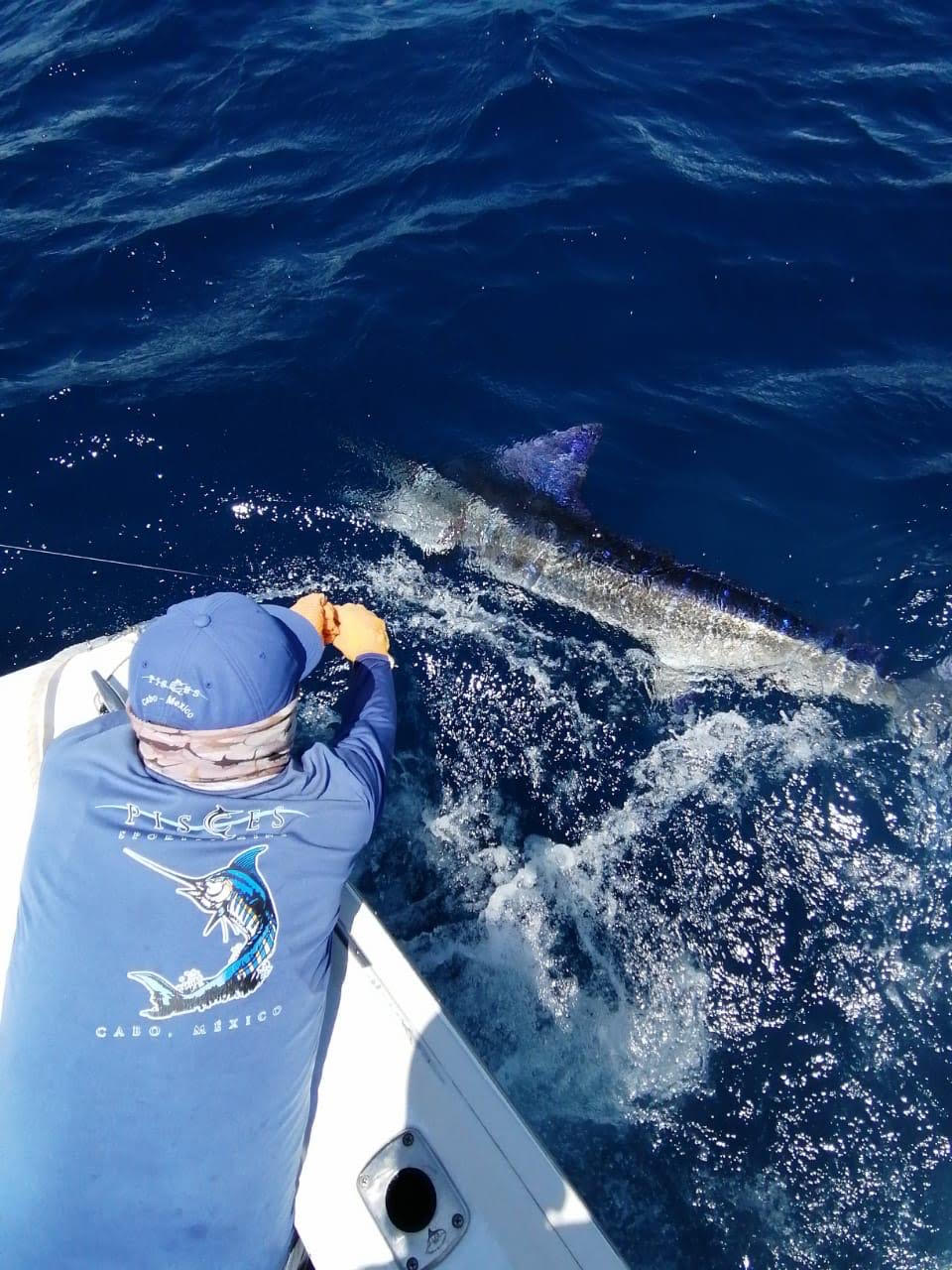 A 600-pound blue marlin in Cabo and the wahoo and dorado are finally showing up; dorado continue to be center-stage in La Paz, though roosters are still out there if you're lookin'.
BY  MEGAN McDONELL
LA PAZ – Jonathan Roldan of Tailhunter International reported that this past week was the exact opposite of the previous week.
"We started excruciatingly slow, with a picky bite at best," he said. "We had to really work hard to get fish and find fish. However, as the week progressed, fishing picked up speed. Still not fast, but compared to the week before, it was nice to have folks come back to shore with big smiles and fish in the box."
Once again, Roldan said the dorado were center-stage – and most anglers got limits or near limits on most days. "Not every boat on every day did okay," he explained, "but for the most part, every boat still came back with daily fish – and if one particular boat had a slack day, the next day made up for it." Roldan added that the majority of the dorado were in the 5- to 15- pound range, with the occasional fish in the 20-pound class. He said the fish hit mostly on live bait, but trolled lures and cut bait were doing the trick too.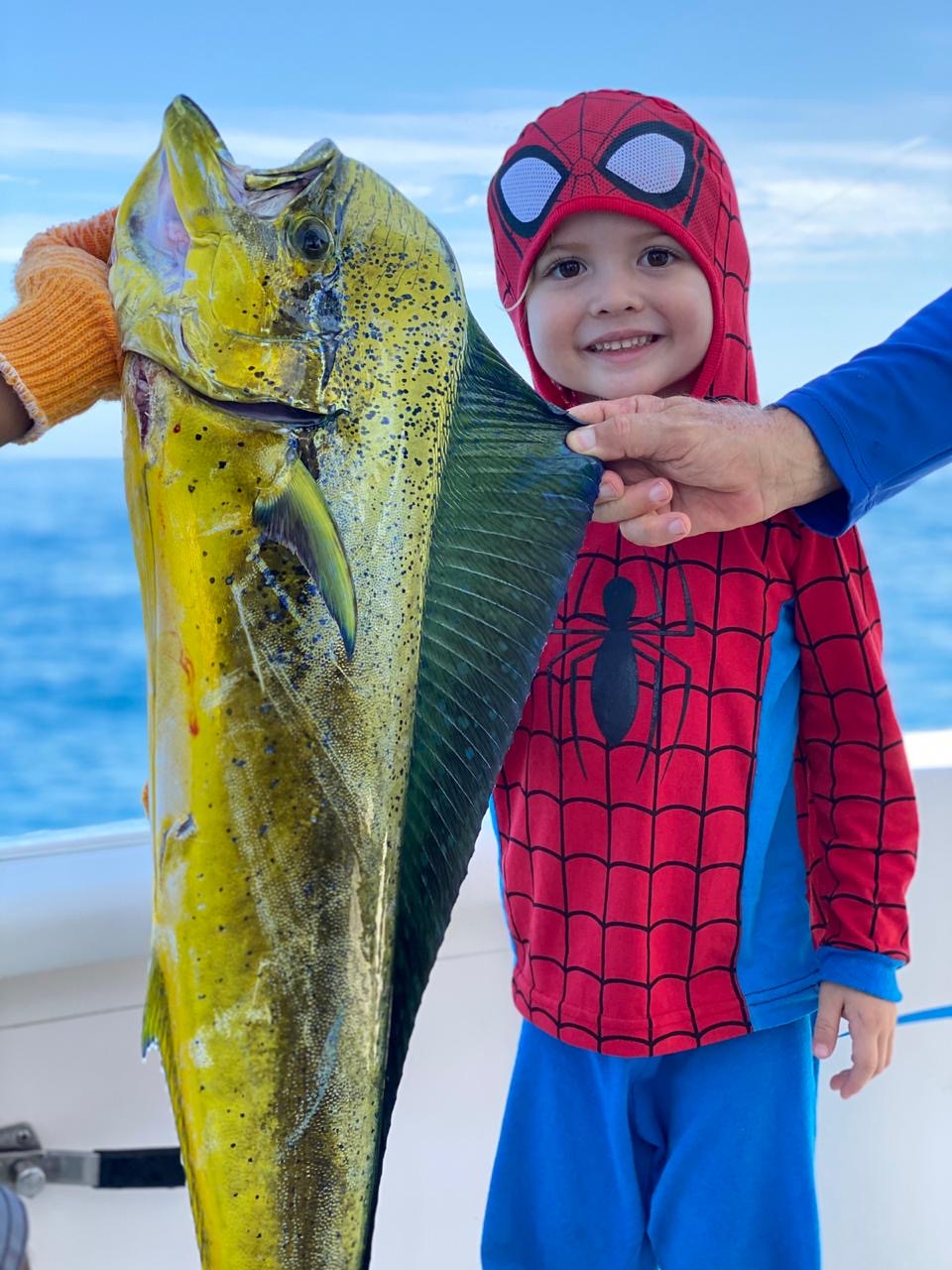 "It was also nice to see a few wahoo in the counts," said Roldan. "We haven't seen many this year, and the wahoo that were caught this week were taken by anglers who were trolling lures trying to catch something else when the wahoo bit. But, I would still say, it's been a down year for the speedsters."
Roldan said, unfortunately, it's the same story with tuna. According to him, they should be "thick in the tuna," but after several years of tuna biters, they've not seen any at all in La Paz. Roldan remains optimistic though. "There's some tuna biting to the south of us, so hopefully they'll start swimming north."
On the flip side, though it's normally too late in the year to see the roosters around, Roldan said several fish running 25-60 pounds were caught and released. "After several weeks of no roosters, it's good to know they are still out there." He's got the amazing photos to prove it!
CABO SAN LUCAS – Rebecca Ehrenberg of Pisces Sportfishing reported that this week was closer to their typical summer fishing season, with some inconsistency in the beginning of the week. However, towards the end, the dorado picked up with almost 30% of boats landing them, compared to only 5% last week.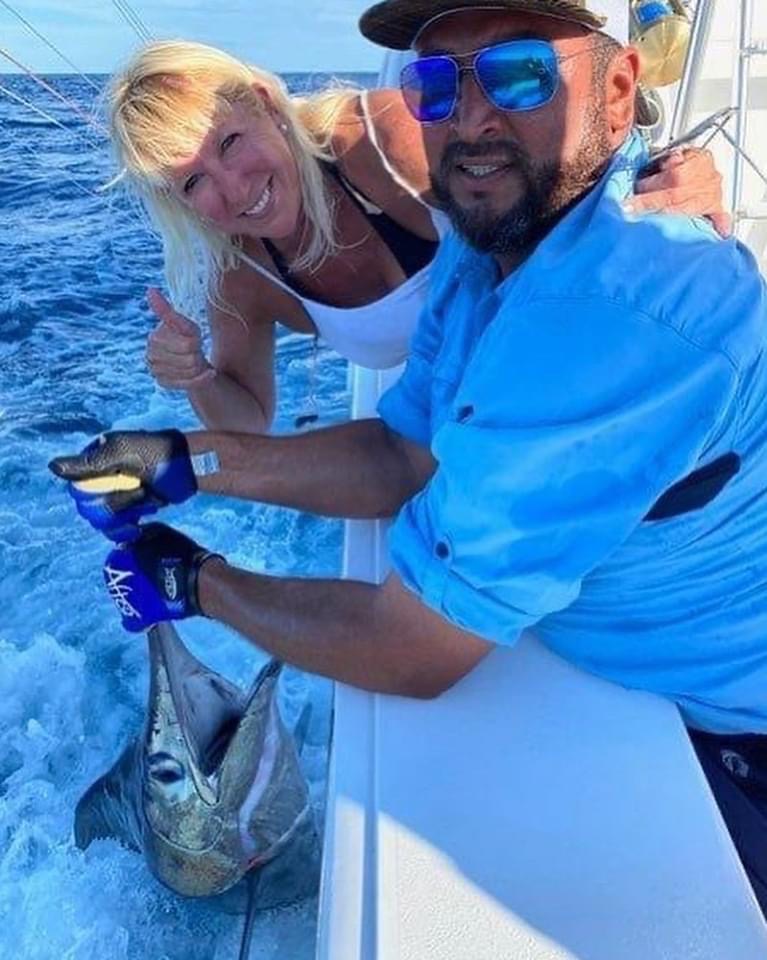 "This helped pick up success rates and catches for anglers," said Ehrenberg. "Tuna numbers dropped slightly, but probably due to the fact that the dorado showed up and were easier targets than heading out far for tuna."
Fortunately, blue marlin catches rose compared to last week, with an outstanding catch and release of a ~600-pound blue aboard Pisces' 37-foot Reel Cast. The fish hit on a guacamayo lure almost 40 miles out – where the crew had two other hits but lost them. That same day, the guys also landed 2 yellowfin and lost 2 other blues!
"All in all, this weekend was one of our most impressively productive fishing days of the year so far," said Ehrenberg. "Just on Saturday, for example, we had 81 fish caught (catch limits respected with releases and all billfish released)." Plus, she had reason to be personally proud. Her 4-year-old caught a 10.5-pound dorado – the same age she caught her first dorado! "It was a special day!" said Ehrenberg.
LORETO – Rick Hill of pinchysportfishing.com wrote in on Sunday to report that it feels like a typical September in Baja. "The weather is still hot, the water is a little cold and the sun is sinking earlier."
Fishing-wise, Hill said the jacks and dorado are working the coastline, with bonita just outside. "Nine out of ten strikes in deeper water turn out to be bonita and only an occasional dorado," he said. Hill added that roosterfish and toro have been stalking bait schools that are trying to hide in the shallow bays – and dorado over 15 pounds have been hard to find, not to mention almost impossible to get hooked up.
Finally, he said the blue water trips have been working the deeper high spots and landing some nice-sized yellowtail and baquita.
SAN JOSE DEL CABO – Eric Brictson of Gordo Banks Pangas said that the hot wahoo bite from last week has now faded out – and yellowfin tuna are the main game fish species being found in the area.
According to Brictson, the schooling yellowfin have been found near San Luis, Iman Banks, north to Vinorama and – in recent days – the tuna became more active on the Inner Gordo Bank. "The most successful methods being used were drift fishing with sardinas, dead or live, as well as using strips of squid," he said. "The caballito baits have not been as enticing this past week," he added. The average- sized tuna was in the 40- to 70-pound class, and charters were landing 1, 2, 3 and 4 of these tuna per morning using 40- to 60-pound line. Brictson said the fish were a bit finicky at times, and there were some strong fish in the mix – sometimes taking an hour to land.
Apparently there's not much off the bottom besides red snapper, a couple of amberjack and dogtooth snapper. "[There's] always a chance at a big grouper this time of year," he added, "but not many anglers are specifically targeting those." Brictson reported some scattered dorado as well – found while trolling lures and drift fishing baits.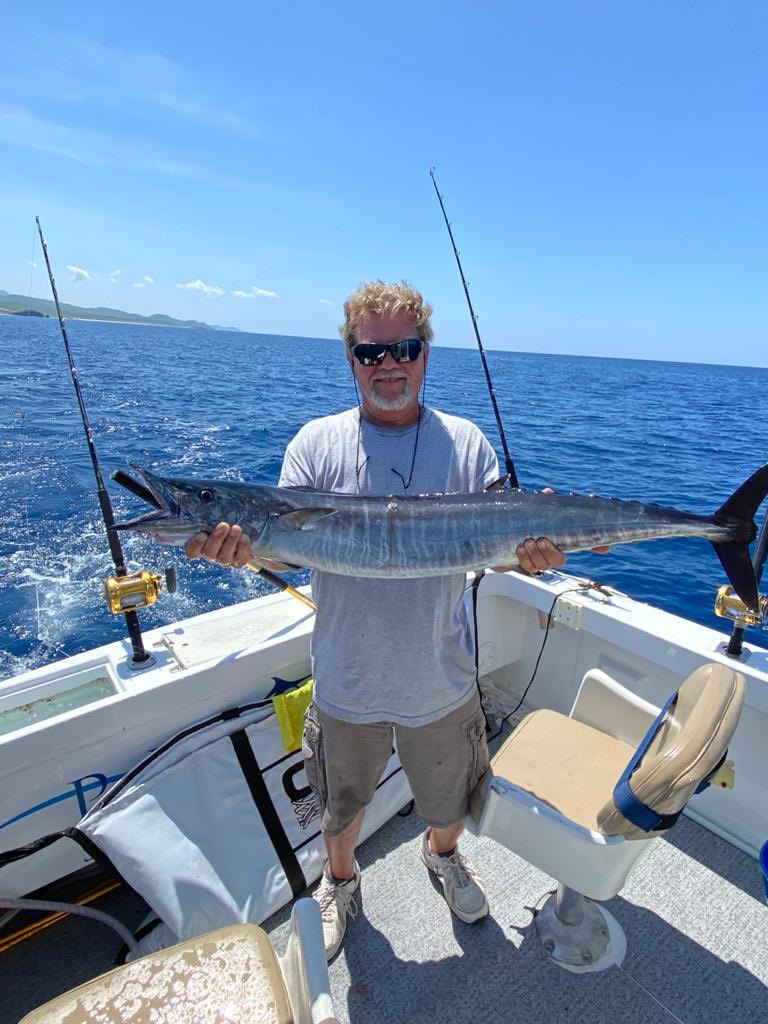 As for live bait specifically, Brictson said there are scattered schools of sardinas now congregating around the marina jetties, as well as some caballito. "There were reports of chihuil being chummed up on the high spots, also some skipjack and bolito being used for larger trolled baits," he added.
Overall, Brictson said they are seeing light numbers of tourists now – and for the few that are there, they have been enjoying calm weather patterns, scattered tropical cloud cover, high humidity and light afternoon breezes. "The early mornings are just starting to feel fall-like, slightly cooler, but still not much needed besides shorts and t-shirts," said Brictson. "There is Tropical Storm Karina lurking about 250 miles off to the west of Todo Santos, [though] we are not feeling much from this at all besides humidity."
Want to contribute to the Baja reports? Send them to baja@wonews.com.