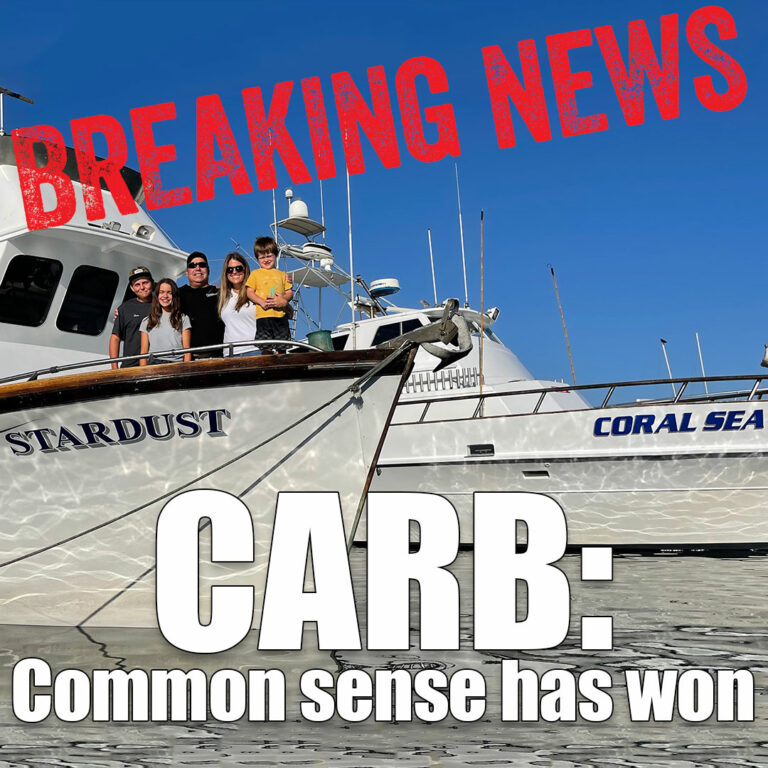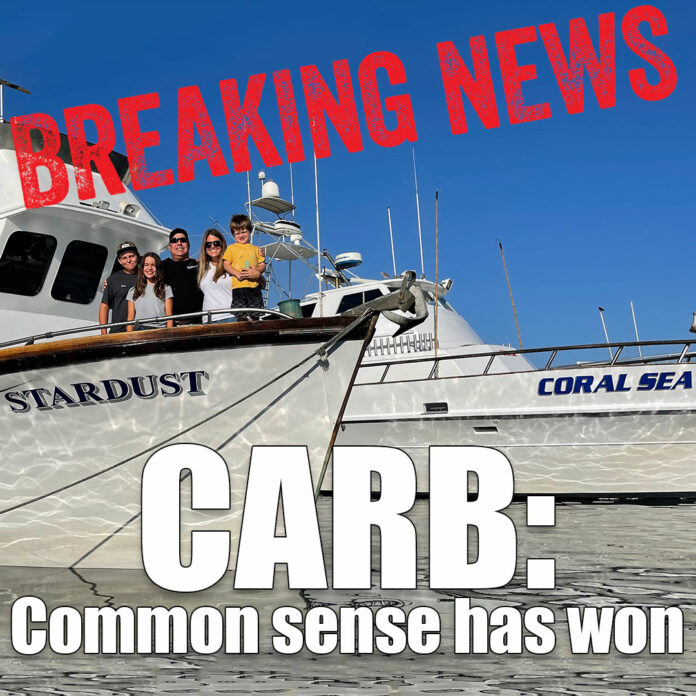 CARB to amend its proposed regulations regarding commercial passenger harbor craft at March 24 hearing
BY BLAKE WARREN & BEN HERVEY-MURRAY
WON Staff Writers
Since summer of 2021, over 23,000 Californians and 60 local, state and national business organizations made the case to the California Air Resources Board (CARB) that their proposed harbor craft regulations were economically and structurally infeasible, and there were a host of unresolved safety concerns that needed to be addressed to protect passengers and crew.
As originally drafted, commercial passenger fishing vessels would have been removed from service starting as soon as next year.
Because of the support from WON readers and the entire West Coast sportfishing community, CARB listened and is responding to the pleas of boat owners who wish to remain in business and maintain the most affordable opportunity for ocean access.
On March 24, CARB is planning to approve an alternative, amended plan that reflects a belief that lower engine emissions can be achieved without significant economic harm to small business owners and the communities that depend on them for visitor spending and jobs.
The new plan proposes a compliance schedule that is more realistically achievable — requiring boats to re-power to lower emission engines as the technology becomes available and it is economically feasible and safe.
The new plan recognizes the significant amount of upgrades that have already been done and proposes a compliance schedule that is more achievable. This is a major, and positive, shift in approach as the State marches down the path of achieving zero-emission engine standards by 2045.
Both the Sportfishing Association of California and the Golden Gate Fishermen's Association — key organizations that strongly advocated for amending the proposed regulations — will be testifying at the March 24 hearing that the contemplated changes to the proposed regulations are acceptable.
Key Components of Amended Rules:
Vessel owners that haven't upgraded to Tier 3 engines already will be required to do so by January 1, 2025.
Lower emission Tier 4 engines with Diesel Particulate Filters (DPFs) are required by 2035, This provides 12-years to comply, as opposed to the requirement starting as early as January 1, 2023.
However, if the mandated technology does not become available or prove safe by 2027, CARB will work with vessel owners to consider alternative technologies and compliance timelines.
We will have more on this story in the next issue of Western Outdoor News, on sale April 1.