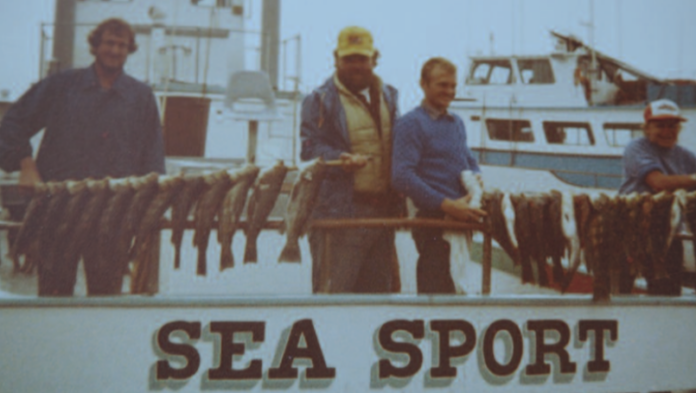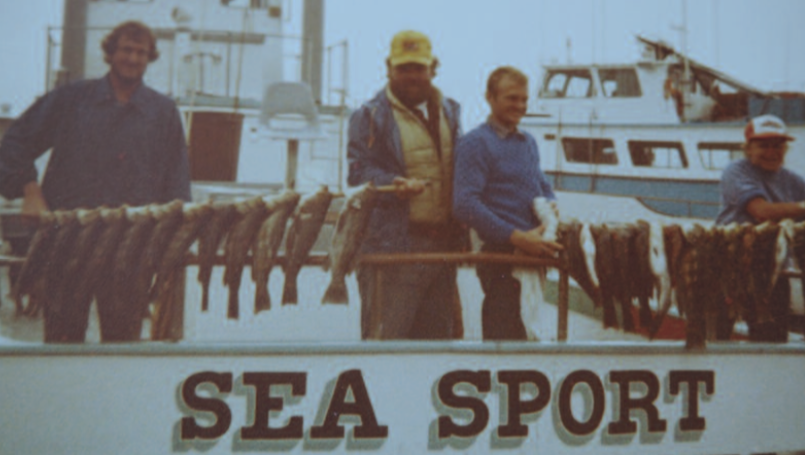 Memories of local and island fishing with friends from the past included using leadheads and live or dead squid. It is said that some things just work and continue to work, and this may be especially true when it comes to using leadheads and squid for bait.
In my case, friendship and fishing combine into a finely-crafted blend of the best of two worlds: camaraderie, goals for a day's fishing trip, laughter and jokes pulled on one another during slow moments during the day.
Some of the friends I keep close to heart are no longer here on Earth, but nonetheless are remembered fondly, and will not be forgotten. When we reunite and re-reflect, we share thoughts and memories of those who are gone. And it's this blend of fishing and friendship that make up the laminations of our fiber as both people and fishermen.
One memory that comes to mind is a trip with Scott Doty, a gentleman friend who had a boat built at Seaway Boat Company in Wilmington while I was employed there. Scott and his father Floyd were complete gentlemen and loved to fish and hunt and were equally talented at both.
When the boat was being built, they included the most modern fishing electronics available at that time which helped to make this boat a great fishing machine. The boat possessed advanced electronics, a larger bait tank, well-insulated fish hold and an inverter so we could warm our food in a microwave oven along with lots of aft open deck to fish on.
I met Scott at his place, and he was ready to go with the boat on the trailer, and my childhood friend Pat Manley of Lomita also joined us for this adventure. Pat and I grew up together sharing similar interests, whether fishing at the pier, off the rocks at a breakwater, a lake, a stream or any other body of water where fish are found. Eat, sleep, fish, repeat kind of thing.
We launched the boat in the early evening and headed to San Clemente Island towards Pyramid Cove because we had intel that there were some squid there. We left early enough to get to the island quickly in order to give us plenty of time to start looking for squid right away.
The boat was fast, and the weather was smooth. Scott fired up the meter as Pat and I got the generator and the squid light mounted on the rail ready. The brails were on the deck awaiting the squid's appearance, which Jacque Cousteau would describe as "darting sea arrows," and we hoped the light would bring up a bounty of squid from the depths of the ocean.
It was not too long before Scott said he had some nice meter marks, and it was time to turn the light on. As the light went on the squid made that milky, deep color as they came to the surface in volume, to be scooped on board with the brails. We anchored quickly to let them build, and they did. Pat scooped many full brails of squid as he made several passes through them, which made the tank fill up quickly to capacity. Next, we filled several 5-gallon buckets of fresh-dead to be used and shared with others in the sport-fishing fleet.
Scott got on the radio to Norm Kagawa on the Shogun earlier in the day, then in the early morning, and over the horizon Kagawa pulled up to our stern as we gave him several 5-gallon buckets of fresh-dead squid for him to use with his clients. It was a good thing as the squid dispersed into the depths from which they appeared. From what I remember, Ka- gawa did well with the fresh-dead bait using leadhead and squid via the trusty Bomber leadhead of that time. We all had working relationships with boats back then, and favors were returned likewise.
After our squid games that night, we tried a spot near China Cove with fair results using lead heads and squid. We caught 14- to 20-inch fish, but conditions were not great there, so westward we went. The crew was tired from the night's fol- lies with our cephalopod friends, so Scott handed me the wheel and took the bunk. I just got up to speed and was thinking of going to Mail Point, but between China Point and Lost Point I spotted some 15-pound bluefin jumping so I abruptly pulled the throttle back and turned sharp on them to give it a try.
You never know about these finicky fish. My abrupt stop woke everyone up, but the fish naturally disappeared and a fly-lined cast with light line came up with a goose egg. Oh well! We continued moving up the island and fished in an area near Lost Point and did well picking away at the bass with maybe a couple of 5-pound fish in the mix. Pat and Scott schooled me on getting bites, that's for sure.
From there, Scott headed westward toward Mail Point since there were some rockpiles outside the kelp line and the water looked cleaner and the current looked good. With the anchor dropped, we began to fish after chumming some chopped-up squid heads. The famous blue perch, or half-moons to some, surrounded the chum slick like ravenous piranhas, getting the bass milling about and getting them interested in our offerings. Scott and Pat were picking away on a mixed grade of good-looking bass, and they also caught a couple of goats in the mix to add color to the catch. We decided to move up the line and fished near a rock at Eel Point, which at times could be great in terms of both quality and quantity.
Nice-colored water and fish attracted to the squid bits tossed in got the party started. I pinned a live squid to a pearl Bomber leadhead, which I believe is now called a B52, and instantly caught about a 4-pound bass. As usual Pat and Scott were laying the hammer down on bass; and of course, trying to get it in the zone before the perch devoured the squid.
This sometimes resulted in putting a larger leadhead on to get to the bass. My choice was a 1.75-ounce model made by Rubber Duck given to me by Jerry Esten that had a unique look to it. He made several innovative jigs in the '60s and '70s. It did the trick, producing a 5-pound fish. The boys caught several larger bass up to 6 or 7 pounds, pretty dang good. And of course, a token goat to add to a fake lobster dinner. Our next move was to the 10-Fathom high spot off the west end that at times would give up bluefin. Not that the signs were there, but a likely area based on earlier sightings. Scott metered it until he was on the edge of the deep water, and we anchored up.
The chum cycle began. Pat tossed out a live squid to be picked up by a soon-to-be-seen 12- to 15- pound yellowtail, which is always welcomed on any trip. His next cast made it to the bottom and he caught a lingcod, catching a buffet of fish this day. The rest of the time Scott and I caught some larger Johnny bass and some other bottom grabbers in the mix.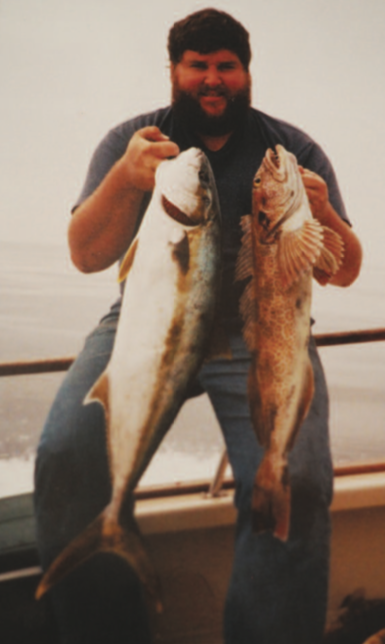 After all of this, it was time to head home. We pulled the anchor and brought the fillet board up to the bait tank to begin filleting the catch as we headed home. A great memory for me combining the best of friendship and fishing: good company, great bait, smooth seas and another terrific memory created for my mental hard drive.
Another fishing trip to be unwrapped took place on the Sea Sport out of 22nd Street in San Pedro, run by Walter (Wally) Walters and crewed by Wendy Shiff. It had a classic narrow beam high bow with a tall wheelhouse-style boat of the earlier sport boat era. It had history and fished well. The Sea Sport generally fished the coast from Huntington Flats to Volcanic Reef in Santa Monica Bay. Another friend of mine, Butch, also joined us on the Sea Sport. Butch was marketing and selling Mojo plastic twin-tail baits and leadheads. At the beginning of its formation, Butch was hoping I would go with him as partners in the business. Some might remember them as a Scampi-type tail that was softer and in many other colors than just Scampi.
I was working on the New Hustler 2 with George Mio, and we had just come back from a trip to Catalina. I was about to turn the generator off when I realized we still had 7-8 scoops of tough-to-get squid. Wally Walters from the Seasport asked us what we were going to do with the remaining squid. Knowing I had the next two days off, I asked George if we could pass the squid to Wally. George gave the go-ahead and asked us to save him a couple of nice bass for steaming. Wally's eyes lit up as he got a scoop net, and we proceed- ed to brail them into his now-running bait tank for the next fishing trip. Wally said he had only had four on the books tomorrow as it was a Tuesday, and with the light load consisting of all rent-rodders, he was thinking of canceling until the squid showed up.
He said, "Would you like to go fishing? I am going to fish some smaller rockpiles at the Horseshoe and it should be really good. Call a couple of guys and show up at 6:30 a.m. Invite anyone you know to come fish."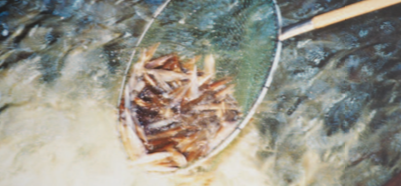 It was a deadhead's dream fishing trip if you will, or a landing crew trip. Walters asked if I could help with the newbies, and said he expected to have great trip the next day. With this I called Butch Chapman and he said, "I am in!" I also talked to my wife Donna about go- ing, and she agreed. Early the next morning, we joined the four customers on the Sea Sport. Chapman was already on the stern tying on a lead head that was part of his Mojo line he had made to sell as well as a Bomber tied on a 196-7 rod his wife built with a small Newell reel that matched.
Nada, who worked on the Toronado also joined us this day, as well as a couple of others from the landing office. It was a light load maybe 10 including crew. We steamed towards the Horseshoe, and Wendy was ready to drop anchor when Wally set the boat up on the first spot to be fished. We all began to fish after some chopped-up squid was chummed, and it really turned on. Even the rent rodders were getting bit with vengeance with all of every- one's help. Nice sand bass and calico bass in the 2- to 6-pound range were coming over the rail. Butch scored one about 7 pounds, and sporting a big smile, he tugged it out of the rock pile that Wally warned us about, mentioning that a lot of gear gets lost here.
My wife Donna caught a nice sand bass about 5 pounds on a Bomber and squid. Nada was also pulling on some nice bass. Wendy and Wally got into the action helping the newbies to get closer to their limits. The clients had grins from ear-to-ear. We fished this rock for about four hours with some slow moments, but still had steady action.
Flat weather with that winter cold feel in the air. Wally said, 'Let's pull the hook, and I want to try one more small rock I don't hit often.' At this point, I think everyone had about 8 bass each.
After re-anchoring and retying our gear, Wally set up on the next rockpile. We waited for the boat to swing and set up, then we started casting. 4 or 5 anglers got bit right away with quality 4- to 5-pound calicos and then a couple of tough-fighting goats about 15 to 20 pounds. These being big for local fish. Wally said there were big goats here, and now I am a believer. We tossed on about 15 goats along with our bass and a couple of leopard sharks that found our squid to their liking. A couple more hours and all had limits of bass which made for an early dock time arrival, and maybe an early dinner at El Charros with Doug and Carrol who owned our hangout at the dock. We took a few pictures, cleaned our catch, and had dinner and cocktails on what would have been a slow winter day at the landing. But Wally made a winter day pay with his knowledge.
Wally and Butch are no longer with us so I will honor their memory with this story. People like Wally and Butch are etched in our logbook of fishing memories.
Good people, fun fishing and stories after dinner on these trips with those memories are a gift. We all have these gifts that must be unwrapped in our mind now and then, then wrapped up again and stored, to honor what we have enjoyed. We are fortunate to be able to do so.
I want to thank all who supplied pictures, and items in pictures like Randy Pauly in Arroyo Grande and Gabby Talkington of antiquelures.com.