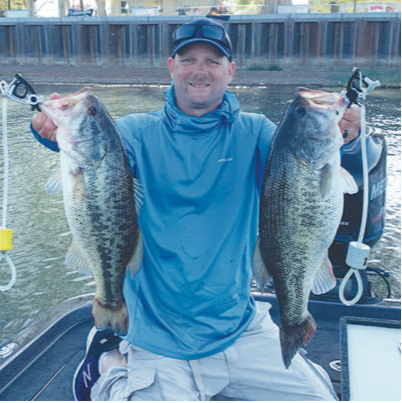 BY JODY ONLY
LAKEPORT – The historic, three-day bass battle of a 214-boat field on the world-renowned bass fishery of Clear Lake came to a close Friday evening as California pro Cliff King of Ione was crowned the 2021 WON BASS California Open champion.
Fishing with AAA Hunter Jacobson of Orangevale King put together the final day's Big Stringer with 25.23 to seal the deal and earn the victory for both pro and AAA anglers.
TO WIN
King's Cal Open ride put him in 77th on Day One, more than 9 pounds back, demonstrating that no one is ever out of it at Clear Lake. An increase of approximately 4 pounds on his Day Two bag, moved King to 12th. His Day Three sack put his tournament total at 67.31 — an average of 22.5 pounds a day, or a per bass average weight of 4.5 pounds each, earning the angler the pro grand prize package of a Bass Cat Sabre FTD and Mercury 175hp ProXS valued at over $45,000 and over $26,000 in cash.
King has plans to split his prize package, offering the boat to his son and fishing partner, Colby.
"We've been fishing teams since 2006, when we started in the Future Pro and he was six- years-old," said King. "I told him if I won a boat,it would be his and I'm sticking to that."
The popular bed fishing approach that many anglers took into the event was not on the radar for King.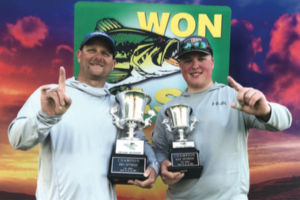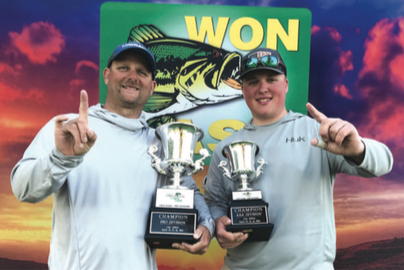 "To avoid the high pressure on the fish, I was basically blind fishing, targeting deeper water in 6 to15 feet–deepenoughto where I could lose visibility," stated King. "Really, I was fishing the same areas as other people, I was just off the bank and further down."
His preferred end of the lake was adjusted during the event.
"The first two days I would start in the north end and move mid-lake in the afternoon," said King. "The final day, that changed. I went mid-lake first and totally bypassed the north because I was catching bigger fish there. The mid-lake fish just seemed healthier, and I went to these two specific docks there. They were a couple of docks that I did well at when I fished the day before. I was basically throwin' 4 pounders back all day long. I figured that was my best chance to get the 24 to 25 pounds that I needed to win, since I got 23 there on Day Two."
The most productive presentation for King's weigh fish was a green pumpkin Z-Man FattyZ on a homemade 3/32-ounce Ned head, tied to 8-pound Gamma Edge.
"I pour my own heads and powder-coated them in green pumpkin," he said. "I also caught a key fish on a creature bait – a green pumpkin Pro Point Lures Junior Bug. I caught that fish on the Junior Bug in the last hour of the last day. It was right at the end and that helped get us to the 25-pound bag."
Giving credit to all of the AAA anglers he was partnered with – Day One, Westly Gritts, of Folsom, Day Two, Shawn Carnahan, of Gilbert, Ariz., in addition to Jacobson on Day Three – King shared that his AAA's down bait presentations, fished in the same depths as his Ned head, also put fish in the box.
"My AAA's all drop-shotted fish, so, I didn't even tie one on," he said. "They mostly threw their drop-shot with a 7-inch Margarita Mutilator. My co's did a great job and without them, I obviously wouldn't have won. They helped out tremendously and that is the beauty of the WON BASS opens and the shared
weight format.
King's areas and techniques put about 30 fish a day in the well, he said.
STILL NO BEDS
Trailing King by 1.5 pounds, Ron Tobey of Concord cashed in with the runner-up spot. Tobey closed Day One in 33rd with 21.05 pounds, however, he made a charge to 2nd on Day Two with 25.45 – one of the three 25-plus-pound limits of the day. He stood his ground, holding in 2nd at the final weigh-in, once again breaking 20 for an event total of 65.67 pounds.
"I was pretty confident on all days," Tobey recalled. "On Day One, I certainly didn't win, but I felt like I kept myself in position, only a few pounds out. On Day Two, I was less than a pound out of first, so I felt like I was positioned well."
Tobey also credits avoiding the bed fishing strategy to sack up his fish.
"I didn't want to do what most people were doing, fishing for the fish they could see," he said. "I went out looking for the big ones in deeper water, in 20 to 21 feet."
A school of hitch found mid- lake is what attracted Tobey to his location.
"They were suspended out there in 12 to 17 feet and that is where I fished most of the time," he revealed. "I followed the school through the event and would start there in the morning for about four hours or so. The bite would slow down in the middle of the day, so, I would leave, and I would come back and hit it again in the afternoon."
Two specific crankbaits in the shad family, Gizzard Shad and French Pearl, were his mainstays.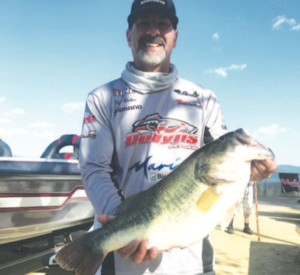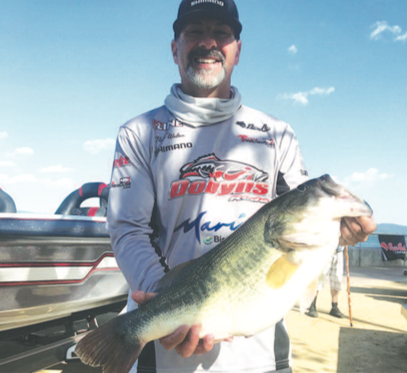 "I threw a Megabass Deep-X 300 in the morning," he explained. "That one has a tighter wobble and would stay on top of the bait ball. It would skip across and hit the bait on the top. After I exhausted the fish that were sitting on top of the bait, I would change to a Strike King XD. That would go deeper and go below the bait school, so I could work the top of the bait school and then the bottom of the bait school."
Tobey's approach netted him about 10 bass a day and earned a payout of $16,025.
A HEALTHY LAKE
To ultimately break into the top-5, the pro anglers had to bring an accumulative 64-plus pounds to the scales over the three-day competition.
Anglers typically reported a minimum of 10 bites a day and upwards of 30 for many. Clear Lake bass were plentiful and ready to chew.
Overall, anglers saw one of the best years of lake production, regarding full five-fish limits. Of the 214 teams that each weighed daily sacks all three days, there was the potential for 642 five-fish bags. During the first two days, all teams that came to the scales hauled up five. The final day, only two teams missed it, making for 640 out of 642 bags of full limits.
DOUBLE D'S AND QUARTER-CENTURY LIMITS
While the bites were heavy, the double-digits weren't ready to come to the table. There was only one tweener to show at 10.43. It was brought in on Day One by pro Nick Welton from Galt, Calif. This catch earned Welton the nod for pro Big Bass of the Day as well as the pro Big Bass of the Tournament.
The Day One AAA Big Bass at 7.30 was weighed in by Blaine Christiansen from San Francisco, Calif.
The Day Two Big Bass of the Day awards went to Gilbert, Ariz. pro Matt Shura for a 9.61 pounder and AAA Brennan Crooks from San Francisco, Calif. with an 8.29. Crooks fished with eventual second place pro Ron Tobey.
Day Three's Bigs were boxed by pro Chris Gosselaar of Clovis with his even 9 pounder and AAA champ Hunter Jacobson with a 7.54 on Day Three.
The honors for Biggest Stringer of the Event went to Gary Collins of Upper Lake, Calif. while fishing with Christopher Dixon of Granada Hills, Calif. The team weighed in with an impressive 27.44 pounds on Day One.
The select group of only nine pro anglers that broke the quarter-century club mark were:
1. 27.44 Gary Collins *Big Stringer Day One
2. 25.98 Matt Shura *Big Stringer Day Two
25.52 Bryan Grier
25.45 Ron Tobey
25.23 Cliff King *Big
Stringer Day Three
25.18 Nick Welton
25.16 Jimmy Reese
25.13 Travis Williams
25.11 James Young
The AAA Big Bass of the Tournament was boated by Brennan Crooks with his 8.29-pound largemouth caught on Day Two.
Anglers next chance at a shared-weight, draw competition with WON BASS will launch on October 11–13 at the 2021 U.S. Open on Lake Mead. Registration is already well un- derway.
The next opportunity for a fish of a lifetime or stringer over the quarter-century mark with the WON BASS California Open will be at the event's 10th anniversary — April 6-8, 2022 on Clear Lake. Sign up early to ensure you lock up your spot at the big bass factory.
Stay tuned at WonBassEvents.com and follow WON BASS on Facebook and Instagram.