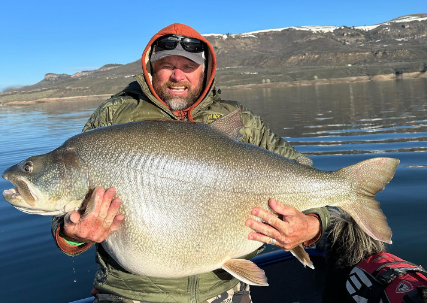 BY MIKE STEVENS
Laker easily the Colorado-state record
GUNNISON, Colo. – Colorado angler Scott Enloe caught an enormous lake trout on Blue Mesa Reservoir that, according to the handheld scale in the boat, will crush the current state record for the species. It also tipped the scale at 73.29 pounds, well over a pound heavier than the IGFA all-tackle world record for lake trout.
Early estimates were the laker had a 47-inch girth and was 47 inches long.
He was fishing with his son, Hunter, who had this to say on Instagram.
"Dad and I have put in serious time to learn about these fish and how to catch them, and most days they will outsmart you and that's what keeps us addicted to them," Hunter wrote. "We released this old, big girl to be caught again when she's even bigger. She swam off strong as we handled her properly getting weights and measurements and a few pictures. Congrats to my dad on another catch and release record. It was a special day and we just sat on the boat for a few hours not fishing just taking in what happened. Another awesome memory with my dad."
More photos and videos of the catch and measurement-taking process can be seen on Hunter's Instagram found at instagram.com/nymphapotamus.
The big lake trout fell for a 6-inch tube jig fished on 10-pound fluorocarbon, and while it's freakishly-huge belly looks like it might have been full of eggs, according to Enloe, it was plugged with kokanee salmon.