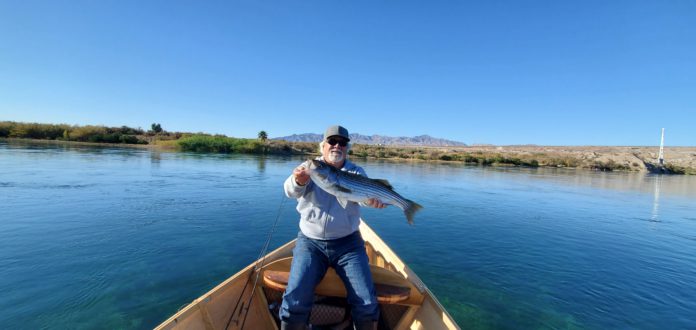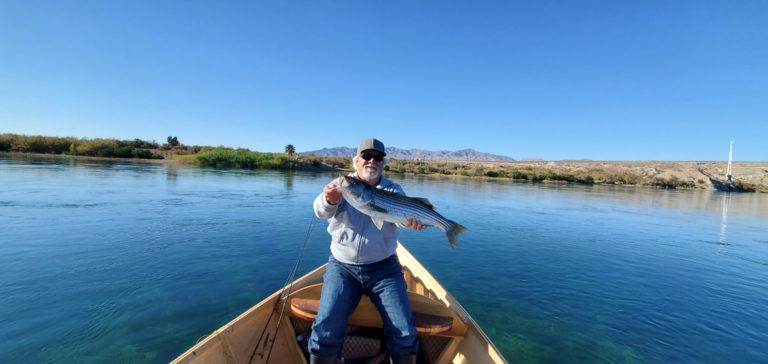 BY MIKE STEVENS
BULLHEAD CITY, Ariz. – Conditions for fishing have been pretty solid overall in the Colorado River chain other than the occasional windy day showing up and causing some headaches. In this zone, especially the river below Davis Dam and up on Lake Mohave, fishing has been very good with multiple species on the radar.
Striped bass activity has been on the upswing since trout stocking came back into the fold in early fall, and while the numbers have been there the whole time between then and now, the quality only recently started to spike.
"We are getting some great striper action, and Community Park has been a hot spot," said Rusty Braun of Riviera Marina. "Anglers have been reporting various glide baits have been producing some of our larger fish in the 6- to 15-pound range."
The shoreline parks within a short distance from Davis Dam is where trout get stocked, so it should be no surprise some of the better stripers are being caught in those areas. Another one was caught by drift-boater Vince Randino who hooked a nice one with 30 minutes left in an otherwise slow day that would end up saving the trip.
"Out of nowhere, Vince's reel starts buzzing so hard I thought he was hung on the bottom," said Cameron Stone who reached out to WON with the story. "Things got tense on that boat those first few seconds as we were drifting up on a rock bar that was about to separate us from the fish. I jumped on the oars and started rowing like hell to chase down the fish and get us on the same side of the rock bar as the striper. We regained our composure wore the fish down and landed her."
Stone said it was a personal-best striped bass for Randino, who is an accomplished fresh and saltwater angler. That hookup went down between Davis Dam and Rotary Park.
"I was honored to be able to put a savvy lifetime angler on 'one of his biggest,' and to top it all off he decided to release it so that someone else had a chance to catch it," Stone added.
Speaking of trout, that fishing has been very consistent around Rotary Park, Davis Camp and Community Park where boaters and shore pounders are using jigs, PowerBait, Mice Tails, spoons and spinners to fill stringers with rainbow trout raised locally at the Willow Beach Federal Fish Hatchery.
Fishing for largemouth, smallmouth and striped bass has been trending in the right direction up on Lake Mohave. According to Braun, local angler Jennifer Gonzales landed a 9.22-pound striper that stood as the biggest Lake Mohave lineside recently weighed in at Riviera Marina. Braun said most of that activity has been around the Power Lines and closer to the dam itself, but the entire zone between those two points is playing host to boiling fish that could pop up anywhere. Anglers looking for ripples or birds can track down these fish as they feed on shad.
Kingman, Arizona angler Ray Poulin shot a cool story to WON after he and a buddy hit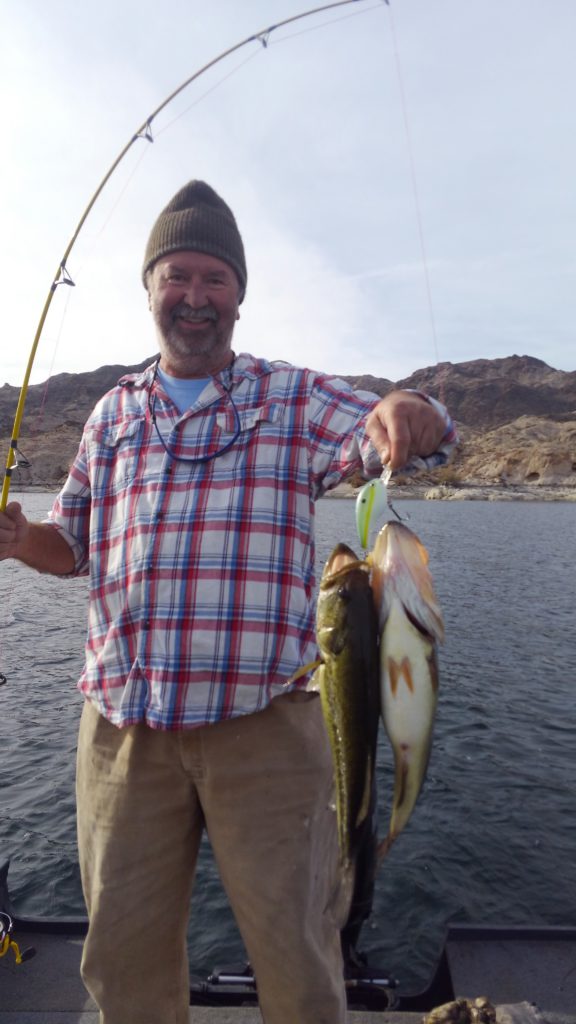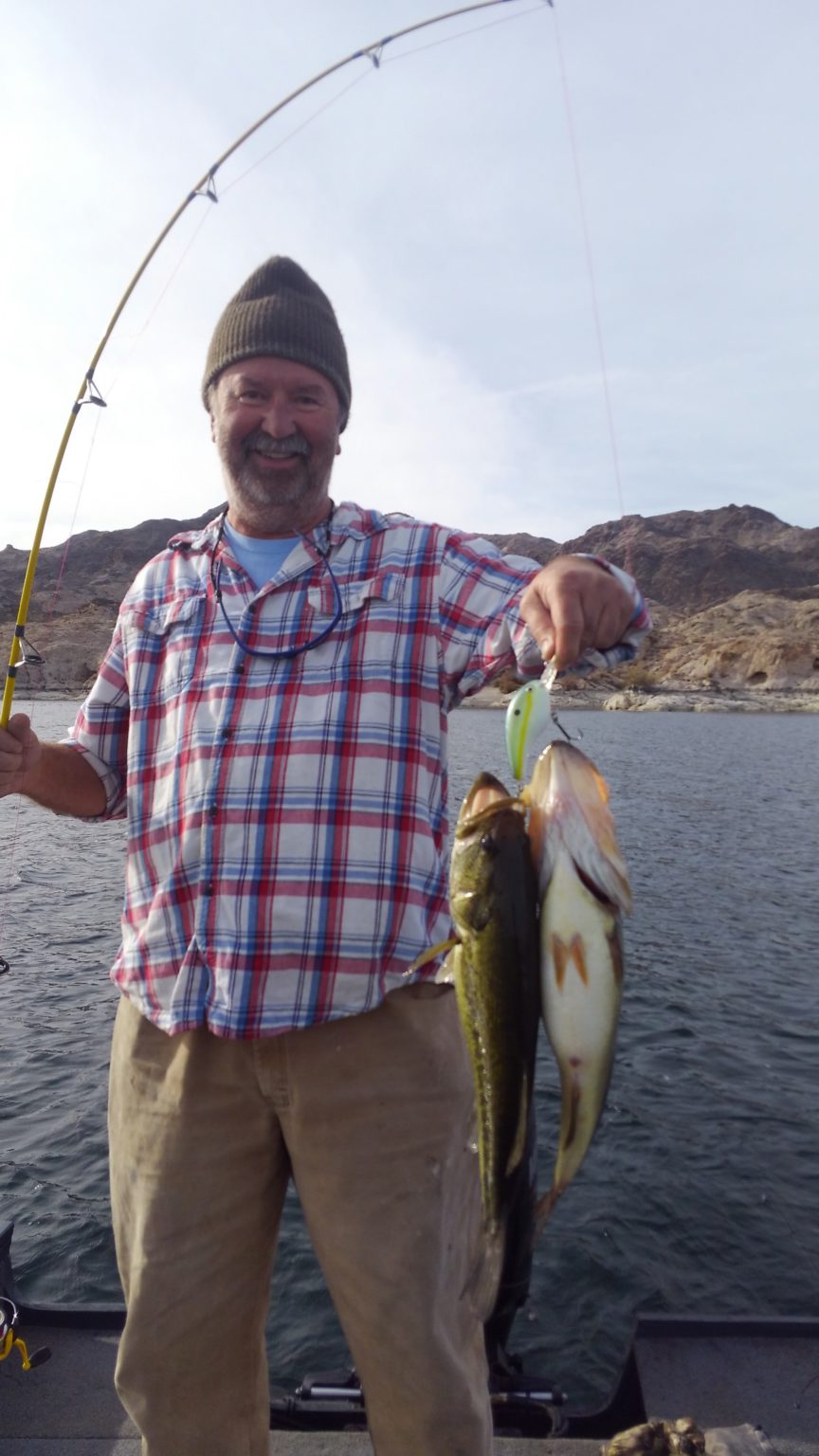 Mohave for the other flavors of bass in its depths.
"A buddy and I kept asking the fish gods for a two-fer, you know, both of us hooking a fish at the same time?," said Poulin. "We put a few nice fish in the boat, but no two-fer until about 3 p.m. We were cruising past this point and bam! We both god slammed about two seconds apart. My buddy landed his first, a nice 4-pound largemouth, then I got mine close to the boat with the net and there were two nice largemouth bass on my crankbait! So, the fish gods answered my prayers with a three-fer."
Poulin also told WON he also caught a few striped bass in the 8-pound range while trolling crankbaits, and the water temperature is now around 62 degrees. He said the fish aren't as active in the cooler water, but working hard with plastics and anchovies and keeping an eye on electronics will reap the rewards.