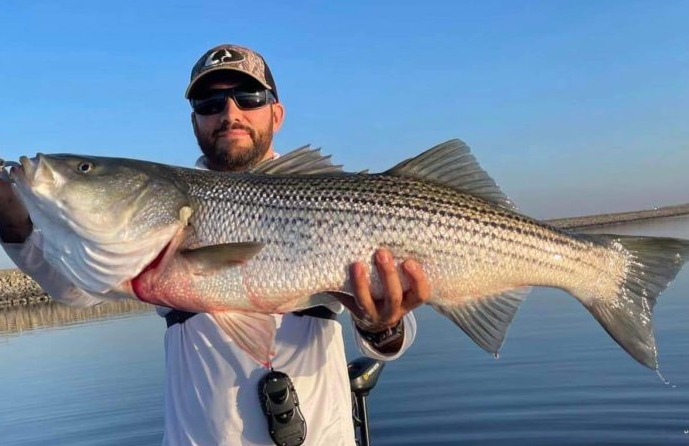 BY DAVE HURLEY
SANTA NELLA – San Luis Reservoir has stabilized at 24 percent after heavy pumping from the south Delta brought the lake up from 9 percent a few weeks ago. The pumps suck in the striped bass as small fish, and they grow to record size over time due to the abundant feed in the water conveyance system, also pumped in from the Delta. The main reservoir is scheduled for a change beginning in February 2022 with the extended closure of the Basalt Campground and Day Use Area due to a Safety of Dams Project. The closure may last 10 years as the project is lengthy and extensive.
The projected closure of the Basalt area hasn't stopped trophy striped bass from being caught and released by trollers, and the latest to get on the board is Norm Rodriguez of San Jose with a 44-inch lineside estimated at 36 pounds prior to release. Rodriguez said, "We were trolling a chartreuse Yo-Zuri Crystal Minnow at 25 to 30 feet with a set back of 100 feet when the big fish hit, and I was able to bring it to the net within five minutes with my new Lamiglas Red Line rod and Abu Garcia 5500 LC reel after clamping down on the drag. After taking a few pictures, the striped bass was released."
Roger George of Roger's Guide Service also got in on the big fish action with his 33rd striped bass over 20 pounds caught and released within the past year. He said, "I recently took out my Sonny Johansen of Clovis, and he landed his second large striped bass at 37.5 inches and 20.25 pounds after catching and releasing his personal-best at 30.1 pounds a few weeks ago. It was tough fishing, but Sonny was looking for another big fish, and we finally found it.
Mickey Clements of Coyote Bait and Tackle in Morgan Hill said, "The O'Neill Forebay continues to be very good for stripers with a solid topwater and swimbait bite. Frozen shad is also working well, but we are selling numbers of River2Sea Swavers for the forebay. There is a good night bite there as well. In the main lake, drifting jumbo minnows is a good technique along with jigging Blade Runner spoons ranging from 3/4th– to 1.75-ounces. Many fishermen are also purchasing the Blade Runner Spintrix white jig heads in ½- to ¾-th oz. for flukes or small Keitech swimbaits."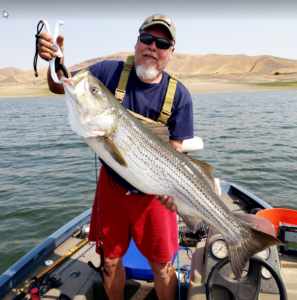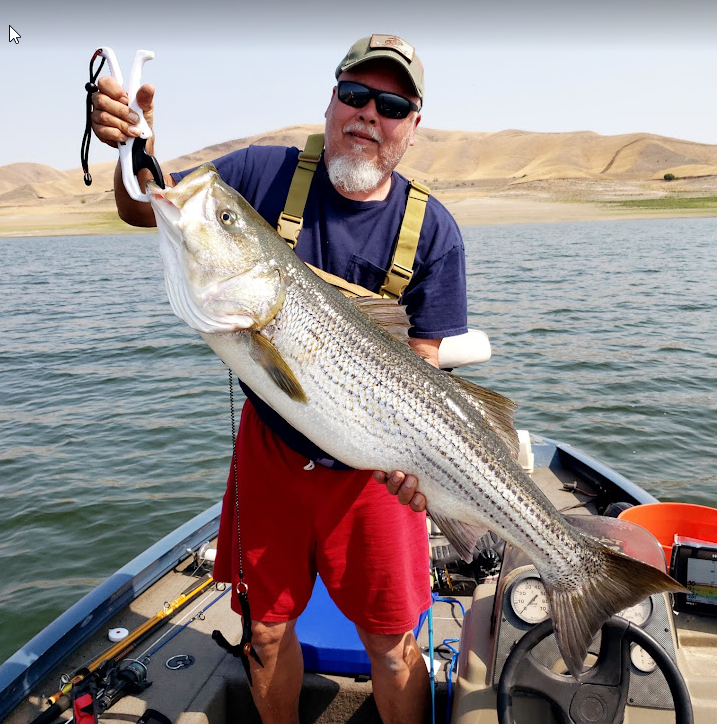 Bill Sterling of the Sportsman's Warehouse in Fresno said, "The aqueduct is still producing striped bass. The water temperature is down to 56.6 degrees, and as it gets colder, the stripers will start to be more lethargic and harder to get them to chase and lures. White or shad-patterned Keitech swimbaits or flukes weighted down to reach the bottom of the aqueduct are working best. The forebay is producing as well but mostly 18- to 22- inch stripers except for a 38 inch, 20-lb. striper caught and released near the pumps for the Delta-Mendota out of the forebay by Carlos Torres on his handmade painted color 130mm jerkbait. I went out on Sunday and caught quite a few on a 2-ounce P-Line Laser Minnow in white with red eyes." Sterling also runs Striperz Gone Wild, and they will be hosting their annual Toys for Tots Striped Bass Derby this coming Saturday, December 11th at the Hilldale Bridge from 6:00 a.m. to 2:00 p.m. The entry fee is an unwrapped toy, and all toys will be donated to the Los Banos Toys for Tots. There are no boundaries for the derby with prizes, awards, and a raffle. Last year's derby produced over 90 toys for local youth.