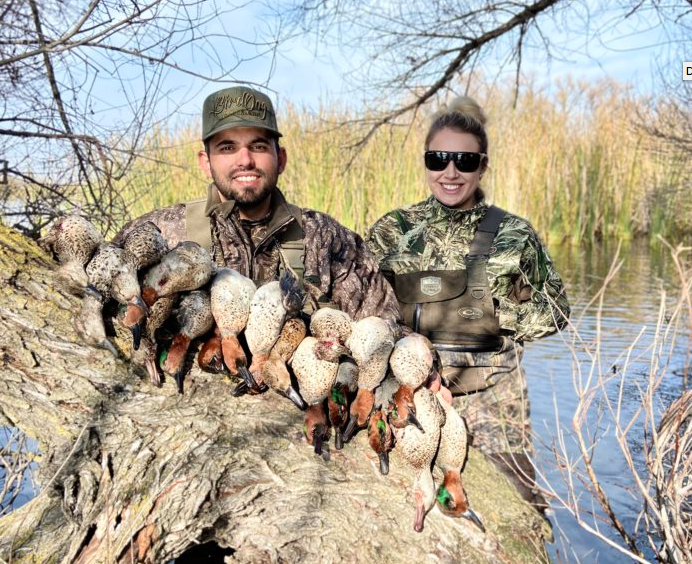 NILAND – Despite the ongoing drought, there appears to have been a pretty strong migration south along this portion of the Pacific flyway this past week… at least for ducks. Western Outdoor News just received pre-opening bird counts from a number of refuges and a few duck clubs.
Cris Crecelius, Wildlife Habitat Supervisor II at the Imperial Wildlife Area (Wister), 760-359- 0577, filed one of the better reports WON received.
"The Wister Wildlife refuge is 90 percent flooded and we are holding between 8,000 and 12,000 ducks along with 50 speckled bellied geese and 10 snow geese. Most of the duck population is made up of mallards, shovelers and all three species of teal. Unfortunately, due to unforeseen equipment failure, our green feed fields are currently a week or two behind schedule but currently being planted and the first irrigation is scheduled for this coming week. It should be a good opener," said Crecelius. (Note: The white goose season for Imperial
Valley will not open until Nov. 7). Tom Trakes, Wildlife Habitat Supervisor I for the San Jacinto Wildlife Area, 951-928-0580, filed the following with WON.
"The San Jacinto Wildlife Area has very good habitat; with refuge ponds and other wetlands having a duck population of between 8,000 and 10,000 ducks made up of a mixed species count of mallards, shovelers and teal. The refuge is also hosting some 300 specks. This refuge is currently fully flooded and ready to hunt. We will have 60 hunt sites open on the wetlands and another four spots at Mystic Lake. Hopefully, we will hold the ducks that are currently here for another couple of weeks and that should make this year's duck opener one of the better ones on record for this refuge," Trakes reported.
The Prado Wetlands area has a resident population of mallards, teal along with some gadwall and spoonies, and every day there are new puddle ducks arriving behind Prado Dam. Duck clubs in the basin are pretty much fully flooded up and Orange County Water District ponds are full as well. Currently, there isn't a lot of water flowing down through the Santa Ana River drainage.
Moving over to the lower Colorado River area (Blythe), the following was passed on by Rick Francis, Wildlife Habitat Supervisor I, Palo Verde Wildlife Preserve, 760-922-9189.
"We will be flooding up this week starting Tuesday, and it will take four days to complete. We have the ponds currently planted in Japanese millet and it has been irrigated two times, it is prime and ready. During the past two irrigations we had cinnamon teal and mallards using the area. The refuge will be ready for the opener. For this refuge no advance reservations are needed, but there will be road closures in affect," according to Francis.
Western Outdoor News checked out Little Lake, the Owens River wetlands and up into Long Valley this past week as to those areas holding ducks. Perhaps it's still a little early (although it did snow and temps dropped below freezing this week) for ducks to show up, but this writer did see a couple of flocks of widgeon and gadwall winging up the upper Owens River while fly fishing at Arcularius on River (760-387-2692) but there were not the usual number of teal. gadwall or mallards on the working cattle ranch. The newly flooded Owens Lake area showed a lot of water but few ducks and the same for Little Lake just off to the side of Hwy. 395, south of Olancha.