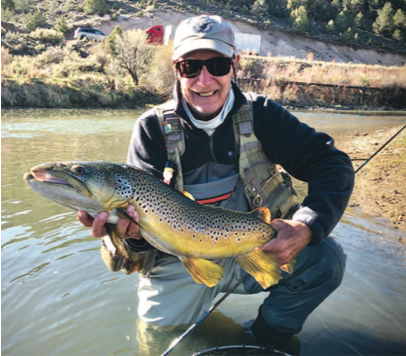 BY MIKE STEVENS
BRIDGEPORT – Big German brown trout went on a rampage in the weeks following the blustery Eastern Sierra trout opener with at least a half dozen trophy fish being caught between the June Lake Loop and Twin Lakes in Bridgeport. That run included a very nice brown caught by a fly fisherman on the East Walker River that showed up in last week's issue of Western Outdoor News, and another report sent directly to WON on another East Walker tanker shows the earlier one was no fluke.
"We were fishing the East Walker on the California side before it goes under the bridge, and the water was pretty slow and quite low but fishing was decent," said Eric Berg who was fishing with his dad, Tom Berg of San Diego, who bagged a 35-inch brown on the long rod while drifting a self-tied fly under an indicator.
"We were fishing something pretty close to a San Juan Worm that my dad ties on 6-pound tippet," said Eric. "Three other 12- to 18-inch fish came from that same spot, and we got a handful of other fish throughout that day, but not a ton."
The other big brown trout over 9 pounds reported in this recent flurry of biters came from June Lake, Twin Lakes (Bridgeport) and Robinson Creek.