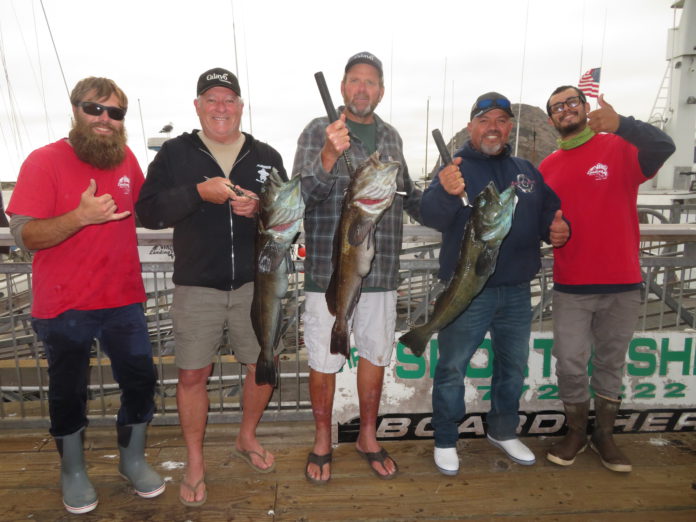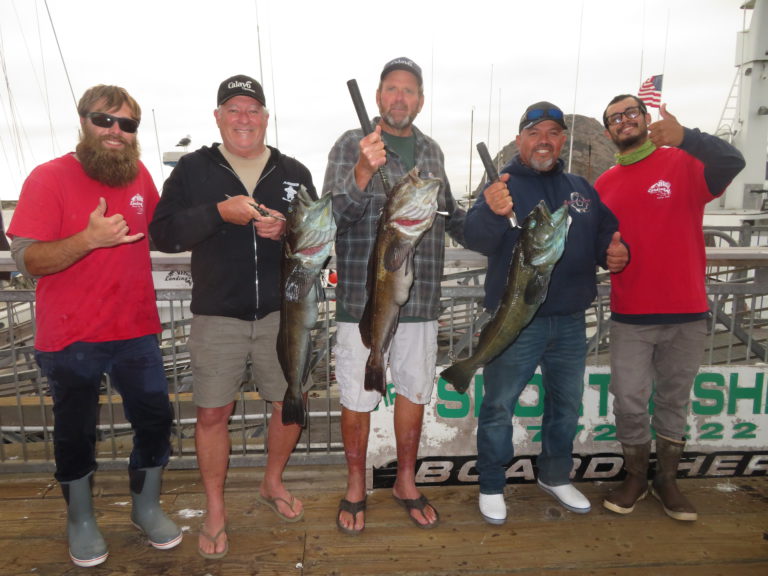 BY BOB SEMERAU
MORRO BAY — The fight was fierce at Morro Bay as Virg's Landing hosted the Western Outdoor News Central Coast Lingcod Championship for the fifth consecutive contest.
The 2021 Central Coast Lingcod Championship held Friday, Aug. 20 under overcast skies and otherwise perfect weather was a battle for lingcod supremacy between Fiesta, the 55-foot sportfisher skippered by Captain James Ottens, and the 65-foot Black Pearl, mastered by Captain Brian Walker with owner/operator Lisa Tardif aboard.
After a four-hour run northward along the CenCal Coast both boats went to their private spots for ling, reds and more.
"We should have a good contest with these two boats," explained Virg's Landing manager Bruce Harwood at the contest's 4:00 a.m. sign-in. "And anything is possible, we could have a breakthrough day today with lots of big lings and reds."
Reporting from the deck of Fiesta, WON rep Dylan Depres explained an edge for the anglers competing on the smaller boat.
"Fiesta is a fast vessel which allowed us to cut down on travel time and find some productive structure once we were in the zone," explained Depres. "It didn't take long to break the ice on the 'right kind,' as WON charter regular Andrew Hampton nailed a keeper ling on a rail jig. This is something of a local's secret kind of bait for the lings, which looks like a piece of iron rebar, enticing bites when clanging on the rocks."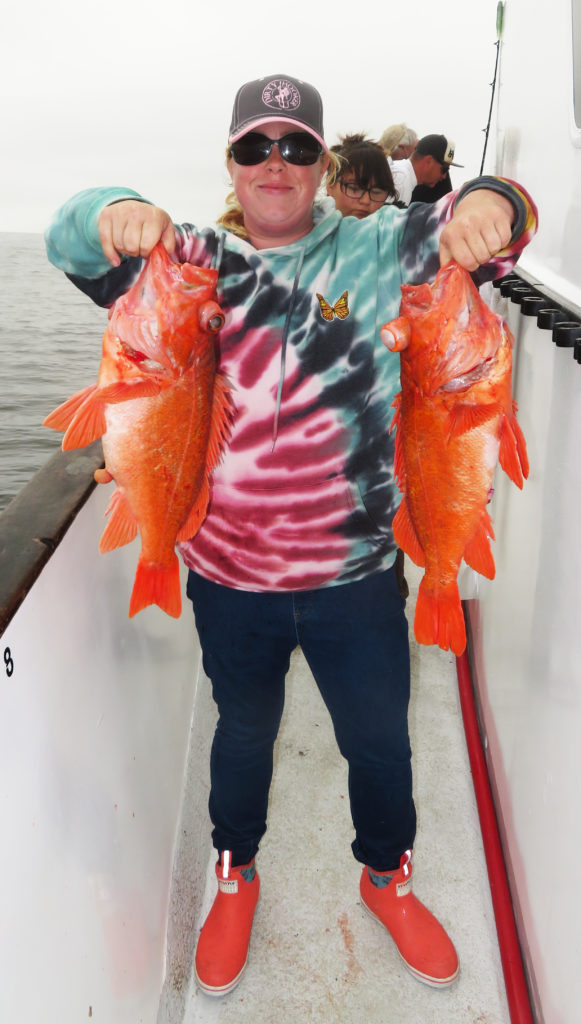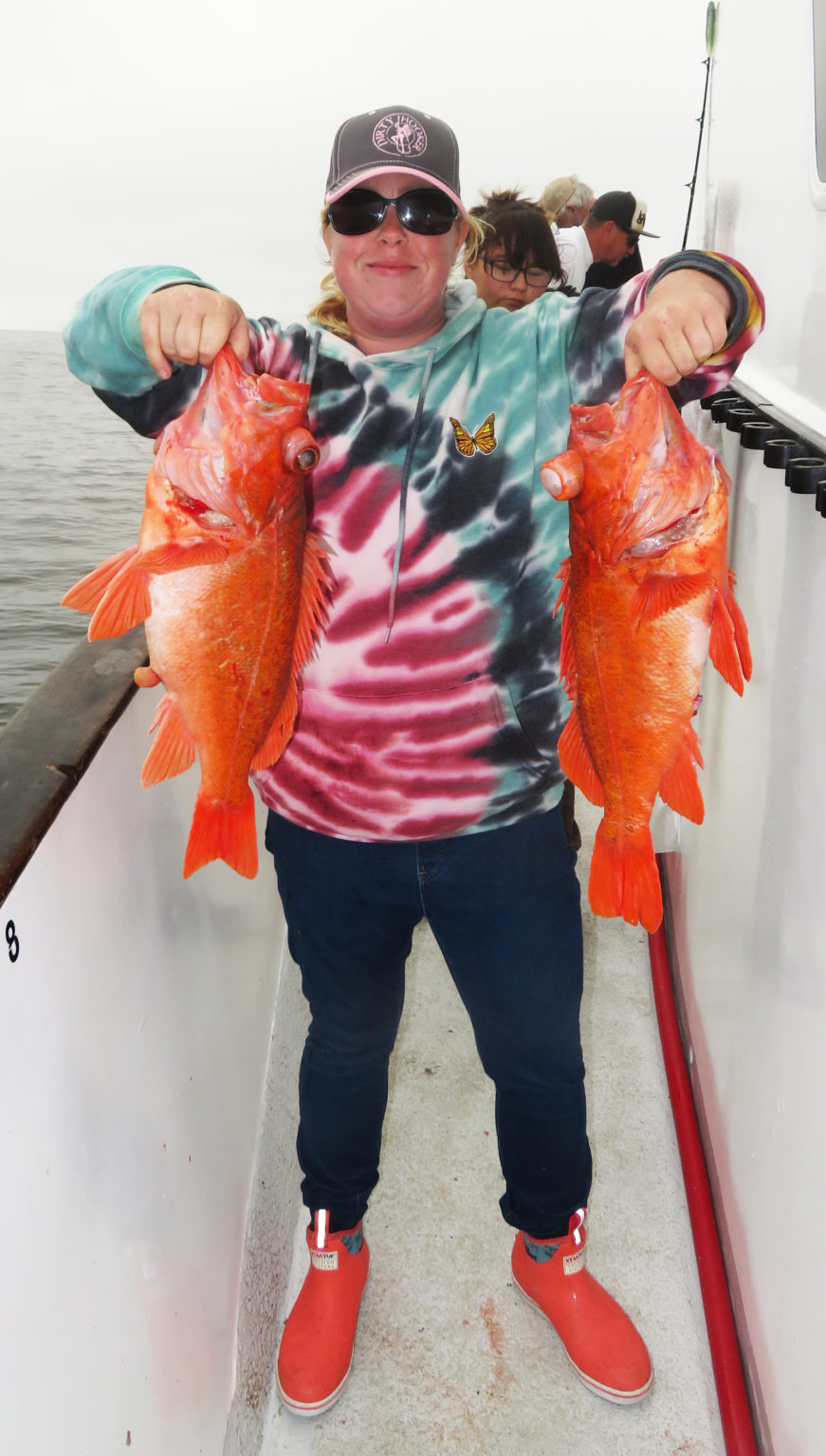 Captain Walker on Black Pearl had a few tricks of his own and headed to some deep-water spots where the boat had bagged some huge lings in the past outings.
Within moments of touching bottom on the first drift of the day for Black Pearl, angler Kenyatta Harmon was bit on his double dropper loop rig, scoring doubles on good-sized rockfish. Rockfish continued to fill sacks in the deep-water, but lingcod remained elusive throughout the morning.
After several resets, as rockfish bit well, a few smaller lings came over the rail for the boat. Johnny Maese managed the largest lingcod taken aboard Black Pearl, taking home a HUK Gear gift card valued at $100, along with the 4-pound, 6-ounce lingcod.
Anglers remained hopeful throughout the day as the two boats worked the waters past Piedras Blancas Lighthouse for the 12-hour trip. Black Pearl found spots holding plenty of willing biters with one huge red weighing in at near 10 pounds for Carson angler Kevrette "KJ" Johnson, working his Mag-12 swimbaits for a limit of rockfish.
Fiesta's skipper set up several drifts in the deep water and found the right combination for quality lings.
"The lingcod we encountered were actually a little more aggressive than the rockfish, and those anglers who were able to effectively get an artificial lure or proper presentation of bait to the bottom had a great shot," reported WON rep, Dylan Depres.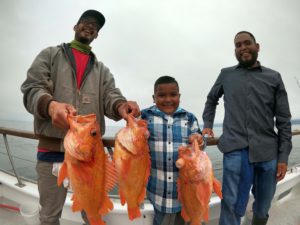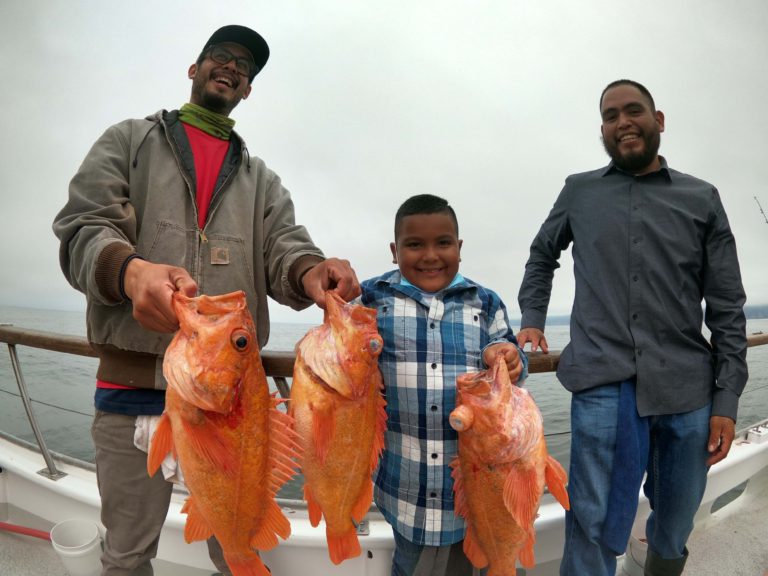 Three generations fished together aboard Fiesta as the trap-rigged setups started getting bit and angler Juan Davalos wound in a contender blue lingcod on spinning gear. Juan came out with his son, Osvaldo Garcia, along with his grandson D'angelo, with all three anglers having a successful day. While young D'angelo Garcia didn't get a lingcod, he smashed the giant reds, boating the biggest rockfish of anybody aboard Fiesta for the trip. Both D'angelo's dad and grandfather caught larger lings on a unique backwards trap-rigged mackerel to bag a limit of lingcod. Juan's ling weighed in at 7 pounds, 12 ounces to give the angler third place overall and cash prize of $100.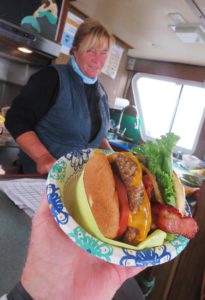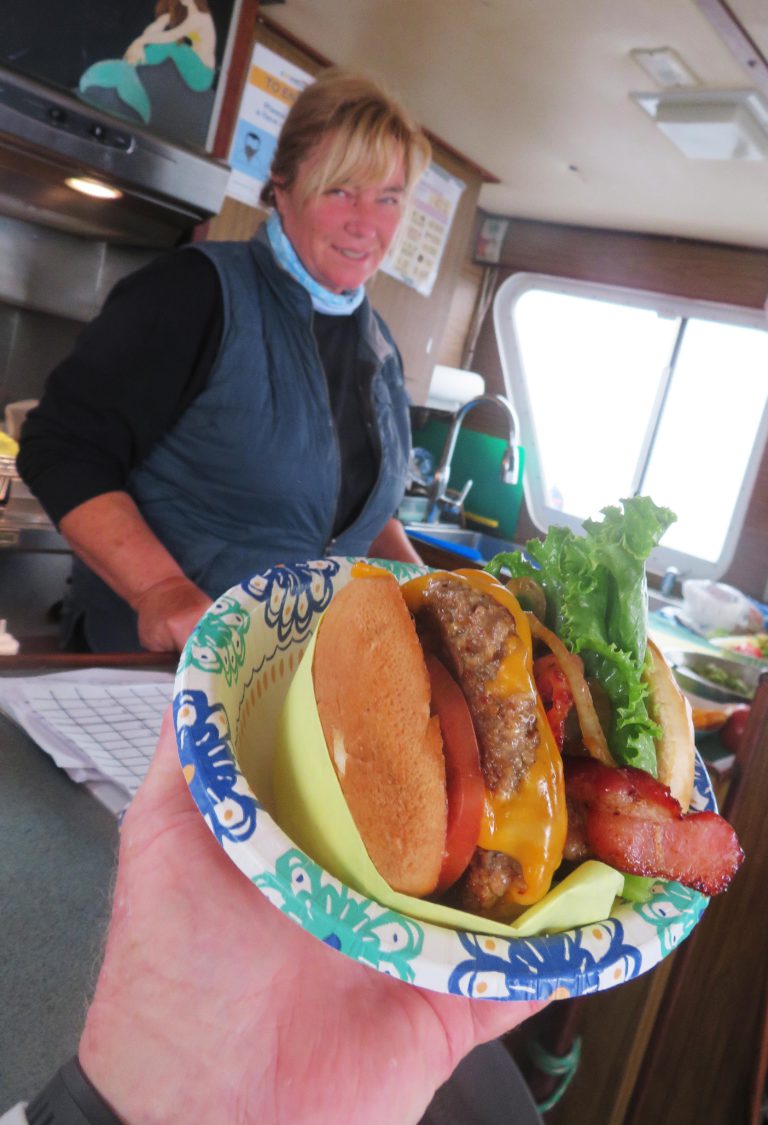 Across the water, Black Pearl worked the depths farther north, seeking out that perfect spot of willing lingcod biters. Frequent WON charter guy Wade Wells also fished the reverse-rigged mackerel, making the technique more-or-less a staple for chasing bigger model lingcod. While rockfish continued to come over the rail, owner/operator Lisa Tardif helped on deck and worked the galley, keeping anglers fed with tri-tip breakfast burritos followed by mega-bacon cheeseburgers for lunch.
Each boat made several drifts throughout the four-hour fishing time, setting up to windward of any structure on the bottom. Both Capt. Walker and Capt. Ottens worked hard against a ripping current that moved the boats at 1 to 2 knots during each drift. The skippers bumped the boats forward or reverse based on the scope of the lines to help reduce tangles and to maximize time over each bit of structure. Fishing a double dropper rig baited with squid strips worked well with a 16-ounce weight, while swimbaits and jigs in the 8- to 12-ounce size got the job done in the 250- to-300-foot depths.
As the afternoon wore on, Fiesta and Black Pearl moved inshore to shallow water drops of 80 to 100 feet. Reds and a variety of rockfish kept anglers busy while fishing squid strips on double dropper loop rigs.
"Anglers landed gophers, cabezon and brown rockfish, which we do not really see out of Orange County, Los Angeles or San Diego area landings, along with huge johnny bass and one truly unusual catch," reported Dylan of the action aboard Fiesta.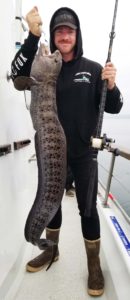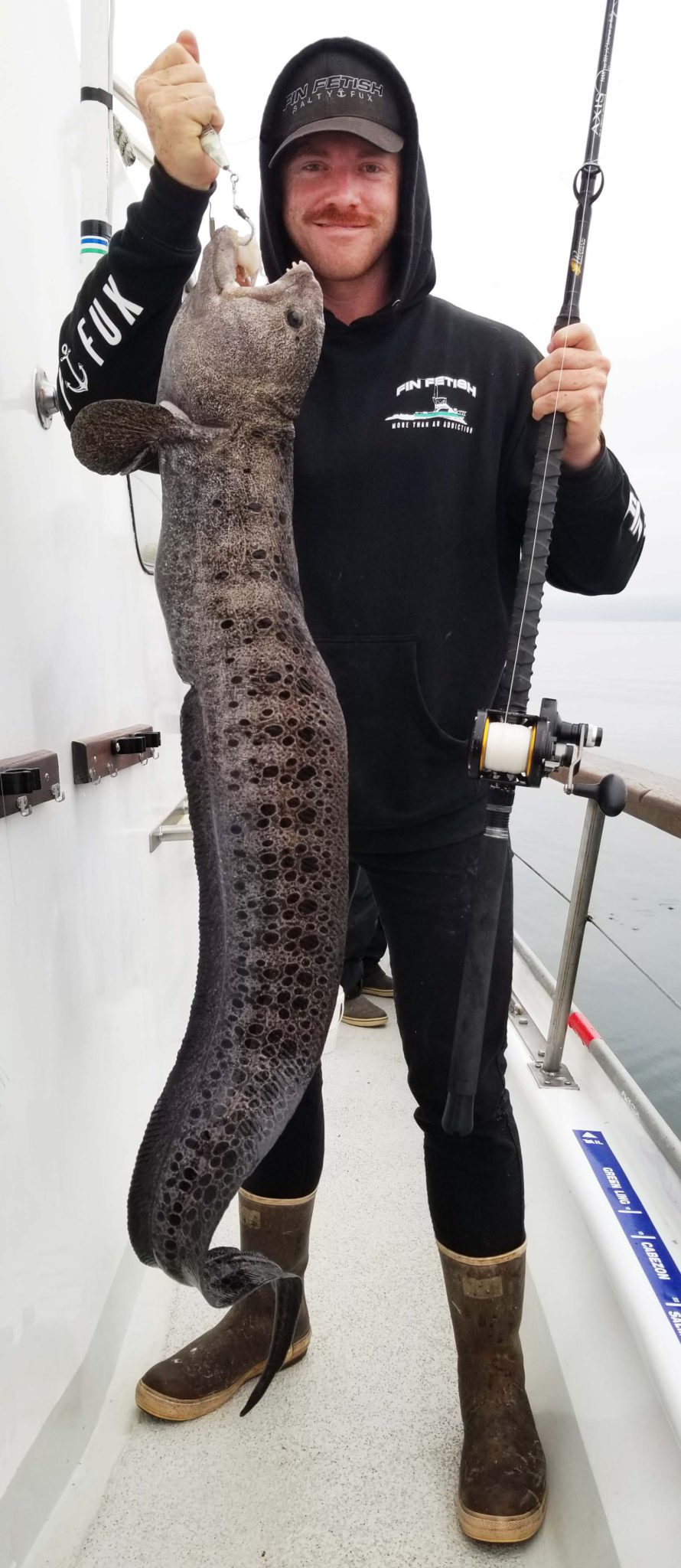 That unusual catch was a five-foot long wolf eel taken by WON rep Depres, while bouncing a Zakana jig near the shallow water bottom. The awe-inspiring toothy beast was released after a quick photo of the angler and his catch.
The time for the planned weigh-in back at the Morro Bay docks was fast approaching and both boats began working their way back towards home.
"We have time for a couple of deep-water spots on the way back," explained Capt. Walker from the wheelhouse aboard Black Pearl before setting up the final drifts of the day. Rikki House, and her husband Michael, had come down from the town of Bodfish near Lake Isabella, to fish the competition and the final spot gave up rockfish doubles for the lady angler.
            Fiesta found a nest of aggressive lingcod and managed several more sizable fish for the sacks. Two WON charter regulars and neighbors from Camarillo, Mark Ginchereau and Bruce Jochums, captured both the first and second place lingcodd on trap-rigged mackerel on these last drifts. Once at the scales, Jochums' fish weighed in at 9 pounds, 13 ounces to earn the angler a $110 cash prize and second place overall.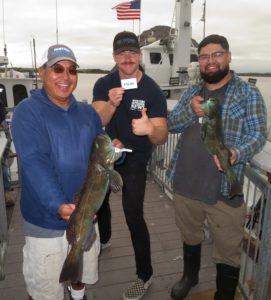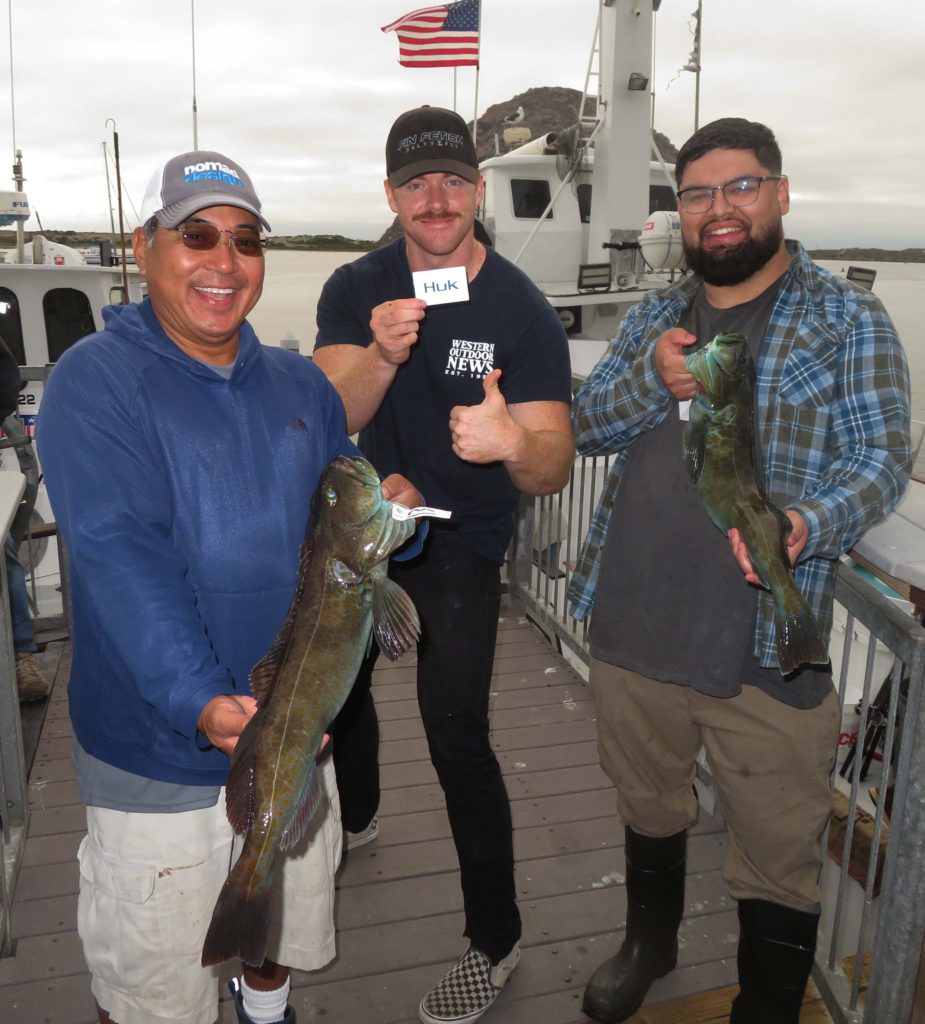 Big fish honors for the 2021 Western Outdoor News Central Coast Lingcod Championship went to Mark Ginchereau for his 10-pound,12-ounce ling. Along with first place honors, Ginchereau took home a $200 cash prize and the coveted $100 HUK Gear gift card.
In the end, Fiesta came out on top with a number of lingcod larger than those caught aboard Black Pearl. Prize winning anglers:
1st Place        Mark Ginchereau     Fiesta             Lingcod   10 pounds, 12 ounces
Prize $200 cash for first place prize money and a $100 HUK Gear Gift card.
2nd Place        Bruce Jochums       Fiesta             Lingcod   9 pounds, 13 ounces
Prize $110 cash for second place prize money
3rd Place        Juan Davalos           Fiesta            Lingcod   7 pounds, 12 ounces
Prize $100 cash for third place prize money
Big ling aboard Black Pearl
Johnny Maese          Black Pearl   Lingcod     4 pound, 6 ounces
WON rep Dylan Depres contributed to this report.
Contacts:Virg's Landing, 1169 Market Ave. Morro Bay, CA 93442 805-772-1222
Black Pearl, www.blackpearlgofish.com , 1-323-500-3085