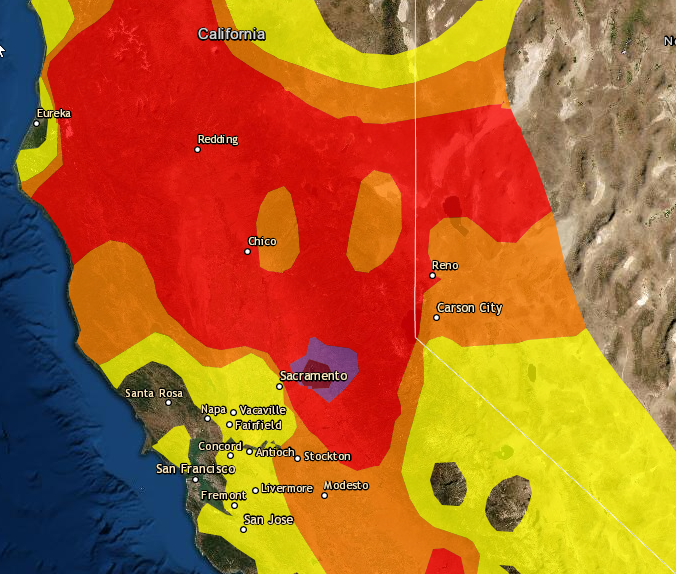 BY DAVE HURLEY
SACRAMENTO – The week of Aug. 20 through Aug. 27 reached a new low for Northern California guides and anglers, as the stranglehold of factors in which they have little control tightened as the combination of low water due to a historic drought, rampant wildfires resulting in the worst air quality in the world, closures of the national forests and triple-digit heat in the Central Valley have limited opportunities. The traditional Labor Day Holiday weekend will require a change of plans for many, as campsites in 10 national forests are closed through Sept. 6. Based upon the response of the Forest Service in the Sierra and Sequoia National Forests during the 2020 fire season and the Creek Fire, the closures are likely to be extended well into the future.
Due to some of the worst air quality in the world throughout the Central Valley into the Sierras, outdoor activities were put on hold throughout the weekend with most high school football games postponed and some schools closed. The air quality put the Lake Tahoe and Truckee regions out of play over the weekend with visitors avoiding the area.
Guide permits have been put on hold at many Northern California lakes by the Forest Service, and guides at Lake Shasta are unable to work until at Sept. 7 at the earliest due to wildfires in other regions outside of the lake. The temporary closures will affect many lakes including forest service campgrounds at Shasta, Trinity, Jackson Meadows, Bowman, Sawmill, Rucker, Fuller, Spaulding, Lake Valley, French Meadows, Hell Hole, Stumpy Meadows, Union Valley, Ice House, Loon Lake, Lower Bear River Reservoir, Silver Lake and Caples Lake along with numerous smaller bodies of water that are completely surrounded by Forest Service land. The California Department of Fish and Wildlife will also close seven of its properties that lie within or immediately adjacent to Forest Service properties during the same time frame. Historic low water conditions will result in minimal flows on the Sacramento, Feather and American Rivers starting in October through December with the Sacramento down to 3250 cfs by mid to late October, the Feather at 950 cfs, and American at 550 cfs at Labor Day.
Lake Oroville is inaccessible with no current ramp access, and Clear Lake has a single ramp open at Library Park.
Even with all of the barriers, there are still some viable options for Northern California anglers. Berryessa, Don Pedro, New Melones, Englebright, Whiskeytown, New Hogan and Tulloch remain open for freshwater fishing at elevations below 1000 feet, and the national forests of Stanislaus, Sierra, Sequoia, Inyo, and Los Padres remain open. Highway 4 over Ebbetts Pass is now open to Markleville and Lake Alpine has been fishing excellent for holdover and recently-planted rainbow trout. Several forks of the Stanislaus River were planted this past week and this forest remains open. The coast remains relatively free of smoke and many Californians have been fleeing to coastal communities to avoid the hazardous air conditions.
Until rain arrives, and it better arrive this year, there will be limitations throughout Northern California for both fishing and hunting. The state and federal refuges are expected to only receive 40 to 60 percent of water this year for waterfowl, and there will be fallow fields taking place in rice country. In the meantime, outdoor recreation will take some prior planning and the willingness to change plans at the last moment, at least in the near future.