BY DYLAN DEPRES
SAN DIEGO – I had the pleasure of joining Captain Alec Stockfelt and crew of the Grande on Monday, August 17 for a banner day of yellowtail fishing. Like many other anglers, I must be selective of the trips that I take and I keep a close eye on what is being caught. The night before the trip, I heard private boater reports of biting yellowtail at the Coronado Islands so I checked to see if there were any trips available. I ended up finding this Monday trip online at H&M Landing, destined for the Islands with 10 spaces still for grabs — count me in!
The "big four" San Diego full-day boats that fish the Coronado Islands and the offshore zones within a 50-mile range of San Diego daily are the Grande, Mission Belle, Liberty, and San Diego. There are also a number of boats running as overflow vessels and other vessels that run full-day trips every so often. I have fished all the big four and many others and have had a great time on all of them. The Grande out of H&M Landing is my go-to because of its large size, its fishy and familiar-to-me crew, and its bunks that are available for day use.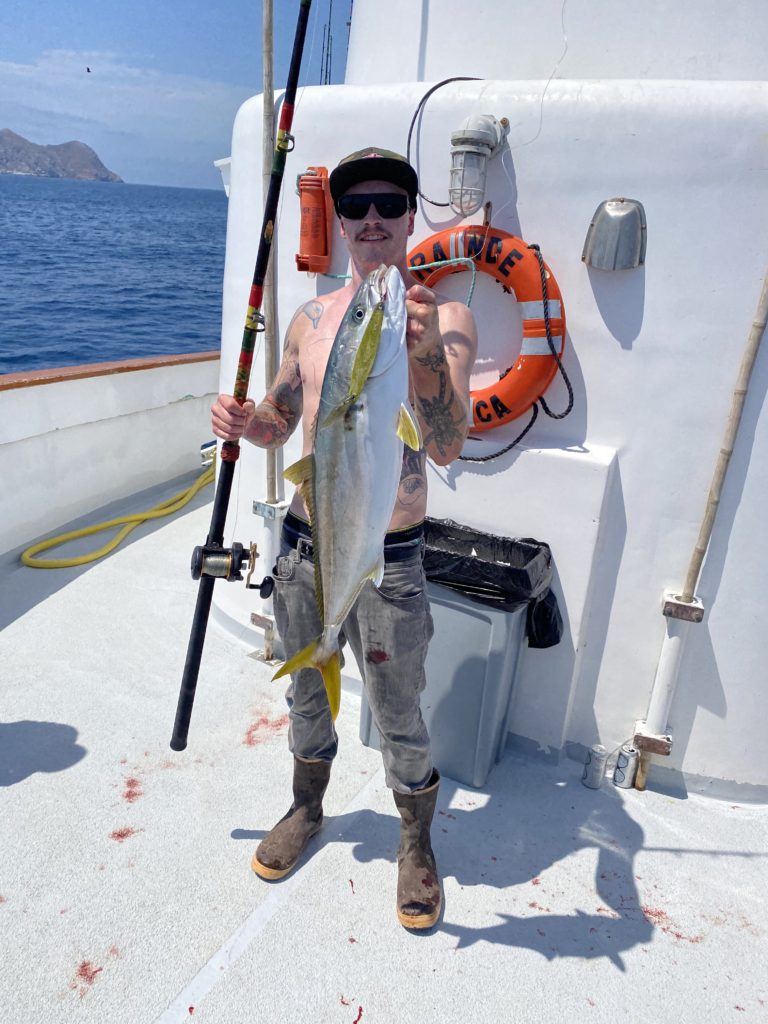 The morning of the 17th, we made our way into the fishing grounds side-by-side with one of the other big four full-day vessels, the San Diego. Capt. Stockfelt of Grande and Captain Ryan Bostian of San Diego worked together to locate the fish for their eager anglers. We started our day south of the Islands at the Rock Pile. We found a breezer of barracuda and put a couple in the boat but we didn't find the gamefish we were looking for, so around 930 a.m. Capt. Alec pointed us back towards the Islands proper. Then, things took a major change for the better.
In the late morning we stopped on several schools of yellowtail in different spots around the South Island. Almost every school reacted aggressively to our chummed sardines and busted the surface. I picked off my first couple yellowtail of the day on a new scrambled egg colored Tady 45. Other anglers found similar success on a variety of surface irons and so did the fly-liners on the stern primarily fishing 25- and 30-pound test. We were quickly up to over 30 yellowtail on board for our 30 anglers at 10:30 a.m. with tons of time left. Then, within a couple stops around South Island, I got to experience something I hadn't ever seen before. On the outside of our chum line, small bluefin tuna began to break the surface eating our chummed sardines in less than 200 feet of water.
We metered the surrounding area to take our shot at the bluefin and had several stops on what Capt. Alec described as huge schools of fish. Each stop, a lucky angler or two would hook up on a Coronado Islands bluefin tuna ranging from 4 to 12 pounds. The fish would boil up but seemed very line and hook-shy. We only spent about an hour at this and ended up going 3 for 7 on the smaller bluefin for our efforts. We were still near the San Diego, and at one point we saw them with half-a-boat-full of bent rods on the bluefin tuna. I saw they ended up with 30 tuna, good on them!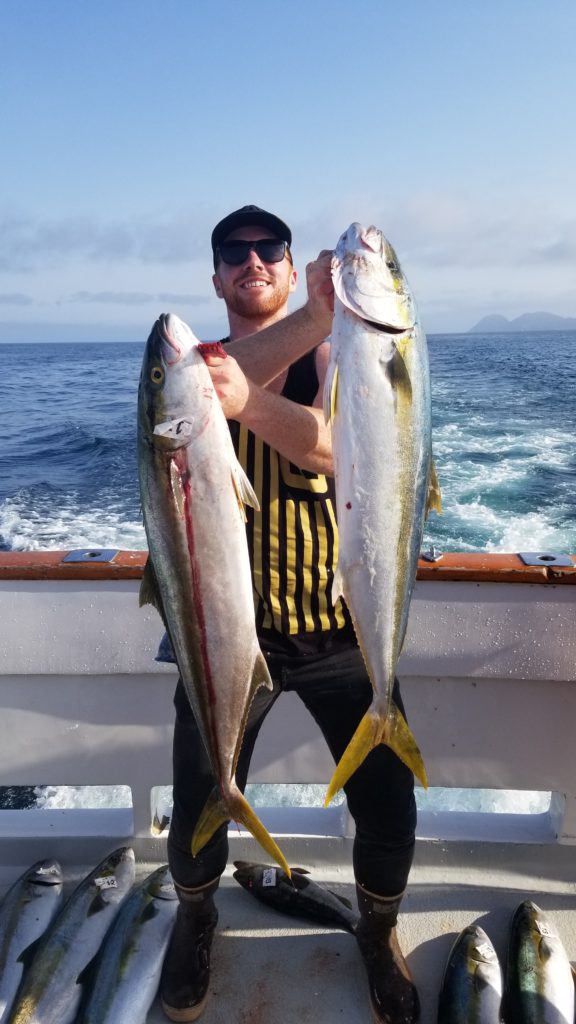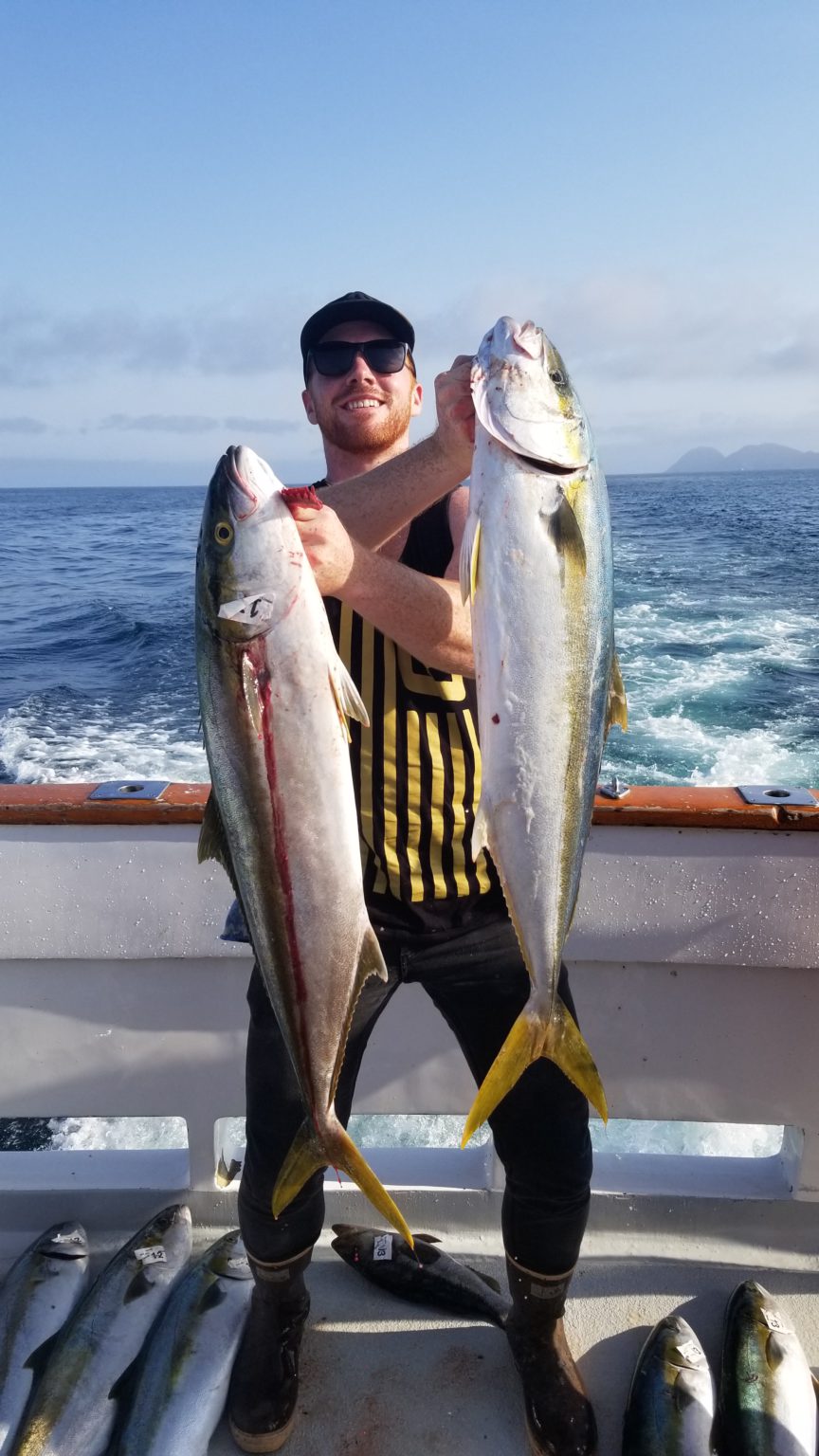 Throughout the day, the fantastic yellowtail fishing continued in various locations. We made our way through the inside of South Island and eventually to the Middle Grounds, locating plenty of willing yellowtail all over. We were drifting on sonar schools of yellowtail that the crew would bring to the surface by brailing sardines and creating a chum slick. More often than not, the fish would come up and the iron chuckers in the bow would pick the first few fish, followed in short order by the bait-soakers in the stern. The fish wanted the surface iron retrieved very quickly, they would only follow the lures at a slow or medium retrieve. Our lesser stops would put 10-15 fish on the boat and the heavy hitters would put 20-25 fish on. By 1:00 p.m. we were up to over 80 yellowtail. I can only imagine the feeling of the crew of having such a great day of fishing after a relatively dry 2 weeks of offshore fishing.
By midday, I'd switched from the Tady 45 to a mint-colored JRI 7 surface iron and the fish were all over it. There was a certain fast cadence retrieve where the jig would have a tight consistent kick looking like a large mackerel or sardine darting through the water. Every single strike was a visual experience, sometimes with multiple yellowtail going after the jig and finally grabbing it and ripping line along the surface. This was a Coronado Islands dream trip — beautiful weather, willing yellowtail biting on the surface and a fishy group that converted their bites to fish on the boat. I spent a good amount of time at the bow with birthday angler Corey Thomson and his friend Anthony Casas who both knocked out a limit of yellowtail on the surface iron.
When all was said and done, I'd landed two yellows on the Tady 45 and six more on the JRI-7. Other surface iron anglers did well on Salas 7x and really any jig that would consistently swim with a fast retrieve. The experienced bait anglers kept up and even out-fished many of the jig throwers as well. Those who fished sardines also had a much better shot at the 2- to 5-pound calico bass that bit well for us too. Our final count at the end of the day was 126 yellowtail, 3 bluefin tuna and 25 calico bass for 30 anglers. A fine day of August Island fishing.