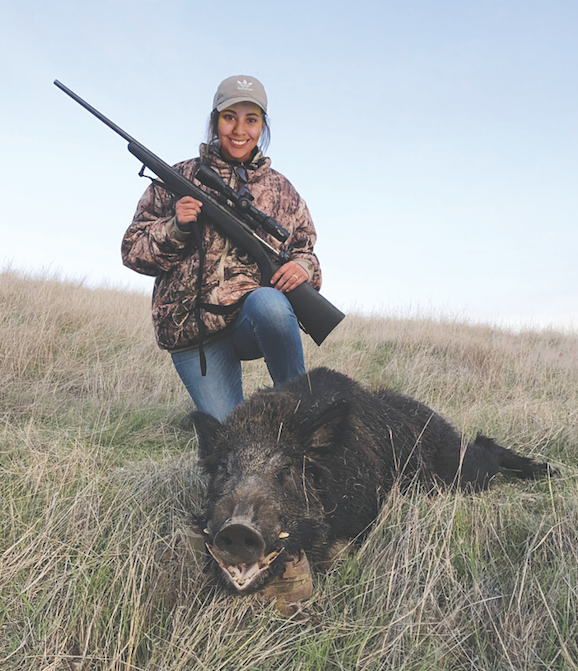 BY RON BALLANTI
Twenty-five-year-old Nadean Corbisier from Placentia, California passed the California Hunter Safety Course and received her first hunting license only a few weeks ago. It didn't take long for her to put both to good use on a recent Central California hog-hunting adventure.
On her first hunting trip, on Nadean's first day in the field, she dropped a 180-pound boar from about 150 yards with the very first bullet. "Not too shabby for a first timer! It was probably beginner's luck, but I am good with that," said Nadean. "We just arrived at Frontera Hunting in Bradley, California around noon on Friday, March 5 and hooked up with guide Clay Avila. He certainly didn't waste any time putting me in the right place on the first stop," Nadean continued. "I could just make out the boar laying down in the grass about 200 yards away, and so I moved in for a better shot. At about 150 yards, I felt like I could make the shot with my Savage 308 bolt action."
"My fiancé Mateo Cevallos and his grandpa Jim Elfring were watching the action from the trailhead," Nadean explained. "With a steady eye and a twitchy finger, I squeezed off the round. The adrenalin rush was so intense; I don't even remember hearing the shot. I saw the hog roll over and knew I had a good, clean kill. I looked back to see Mateo and Jim clapping and giving me the thumbs up, which made me feel even better."
Nadean can now add game hunting to her already impressive list of outdoor skills. "I never knew about how much fun hunting would be. I go fishing every chance I get, but I really think hunting is going to be a growing part of how I spend my free time," Nadean remarked.
The rest of the hunting group also enjoyed a successful adventure. Mateo proved he has the "field cred" to hang with Nadean, picking off his 150-pound boar on Saturday morning. Later that afternoon, Jim also dispatched a boar that weighed about 150 pounds.
"Experiencing the sport of hunting has opened up a whole new understanding of the outdoors that I never realized or appreciated. I knew that people hunted, but until I participated in a hunt myself, I didn't get it. Well, now I do. I highly suggest everyone sign up for a Hunter Safety Course, pick up a hunting license, take a shooting sports class and get out in the field. It is in our DNA, it is USA! I love it," said Nadean.
Additional Info:
Nadean Corbisier / Savage 308 / 168 grain Hornaday GMX / 180 lbs. / 150 yards
Mateo Cevallos / Savage 308 / 168 grain Hornaday GMX / 150 lbs. / 100 yards
Jim Elfring / Winchester Model 100 308 / 150 grain Federal Copper / 150 lbs. / 100 yards