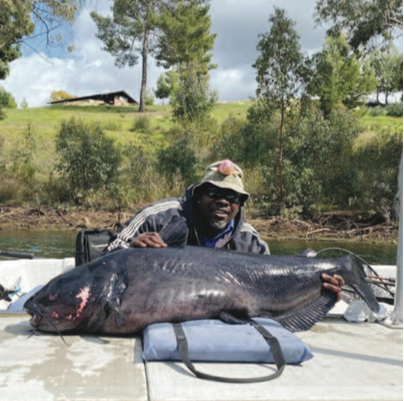 LAKESIDE – While this time of year most anglers are taking advantage of all the trout that continue to be stocked late in the season, some are targeting other giant species lurking in the deep. One lake in particular seems to be at the top of the list lately for big catfish, Lake Jennings. With multiple jumbo cats like a 30-plus pound, a 40-plus, and a 60-plus pound catfish already caught in recent weeks along with a double-digit largemouth bass, can the catfish bite get any better?
Well, this week it did, as a monster blue catfish was winched in by Ray "Fishead" Holden Sr., who was soaking mackerel in deeper water over the weekend. It was too big for the scale at the lake, and rangers estimated it to weigh as much as 100 pounds.
This "blessing" came at a perfect time for Holden, a cancer patient, who also had a "close brother" as well as his mom catch and beat coronavirus in recent months. The best part is, all these big fish are getting released after they are caught and photographed so they can continue to grow even bigger.
Trout remain on the Lake Jennings menu as well, with another delivery of Wrights Rainbows that went in early in the week giving that bite an added shot in the arm.
A variety of offerings were working through the weekend following the plant, including various minijigs, tube baits, Mice Tails, chartreuse and rainbow dough baits, Power Worms and 'crawlers. While the trout season is now in its final leg, there are still three more plants on the schedule – one later this month and two more in April.