Islands and Offshore Fish Report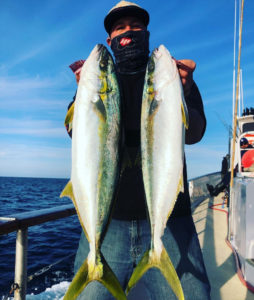 Updated November 23, 2020
NORTHERN CHANNEL ISLANDS
SAN MIGUEL – SANTA ROSA ISLANDS — Size large rockfish, whitefish, sheephead and lings in big numbers filled out anglers' catches with heavy sacks containing from 15 to 20 fish per rod.
SANTA CRUZ – ANACAPA ISLANDS — Catches were about half and half rockfish and whitefish, with good numbers but smaller fish than the outer islands trips kicked down.
SOUTHERN ISLANDS
SAN NICOLAS ISLAND — Great bottom fishing with an occasional yellowtail in the mix. Close to 20-fish per rod was pretty standard.
SANTA BARBARA ISLAND — Not much attention to this island but plenty of bottom biters available but not quite the level as at San Nicolas.
CATALINA ISLAND — Here water temperatures held into the mid 60s and the bonito bite continued, yet not at the limits for every boat, all you want any day of the week level it had been at for weeks. Lucky anglers found some good scores on whitefish and rockfish available.
Squid nests showed up along the backside from at least Salta Verde north to Ben Weston. Sunday night saw the purse seine fleet out in force.
SAN CLEMENTE ISLAND — It appeared that with the arrival of cooler waters the bass and others were no longer biting well enough to keep overnight boats coming.   Navy ops closure map/schedule at: www.scisland.org/schedules/safetyZoneUse/days/12.html   Navy island info links and kite regs: www.scisland.org
U.S. OFFSHORE
TANNER AND CORTES BANKS — As ever, tremendous potential for quality bottom biters, and as the bluefin bite slacked boats took their chances on missing out on afternoon bluefin opportunity to load up. The big tuna were still in the area in volume but being bluefin, not biting, not responding much of the time. Top scores didn't make it out of the teens but there were some big fish landed as most of what was seen were fish from 130 to 190 pounds.
MEX TERRITORIAL<12mi
(Mex license, passport and FMM)
CORONADO ISLANDS REGION, 3/4- FULL-DAY RANGE — Not much word but didn't appear very promising given remote sensing data on water temp and color.
SOUTHERN COASTAL 1.5- 2.5-DAY RANGE — It was cool along the coast and all about bottom biters.
MEX PELAGIC>12mi
(Mex license only)
OPEN WATERS TO FULL-DAY RANGE — Kelp paddy yellowfin bIt well for those finding that lucky kelp in their search, but by the weekend, limits of yellowfin had given way to limits of yellowtail.
OPEN WATERS 1.5- to 3.5-DAY RANGE — Sunday saw the fleet fan out farther west and south, extending well beyond Full-day range in their search.