Islands and Offshore Fish Report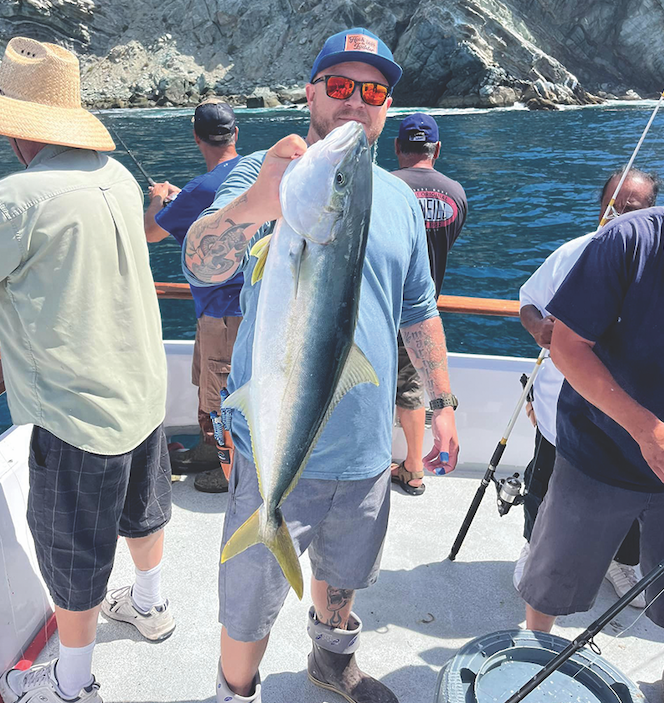 Updated July 4, 2022
ISLANDS
NORTHERN CHANNEL ISLANDS
San Miguel – Santa Rosa islands — West winds were again the big issue. The seabass bite provided limit-style opportunities when winds allowed the fleet to fish there. Early in the week, when there was calmer weather on the way out, scores were teens to full limits on the overnight boats out of Ventura and Channel Islands harbors.
Santa Cruz – Anacapa islands — The seabass and halibut opportunities continued to draw anglers. It took searching and perseverance, but the rewards were big if one connected and more than one charter group pulled off with full limits of white seabass. The Sea Jay had a charter get seabass limits plus 10 nice halibut. There have been some nice barracuda at Anacapa to pull on, and this has resulted in some triple-digit boat scores.
SOUTHERN ISLANDS
San Nicolas Is. — It was a windy week out there, and even windier over the weekend.
Santa Barbara Is. — There were gamefish to be had here, however, windy weather extended to this island too, filling in each afternoon at least.
Catalina Is. — Backside, east end squid nests provided some baiting opportunities and shots at seabass dusk and pre-dawn. Bass and barracuda activity was much improved from the week prior, providing lots more action and a good boost to the catch too. Decent bonito catches topping into triple digits and a sampling of yellowtail were part of the picture too.
San Clemente Is. — This island provided a viable alternative for offshore anglers running out of options after chasing unwilling bluefin tuna. While windy weather took over the backside spots and squid nests, there was a scratch to be had inside Pyramid. There was excellent bass fishing, ocean whitefish by hundreds, lots of rockfish and good yellowtail action too.  Navy ops closure map/schedule at: http://www.scisland.org/schedules/safetyZoneUse/days/12.html   Navy island info links and kite regs: http://www.scisland.org/
U.S. OFFSHORE
Tanner and Cortes banks — The first reports from these banks came midweek, some nice yellowtail, groundfish in 64-degree water, plus bluefin tuna and a quick early week round of biters. However, by the weekend, northwesterly winds had blasted boaters off the banks and rolled the waters back over.
Inner pelagic waters — Tuesday the first word of breaking bluefin came from the inner basin, with foamers seen just 5 miles off Dana Point. These first fish were reported as 60- to 160-pound class, then some smaller mixed in. Friday the fleet was fanned out from Catalina to the coast. Fished popped on micro anchovies in the late afternoon, and these were 25-pound class. Few were successful on the foamers but there were second hand reports of success on larger fish by way of blind jig strikes on the Madmac and spreader bars.
Outer pelagic waters — Fast moving schools of bluefin tuna had the fleet changing areas daily, from the 43 to the Butterfly, Desperation and south, then to the outer banks. There were some successes but a lot more fish watching going on. By the weekend the offshore fleet was changing modes, as yellowfin tuna arrived within 1.5-day range to the south and kelp paddy yellowtail success improved greatly.
MEX TERRITORIAL<12mi
(Mex license, passport and FMM)
Coronado Islands region, 3/4- full-day range — Lots of log barracuda, calico bass, some bonito and yellowtail on tap when the sea lions would leave you alone. The boat San Diego connected with white seabass Wednesday, boating 24 croaker.
Southern coastal 1.5- 2.5-day range — Some yellowtail action below San Martin Island, Breakers.
MEX PELAGIC>12mi
(Mex license only)
Open waters to full-day range — Jumbo bonito and kelp paddy yellowtail provided the best options in this region and there were some good scores. Yellowfin tuna were in the area, yet were mostly reluctant to cooperate.
Open waters 1.5- to 3.5-day range — This is the rising star area for kelp paddy yellowtail and yellowfin tuna arriving daily. In addition to continuing chances for bluefin in the area, scores into the 50s on yellowfin were posted, along with limit-style action on kelp paddy yellowtail. Dorado have also made a first showing in the past week.